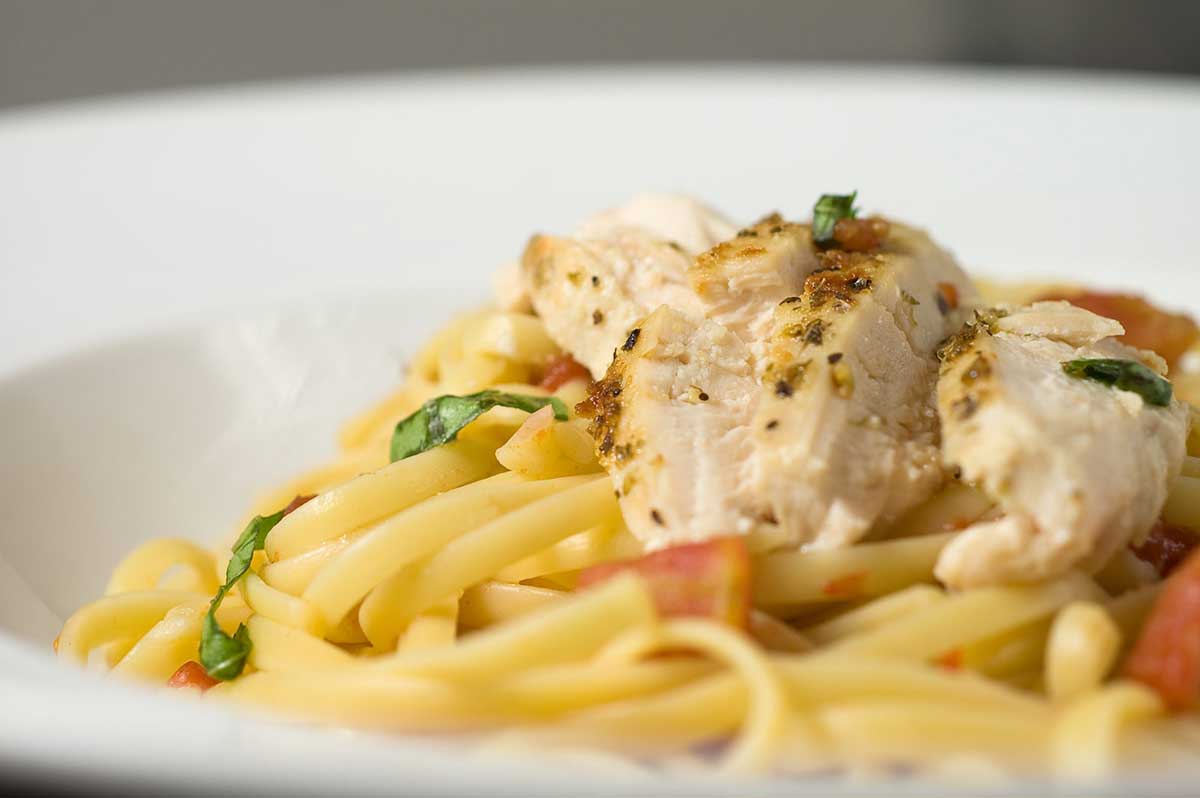 Chicken Linguine with Chunky Tomato Sauce
Pasta is one of my favorite ingredients to work with because there are so many different things that you can do with it. For this quick weeknight supper, I tossed linguine with sauteed chicken breasts and a savory diced tomato sauce cooked with white wine, garlic, shallots and crushed red pepper. Chopped fresh basil thrown it at the end adds a little sweetness.
Also, check out my other Chicken Recipes.
Chicken Linguine with Chunky Tomato Sauce Recipe
Ingredients:
1 (16 ounce) package dried linguine
About 5 quarts of water
2 tablespoons olive oil
4 chicken breast fillets
2 teaspoons dried oregano
1 teaspoon granulated garlic
kosher salt and pepper
2 cloves garlic, minced
1 shallot, minced
1 (28 ounce) can diced tomatoes
1/4 cup dry white wine
1/8 teaspoon crushed red pepper
1 tablespoon chopped fresh basil
Instructions
1
Bring the 5 quarts of water to a boil. Cook pasta about 7-9 minutes. Strain and rinse with cold water to stop the cooking process (Note: It will be slightly undercooked and that is what you want because it will continue cook in the sauce and you don't want it to get too mushy).

2
Meanwhile, heat olive oil in a pan over medium heat. Season chicken breasts on both sides with granulated garlic, dried oregano and salt and pepper. Cook until chicken is cooked through, about 5 minutes per side. Cover and set aside.

3
In the same pan that you cooked the chicken, reserve the pan drippings, cook garlic and shallots over medium heat until translucent, about 3 minutes. Add wine and cook for 5 minutes. Add diced tomatoes, crushed red pepper and salt and pepper to taste. Bring to a boil and continue to boil until sauce reduces by 1/3, about 10 minutes. During this time, slice your chicken, into bite size pieces.

4
Once the sauce has thickened, reduce heat to low, add linguine and chicken and toss to coat (Note: If the linguine sticks together in the strainer, rinse with water. Make sure all of the water is drained from the pasta before adding it to the sauce). Let stand 5 minutes, toss with basil and serve.
Notes
For another variation of this pasta you could substitute 1 pound (31/40 count) prawns for the chicken. Or for the vegetarians out there, simply substitute 2 tablespoons of olive oil for the pan drippings before you start your sauce. Enjoy!