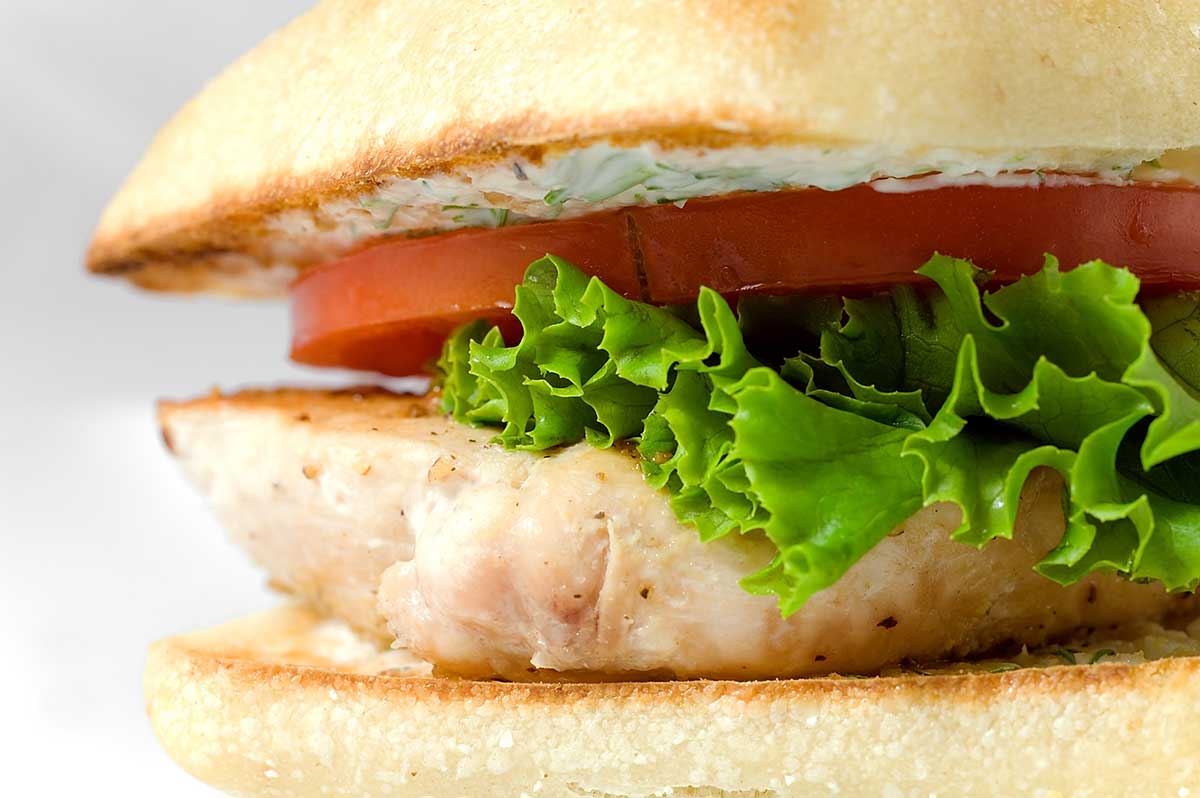 Chicken Sandwich with Yogurt Dill Sauce
I am not what you might call a "sandwich lover". Sure I will eat and enjoy them from time to time, but unlike some of my friends who can eat turkey sandwiches almost every day, I need something more out of my sandwiches. Deli meat, Wonder bread, American cheese and mayo may have been OK when I was growing up, but I'm a big girl now.  Give me more. Take this sandwich for instance, it has perfectly seasoned chicken, vine ripened tomatoes, crisp lettuce and, my favorite part, a delicious yogurt-dill sauce. Now my dear friends that is a sandwich.
One of my favorite summer herbs has to be dill. One whiff and I am reminded of lazy summer days enjoying freshly made pickles in the back yard. But dill is not only delicious with pickles. It is great with fish, especially salmon, veggies, potatoes and of course chicken. For this recipe, I decided to make a dill sauce with some plain yogurt I had in the fridge. It was the perfect cool sauce for this sandwich. We also found that the left over sauce worked nicely as a dip for the Walla Walla sweet onion rings I served along side. Don't worry, I'll share that recipe with you  next week.
I will mention that the use of yogurt does make this sauce a little thin. I was a little nervous when I was making it but I found that it worked itself nicely into the little crevasses of the ciabatta bread. If you want something a little thicker and creamier use half sour cream and half yogurt.
Chicken Sandwich with Yogurt Dill Sauce
Tender chicken breast, lettuce and tomatoes piled on a ciabatta roll slathered with yogurt dill sauce.
Ingredients:
2

boneless

skinless chicken breasts

1/2

teaspoon

kosher salt

1/2

teaspoon

garlic powder

1/4

teaspoon

fresh cracked black pepper

2

tablespoons

olive oil

Dill yogurt sauce

recipe follows

2

ciabatta rolls sliced in half lengthwise

romaine lettuce

1 to

mato

sliced
Dill Yogurt Sauce Ingredients
Make the yogurt dill sauce first by stirring together all ingredients in a bowl. Cover and chill for 30 minutes. Season to taste with more salt if needed.

Place chicken breasts between two pieces of saran wrap or wax paper. Pound with a rolling pin or meat mallet until they are uniform thickness. This is to ensure that they cook evenly.

In a small bowl mix together garlic powder, salt and pepper. Sprinkle on both sides of the chicken.

In a skillet, heat oil over medium heat. Cook chicken 5-6 minutes on both sides or until no longer pink inside.

Toast the ciabtta rolls if desired. Spoon yogurt-dill sauce on the top and bottom of the ciabatta rolls. Place cooked chicken, lettuce and tomato on bottom portion of bun and top with the top portion. Serve.
Keywords:
chicken, chicken breast, ciabatta bread, cream sauce, dill, Food, fresh dill, lettuce, mayonnaise, Recipe, sandwich, Sandwiches, sauce, sour cream, tomato, yogurt