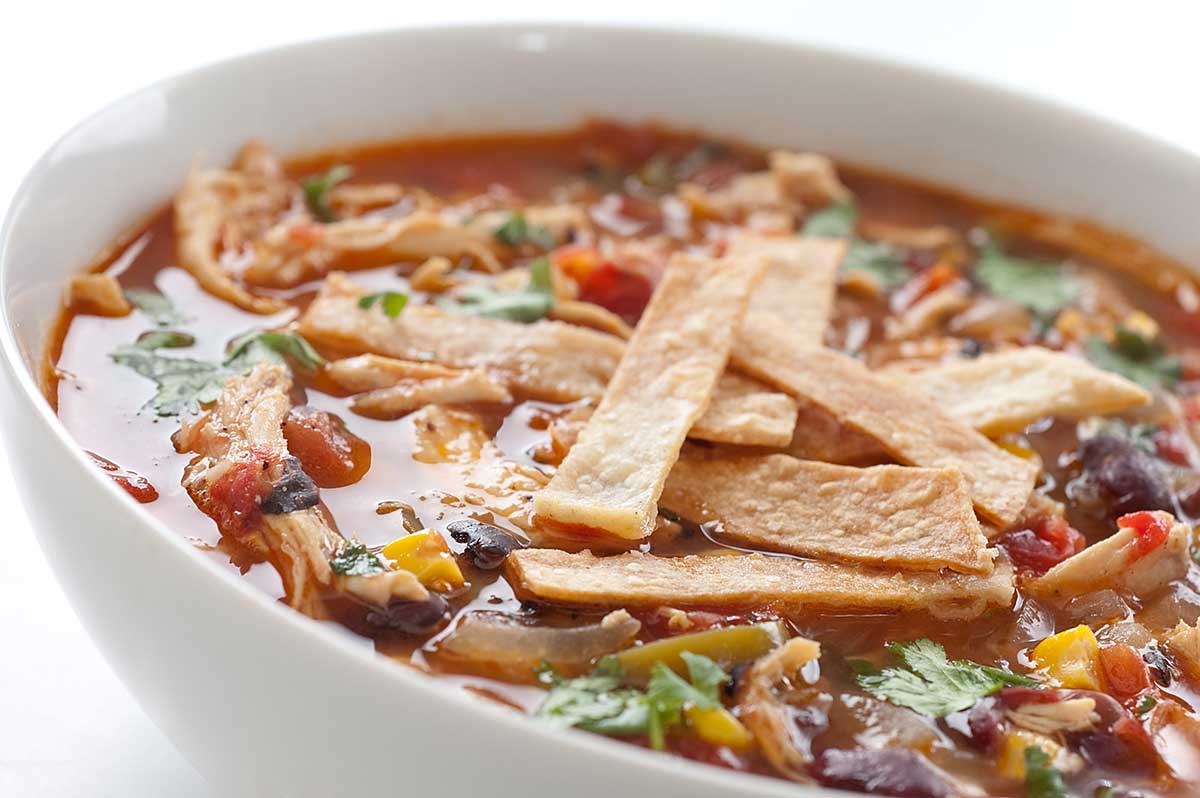 Chicken Tortilla Soup
Chicken Tortilla Soup is a classic for a reason. This soup is loaded with tender chicken, beans, corn and fire roasted tomatoes. Sure to warm you up on a cold winter's day! 
When the first rains (or snows) of winter start, the first thing that I want to do besides fly to somewhere sunny, is to cook a big batch of soup. Sometimes it will be chicken noodle  or hearty beef chili. And sometimes it will be a steamy bowl of Chicken Tortilla Soup.
I remember making this soup on a cold winter's day here in Seattle where we had several inches of snow. We never get several inches of snow so the city was pretty much shut down. Thankfully, all of the ingredients are staples in my home so it was pretty easy to throw it together.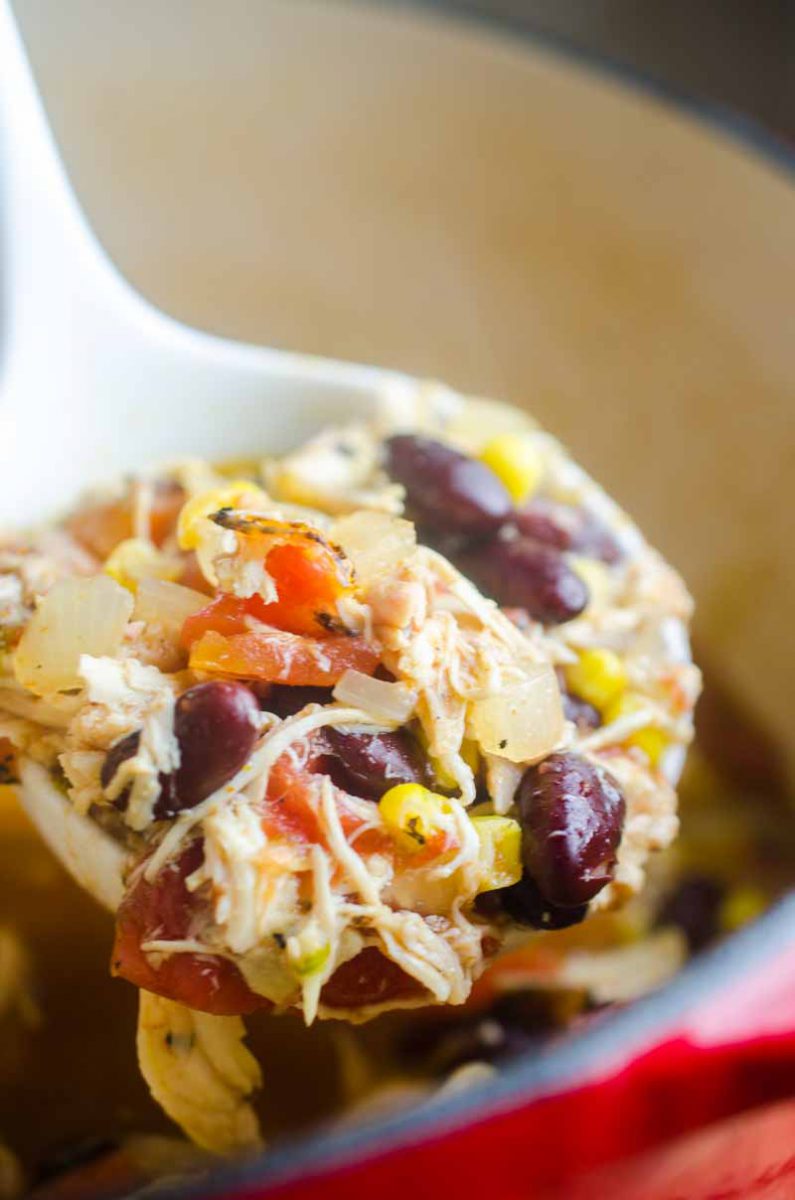 Using rotisserie chicken is a great trick to make this Chicken Tortilla Soup really easy to make. Rotisserie chickens always make soup making so easy. I usually buy mine at Costco and get several different meals out of them. I make chicken salad sandwiches, this chicken tortilla soup and chicken tacos. Because tacos.
When I made this soup, I didn't happen to have tortilla chips to add to the soup. Instead, I made my own tortilla strips with corn tortillas and oil. They were perfect in a pinch. If you've got tortilla chips on hand, they would work too!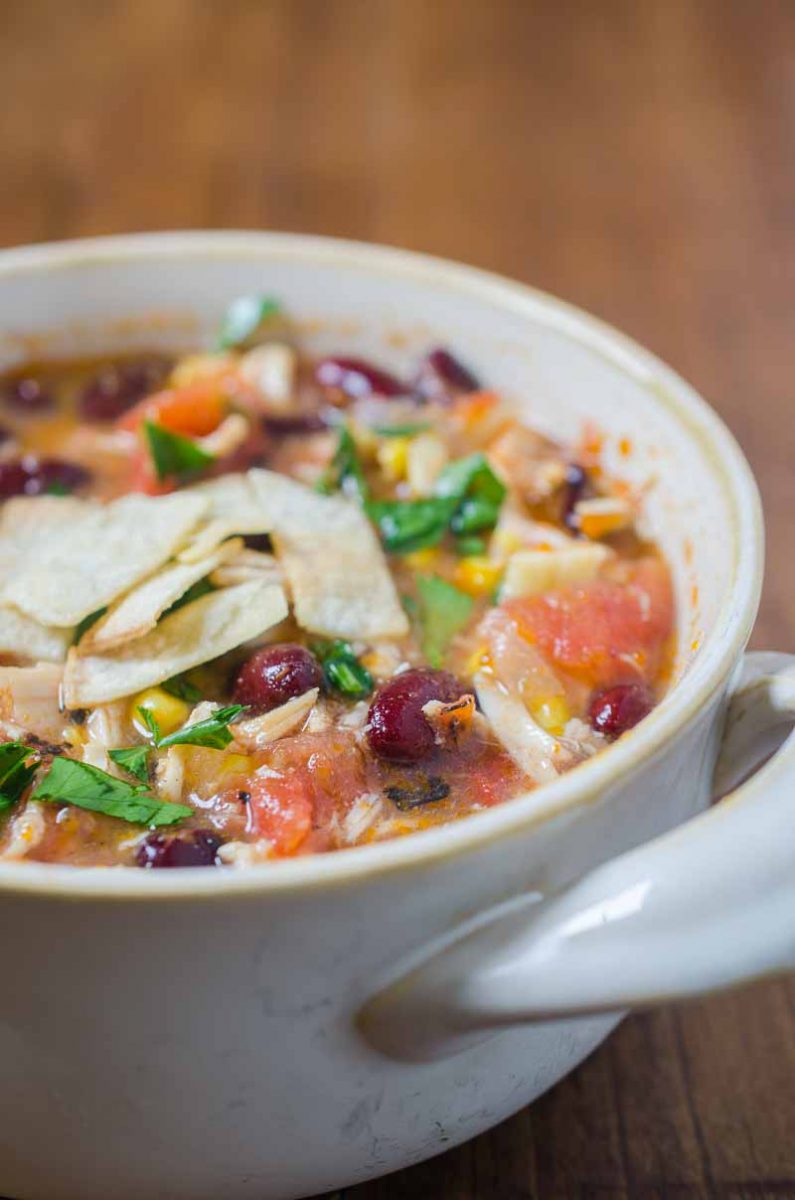 Chicken Tortilla Soup Recipe
Ingredients:
2 tablespoons plus 2 teaspoons olive oil
1 medium onion, diced
1 jalapeno, diced
4 cloves garlic, minced
1 1/2 teaspoon cumin
1/2 teaspoon chili powder
1/4 teaspoon cayenne pepper (optional)
1 (15 ounce can) fire roasted diced tomatoes
4 cups chicken broth
1 (14.5 ounce) can tri-bean blend, drained and rinsed (or a can of kidney, black or pinto beans)
1 1/2 - 2 teaspoons kosher salt
3 cups cooked shredded chicken
1 cup frozen corn kernels
1 teaspoon lime juice
1 teaspoon lime zest
4 small corn tortillas
2 tablespoons chopped cilantro
Instructions
1
Heat 2 tablespoons of olive oil in a large pot over medium heat. Add onions, garlic and jalapenos. Cook 3 - 4 minutes or until slightly softened. Stir in cumin, chili powder and cayenne pepper. Cook 1 more minute.

2
Pour in roasted tomatoes and chicken broth. Bring to a boil and reduce heat to medium low to simmer. Stir in beans, kosher salt, chicken, corn, lime juice and lime zest. Allow to simmer 10 - 15 more minutes. While the soup is simmering prepare your tortilla strips.

3
Preheat oven to 375 degrees. Drizzle remaining olive oil over the corn tortillas, cut into strips and bake for 5 - 7 minutes or until crispy.

4
Ladle soup into bowls, top with corn tortilla strips and cilantro.