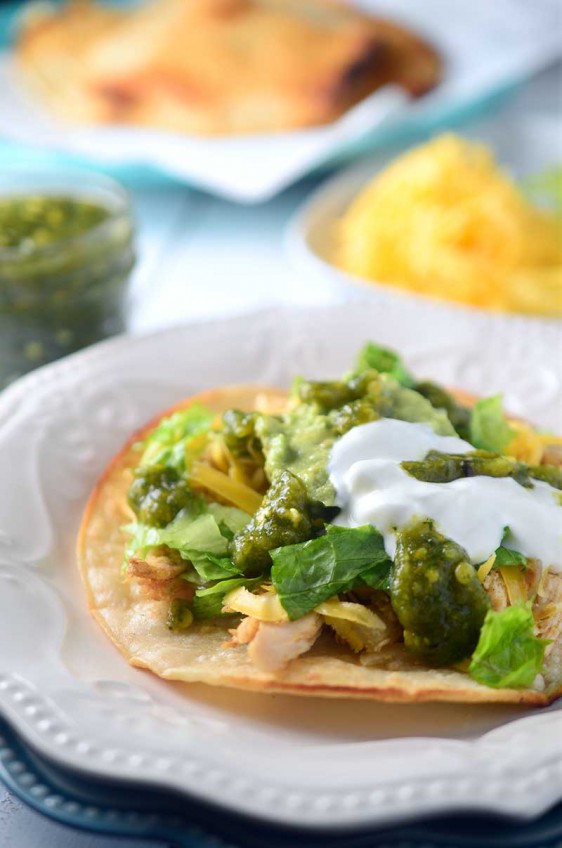 Chicken Tostada with Roasted Jalapeño Salsa
This quick and easy Chicken Tostada with Roasted Jalapeño Salsa is perfect for weeknight dinners and will quickly become a favorite. Especially among the spicy food lovers in your home.
What makes this quick and easy is the use of rotisserie chicken. As I've said before, it is one of my favorite go to kitchen cheats. Especially the Costco one. I mean seriously, there is no better deal around.
Speaking of Costco, I recently started buying the Chosen Foods Avocado Oil there. Have you tried cooking with Avocado oil yet? I am loving it. It is a great mild oil. I like to use it when I want something a little more mild than olive oil and it is excellent for high heat cooking, like the frying that you do in this recipe. If you haven't you should pick up a bottle for yourself. I'm pretty sure you'll love it. This isn't sponsored in anyway, it's just a product that I love so I wanted to let you all know about it, incase you didn't :)
Now back to the reason we're all here, this chicken tostada.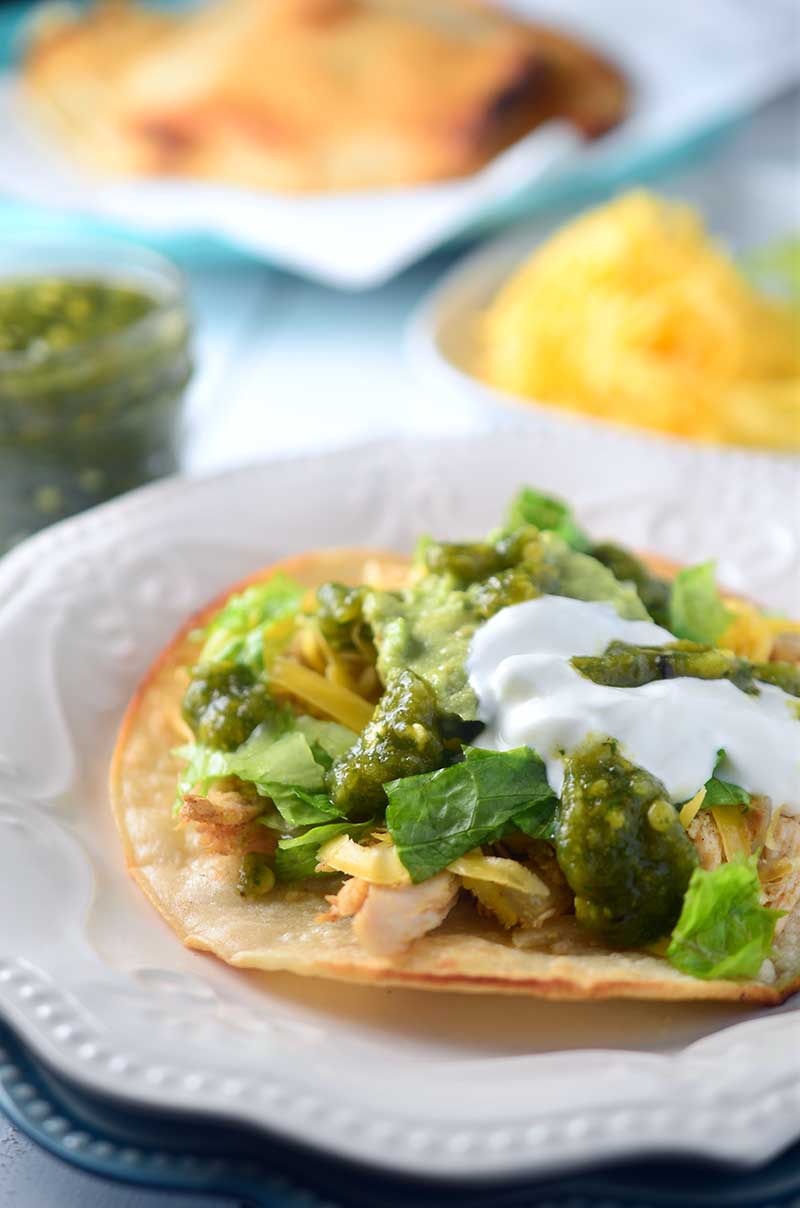 The chicken and all that is good but guys, the Roasted Jalapeño Salsa is the star of the show. It is crazy easy to make. All you need to do is broil the jalapeños until they blacken a bit then add them, some garlic, onions, cilantro, vinegar, cumin and salt to a food processor and process until it's just a little chunky.  I use three jalapeños in the recipe so it is a little bit spicy but it is so good. I not only used it to drizzle over the top of these but I used it to dip my chips in. And I think it would also be great on tacos, nachos and pretty much anything else you might add hot sauce to.
But first, of course, you've gotta try it on these Chicken Tostadas. You're going to love them.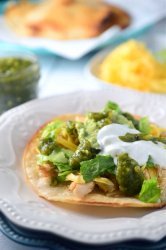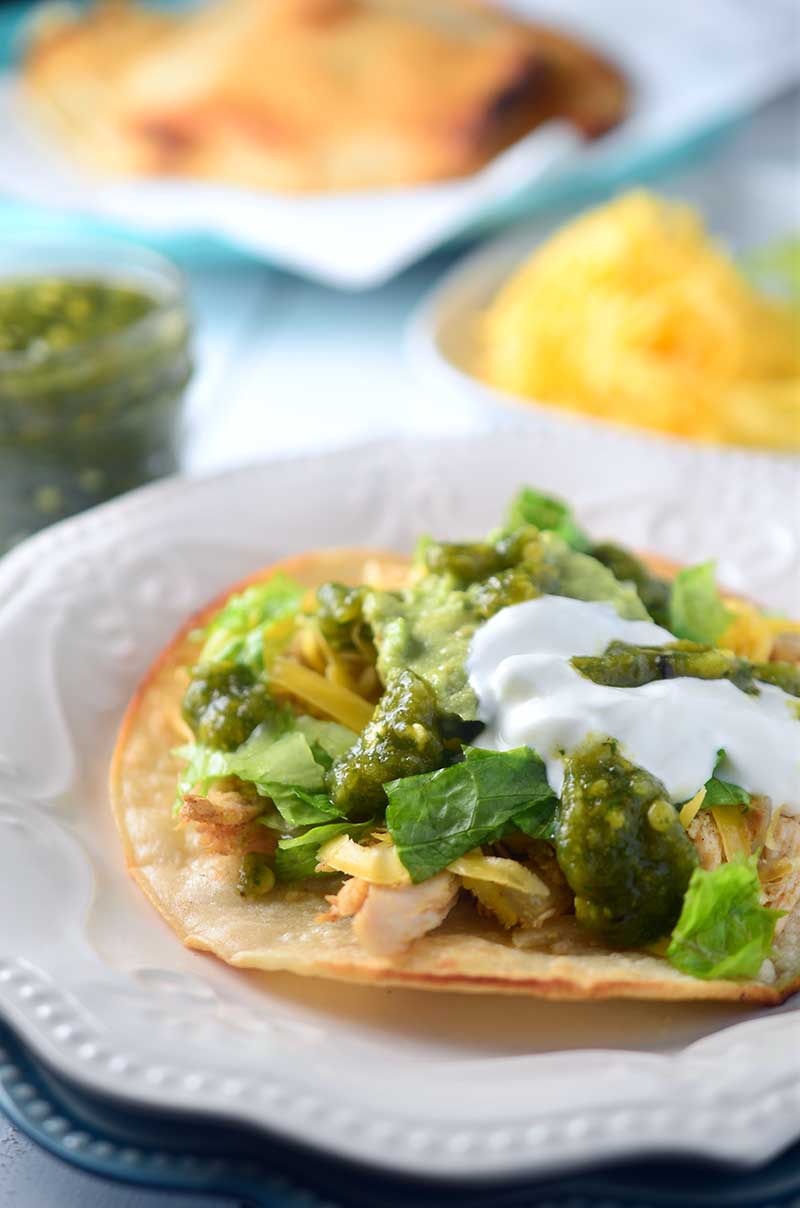 Chicken Tostada with Roasted Jalapeño Salsa
A quick and easy chicken tostada with a spicy roasted jalapeño salsa. Perfect for weeknight meals and spicy food fans!
Roasted Jalapeño Salsa Ingredients:
3

jalapeños

2

cloves

garlic

1/4

cup

cilantro

2

tablespoons

chopped yellow onion

2

tablespoons

white wine vinegar

1/4

teaspoon

cumin

1/4

teaspoon

salt
Chicken Tostada Ingredients:
Turn oven broiler setting on. Place jalapeños on a baking sheet six inches from the broiler. Broil 5 - 6 minutes on each side or until they begin to blacken. Remove jalapeños from oven and allow to cool.

Once cool, remove and discard stems. Place jalapeños, garlic, cilantro, onions, vinegar, cumin and salt in a food processor. Process until minced fine. It will still be a little chunky. Cover and refrigerate until ready to use.

Heat 1 tablespoon avocado oil in a skillet over medium heat. Add in chicken, onion, chili powder and cumin. Cook until chicken is warmed through and onions have softened. Season to taste with salt. Remove from skillet and cover with aluminum foil to keep warm while you fry the tortillas.

Heat a thin layer of avocado oil in skillet. Once hot, cook tortillas one at a time, 30 seconds on each side or until browned and crispy. Transfer to a paper towel lined plate.

To assemble tostadas: Place a tortilla on a plate. Scoop chicken on top. Top with lettuce, cheese, guacamole and sour cream. Drizzle roasted jalapeño salsa over the top. Serve.
Keywords:
chicken, Jalapeno, salsa, taco, tostada