Chili Rubbed Fish Tacos
Happy New Year friends! I hope you all had a safe and happy new year. We celebrated New Years eve at home with a steak and seafood feast, a bottle of Brunello and, my favorite tradition, a Lord of the Rings marathon. Now that we're into 2016, I thought I would lighten things up a bit and share this recipe for Chili Rubbed Fish Tacos.
Before we get to the recipe, I have a little housekeeping news. I am proud to announce that I am part of a new food blogger collaboration called Coterie Cookbooks. Coterie Cookbooks is a collection of over 40 of your favorite food bloggers. We will be releasing a new ebook every month this year. First up is a collection of 5 Minute Healthy Snacks to get you started right this new year. Get your copy here!
Now on to these Chili Rubbed Fish Tacos. Usually when I eat or make fish tacos, the fish is fried. And they are delicious because everything fried is delicious. However, in the spirit of lightening things up in the new year, the cod for these fish tacos is rubbed with chili powder, drizzled with lime, wrapped up in parchment paper and baked. The result is tender, flakey, perfectly seasoned fish that shined in these fish tacos.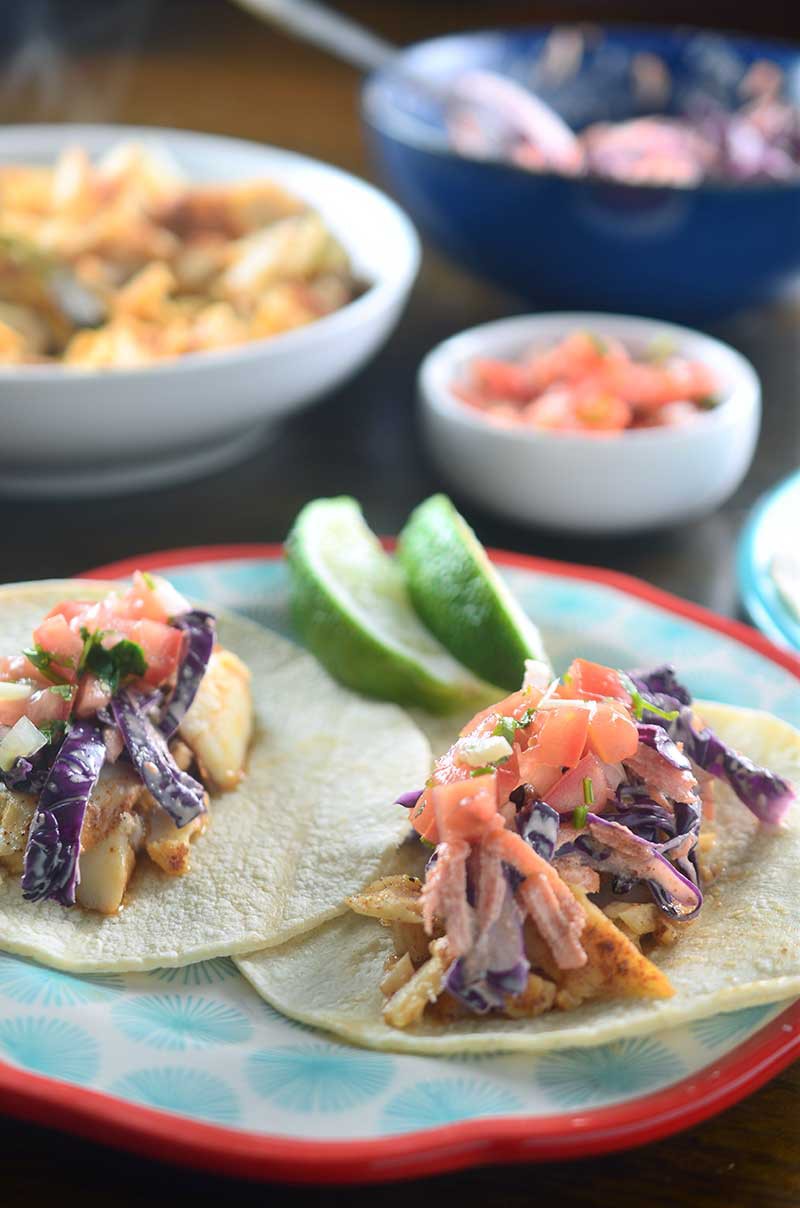 I also decided to add some slaw on top because what's a fish taco with out slaw? The slaw comes together really quickly and easily. I chopped my own cabbage because I had some in the fridge but to make things even easier for you, you could pick up some coleslaw mix. Which ever you use, the slaw is a part you don't want to leave out. It is the perfect creamy, crunchy compliment to these Chili Rubbed Fish Tacos.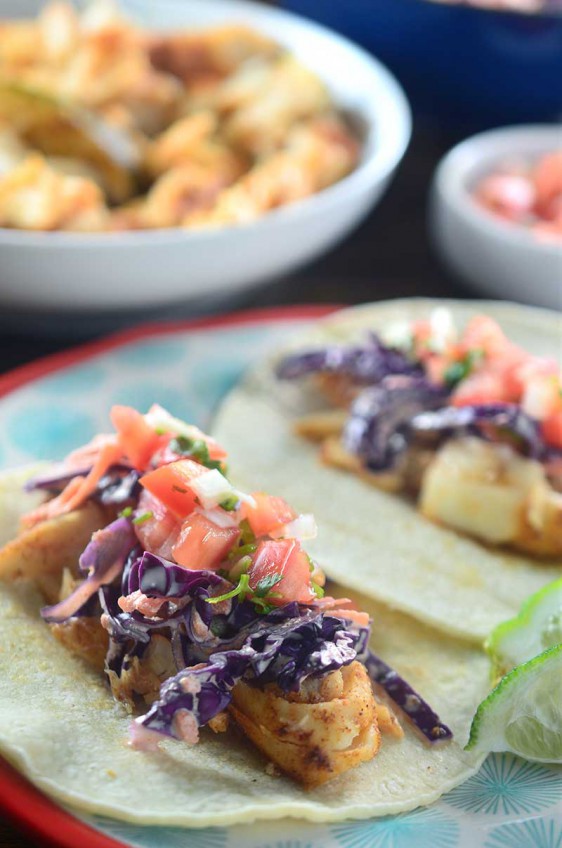 Chili Rubbed Fish Tacos
Looking for a lightened up version of fish tacos? These Chili Rubbed Fish Tacos with baked cod and homemade slaw are it!
Slaw Ingredients:
2

cups

shredded red cabbage

1

cup

shredded carrot

1

jalapeno

diced

2

tablespoons

mayonnaise

1

tablespoon

distilled vinegar

1/2

teaspoon

salt

1/2

teaspoon

ground cumin

1/4

teaspoon

paprika

1/4

teaspoon

granulated garlic
Prepare the slaw first. Mix the cabbage, carrot and jalapeno together. In a small bowl, mix together mayonnaise, vinegar, salt, cumin, paprika and granulated garlic. Pour mixture over the cabbage mixture and mix well. Cover and refrigerate until ready to use.

Preheat oven to 425 degrees.

Combine chili powder, salt, granulated garlic, onion powder and paprika in a bowl. Mix well.

Rub chili powder mixture all over fish fillets.

To make one pouch, place a fish fillet on a large piece of parchment paper (I used 10 3/4 x 15 inch sheets). Drizzle with 1 teaspoon oil and squeeze lime wedge over the top. Fold the edges of the parchment paper together so that they close and form a pouch. Repeat with remaining ingredients.

Place pouches on a baking sheet and bake in preheated oven for 15 - 20 minutes or until fish is cooked through and flakes easily.

Meanwhile, while fish is cooking, heat a dry cast iron skillet over medium heat and warm tortillas.

When fish has cooked through, carefully remove fish from pouches and flake into bite size pieces.

To make a fish taco, spoon some of the fish onto a tortilla, top with slaw and pico de gallo.
Keywords:
cod, fish tacos, tacos