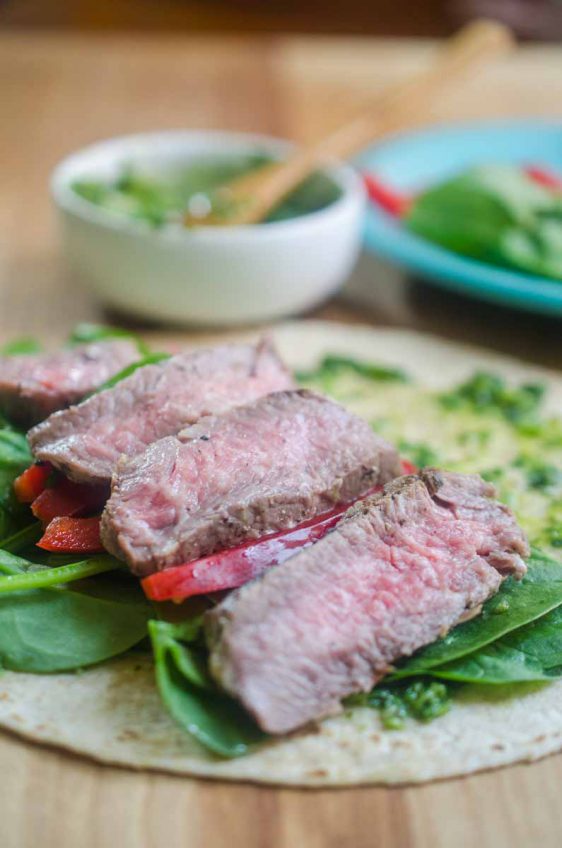 Chimichurri Steak Wraps
Chimichurri Steak Wraps make a great lunch or dinner! An easy chimichurri sauce adds big flavor to wraps made with steak, spinach and red bell pepper.
 This recipe is sponsored by the Washington Beef Commission. We are grateful for our sponsors because they allow us to share delicious free content with you every week! 
With summer just around the corner, grilling will be a big part of our dinner plans. During the summer we usually grill a few times a week. We grill chicken, shrimp, burgers and of course, steaks.  If I make a larger steak then I'll usually find myself with some leftovers. The leftover steak often turns into steak and eggs for breakfast, but these Chimichurri Steak Wraps are my new go-to.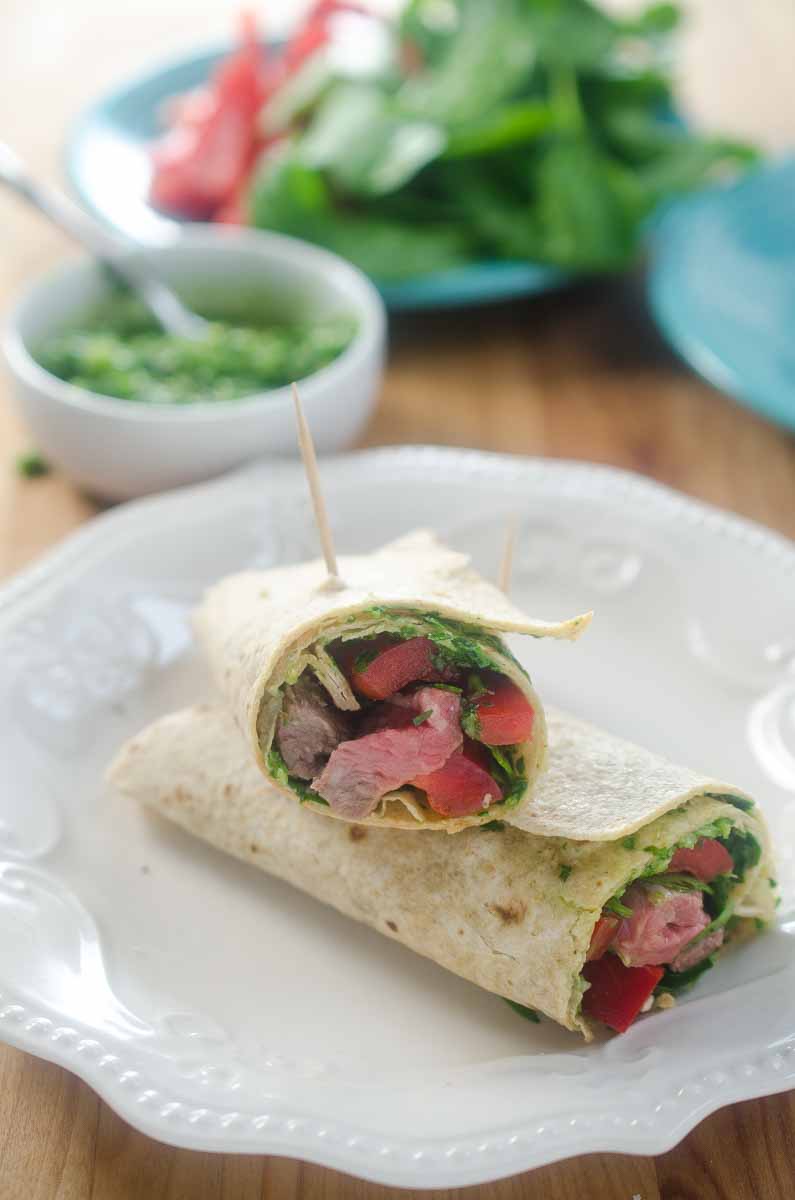 For the record, chimichurri is one of my favorite condiments ever. I put it on salmon, nachos and even shrimp tacos. And now I can add these chimichurri steak wraps to the list.
These Chimichurri Steak Wraps are the 4th in my series of posts with the Washington State Beef Commission. Working with the beef commission and learning about beef has taught me so much already. This week I attended a Fork to Farm tour with them and it was eye-opening. I cannot wait to tell you more about it! I've got a lot of pictures of cows to process before then, but stay tuned, I have so much information to share!But back to these Chimichurri Steak Wraps. You can use any cut of beef that you prefer. I used tri-tip because we had it on hand, but really any kind of steak will work. You can grill the steak right before you eat but I also think that these are an excellent way to use leftover steak. I had them for lunch two days in a row.
I didn't hate it.
These Chimichurri Steak Wraps are also full of tender spinach, crunchy red bell peppers and wrapped in a whole wheat tortilla. They are full of flavor, veggies and protein. You can't beat that!

Chimichurri Steak Wraps Recipe
Ingredients:
12 ounces grilled beef steak, cut into slices
3 cups fresh baby spinach
1/2 large red bell pepper, cut into thin strips
4 medium whole wheat tortillas (8 to 10-inch diameter)
Chimichurri Sauce:
1 cup fresh parsley leaves

2 cloves garlic

3 tablespoons olive oil

1 tablespoon red wine vinegar

1/4 teaspoon salt
Instructions
1
Place parsley and garlic in food processor or blender container. Cover; process until finely chopped. Add oil, vinegar and salt; process just until blended.

2
Spread each tortilla evenly with Chimichurri Sauce, leaving 1/4-inch border around edge. Top with equal amounts spinach, bell pepper slices and beef slices on top two-thirds of tortilla. Fold bottom of tortilla up over filling. Fold right and left sides to center overlapping edges; secure with wooden picks; if desired.