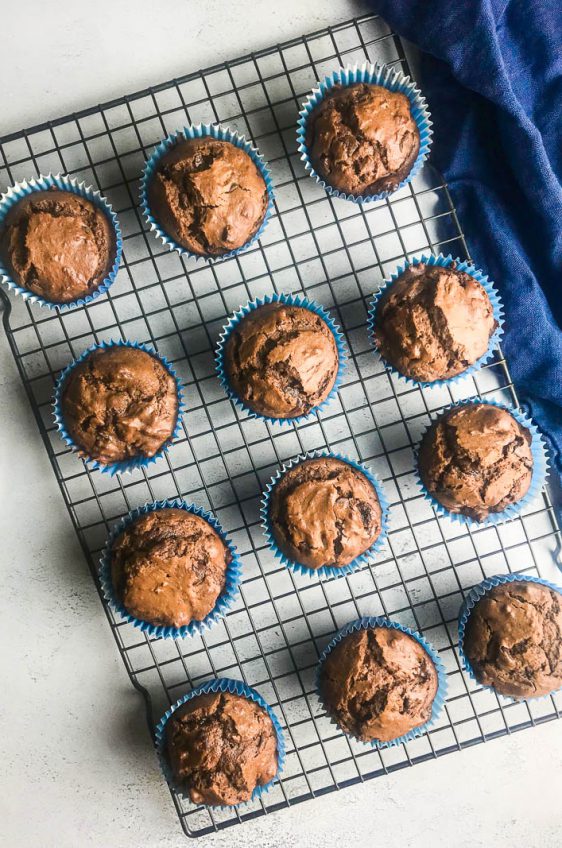 Chocolate Chocolate Chip Muffins
Chocolate Chocolate Chip Muffins are a family favorite! Sweet but not too sweet, they are great for breakfasts on the go or afternoon snacks. 
Muffins are always a great on the go breakfast or afternoon snack. When they are loaded with chocolate, they are even better. These Chocolate Chocolate Chip Muffins are always a hit.
And it's easy to see why.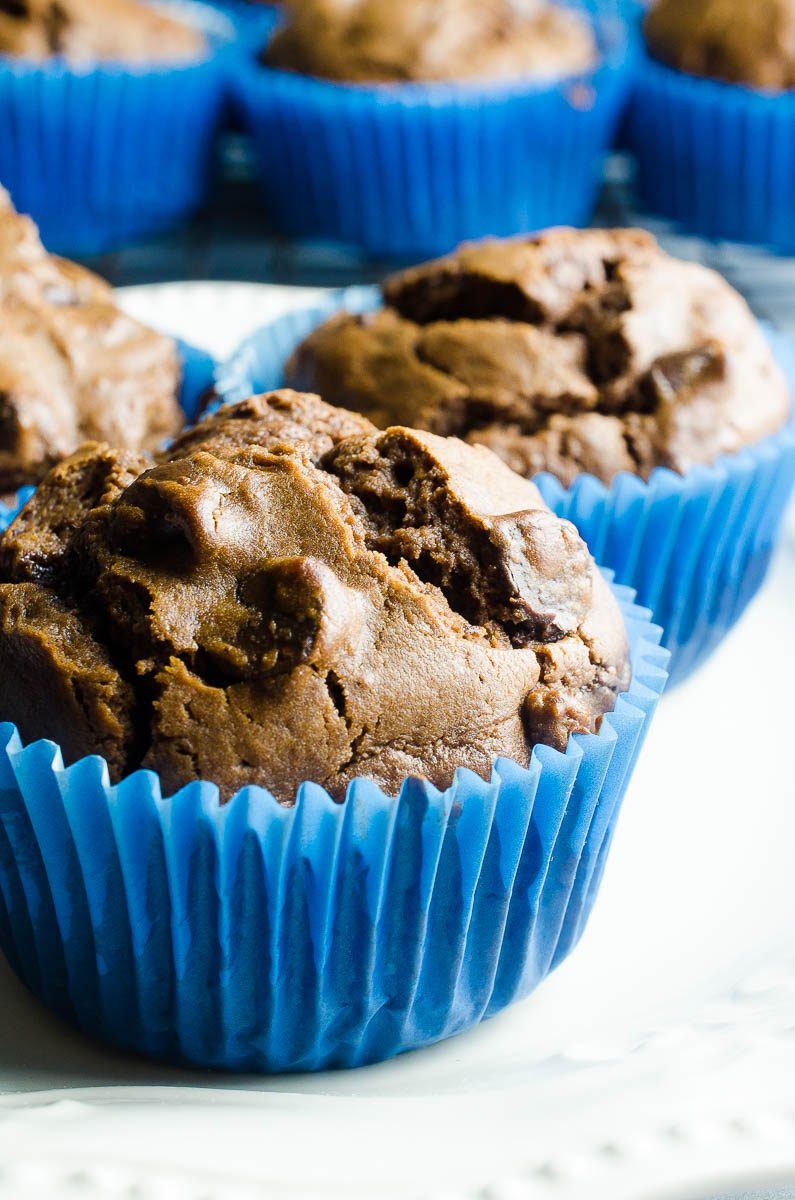 Tips for making chocolate chocolate chip muffins:
I have been testing these muffins for awhile now. My kids LOVE it because it means that they get chocolate chip muffins for breakfast pretty much every day.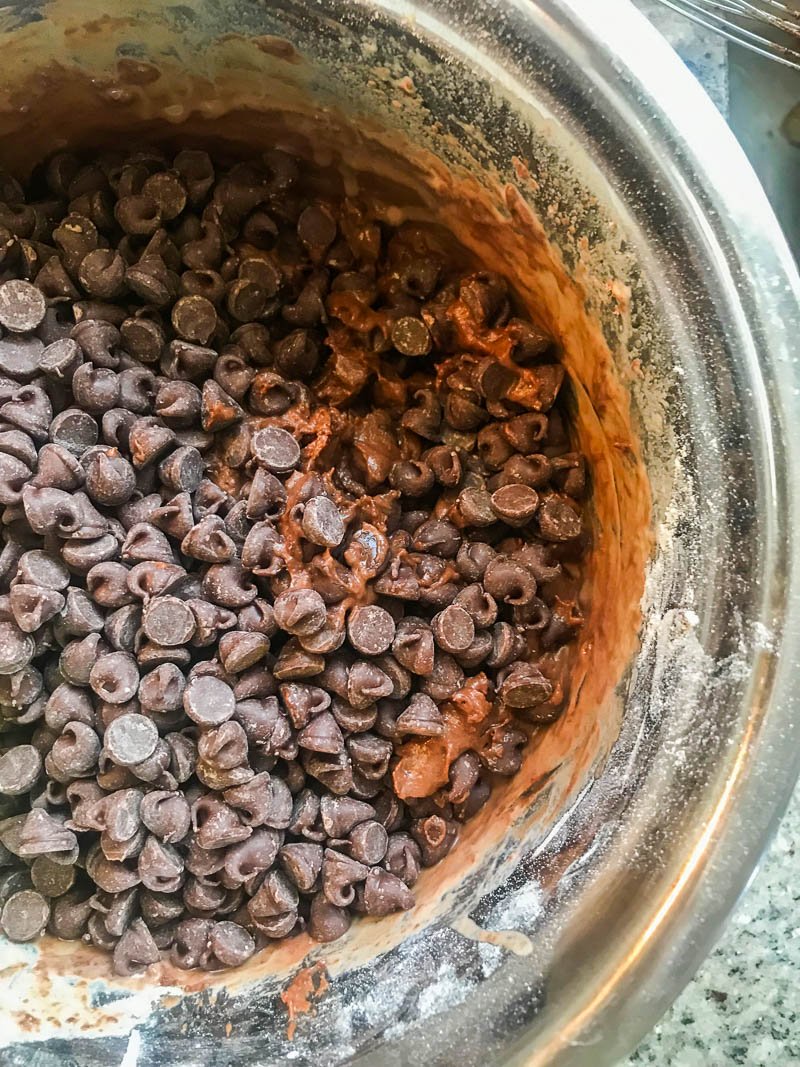 During all of this recipe testing, I have learned a few things about about making perfectly moist chocolate chocolate chip muffins:
Tip #1: Melting chocolate with the butter works better than mixing the butter with cocoa powder. When I tried the recipe with cocoa powder, the muffins were a bit on the dry side.
Tip #2: To make the muffins even more moist, in addition to the milk, I add sour cream.
Tip #3: Much like Easy Blueberry Muffins, one key to making perfect muffins is to mix the batter just until the batter comes together. It will still be a bit lumpy but if you over mix it, you will also end up with dry muffins.
Tip #4: Baking the muffins at 400 degrees for the first 5 minutes and then reducing the heat to 375 degrees for another 12 – 15 minutes, ensures that the muffins are higher and have a slight crunch to the top.
Tip #5: To ensure that the muffins stay fresh, store in an airtight container.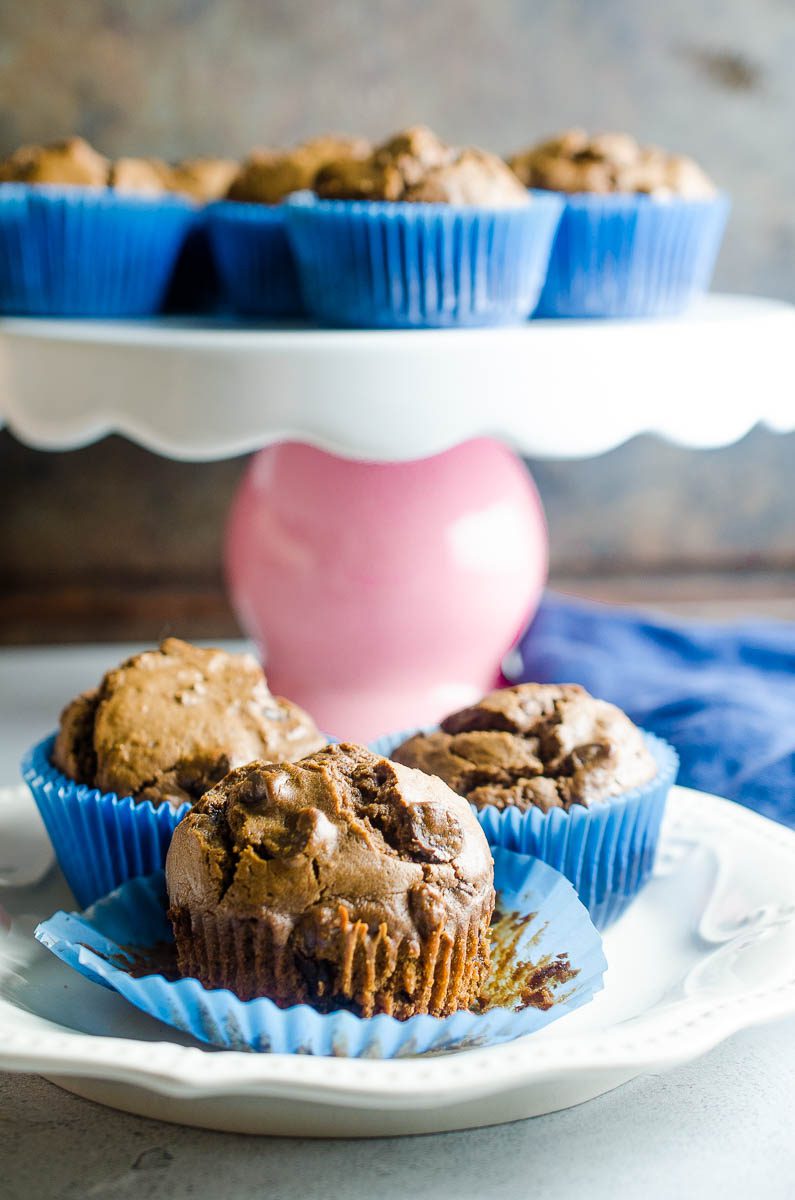 Can you freeze chocolate chocolate chip muffins:
Yes! Muffins freeze well. Simply wrap them in plastic wrap and place them in the freezer. When you are ready to eat them, thaw them at room temperature. If you don't have time for that, simply remove the plastic wrap, place them on a napkin and microwave them for about 30 seconds.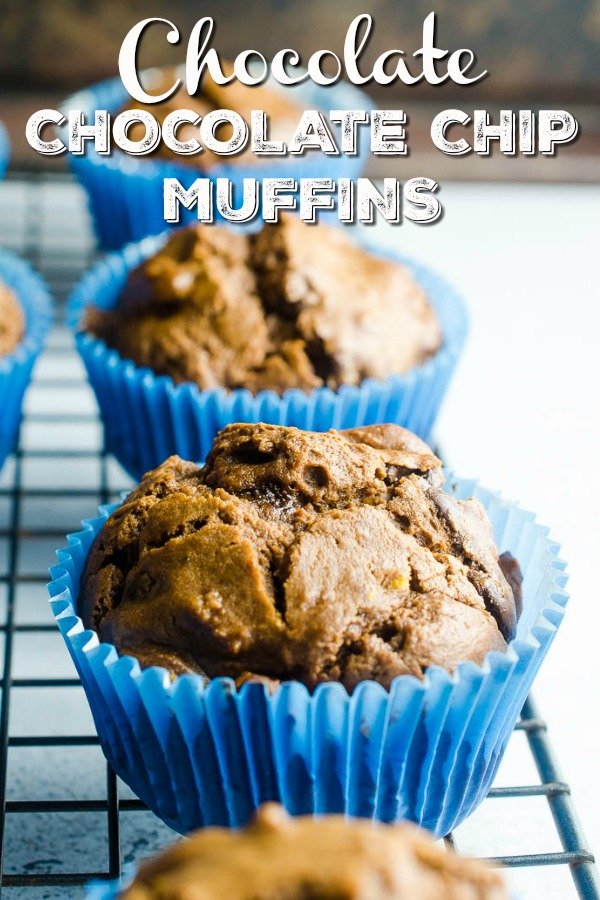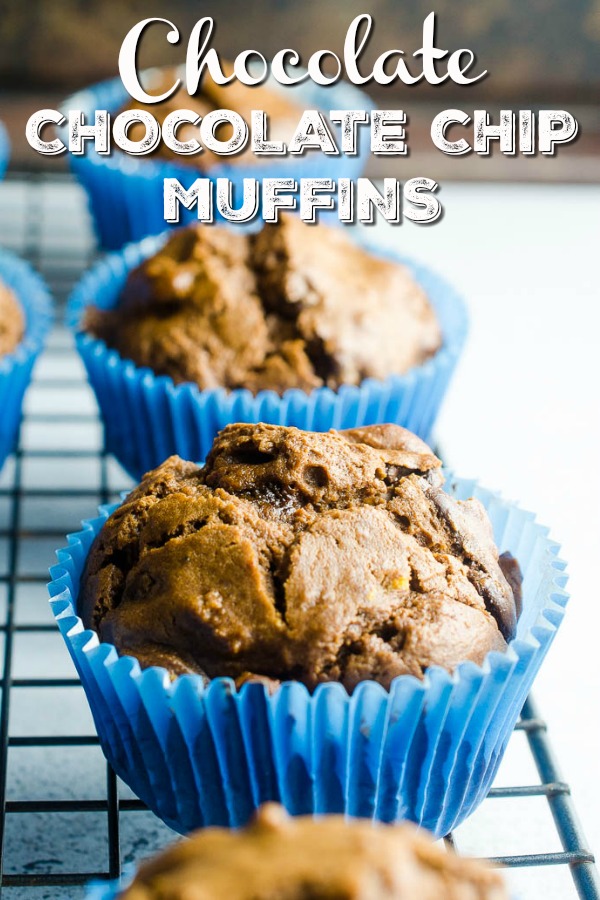 Chocolate Chocolate Chip Muffins Recipe
Ingredients:
1/2 cup unsalted butter
4 ounces unsweetened chocolate, chopped
1 cup dark brown sugar
2 eggs
1/2 cup sour cream
1 teaspoon vanilla
2 cups all-purpose flour
2 teaspoons baking powder
3/4 teaspoons salt
3/4 cup whole milk
12 ounces semi-sweet chocolate chips
Instructions
1
Preheat oven to 425 degrees. Line a muffin tin with liners.

2
In a small pot over low heat, melt together butter and unsweetened chocolate. Whisk until smooth. Cool.

3
Whisk together chocolate and brown sugar. Whisk in eggs one at a time. Whisk in sour cream. Whisk in vanilla.

4
In another bowl, combine flour, baking powder and salt.

5
Add 1/2 of the dry mixture into wet mixture. Mix just until it starts to come together. Mix in milk. Mix in remaining dry ingredients.

6
Gently fold in semi-sweet chocolate chips. Mix just until the batter comes together. Batter will be thick and slightly lumpy.

7
Fill cupcake liners with 1/4 cup mixture. Bake at 425 degrees for 5 minutes. Reduce heat to 375 and bake for an additional 12 - 15 minutes or until a toothpick inserted comes out clean. Allow to cool and serve.

Notes
Nutrition facts not guaranteed.
Nutrition information
Calories: 245 , Total Fat: 13.8g , Saturated Fat: 7.1g , Cholesterol: 32mg , Sodium: 194mg , Carbohydrates: 29.3g , Fiber: 1.8g , Sugar: 14.1g , Protein: 3.7g