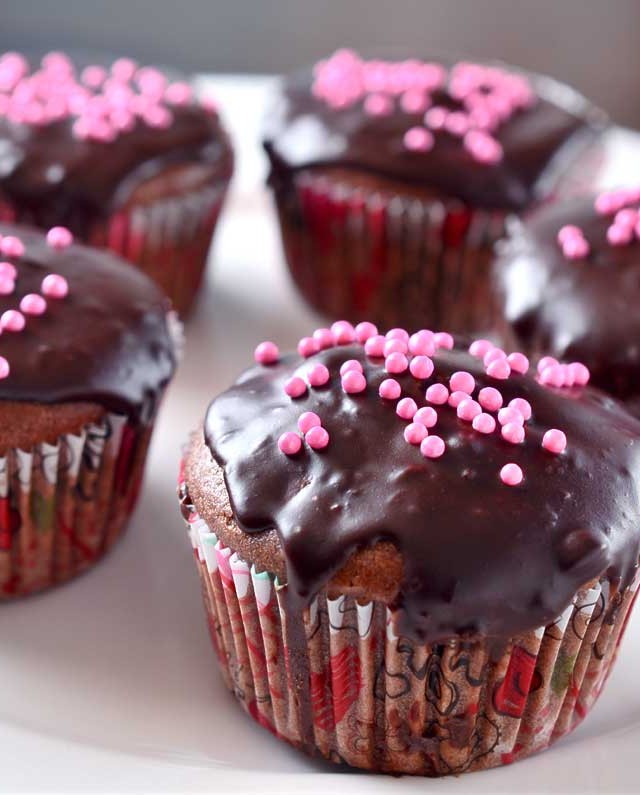 Chocolate Cupcakes with Chocolate Ganache
It's Valentine's week so I figured I better post a chocolate recipe. And these cupcakes are the perfect treat to bring to Valentine's party or the perfect dessert to serve to your sweetie after your Valentine's dinner celebration. Because really, who doesn't love a cupcake? Especially a cupcake topped with luscious chocolate ganache.
I could probably eat ganache by the spoonful.
Really, it's dangerous how easy it is to make: heat heavy cream, add in some chocolate and stir. Once the chocolate melts, it creates a glossy, heavenly sauce.
As you can see from the picture, it can get a little messy as it likes to pour over the sides of the cupcakes, so no need to worry about perfect technique here. If you don't want to worry about wasting any ganache because it gets stuck on the cupcake wrapper, simply bake these cupcakes sans wrapper, just be sure to grease the pan first.

Chocolate Cupcakes with Chocolate Ganache
Chocolate cupcakes topped with decadent chocolate ganache. Perfect for Valentine's day.
Chocolate Ganache Ingredients:
2/3

cup

heavy cream

1

cup

dark chocolate chips
Preheat oven to 350 degrees. Place cupcake liners in a cupcake tin.

Use a mixer to cream together butter and sugar until fluffy. Beat in eggs one at a time. Scrape down the sides of the bowl after adding each egg. Beat in the vanilla.

Sift together flour, baking powder, salt and cocoa powder. Beat half of the flour mixture into the wet mixture.

Beat in half of the milk. Beat in remaining dry ingredients. Beat in the rest of the milk. Beat in the boiling water.

Fill cupcake tins 2/3 of the way full.

Bake for 15 - 20 minutes or until a toothpick inserted comes out with a few crumbs on it. Allow cupcakes to cool for a few minutes in the tin.

Transfer cupcakes to a cooling rack to cool completely.

Once the cupcakes are cool, make the ganache by heating the heavy cream in a saucepan just until simmering. Place the chocolate chips in a bowl you can easily pour from (I used my 4 cup measuring cup). Pour the hot cream over the top. Make sure all of the chocolate is submerged in the cream. Let stand for two minutes.

Gently whisk the chocolate and cream together until the chocolate has melted and the mixture has a glossy look to it.

Spoon the ganache over the top of the cooled cupcakes. Sprinkle with sprinkles if using. Once the ganache hardens, serve.
Keywords:
cupcake, ganache, sweet, valentines day