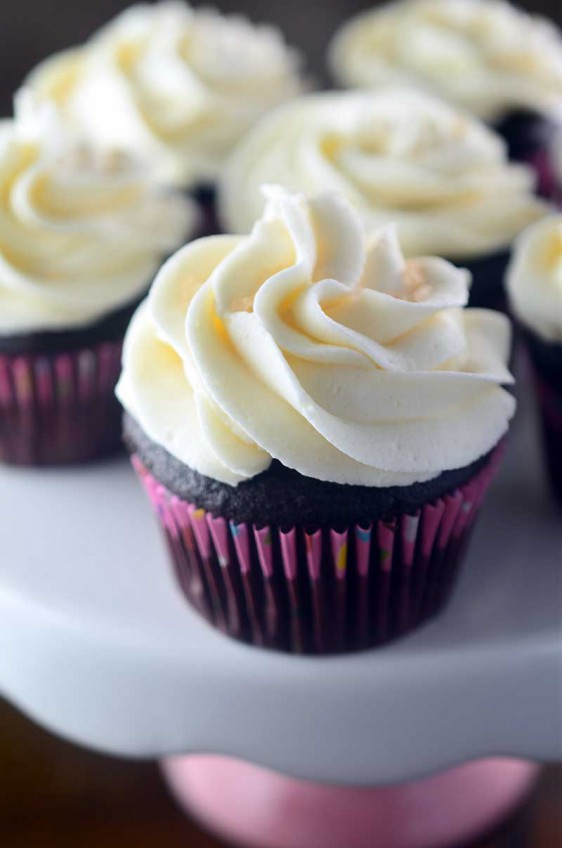 Chocolate Cupcakes with Vanilla Buttercream
I was compensated by Nielsen-Massey Vanillas for my time in developing this recipe and post. All opinions are my own.
Happy Monday! Is there a better way to kick of the work week than with cupcakes? I don't think so. That is why today I am sharing these Chocolate Cupcakes with Vanilla Buttercream. There are many wild and crazy cupcake flavors out there now a days, I figured it was time to get back to the classics.
When it comes to desserts, especially ice cream and cupcakes, one common question is: are you a chocolate or a vanilla? Me? I'm both. You see, most of the chocolate desserts that we love wouldn't be what they are without vanilla. Chocolate cake? Vanilla is in there. Chocolate cookies? Yep, in there too. Chocolate Ice Cream? You know it. Chocolate and vanilla compliment each other so well, you'd be hard pressed to find a chocolate dessert that doesn't have vanilla.
When I say vanilla, I don't mean that stuff labeled  "vanilla flavoring". No, I am talking the good stuff. The Madagascar Bourbon Pure Vanilla Extract. Which is exactly the kind of vanilla extract that  Nielsen-Massey  sent me to use in this recipe. I have used Nielsen-Massey products in my kitchen before and have always been a big fan. I was really excited to get the chance to work with them. Not to mention another excuse to make dessert. :)
When it came to the recipe development, I knew that I was going to make chocolate cupcakes.
Because cupcakes.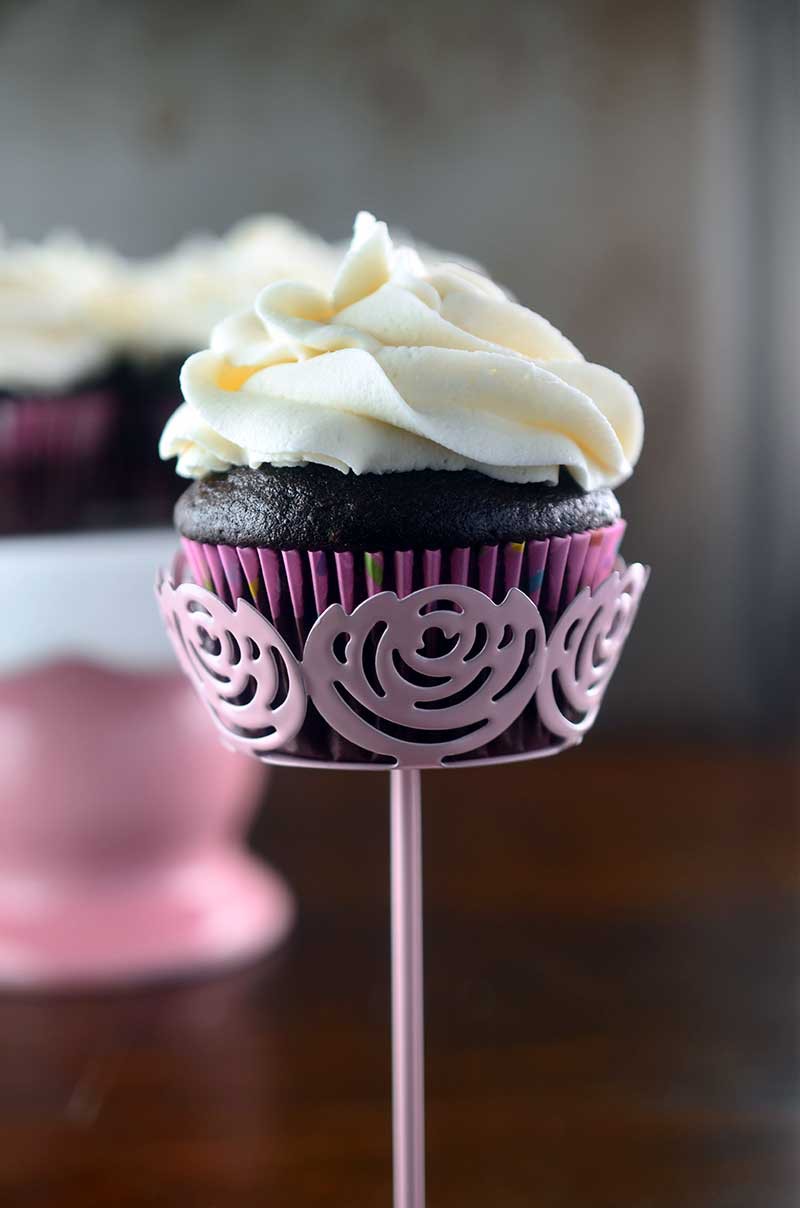 I knew that I was going to use Nielsen-Massey Madagascar Bourbon Pure Vanilla Extract in the chocolate cupcakes because you can't have chocolate cupcakes without vanilla. But I wanted to take the whole chocolate-vanilla combo one step further and top the cupcakes with vanilla buttercream. Finally, to go one deliciously tiny step further, I sprinkled some Nielsen-Massey Madagascar Bourbon Pure Vanilla Sugar on top. The result is a decadent, classic cupcake that is sure to be a favorite.
Be sure to follow Nielsen-Massey on Instagram to get more vanilla recipe ideas!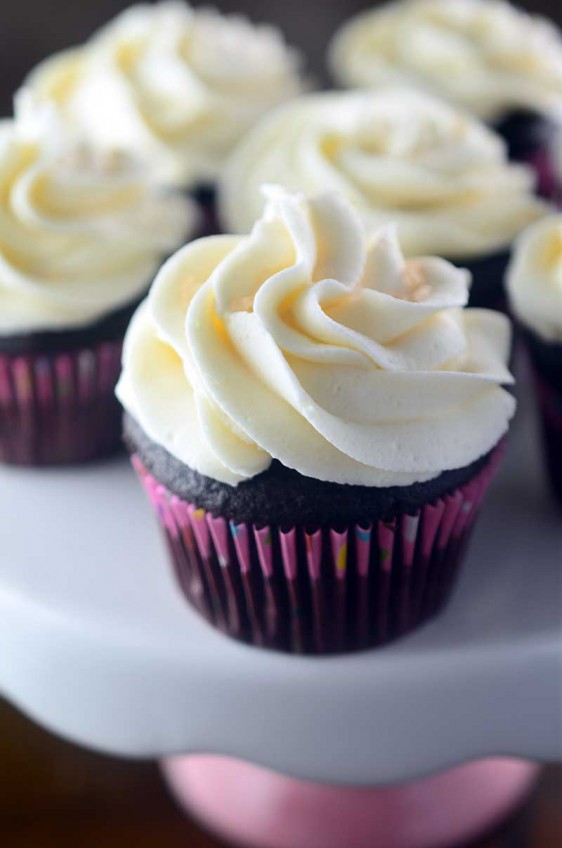 Chocolate Cupcakes with Vanilla Buttercream
Decadent chocolate cupcakes with creamy vanilla buttercream. A classically simple dessert.
Chocolate Cupcakes Ingredients:
Vanilla Buttercream Ingredients:
1

cup

unsalted butter

softened

4

cups

powdered sugar

1

teaspoon

Nielsen-Massey Madagascar Bourbon Pure Vanilla Extract

2 - 3

tablespoons

whole milk

Nielsen-Massey Madagascar Bourbon Pure Vanilla Sugar
Preheat oven to 350 degrees. Line a cupcake tin with cupcake liners.

In a bowl of a stand mixer fixed with the paddle attachment, combine sugar, flour, cocoa powder, baking powder, baking soda and salt. Mix together.

Add in canola oil, buttermilk and vanilla. Mix on medium speed just until it starts to come together. Mix in eggs one at a time. Scrape down the sides of the bowl. Slowly pour in boiling water. Mix for 2 more minutes. Batter will be thin.

Fill cupcake liners 2/3 way full. Bake in preheated oven for 15 - 20 minutes or until a toothpick inserted comes out clean.

Remove cupcakes from oven and allow to cool completely .

Make frosting by creaming together butter and powdered sugar in a stand mixer. Beat in vanilla extract. Beat in two tablespoons milk and continue beating until a thick spreadable mixture forms. If frosting seems too thick add remaining tablespoon milk.

Spoon frosting into a piping bag and pipe onto cooled cupcakes. Sprinkle with vanilla sugar. Serve.
Keywords:
buttercream, chocolate, cupcakes, nielsen massey