Boozy Stuffed Strawberries are stuffed with chocolate liqueur mascarpone cheese and sprinkled with chocolate shavings. They are thee adult dessert you need to be serving at all your summer BBQs. 

When it comes to BBQs, dessert is always the last thing I think to make. By the time I realize it, I've already made so many salads,  veggies and burgers, that I just don't have the energy to make a dessert. That is where these Boozy Stuffed Strawberries come in. They are party perfect and can be ready in about 10 minutes.
Oh and they're boozy, so it's even better.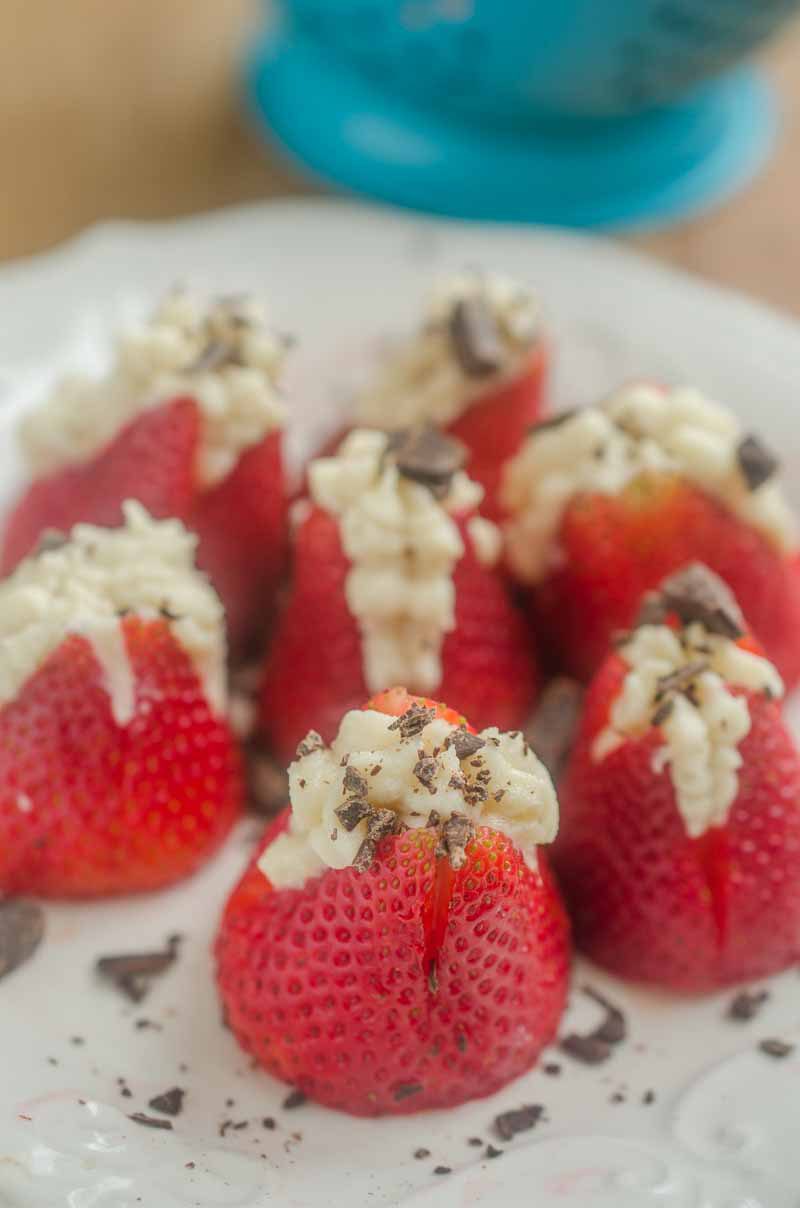 The wonderful thing about stuffed strawberries is they look really pretty on the plate but are easy to make. All it takes is a little crisscross cut in the bottom of the strawberry to make a hole for the stuffing. Then use a piping bag to squeeze just a small amount of boozy mascarpone cheese inside and sprinkle them with chocolate shavings.
When I first made these Boozy Stuffed Strawberries, I wanted to do a play on the whole "chocolate covered strawberry" thing. This is why I chose to use creme de cacao for the booze in the mascarpone. I love the subtle chocolate flavor. If you want to switch things up a bit, try Kahula or Bailey's. Either would be wonderful.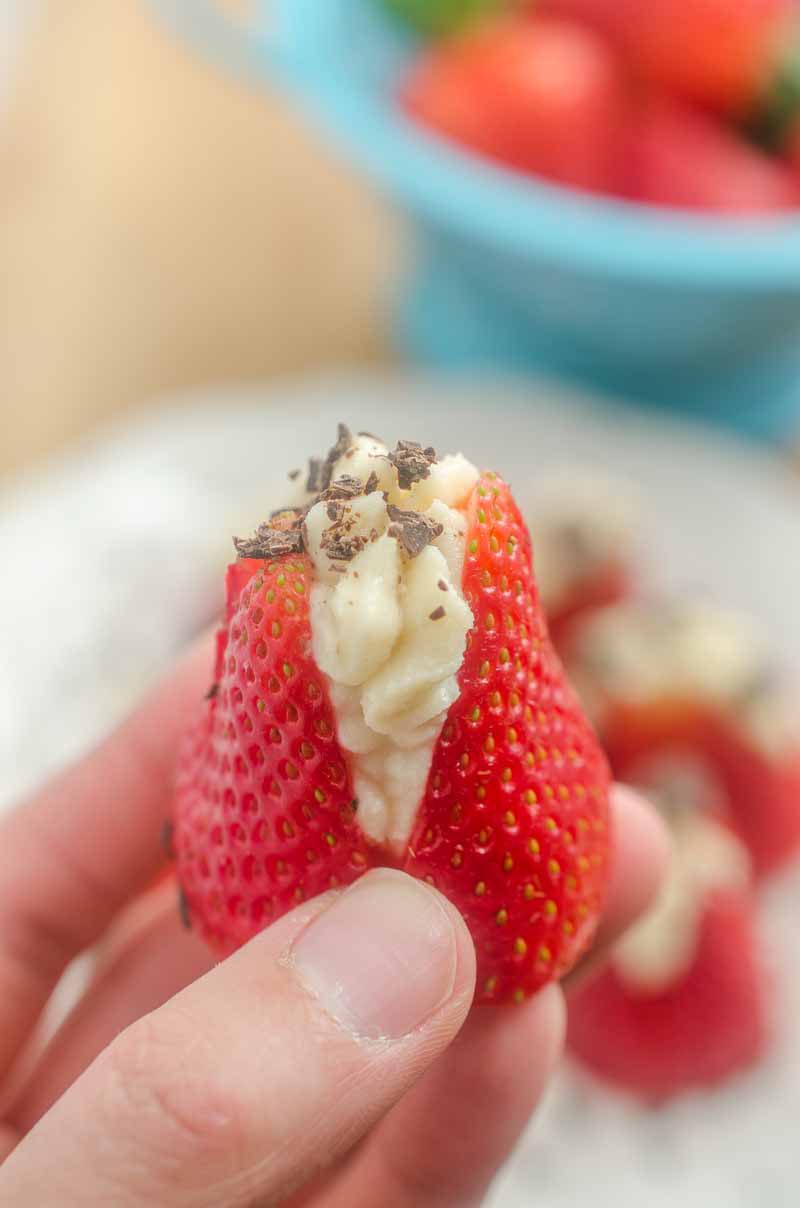 Because these Boozy Stuffed Strawberries are in fact, boozy, they are not kiddo friendly. I just make sure that I have some ice cream or regular strawberries and whipped cream on hand for the kids to enjoy. Leaving out liqueur in a few to make them kid friendly is also an option.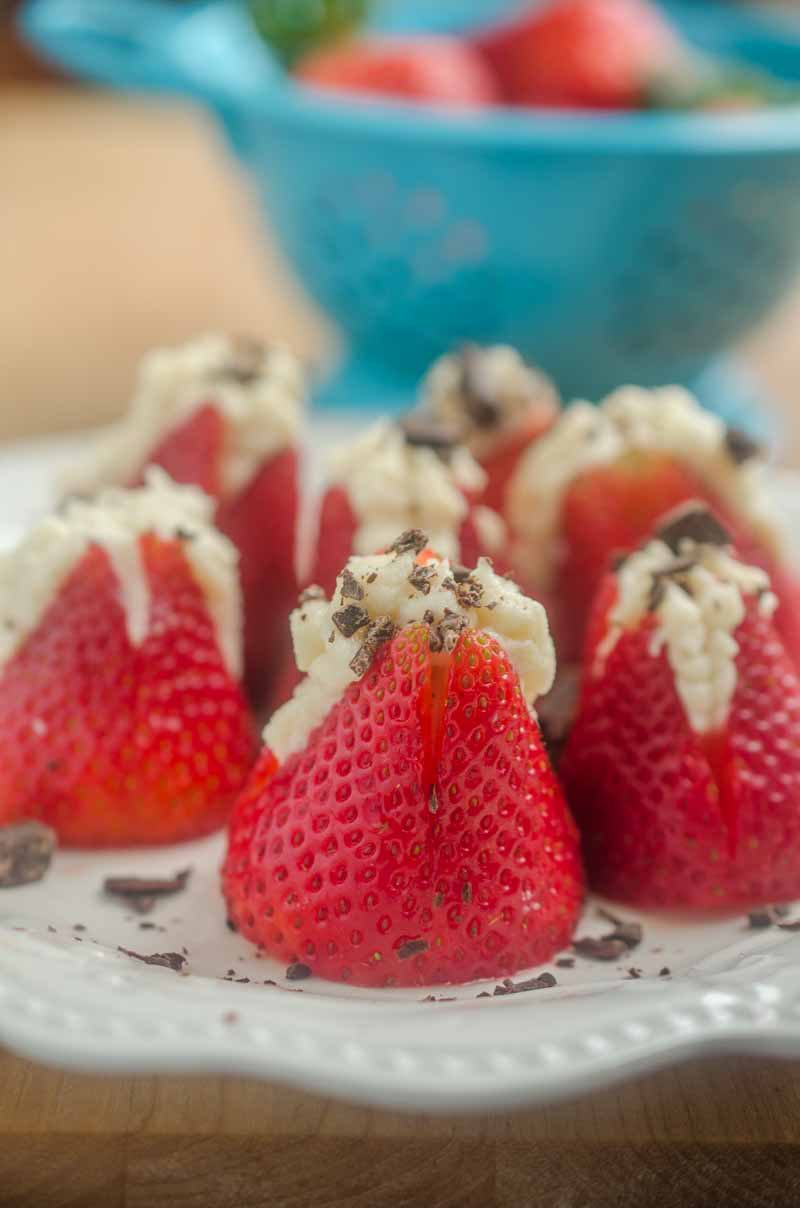 You can also easily double or triple this recipe if you want to. And I don't want to toot my own horn or anything but, you'll probably want to.

Ingredients:
2/3 cup mascarpone cheese
1 tablespoon plus 1 teaspoon granulated sugar
1 tablespoon chocolate liqueur
10 - 12 strawberries
2 tablespoons chocolate shavings
Instructions
1
In a bowl combine mascarpone cheese, sugar and chocolate liqueur. Mix well. Transfer to a piping bag or a resealable plastic bag with the corner snipped off.

2
Cut the tops off the strawberries so that they sit flat. Cut a crisscross in the bottom of the strawberry going about 3/4 of the way through. Be careful not to cut through the strawberry.

3
Pipe the mascarpone filling into the strawberries until all strawberries are filled. Top with chocolate shavings.

4
Chill until ready to serve.