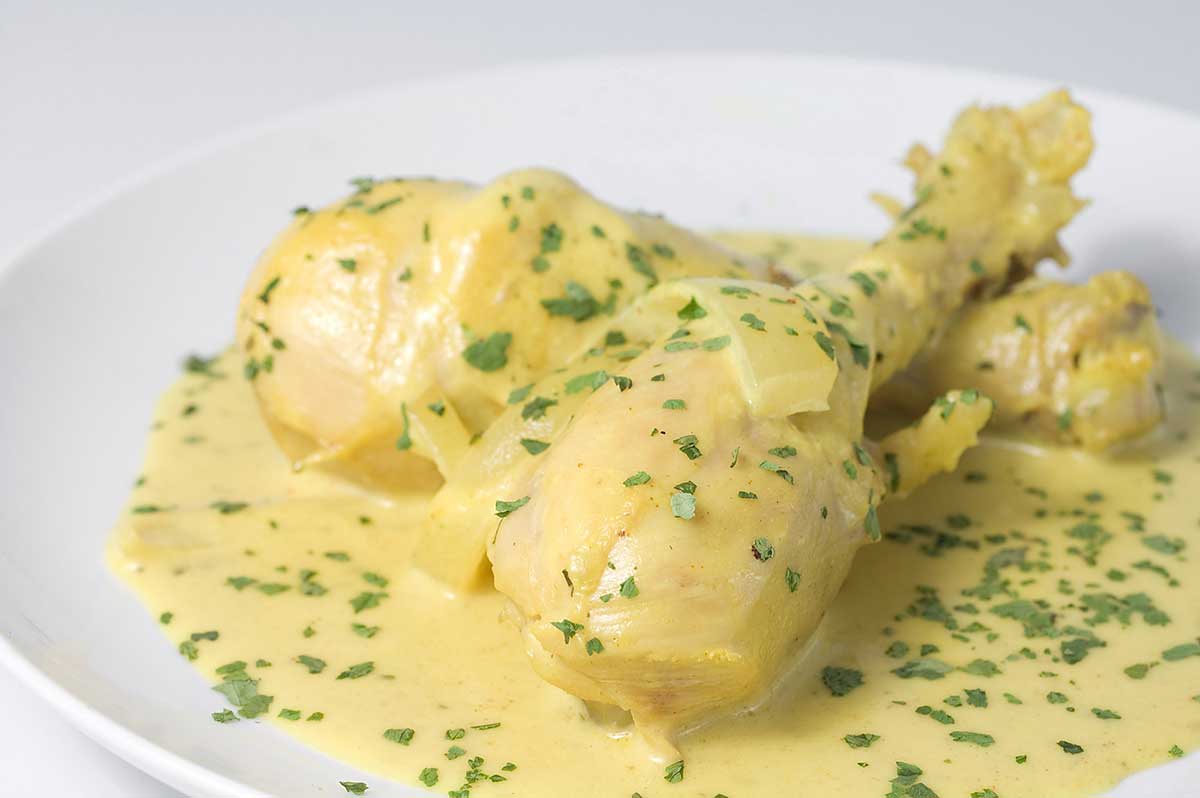 Coconut Chicken
After raving about our favorite Indian restaurant Ryan and I were able to get one of our friends to go. This friend, mind you, is lactose intolerant. After looking at the menu, I assured her that there were plenty of things that she could order, after all their menu didn't indicate that there was any dairy in the food.  So imagine my surprise when the first few things she tried the order, the server told her she could not eat because of the dairy. Apparently, a number of the chicken dishes involved a yogurt marinade. While the server was trying to help my friend find something to order, my mind started wandering. A Indian inspired yogurt marinade for chicken? What a wonderful idea. I immediately thought I could add a little turmeric, garam masala and maybe a little garlic and lime to the marinade. Then to finish it off I'd cook the chicken with the marinade and a little coconut milk for a touch of sweetness. I was so excited to try this I went to the grocery store the next day to pick everything up. Oh and don't worry, my friend was able to order a delicious dish and has since been back to the restaurant because she liked it so much :)
To be honest, I am not usually a fan of coconut. Seriously, when I have a box of chocolates and bite into one with coconut, I am not a happy camper. With that said, I have to say I really do like coconut milk. It works in a variety of dishes and adds a slightly sweet flavor without being over powering.  So for those of you that are not coconut fans, give this recipe a try, you may be surprised.
Note: You will need to plan ahead when making this recipe because the chicken needs to marinate for at least 8 hours.
Coconut Chicken
Chicken marinated in yogurt, spices and coconut milk
Ingredients:
1

cup

plain yogurt

1

tablespoon

olive oil

1

clove

garlic

1/4

teaspoon

turmeric

1/4

teaspoon

cayenne pepper

optional

1/4

teaspoon

garam masala

1/2

teaspoon

cumin

1/2

teaspoon

kosher salt

juice and zest of 1 lime

to get the zest of the lime, use a zester or the smallest holes on a cheese grater to shave the outer skin of the lime

1.5 to 2

pounds

chicken drumsticks

1

onion

sliced

1

13.5 ounce can unsweetened coconut milk

1

teaspoon

dried cilantro or 1 tablespoon fresh cilantro
In a large bowl combine yogurt, olive oil, garlic, turmeric, cayenne pepper (if using), garam masala, salt, cumin, lime and lime zest. Place chicken in marinade and toss to coat. Cover and refrigerate 8 hours or overnight.

Remove the chicken from the marinade. Reserve marinade.

In a large skillet, cook chicken over medium heat until it browns slightly. About 4 minutes each side.

Add onions and cook 2 minutes. Pour coconut milk and marinade over the top, stir. Bring to a boil and then reduce heat to medium-low. Simmer for 30-35 minutes or until chicken is cooked through.

Stir in cilantro just before serving. Serve.
You can serve this as is, but I like to serve it over rice. Shocking I know ;-) Enjoy!
Keywords:
cayenne pepper, chicken, chicken drumsticks, chicken legs, coconut chicken, coconut milk, Food, garam masala, plain yogurt, Recipe, turmeric, yogurt marinade