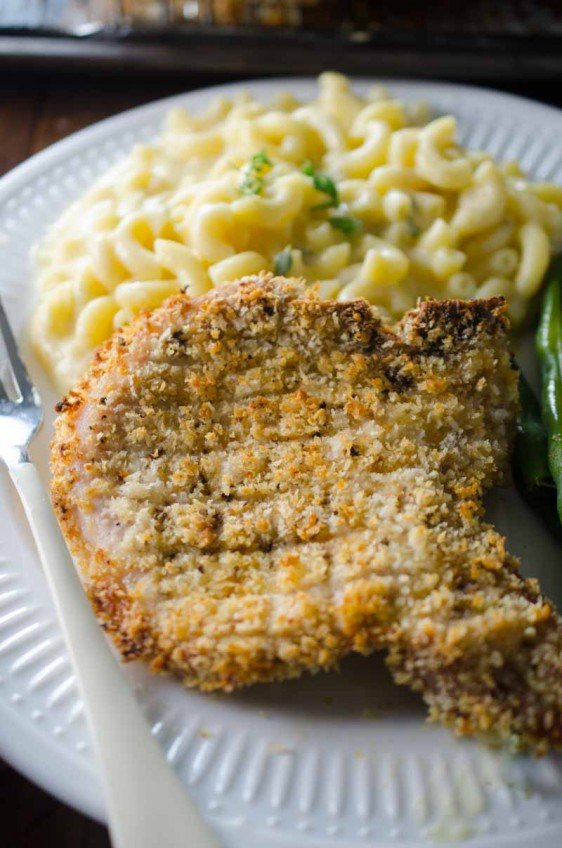 Crispy Baked Pork Chops
Crispy oven baked pork chops will be a hit with the whole family! 
Updated 1/9/2017: After some comments from readers who have made this recipe over the years, I decided that it was time to update this family favorite recipe. When I remade it, I decided to change a couple of things. In this updated recipe, I used little less salt, no flour, and to make sure that the bread crumbs get toasty and brown, I added some avocado oil to them before coating the pork chops. I like to use avocado oil because of its high smoke point. If you don't have any handy, canola oil will work just fine.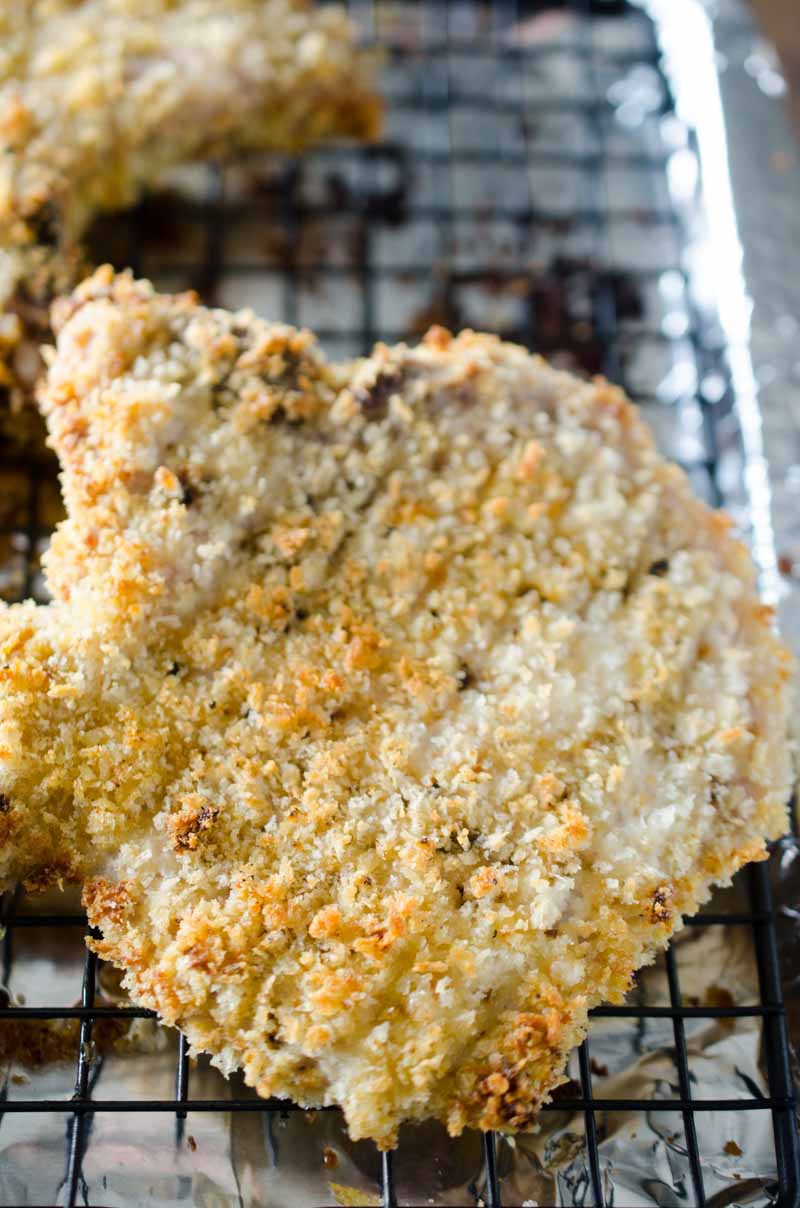 My family devoured this recipe redux. And I'm pretty confident that my boys are going to be asking for these Crispy Baked Pork Chops just like I always asked my mom for Shake and Bake.
Original Post:
Shake and bake pork chops were always popular dinners when I was growing up. I loved the crispy, crunchy crust and tender pork chops. Along with the mac n' cheese that my mom served with it it was always one of my favorite meals. Now that I'm grown and attempt to make everything on my own, I like to make these crispy baked pork chops but instead of shake n bake, I make my own breading with seasoning salt and panko.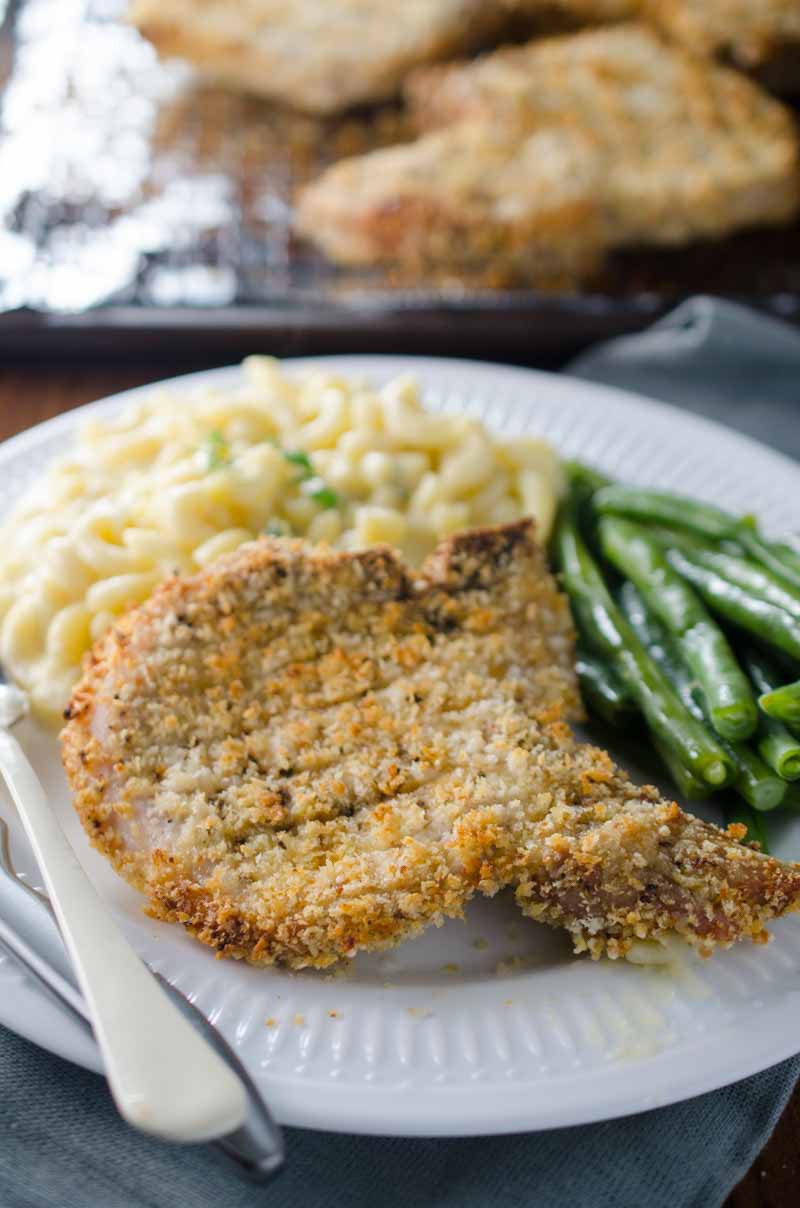 Pork can be kind of tricky. I have had a lot of problems with it being a little dryer than I care for. For the longest time, whenever I would peruse the meat section and decide to pick up pork I would always go with the boneless pork chops. However, I have recently rediscovered bone in rib pork chops.  I like them because they are super tender but cook up pretty quickly. I used bone in pork chops for these Crispy Baked Pork Chops and they worked wonderfully. The outside was crispy and the inside oh so tender.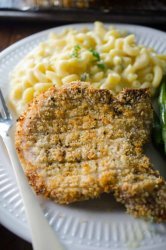 Crispy Baked Pork Chops
Crispy baked pork chops will be a hit with the whole family!
Ingredients:
4

bone-in pork rib chops

salt and pepper

2

eggs

1/4

cup

milk

1 1/2

cup

panko bread crumbs

2

teaspoons

seasoning salt

2

tablespoons

avocado oil
Preheat oven to 400 degrees.

Season pork chops lightly with salt and pepper.

In one bowl beat eggs and milk together. In another bowl combine panko, seasoning salt and avocado oil. Mix well.

Dip the pork chops in the eggs. Then dip it in the seasoned panko. Allow to set for 15 minutes.

Spray a cooling rack with cooking spray. Place cooling rack on top of a baking sheet. Place prepared pork chops on baking sheet and bake for 25- 35 minutes or until the pork chops are cooked through and crust is crispy. Broil for 1 - 2 minutes to brown the bread crumbs. Serve hot.
Keywords:
American, baked pork chops, crispy pork chops, dinner, Food, panko, pork chops, Recipe