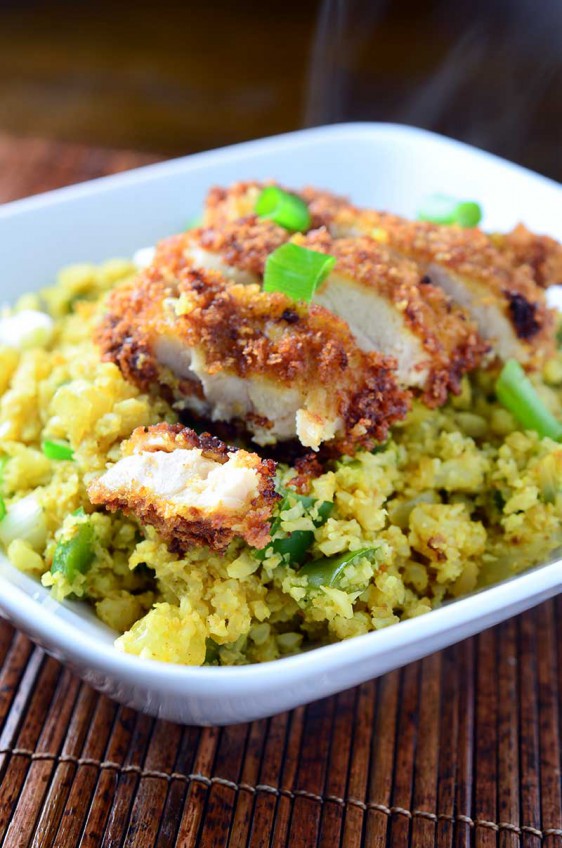 Crispy Chicken and Curried Cauliflower Rice
Hear that? That is the sound of me jumping on the cauliflower rice band wagon. That's right. I've been sucked into the recent trend. I don't usually get sucked into food trends. Sure I like kale, but I'm not eating it for breakfast, lunch and dinner. Love quinoa too but never in a I'm going to make everything out of quinoa way. Then along came cauliflower rice.
I've been hearing a lot about cauliflower this and cauliflower that. I haven't tried the alfredo. I haven't tried the pizza crust either. Neither one really appealed to me. Not that they didn't sound good. I just like my alfredo with loads of cream and cheese and I like my pizza crust all kinds of doughy. But then I saw a few pins on Pinterest for cauliflower rice.
Say what?
Now that is something I could totally get behind because I actually could see how cauliflower could be used as a substitute for rice.
The best part is that cauliflower rice is so easy to make. Simply cut out the core, cut the cauliflower into florets and pulse in the food processor a couple of times until it's the size of rice. Easy peasy done.
I also kinda liked that it was a sneaky way to get Kellan to eat more vegetables. I figured the best way to do that was to cook it with his favorite: crispy chicken and curry.
It worked out so well guys. The whole family loved it. The cauliflower and curry worked so well together and the crispy chicken on top added the right amount of crunch .
I can't wait to try other recipes using cauliflower rice. I'm thinking a fried "rice" next! Happy Monday!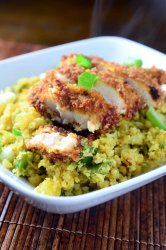 Crispy Chicken and Curried Cauliflower Rice
Curried cauliflower rice topped with crispy panko crusted chicken.
Ingredients:
1

head cauliflower

6

chicken thighs

1

egg

1/4

cup

milk

1

cup

panko bread crumbs

3

teaspoons

curry

divided

1/2

teaspoon

salt

oil for frying

1/2

medium yellow onion

diced

2

cloves

garlic

minced

1

green bell pepper

seeds removed, diced

1

teaspoon

soy sauce

2

green onions

diced
Remove the core from the cauliflower. Cut into florets. Pulse in a food processor until rice size. Set aside.

Turn oven to warm setting or 200 degrees. Place a cooling rack on top of a baking sheet.

In one bowl mix together egg and milk. In another bowl combine panko, 1 teaspoon curry powder and salt. Dip the chicken thighs in the egg mixture then dredge in the panko mixture until coated.

Heat about 1/4 inch of oil in a skillet over medium heat. Drop a couple panko bread crumbs into the oil and if they sizzle it is hot enough. Fry chicken, in batches if necessary, on both sides until golden brown and cooked through. Transfer to the cooling rack and put in the oven to keep warm.

Reserve 1 tablespoon of pan drippings. Add in onion, garlic and bell pepper cook just until onion and garlic are fragrant, about 1 minute. Add in cauliflower, remaining 2 teaspoons curry powder and soy sauce. Mix well. Cover and cook 4 - 5 minutes or until cauliflower is tender.

Spoon the cauliflower rice onto a serving platter. Slice chicken and place on top. Garnish with diced green onions. Serve
Keywords:
cauliflower, chicken, curry, entree