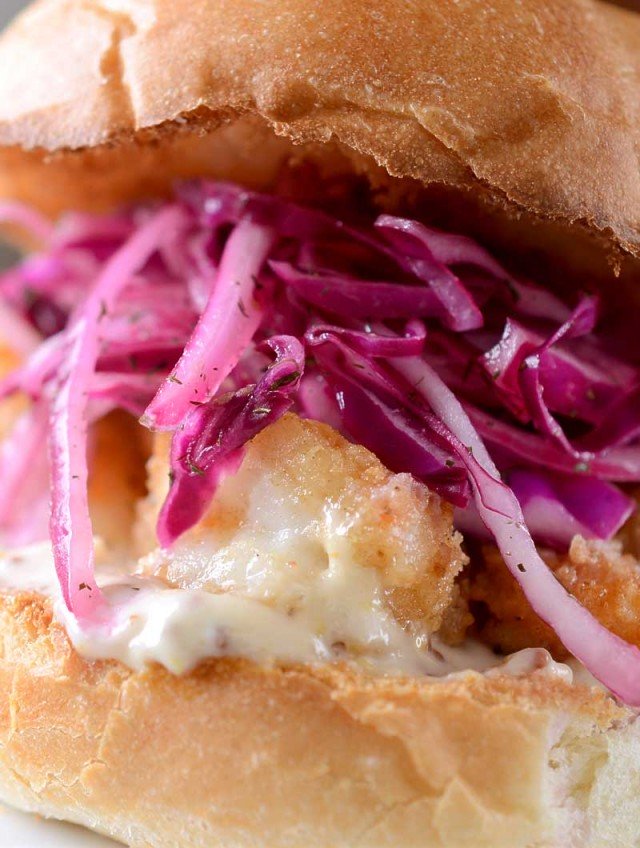 Crispy Garlic Shrimp Sandwich
Have you seen the cover for this month's issue of Bon Appetit magazine? I don't usually buy magazines, mainly because I don't have time to sit down and read them anymore. But after seeing the chicken sandwich on the cover I could not resist. It just looked so perfect. And it really got my creative juices flowing. Enter this crispy garlic shrimp sandwich.
The article about making the perfect sandwich was loaded with all kinds of wonderful ideas about how to make a sandwich amazing. Like ensuring you don't use too much meat and that you have a high quality bread. They also had tips like adding potato chips, something I tend to do very often. My favorite tip, however, was to add a slaw to it. Not your average run of the mill, mayo drenched coleslaw, mind you, but a crisp, tangy cool slaw.
Don't let my use of the term "mayo drenched" make you think I do not like traditional coleslaw. I do. I really do. Mayo and all. Especially with some fish and chips and malt vinegar. But that is another story. Let's get back to the sandwich at hand.
I took a cue from Bon Appetit and for this sandwich, made a light tangy slaw with red cabbage, red onion, dill and vinegar. It paired oh so perfectly with the crispy garlic marinated shrimp and the creamy tangy dijon mayonnaise.
See…I told you I liked mayo.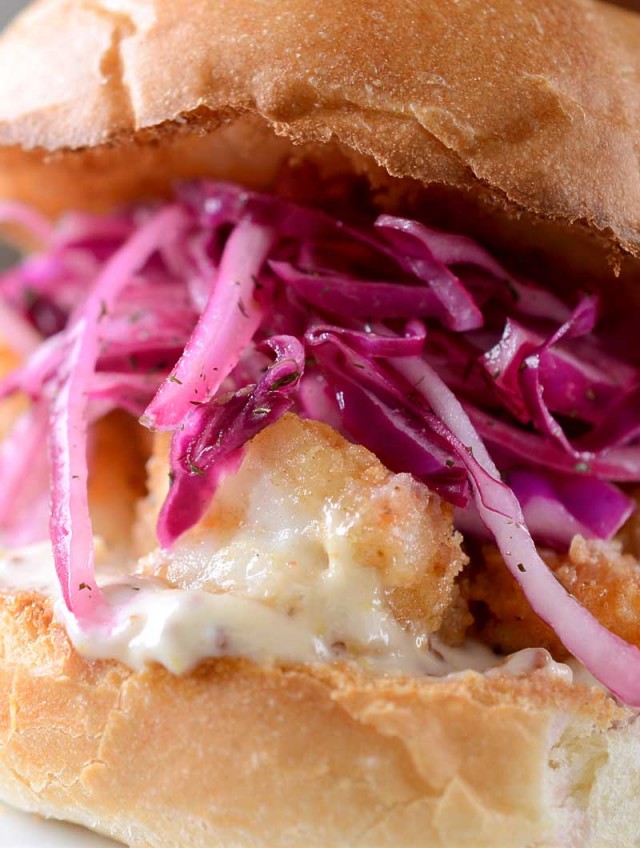 Crispy Garlic Shrimp Sandwich
A perfect sandwich with crispy garlic prawns, tangy dill slaw and a creamy dijon mayonnaise.
Garlic Shrimp Sandwich Ingredients:
1

pound

26/30 count prawns

peeled and deviened

8

cloves

garlic

minced

2

tablespoons

olive oil

1/2

teaspoon

fresh cracked black pepper

1/2

cup

mayonnaise

2

teaspoons

whole grain dijon mustard

1

teaspoon

garlic powder

2

teaspoons

lemon juice

oil for frying

1/2

cup

flour

1/4

teaspoon

black pepper

1/4

kosher salt

4

kaiser rolls

halved

butter
Dill Cabbage Slaw Ingredients:
Combine shrimp, garlic, olive oil and blacked pepper together in a bowl. Toss to coat shrimp. Cover and refrigerate for at least 2 hours.

In another bowl mix together mayonnaise, whole grain mustard, garlic powder and lemon juice. Cover and refrigerate for at least 30 minutes.

In another bowl, combine all slaw ingredients. Refrigerate for at least 30 minutes.

After the shrimp has marinated, heat 1/4 inch of oil in a skillet over medium-high heat.

Combine the flour, pepper and salt together in a bowl. Toss the marinated shrimp into the flour. Coat lightly. Shake off any excess.

Sprinkle a bit of flour into the oil, if it sizzles it is ready to begin frying. Fry the shrimp, in batches if necessary, until golden brown. About 3 - 5 minutes. Be careful not to over crowd the pan and to allow the oil to heat up again after each batch. Using a slotted spoon to transfer the fried shrimp to a paper towel lined plate and sprinkle with a bit more salt.

Turn on the broiler on your oven and spread butter on the kaiser rolls. Toast just until golden, 1 - 2 minutes.

To assemble the sandwiches, spread a generous amount of dijon mayo on the bottom of the bun, top with 6 - 7 shrimp, top with slaw and top of bun. Serve immediately.
Keywords:
dijon, Food, fried shrimp, garlic shrimp, mayonnaise, Recipe, sandwich, seafood, slaw