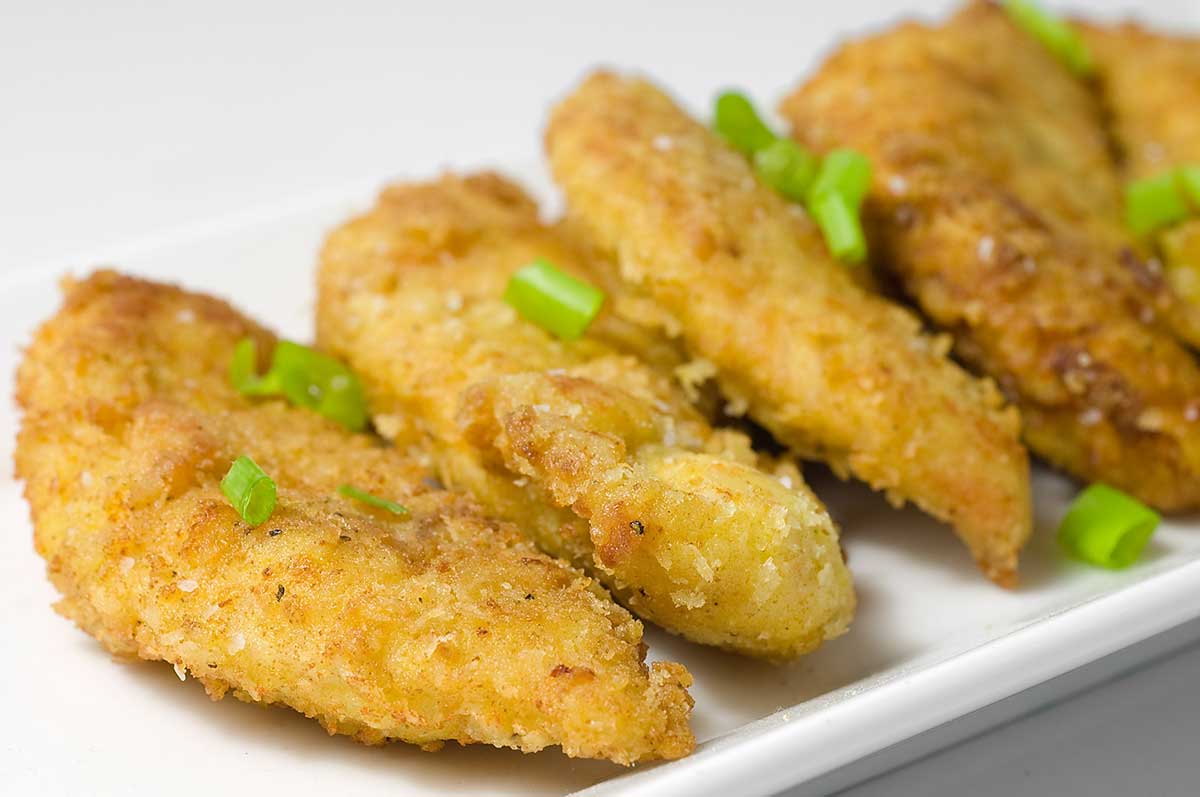 Curried Chicken Tenders
While at the grocery store earlier this week I noticed they were having a sale on chicken tenders so, not really knowing what I was going to do with them but thinking I could figure something out, I picked some up. When it came time to make them, I still wasn't entirely sure what I wanted to do so I began scouring my spices and noticed the curry peaking out at me. I knew I didn't really have the time to make Chicken Curry, but once I got the idea of curry in my head I couldn't get it out. Finally, I thought that if I seasoned the flour just right I could get the curry flavor but in a crispy chicken finger form. Thus these curried chicken tenders were born.
I was talking to my mom recently about fried chicken and she told me about a little trick she had tried where she breaded the chicken in the flour and let it sit for a little while before frying it. She mentioned that the flour seemed to stick a bit better the longer you let it sit. I figured these chicken tenders would be the perfect chance to experiment and decided to give it a try. First, I dipped them in the egg/milk wash, then the curry/flour/bread crumb mixture and let them sit for about 15 minutes. When it came time to fry them I noticed that I didn't loose nearly as much flour as I usually do.  Thanks for the tip mom!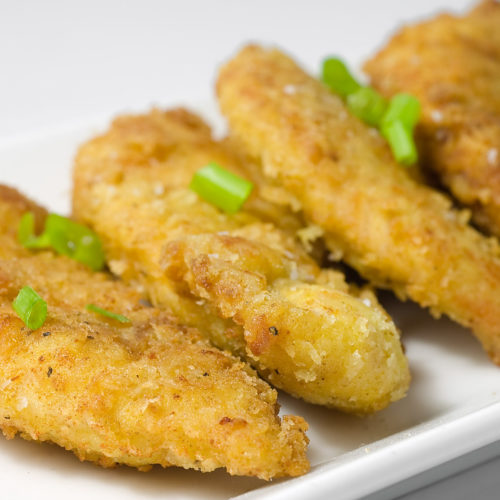 Curried Chicken Tenders
Chicken tenders coated in a curry seasoned breading and fried until golden.
Ingredients:
1

egg

1/4

cup

milk

1/2

cup

all purpose flour

1/2

cup

panko bread crumbs

1

tablespoon

curry powder

1

teaspoon

kosher salt

1/2

teaspoon

garam masala

1

pound

chicken tenders

oil for frying
In one bowl whisk together egg and milk. In a second bowl combine flour, bread crumbs, curry powder, kosher salt and garam masala.

One at a time, dip the chicken tenders in the egg and then dredge into the flour/bread crumb mixture to coat completely. Transfer to plate. Allow to sit for 15 minutes.

Heat 1/2 inch of oil in a large heavy bottomed skillet over medium-high heat. Once the oil starts to shimmer, sprinkle a little flour into it, if it sizzles the oil is ready. Place the breaded chicken tenders in the oil being careful not to overcrowd the pan. (Note: Depending on the size of your pan you may need to do this in batches.) Fry the chicken tenders until golden brown and cooked through, about 3- 4 minutes per side. Transfer to a paper-towel lined plate. While still hot, sprinkle with a little more kosher salt.

Serve.
As far as a dip goes, I thought these were just fine without it but now that I think about it, they would also be good with a variety of chutneys. Enjoy!
Keywords:
boneless skinless chicken, chicken breast, chicken fingers, chicken tenderloin, chicken tenders, curry, curry powder, Food, fried, fried chicken, garam masala, Recipe