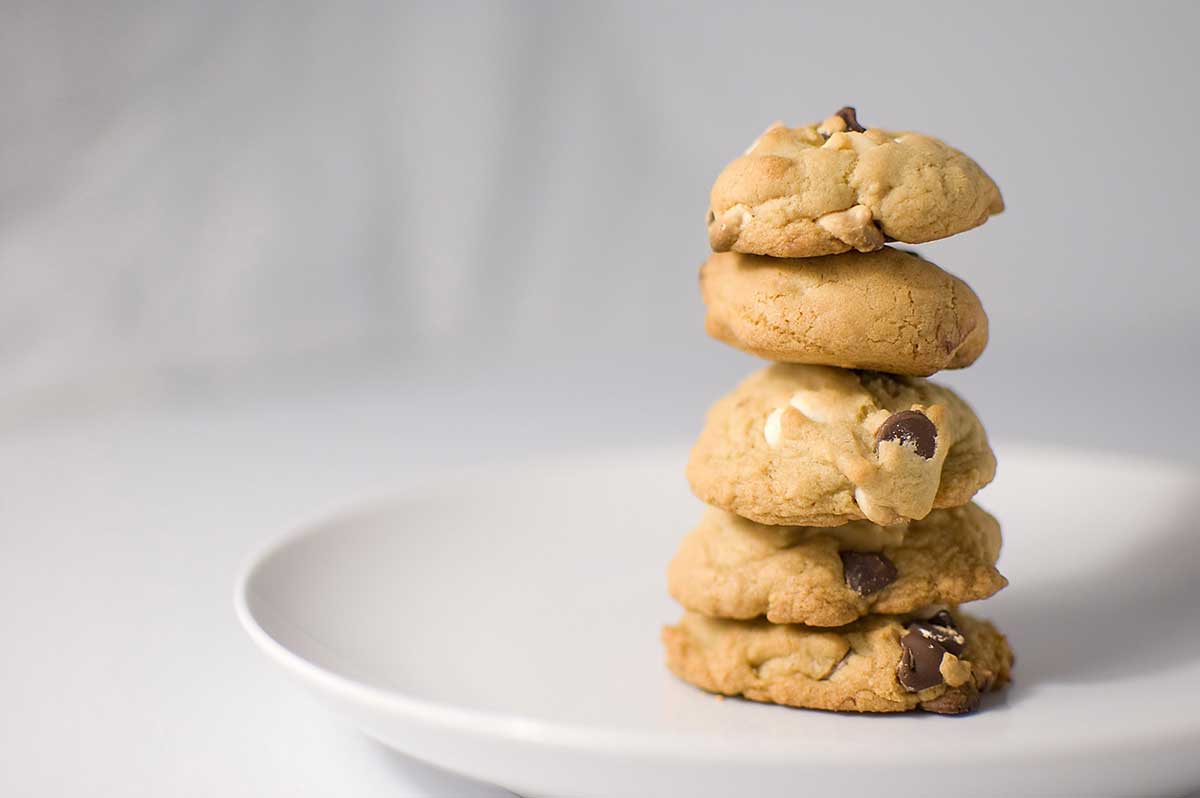 Double Chocolate Chip Cookies
While I love too cook, baking has always posed a few challenges for me. When I started this blog a few months back, I promised myself that I would experiment more with baking.  As you can see by my dessert page I have had some successes, but for some reason chocolate chip cookies were always a bit of a struggle for me.  They would be too flat, too dry or not sweet enough. I can't tell you how many batches of cookies that I tried and failed. Now that you know that, imagine how happy I was when I finally bit into a moist and delicious cookie with just the right amount of sweetness.
This recipe is pretty traditional except for the fact that I added some white chocolate chips to the mix. Also like my Triple Chocolate Peanut Butter Cookies, I decided to melt the butter this time and the results were wonderful.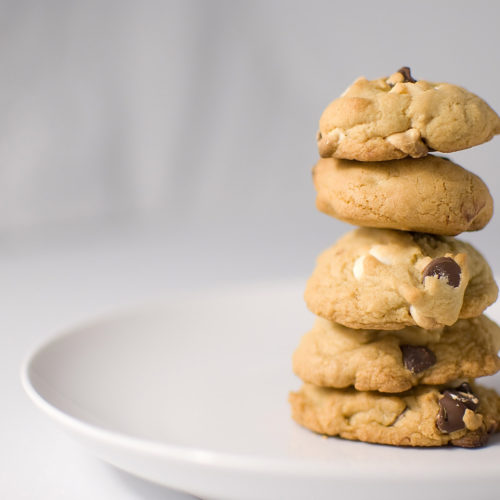 Double Chocolate Chip Cookies
A moist, delicious cookie with semi sweet and white chocolate chips.
Ingredients:
1/2

cup

unsalted butter

melted, cooled

1

cup

lightly packed brown sugar

1/3

cup

granulated sugar

2

eggs

1

teaspoon

vanilla extract

2 1/4

cups

flour

1

teaspoon

baking soda

1/2

teaspoon

salt

1/2

cup

semi-sweet chocolate chips

1/2

cup

white chocolate chips
Preheat oven to 325 degrees.

In one bowl, whisk together melted butter, brown sugar and white sugar until smooth. Whisk in eggs one at a time. Whisk in vanilla.

In a separate bowl sift flour, baking soda and salt.

Slowly whisk flour mixture into sugar mixture.

Fold in chocolate chips.

On a parchment paper lined cookie sheet, drop rounded teaspoonfuls of cookie dough 3 inches apart. Cook 8-10 minutes or until golden brown.

Cool a few minutes on cookie sheet. Transfer to cooling rack to cool completely.
Serve these with a cold glass of milk and you have the perfect afternoon (or evening, or late night, or heck, even breakfast for you rebels) snack. Enjoy!
Keywords:
baking, chocolate chip cookies, classic recipe, comfort food, cookies, dessert, double chocolate, Food, Recipe, semi sweet chocolate chips, white chocolate chips