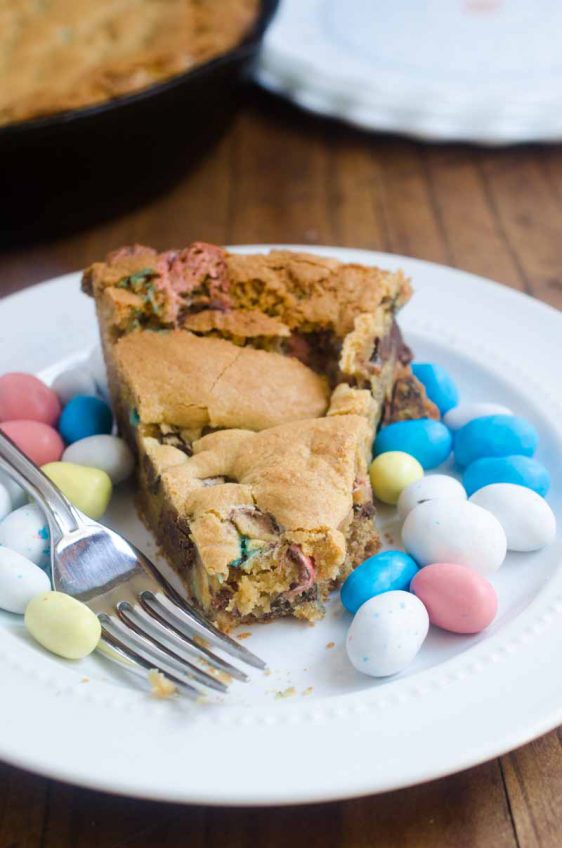 Easter Candy Skillet Cookie
What's better than Easter candy? A big ol' Easter Candy Skillet Cookie! This Easter Skillet Cookie is loaded with chocolate chips, malted milk and malted robin eggs.
After this weekend many of you are likely to have lots of leftover Easter candy (or you'll find a ton on sale). My favorite, and probably the best, way to use it is to mix it all into some cookies. Last year I made these Easter candy cookies to use up some of the leftover Easter candy we had lying around and this year I decided that instead of making a batch of cookies, I was going to make a big ol' Easter Candy Skillet Cookie.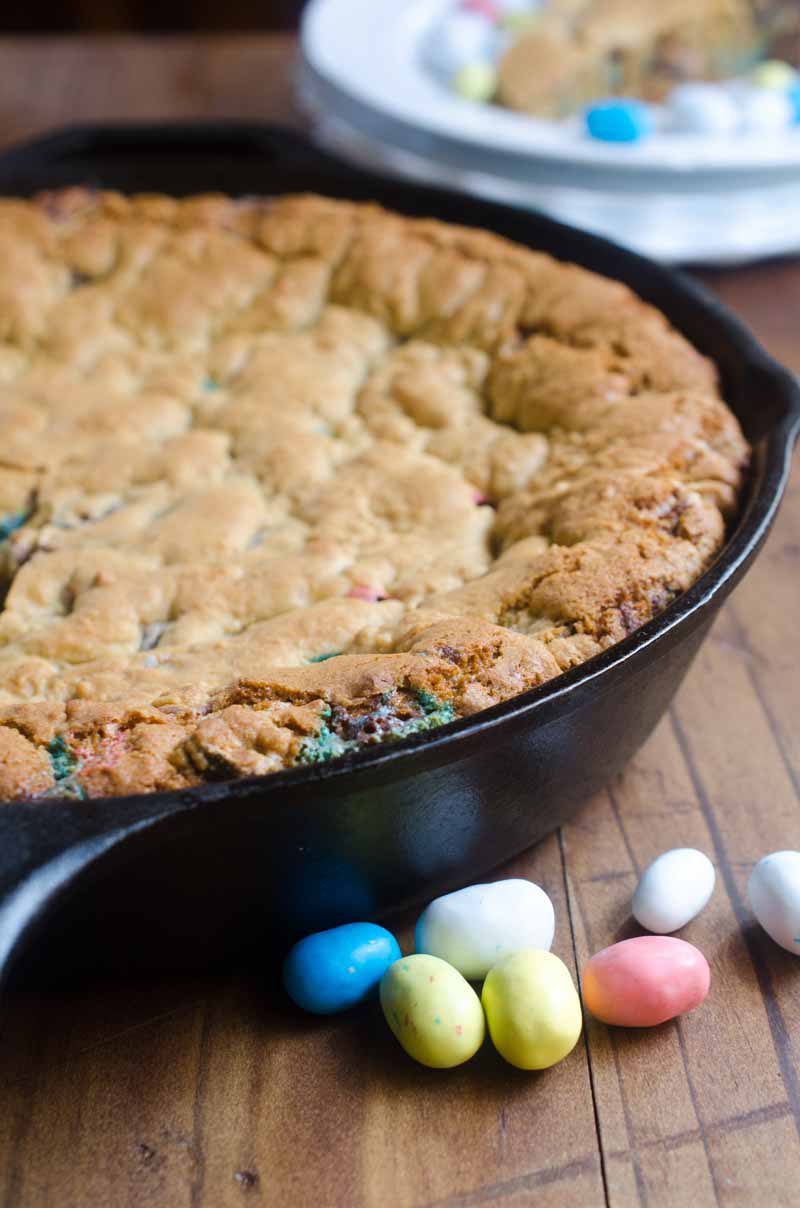 I adore skillet cookies. Skillet cookies are like pie because you get a slice but they are also a cookie. I also love them because you can undercook them ever so slightly so that they are chewy and gooey.
Just look at that soft and chewy inside!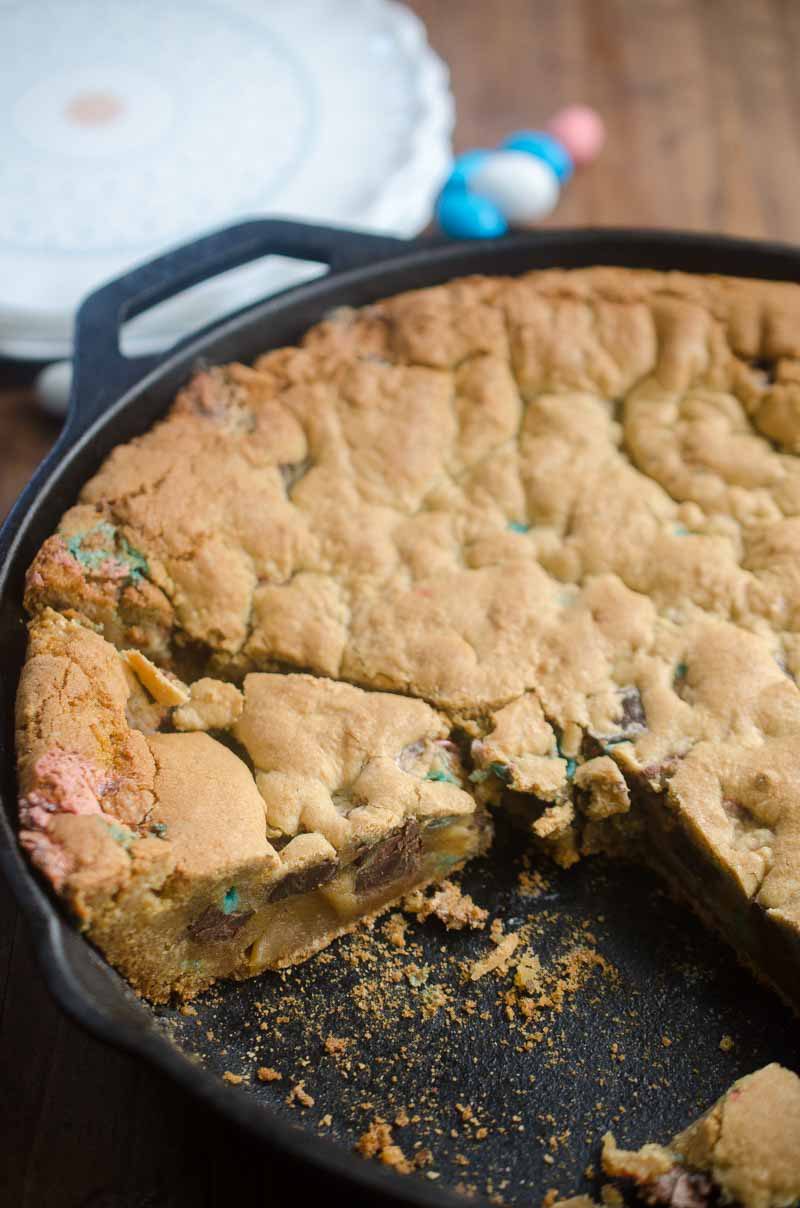 For this Easter Candy Skillet Cookie, I wanted to use my favorite Easter candy, malted robin eggs. I love the little pop of spring color that the candies bring to just about anything. Because I also happen to really love malt flavor, I added malted milk to the cookie batter as well. I also added dark chocolate chips because…chocolate.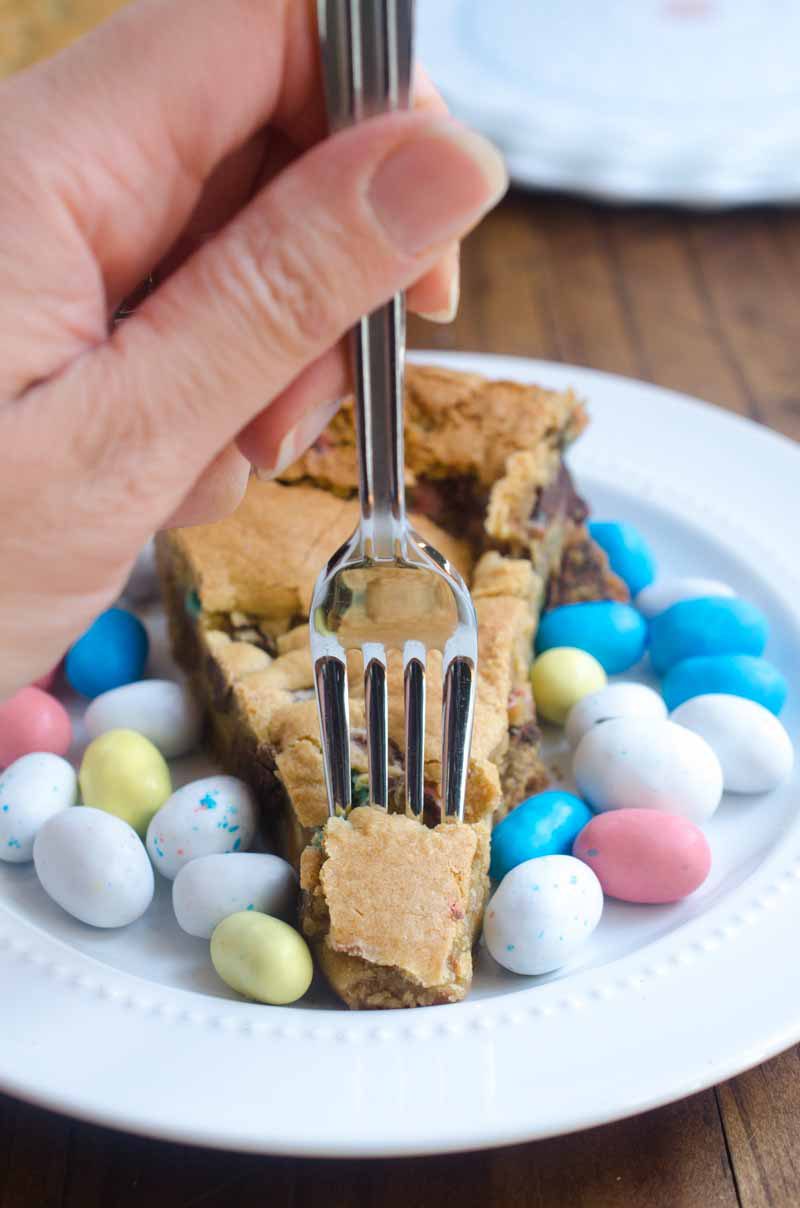 And don't think that because this is called Easter Candy Skillet Cookie that you can only make it during Easter. Psssh please. That would be a tragedy because it is so good. All you have to do to be able to enjoy this delicious malted candy cookie goodness all year long is substitute malted milk balls for the robin egg candies.
Or you could just buy yourself a year's supply of robin egg candies when they go on sale on Monday.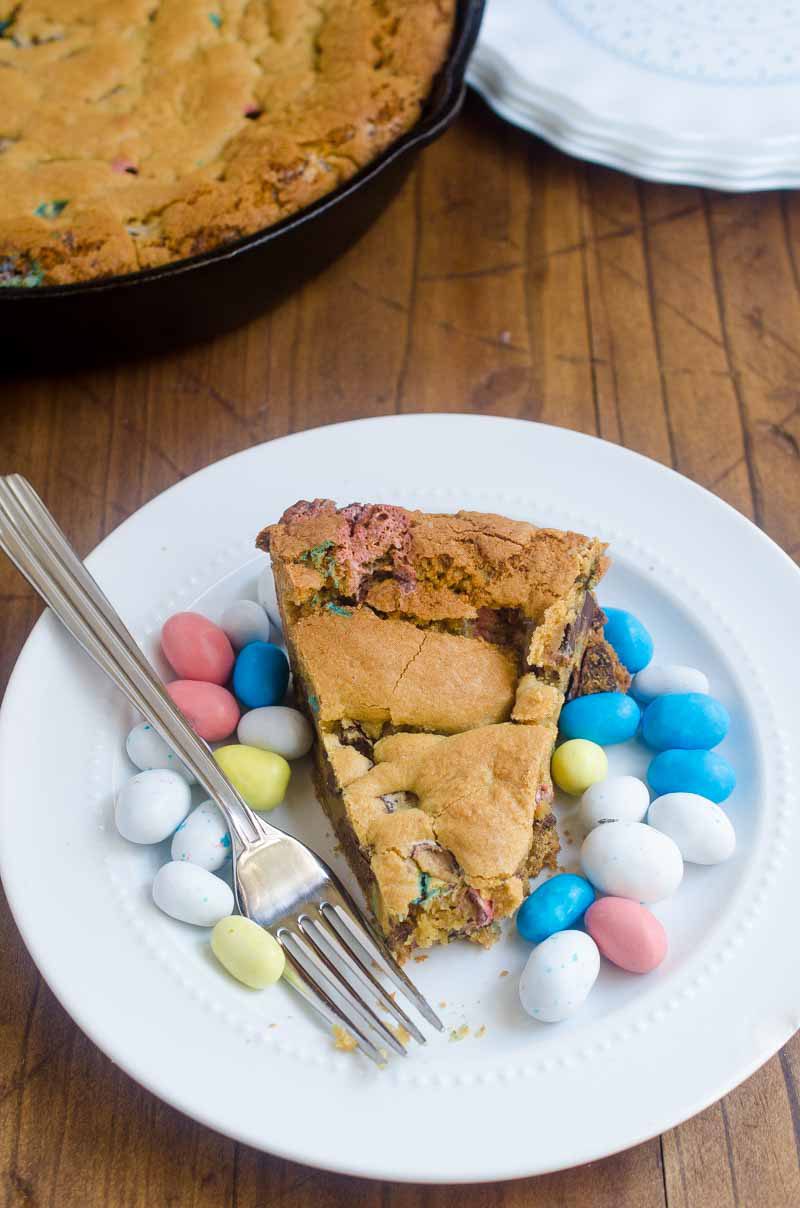 Because, trust me, you are going to want this Easter Candy Skillet Cookie goodness in your life every day.


Easter Candy Skillet Cookie Recipe
Ingredients:
1/2 cup (1 stick) butter, softened
3/4 cup light brown sugar
3/4 cup granulated sugar
2 eggs
1 teaspoon vanilla extract
2 1/4 cups all purpose flour
1/2 cup malted milk powder
1 teaspoon baking soda
1/4 teaspoon salt
1 cup rough chopped malted robin egg candies
1 cup dark chocolate chunks
Instructions
1
Preheat oven to 375 degrees.

2
Beat butter, brown sugar and granulated sugar together until fluffy. About 3 minutes. Beat in eggs one at a time. Scraping down the sides of the bowl after each egg. Beat in vanilla extract.

3
In another bowl combine flour, malted milk powder, baking soda and salt. Slowly beat flour mixture into egg mixture. Mix well.

4
Fold in chopped malted robin egg candies and dark chocolate chunks.

5
Press cookie batter into a a 10 inch cast iron skillet. Bake in preheated oven for 25 - 35 minutes or until a toothpick inserted comes out clean.