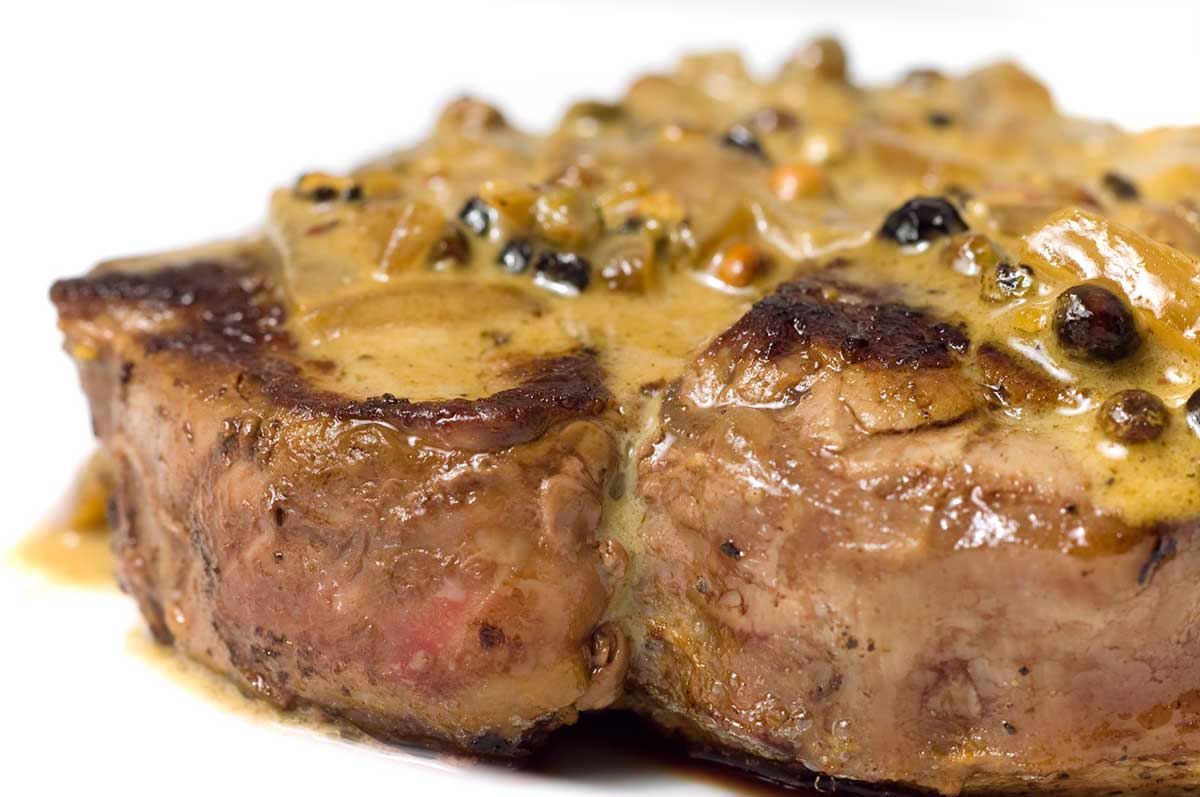 Filet Mignon with Peppercorn Sauce
This is one of those meals for a special occasion or even "date night" as I like to call it. It is a recreation of a dish that Ryan and I had in Italy. Remember when I shared my recipe for roasted rosemary potatoes and teased about melt in your mouth steaks? You know the one that you can cut with a butter knife? Yeah, this is one of them.
Before we went to Italy everyone would say "Oh imagine all of the yummy pasta and pizza you are going to eat. But do you think you'll get sick of it after two weeks?" Well the truth is, its not all pizza and pasta in Italy. Sure the pasta and pizza that we had were absolutely divine, in most cases anyway, but there were also many other palate pleasing options. In Siena for instance, beef reigned supreme and we had ourselves plenty of perfectly cooked steaks. Nothing was over done, very simple seasonings and a simple sauce. Just how I like it.
The steak that we ordered in Italy was filet with 5 peppercorn sauce. Rather than buying 5 different kinds of peppercorns when I tried to recreate this dish, I found a peppercorn blend in the spice aisle at my local grocery store. It should be really easy to get your hands one. Mine even came with a nifty grinder attached. If you can't find one at your local grocery store, I know that Williams-Sonoma also sells a lovely 5 pepper blend.
To have the same meal that Ryan and I enjoyed while we were in Italy serve these with Roasted Rosemary Potatoes and a simple salad with olive oil and balsamic vinegar. Don't forget the liter of wine. Yes, I said liter. We were on vacation and a liter of wine was less expensive than our steaks. So why not?
Looking for other steakhouse favorites? You've got to try these recipes!
Filet Mignon with Peppercorn Sauce Recipe
Ingredients:
1 tablespoon butter
2 filet mignon steaks (about 1 1/2 - 2 inches thick)
pepper and kosher salt
1 teaspoon olive oil
1/4 cup chopped shallot
1 tablespoon peppercorn blend
1/2 cup plus 1 tablespoon beef broth
1/3 cup heavy cream
Instructions
1
Melt butter in a large skillet over medium-high heat. Season both sides of filets with salt and pepper. Cook steaks 3-4 minutes per side for medium rare. Transfer to plate, cover. Set aside.

2
Use a mortar and pestle to crack the peppercorns. If you don't have one you can place the peppercorns in a plastic bag then pound with the side of a meat mallet or bottom of a frying pan. You don't want them too small, just cracked.

3
In the same pan that you cooked the steak in add olive oil and shallots. Cook 1 minute. Add cracked peppercorns, cook 1 minute. Whisk in 1/2 cup beef broth. Reduce heat to low and slowly whisk in heavy cream. Allow to simmer for 3 minutes or until thickened. If it gets too thick add remaining tablespoon of beef broth.

4
Transfer steak to a serving platter. Spoon peppercorn sauce over the top. Serve immediately.