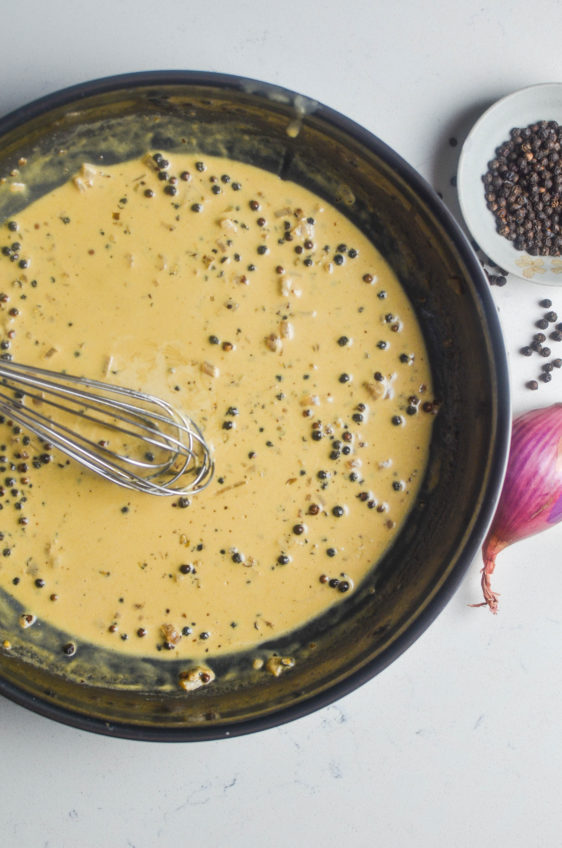 Peppercorn Sauce
Peppercorn Steak sauce will help you take your steak to the next level. Serve this creamy sauce over your steak for a meal to rival the best steak house!
This is one of those meals for a special occasion or even "date night" as I like to call it. It is a recreation of a dish that I had when I was in Italy several years ago.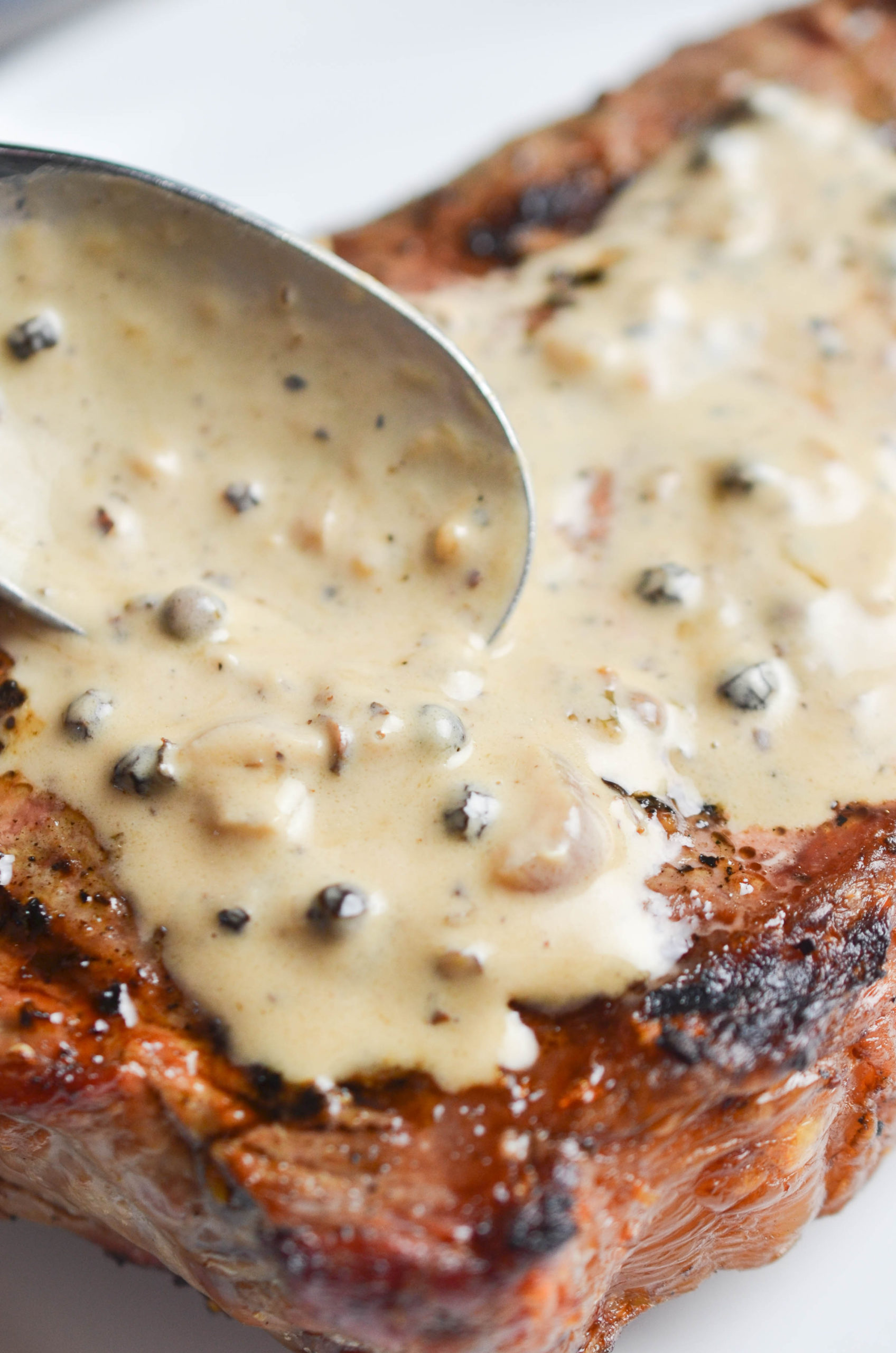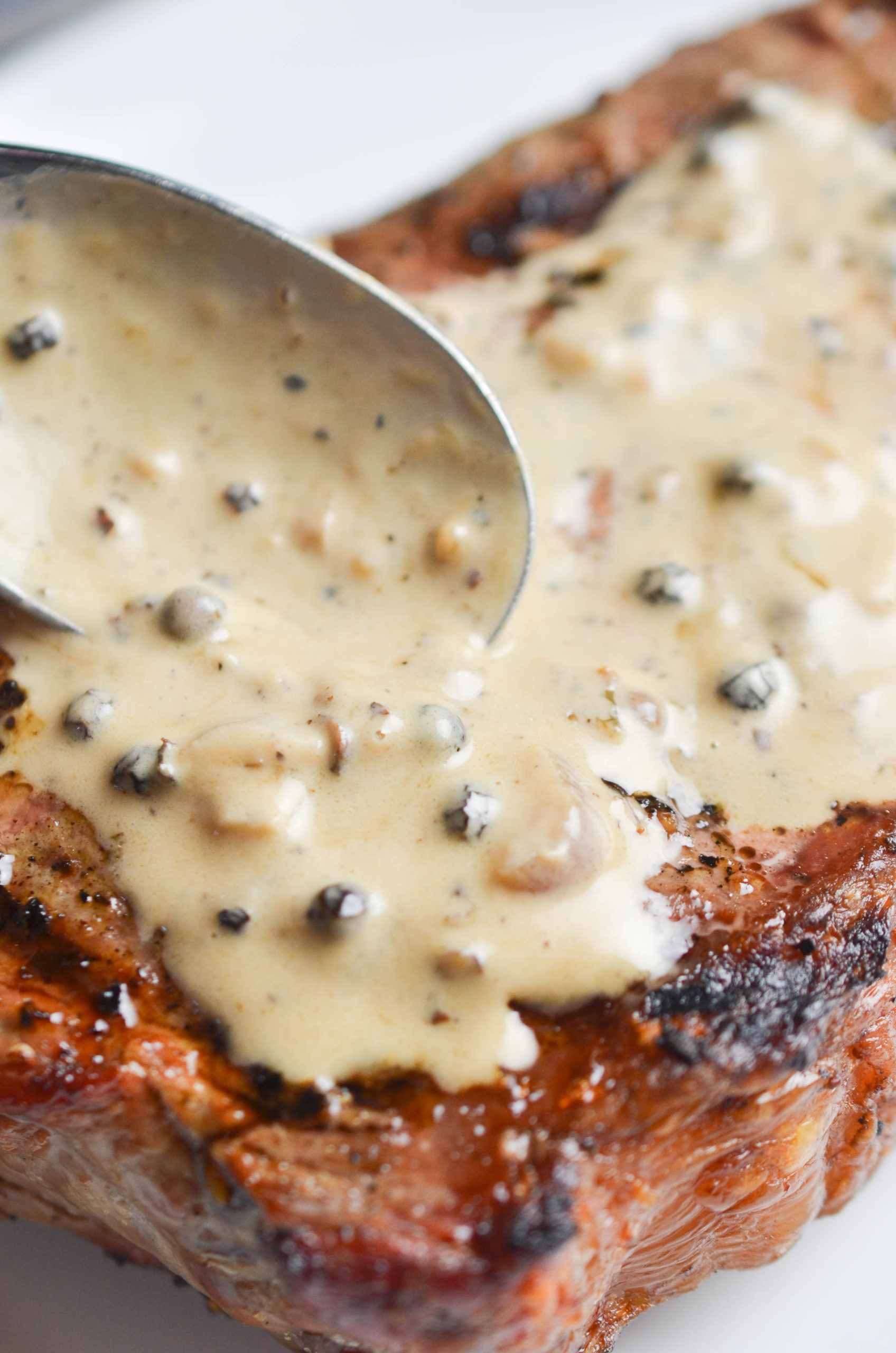 Before we went to Italy everyone would say "Oh imagine all of the yummy pasta and pizza you are going to eat. But do you think you'll get sick of it after two weeks?" Well the truth is, its not all pizza and pasta in Italy. Sure the pasta and pizza that we had were absolutely divine, but there were also many other palate pleasing options. In Siena for instance, beef reigned supreme and we had ourselves plenty of perfectly cooked steaks. Nothing was over done, very simple seasonings and a simple sauce. Just how I like it.
What ingredients do you need?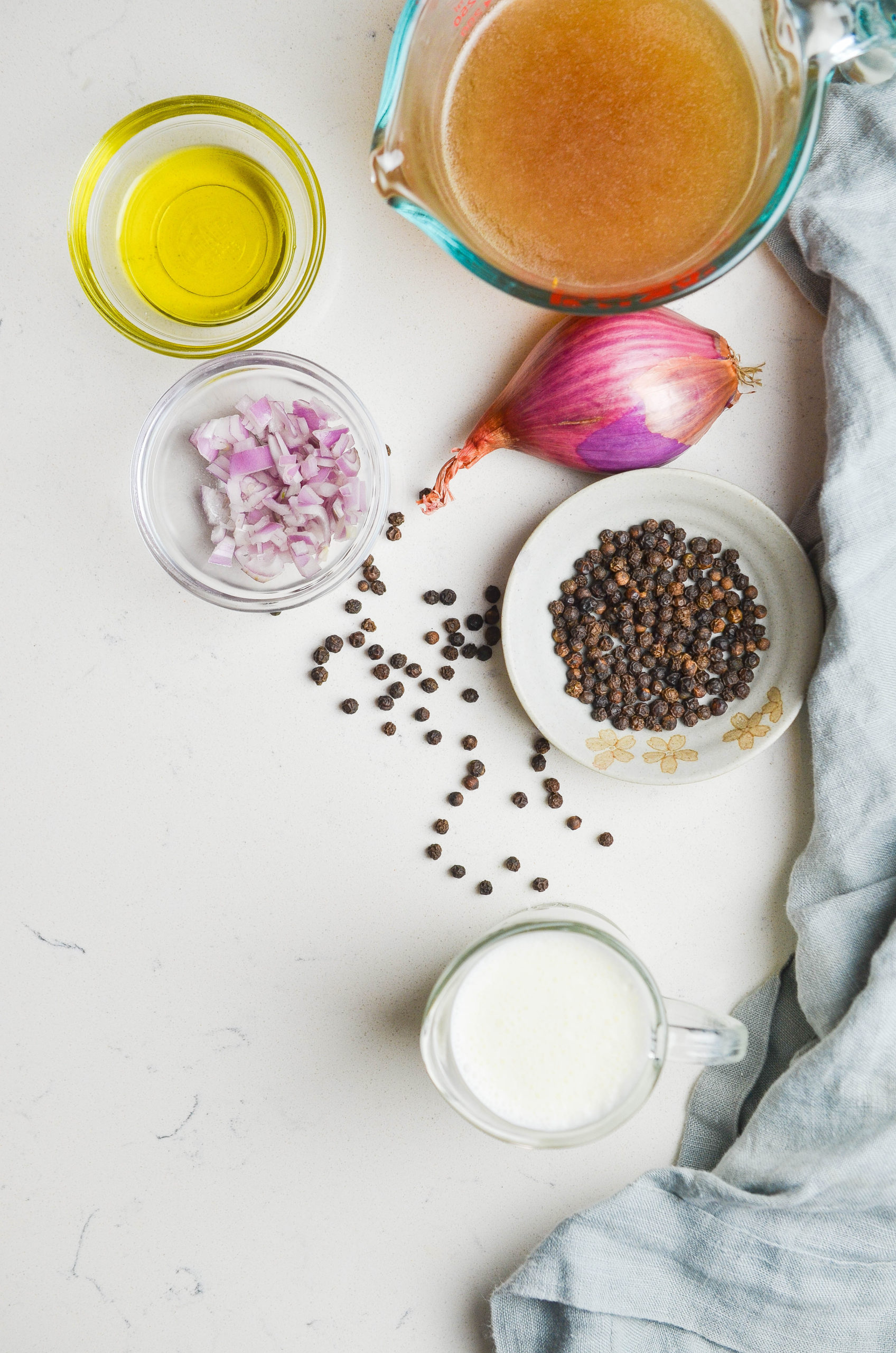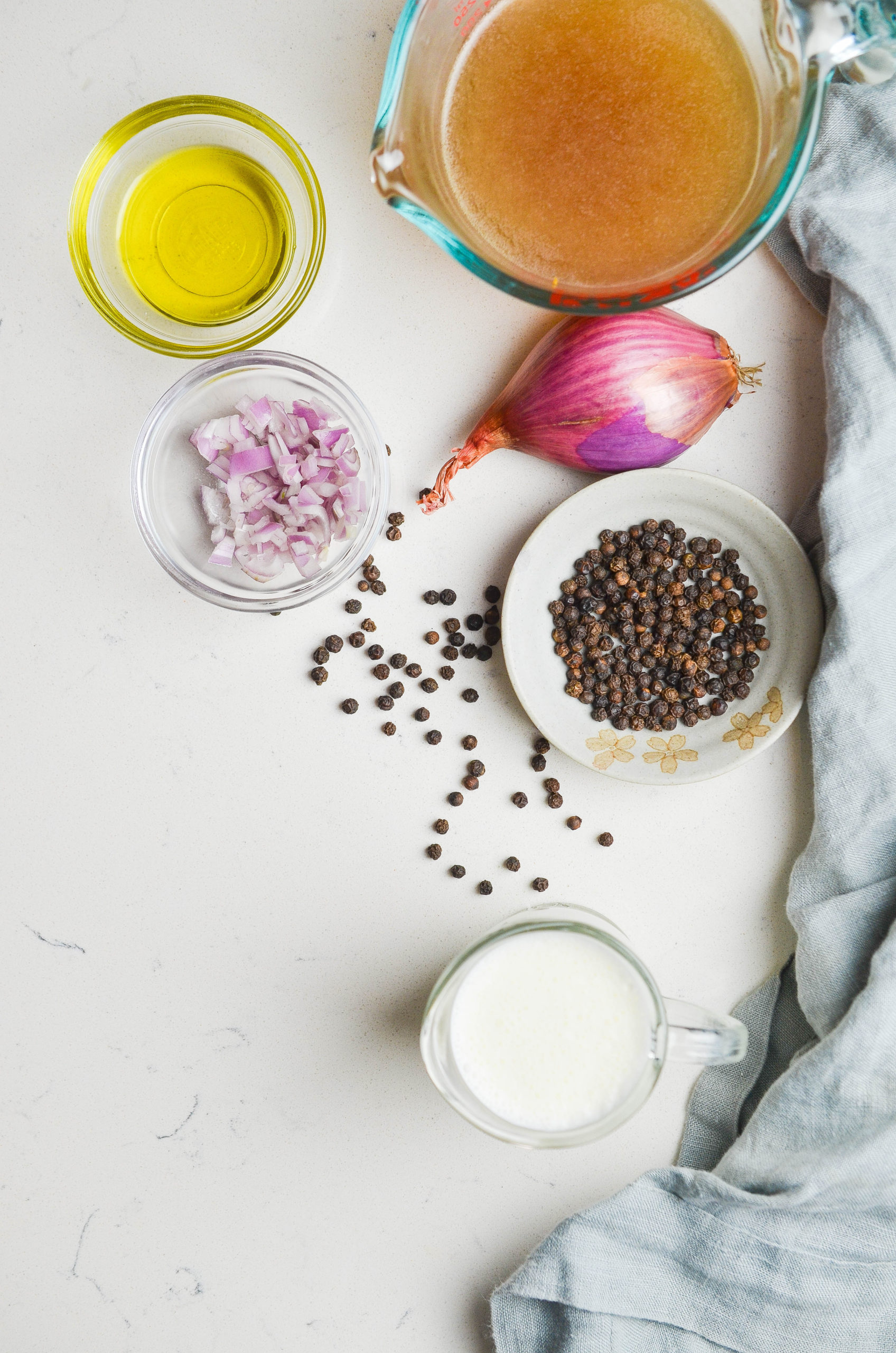 And that is where I got the idea for this easy peppercorn sauce. Unlike other peppercorn sauces out there, this one is made without brandy or any other alcohol. Instead, you just need a handful of ingredients that you probably already have on hand.
OLIVE OIL: Regular or extra virgin will work just fine.
SHALLOTS: A milder, more delicate tasting onion. You don't want the onion to over-power this sauce.
WHOLE PEPPERCORNS: You can use whole black peppercorns or a peppercorn blend. Stay away from Szechuan peppercorns, they won't work in this recipe.
BEEF BROTH: This is what I use instead of alcohol in this peppercorn sauce. It gives a depth of flavor to the sauce.
HEAVY CREAM: Don't skimp on this! For the sauce to have the decadence you want, you'll want to use heavy cream. Don't use half and half or milk.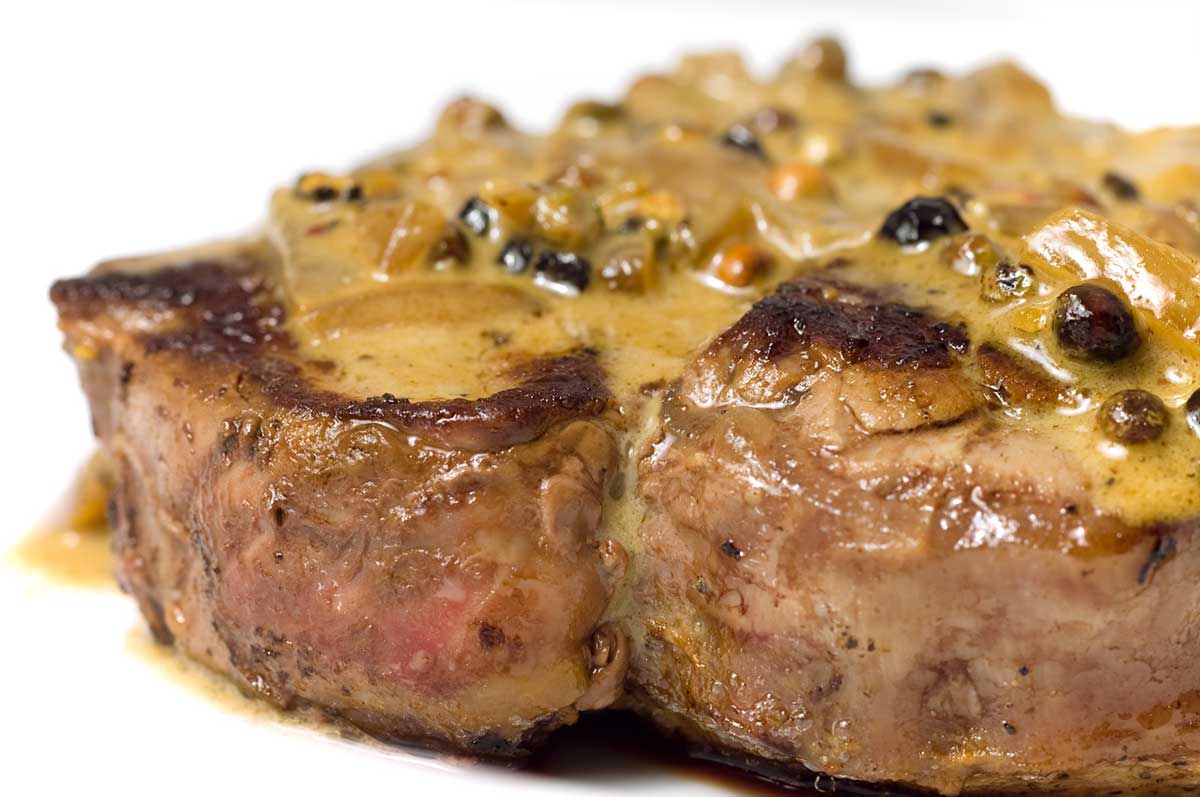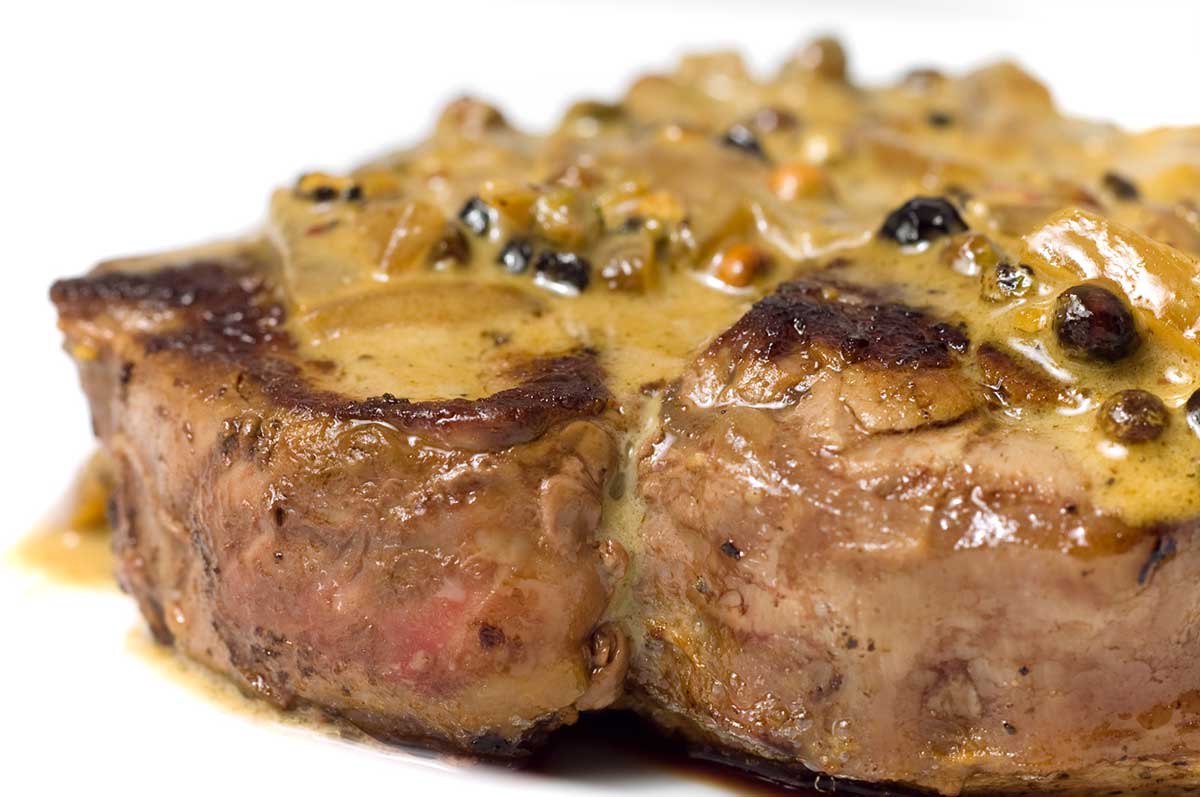 Step by Step Photos and Instructions:
STEP #1: Crack the peppercorns. You can use a mortar and pestle to do this or if you don't have one, simply place the peppercorns in a plastic bag and use a rolling pin to crack them.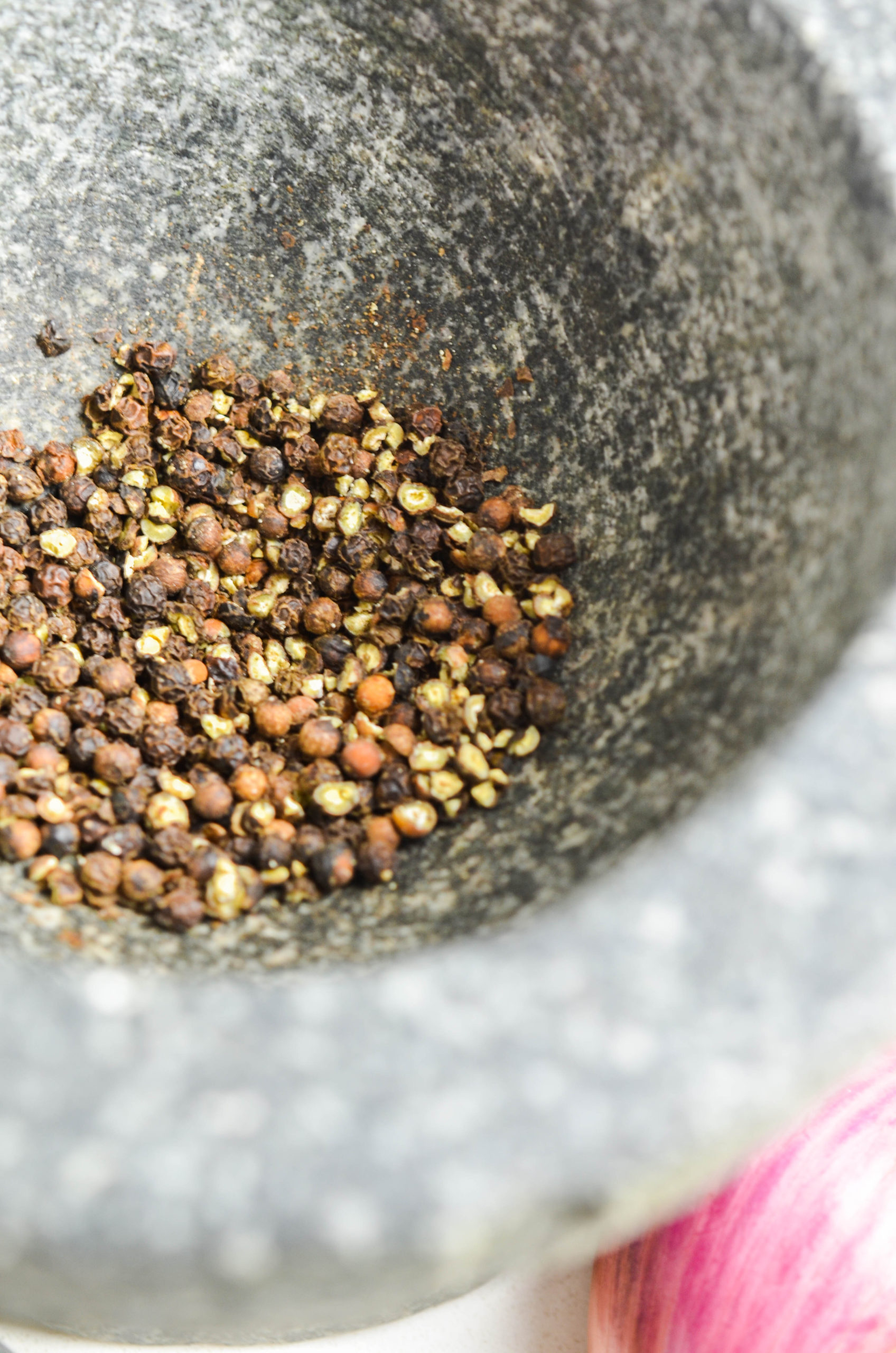 STEP #2: Sauté shallots in olive oil just until softened. About 1 minute. Add in peppercorns. Cook an additional minute.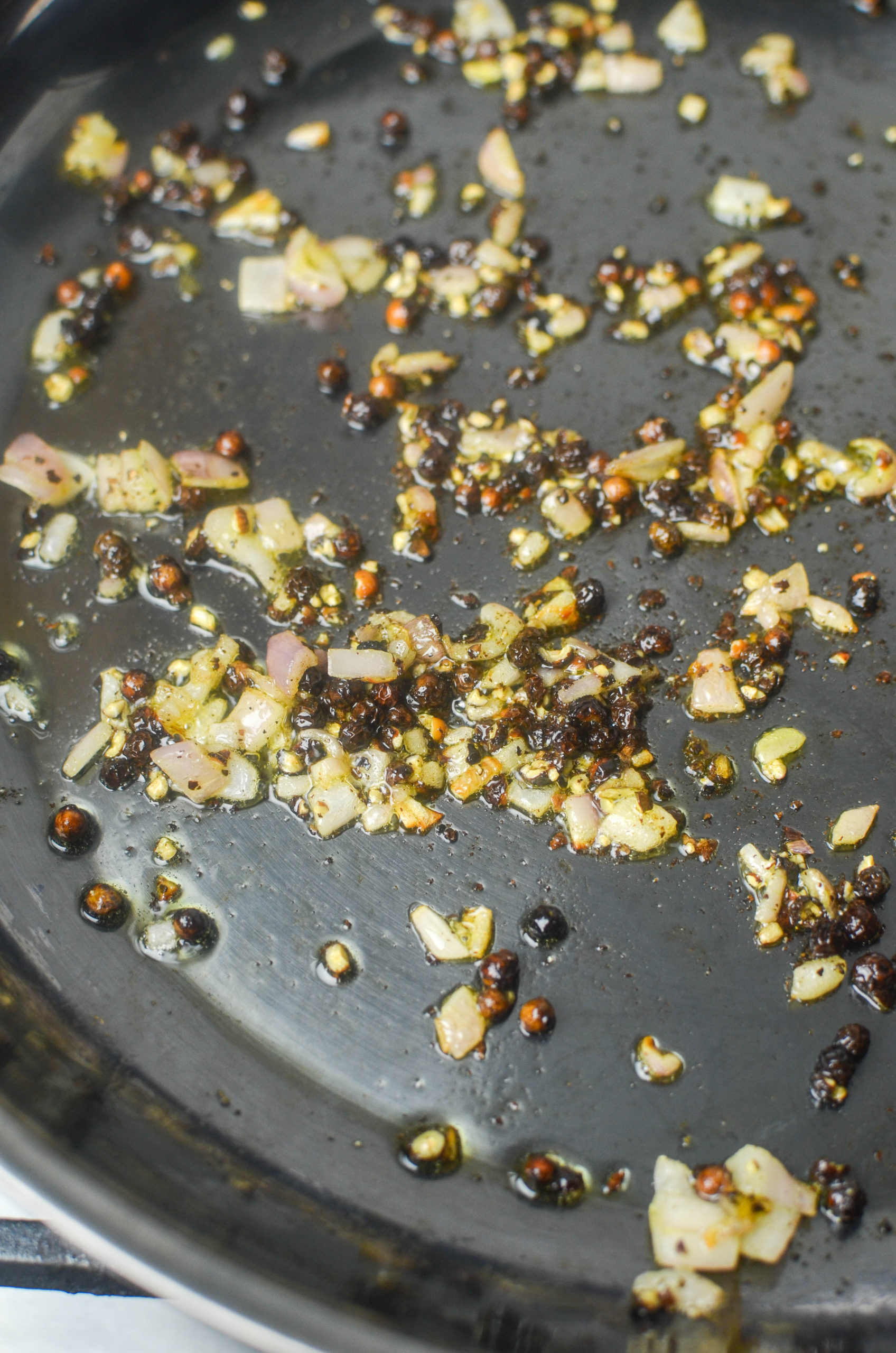 STEP #3: Whisk in beef broth being sure to scrape any brown bits from the bottom. Reduce heat and slowly whisk in heavy cream. Allow to simmer just until thickened, about 3 minutes.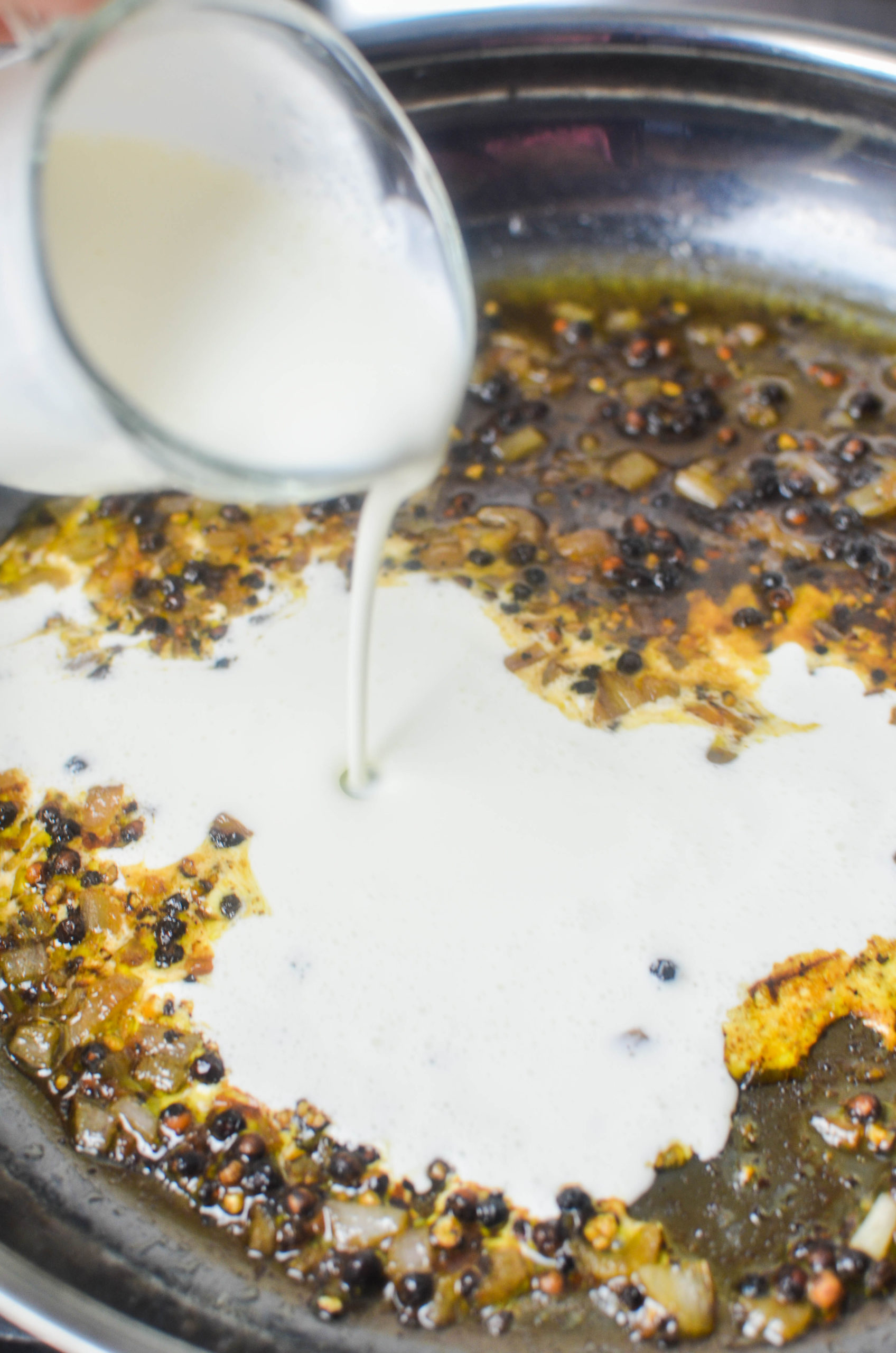 DES' TIPS: The brown bits are called "fond" and it carries a ton of flavor. As the sauce cools it will thicken, if it gets too thick add a little more beef broth.
Traditionally, Peppercorn Sauce is served over Filet Mignon but really, any kind of steak will be fab with this sauce! Just pick your favorite, you can't go wrong. You could even serve this over chicken!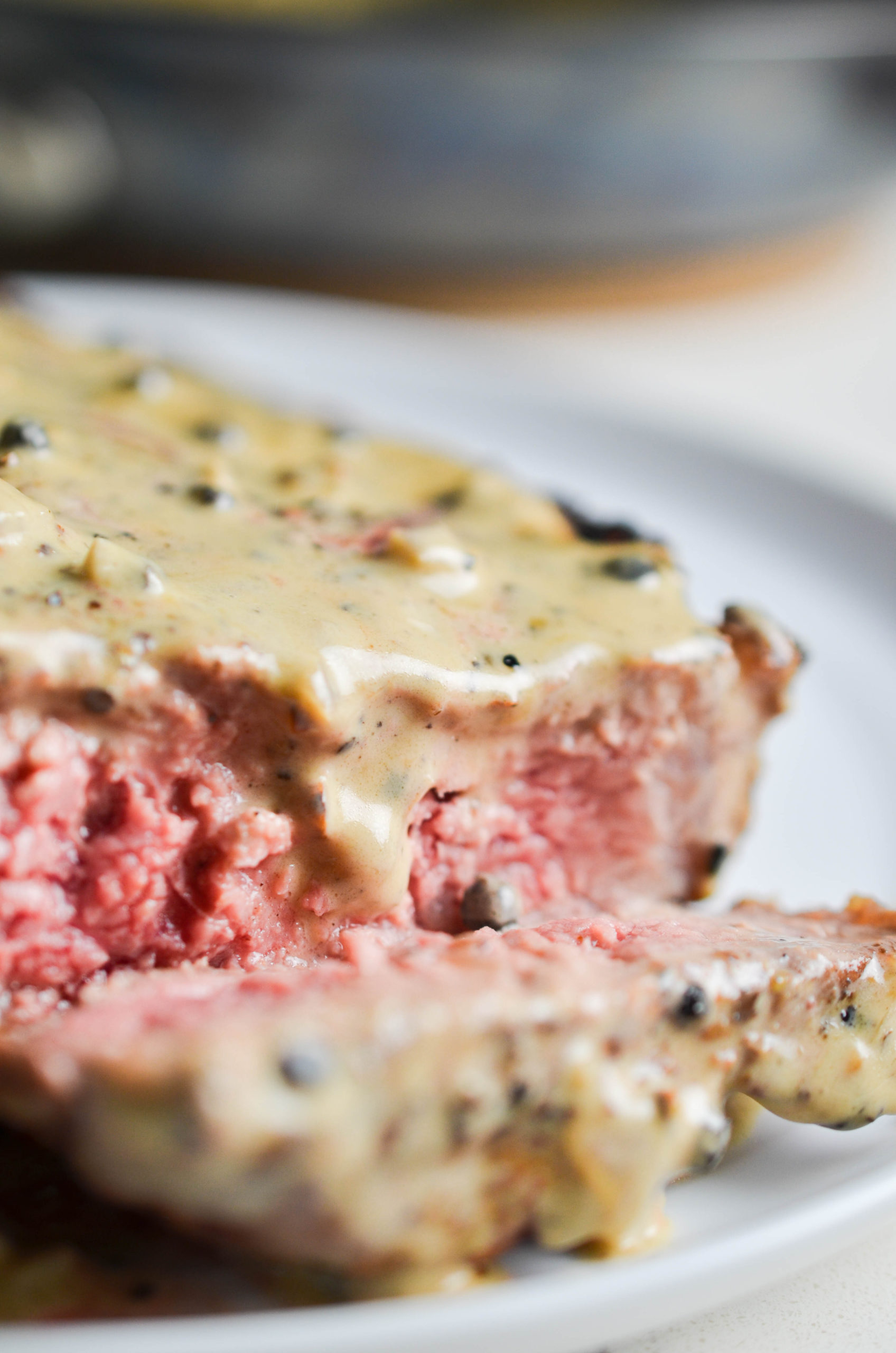 Can this recipe be doubled?
Yes! As written this makes enough sauce to cover 2 steaks but this recipe can easily be doubled.
Looking for other steakhouse favorites? You've got to try these recipes!
Note: This post was originally published in 2009. It was updated with new photos and nutrition information in 2020.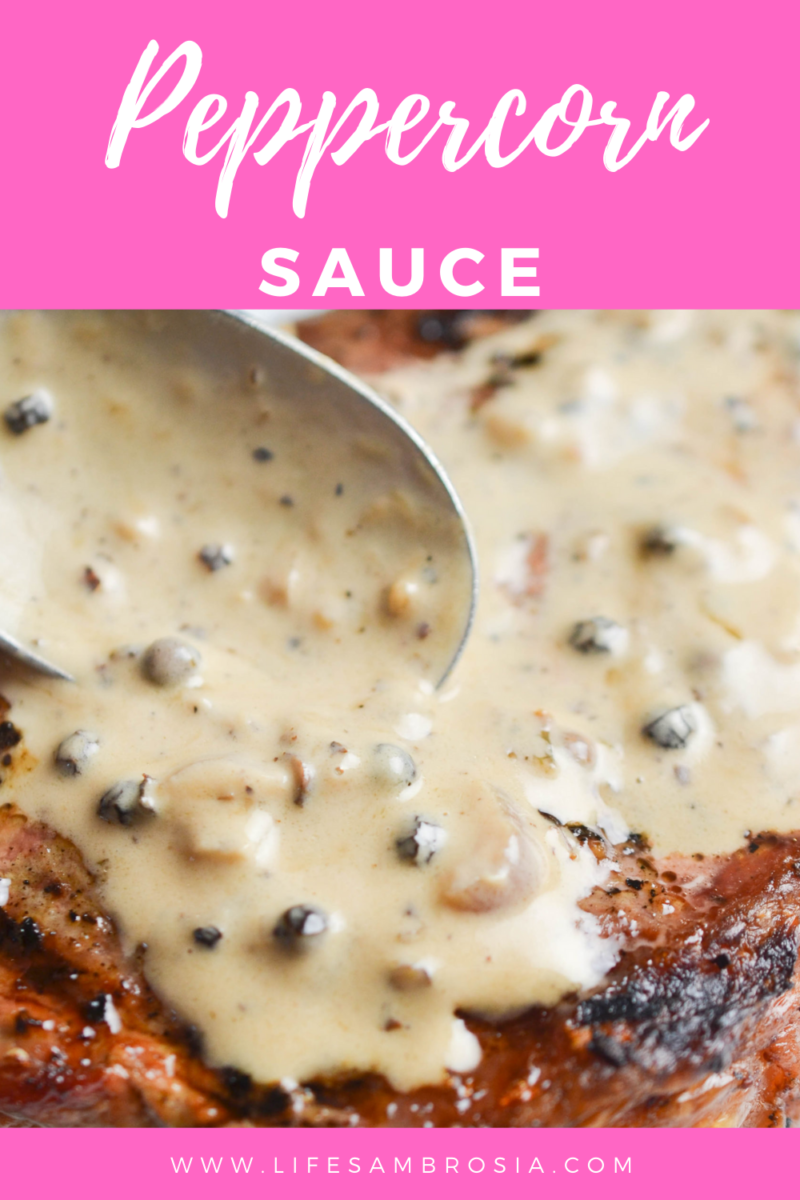 Peppercorn Sauce Recipe
Ingredients:
1 teaspoon olive oil
1/4 cup chopped shallot
1 tablespoon whole peppercorns
1/2 cup plus 1 tablespoon beef broth
1/3 cup heavy cream
Instructions
1
Use a mortar and pestle to crack the peppercorns. If you don't have one you can place the peppercorns in a plastic bag then pound with the side of a meat mallet or bottom of a frying pan. You don't want them too small, just cracked.

2
olive oil and shallots. Cook 1 minute. Add cracked peppercorns, cook 1 minute. Whisk in 1/2 cup beef broth. Reduce heat to low and slowly whisk in heavy cream. Allow to simmer for 3 minutes or until thickened. If it gets too thick add remaining tablespoon of beef broth.

Notes
Nutrition facts for estimation purposes only.
Nutrition information
Calories: 110 , Total Fat: 9.9g , Saturated Fat: 5g , Cholesterol: 27mg , Sodium: 206mg , Carbohydrates: 4.4g , Fiber: 0g , Sugar: 0g , Protein: 1.6g