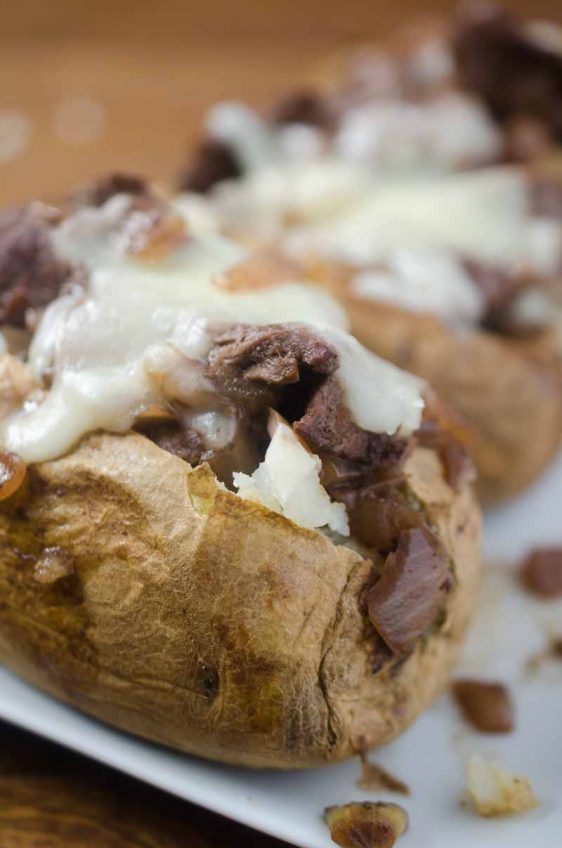 French-Style Beef Baked Potatoes
Make baked potatoes a meal with these French-Style Beef Baked Potatoes. They are loaded with thinly slice top sirloin, caramelized onion sauce and shredded Swiss cheese. 
This post is sponsored by the Washington Beef Commission. We are grateful for our sponsors as they allow us to bring you delicious free content every week! 
I have been a fan of turning baked potatoes into a meal for a long time. There is just something about fully loading up a perfectly baked potato and eating that for dinner. Ryan, however, does not agree with me. He doesn't think that a baked potato can be a meal.
As a result, I've been on a quest to tell him that yes you can! And I found the perfect recipe to help him see it in these French-Style Beef Baked Potatoes.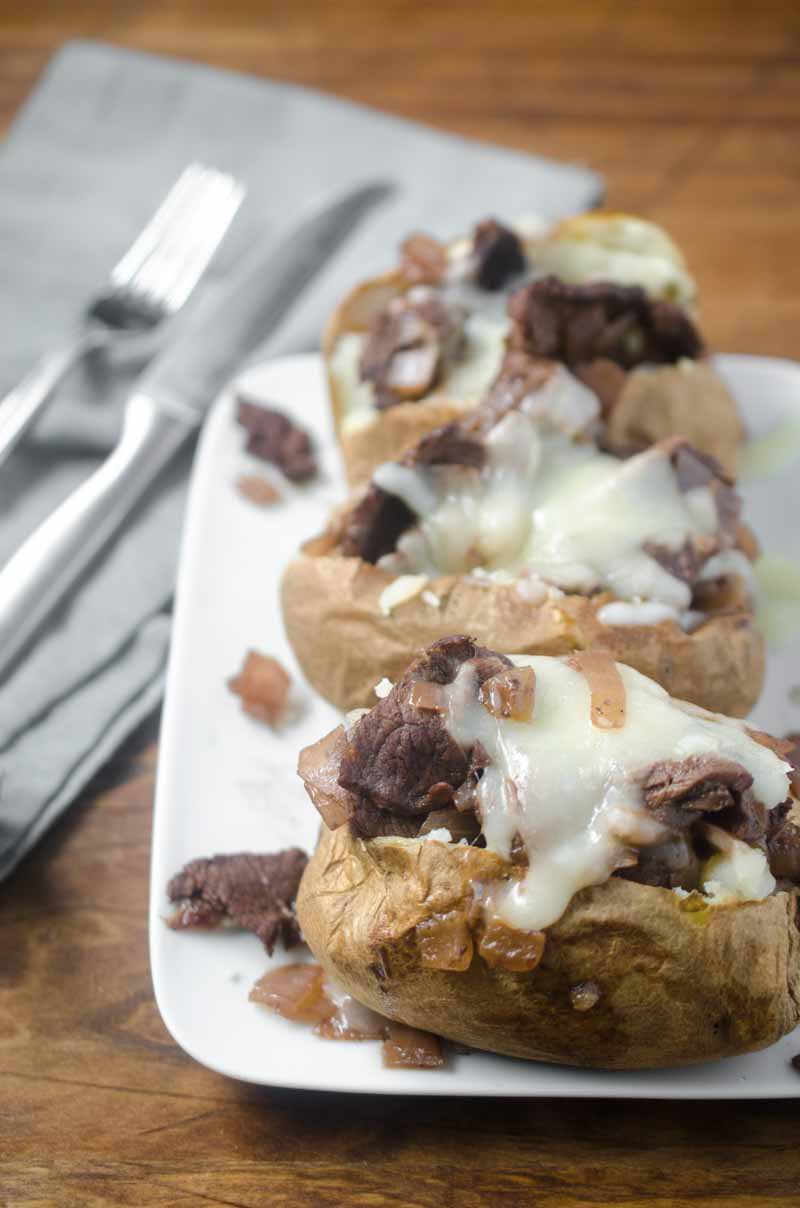 This French Style Beef Baked Potatoes recipe is the second in my series with the Washington State Beef Commission and I am already learning so much more.
Just a couple of weeks ago, I got to go to a cooking class here in Seattle at the Hot Stove Society. If you were following along on Instagram then you probably saw all of the beefy deliciousness. We had the chance to grind our own meat. I learned how to trim a tenderloin and truss a prime rib. It was so informative! I had a blast.
And of course the meal afterwards wasn't too bad either.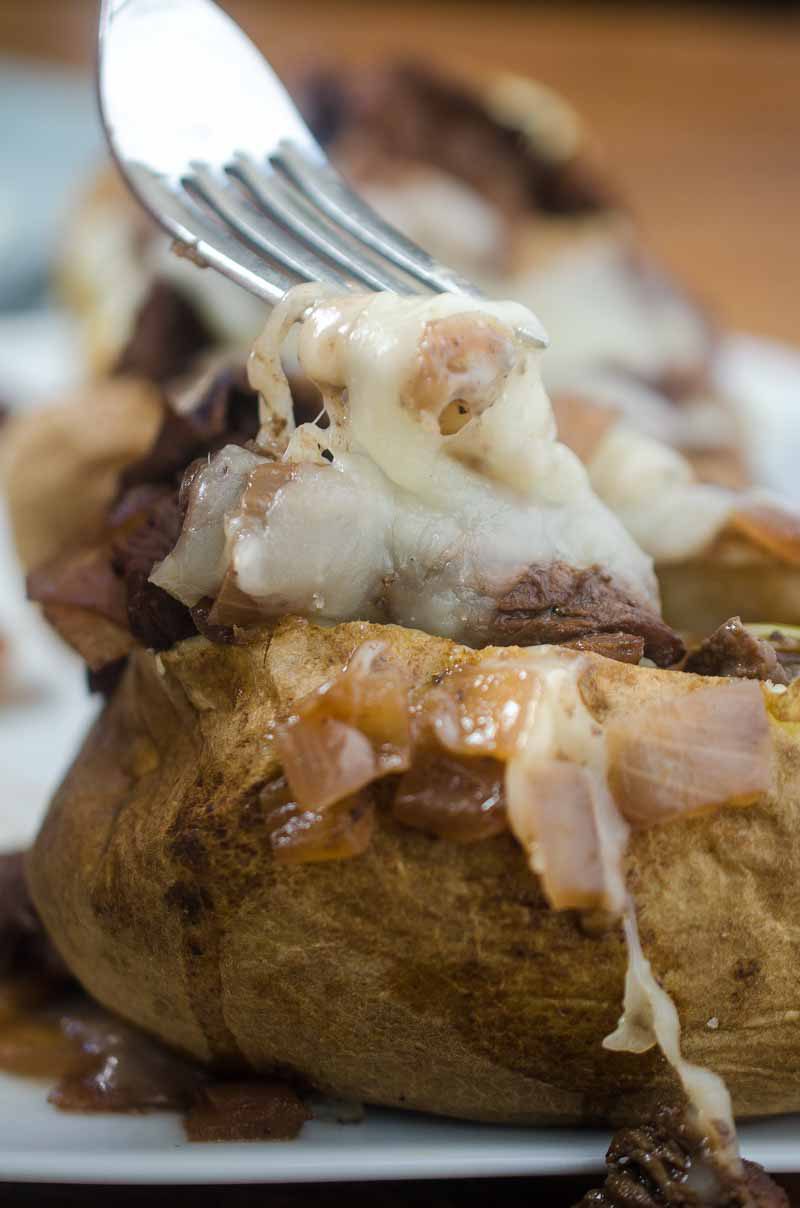 One of the things that I learned at the cooking class was that, when cutting beef, you don't need to saw back and forth. Instead, you should do one (or maybe two) pass throughs. That way you don't get rough saw marks along the meat. I tried doing this at home after the cooking class and I can totally tell the difference! Just make sure your knife is sharp.
Now back to this recipe for French-Style Beef Baked Potatoes. Like I said, they can totally make a meal. They are loaded with thinly sliced top sirloin, caramelized onion sauce and shredded Swiss Cheese.
And they are super easy to make. I'd say the hardest part is waiting for the onions to caramelize. Because I don't know about you, but nothing gets me hungrier faster than the smell of caramelizing onions.
Except maybe the smell of sizzling beef and caramelizing onions.

French-Style Beef Baked Potatoes Recipe
Ingredients:
1 pound beef Top Sirloin Steak Boneless, cut 1 inch thick
1 recipe Caramelized Onion Sauce (recipe follows)
4 hot baked medium russet potatoes
1/2 cup shredded Swiss cheese
Instructions
1
Cut beef steak lengthwise in half, then crosswise into 1/8-inch thick strips. Heat 12-inch nonstick skillet over medium-high heat until hot. Add half of beef; stir-fry 1-1/2 to 2 minutes or until outside surface of beef is no longer pink. Remove from skillet; keep warm. Repeat with remaining beef. Set aside.

2
In same skillet used to prepare beef, melt 2 teaspoons butter on medium high heat. Add 3 cups diced sweet onions. Cover and cook 5 to 7 minutes until onions are opaque and soft. Uncover skillet; cook 6 to 8 minutes until onions are golden brown, stirring occasionally. Add 1/2 cup red wine; simmer 2 to 4 minutes until liquid is almost evaporated. Stir in 1 can (14 to 14-1/2 ounces) reduced-sodium beef broth, 1/4 teaspoon salt and 1/4 teaspoon pepper. Cook about 20 minutes.

3
Add beef to sauce; cook 2 to 3 minutes or until beef is heated through.

4
Cut slits lengthwise in potatoes; open and fluff potatoes with fork. Divide beef mixture among potatoes. Top with cheese.

Notes
This recipe is courtesy of the Washington State Beef Commission and The Beef Checkoff.