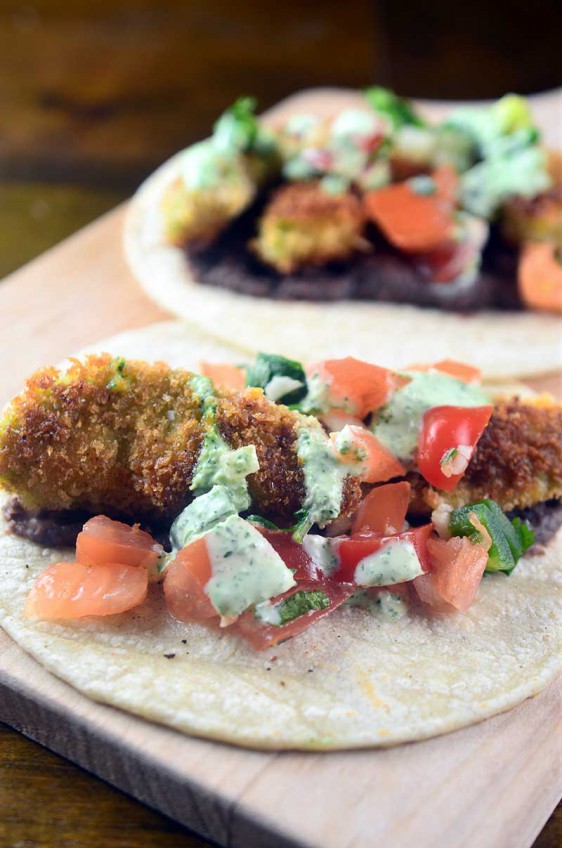 Fried Avocado Tacos with Jalapeño Cream Sauce
Now that the Super Bowl is over, who's ready for baseball? I'm sure am. I'm ready for baseball because baseball means summer. And summer means sunshine. And tacos. Mmm tacos. My usual taco fixings include shrimp, fish or chorizo but now they are going to include fried avocados. If you've never tried them before, prepare to be amazed. Fried Avocado Tacos are freaking delicious.
I first heard about Fried Avocado Tacos a few years ago while in Austin for a blogging conference. While I didn't get to try them while I was there, pretty much everyone else did. Everyone I ran into kept saying how amazing Fried Avocado Tacos were.
They weren't lying.
Fried Avocado Tacos are heavenly. Avocado slices are dredged in flour, then egg/milk wash and then in seasoned panko bread crumbs. Finally the avocado slices are fried until the outside is golden brown and crispy, but the inside is smooth and creamy. If that wasn't enough, you pile them in a taco shell and top with pico de gallo. For added deliciousness, I decided to top mine with a jalapeño cream sauce.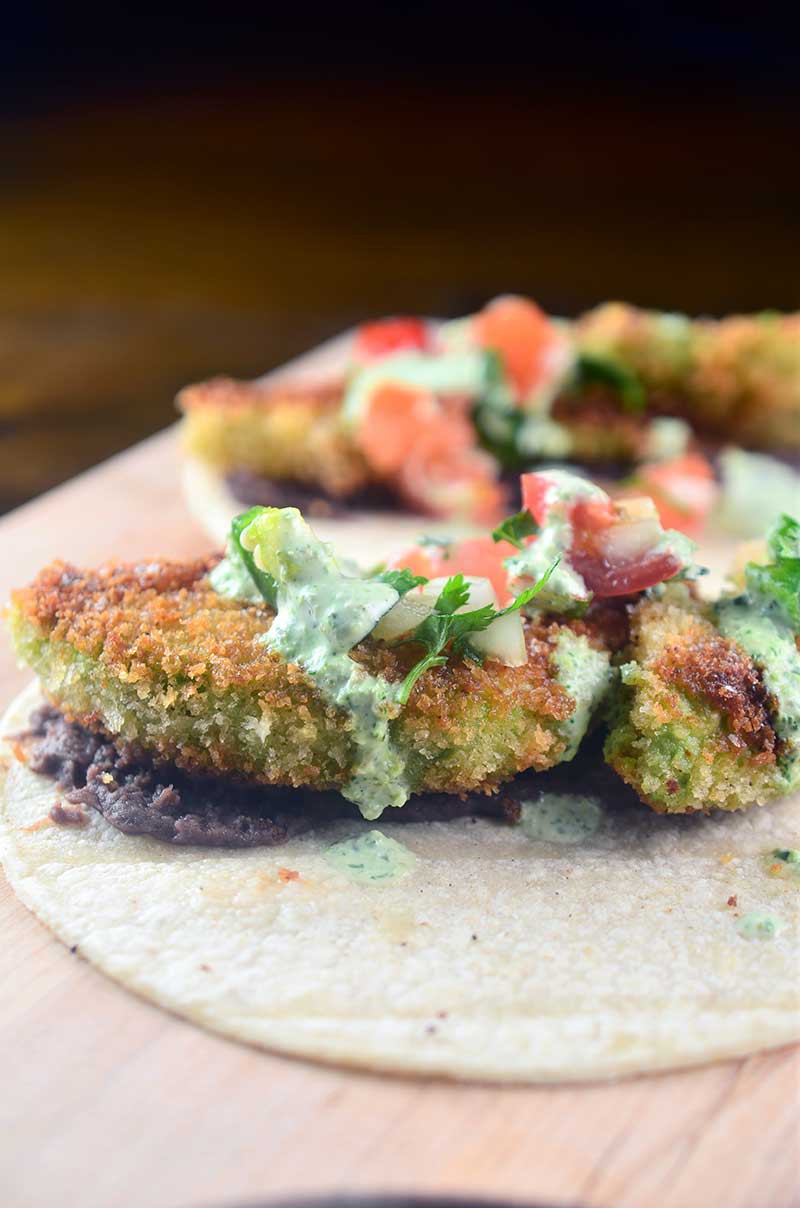 The jalapeño cream sauce comes together easily. Simply puree sour cream, mayonnaise, jalapeño, garlic, cilantro, salt and lime in a food processor. I made my sauce a little in advance, about 30 minutes, to give the flavors a chance to meld. The sauce was great with these Fried Avocado Tacos and as a dip for chips. Also, don't be surprised if you see me adding it to burgers or chicken this summer. It's good stuff, guys.
One last note with these Fried Avocado Tacos, a couple of my avocado slices broke during the coating process but I just fried them anyway. It worked just fine so don't be upset if your slices don't stay perfect. You won't notice it as you're scarfing down the tacos. And trust me, you will be scarfing them down.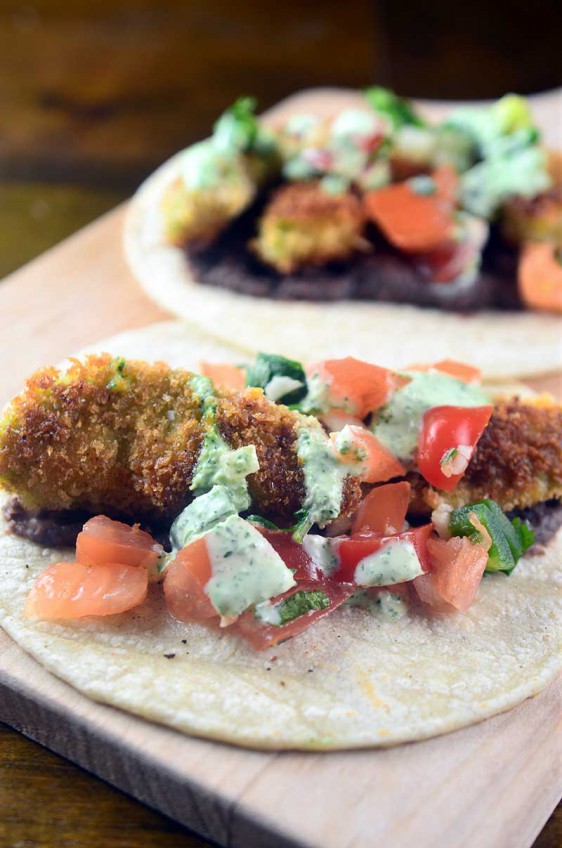 Fried Avocado Tacos with Jalapeño Cream Sauce
Crispy Fried Avocado Tacos with refried black beans, pico de gallo and jalapeño cream sauce. Tacos don't get much better than this!
Jalapeño Cream Sauce Ingredients:
Fried Avocado Tacos
1/2

cup

flour

1

egg

1/4

cup

milk

1 1/2

cups

panko bread crumbs

1/2

teaspoon

granulated garlic

1/2

teaspoon

chili powder

1/2

teaspoon

salt

1/4

teaspoon

ground cumin

2

avocados

pit removed, peeled and sliced

avocado or canola oil for frying

6 - 8

small corn tortillas

1

15 ounce can refried black beans

homemade or store bought pico de gallo
Make the jalapeño cream sauce by combining all ingredients together in a food processor. Process until smooth. Refrigerate until ready to use.

To make the avocado for the tacos, set up an assembly line. Place the flour on one plate, whisk together the egg and milk in a bowl and place the bread crumbs, garlic, chili powder, salt and cumin on another plate. Gently stir to mix. Carefully dredge each avocado slice in the flour, then dip in the egg/milk mixture and finally press into the bread crumbs to coat completely. Repeat until all avocados are coated.

Heat a 1/4 inch oil in a skillet to 350 degrees. If you don't have a thermometer simply sprinkle some of the panko into the oil and if it sizzles it's ready. Fry avocados, in batches if necessary until golden brown. Transfer to a paper towel lined plate and sprinkle with salt.

Warm tortillas and refried beans according to package directions.

To assemble a taco: spread refried beans onto tortilla, top with 1 or 2 slices of avocado, spoon pico de gallo over the top and then drizzle with jalapeño cream sauce. Serve immediately.
Keywords:
avocado, Jalapeno, tacos