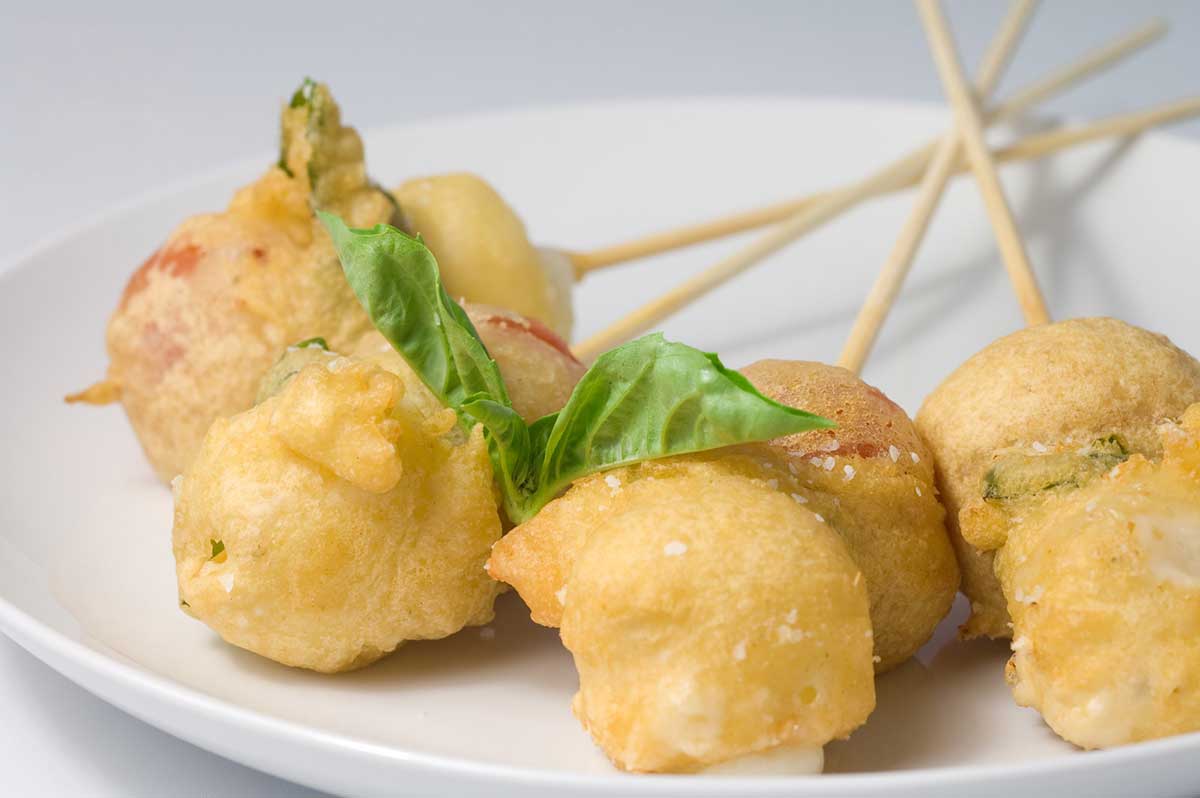 Fried Caprese Bites
On a previous post I mentioned that a baked mozzarella dish I was served in Florence sparked my mozzarella obsession. While that is true, that wasn't the only mozzarella dish that made my heart melt during our two week long trip. While all of the food in Italy was good, to this day one of the best meals I have ever had anywhere, was at  Il Buco in Sorrento. We ordered their tasting menu which on it's own was scrumptious, but imagine my delight when before that even started we were brought a complimentary appetizer, a deep fried caprese bite.  Fresh mozzarella balls, sweet basil and cherry tomatoes were coated in a light batter and fried until golden, oh be still my heart.  Since I can't walk on over to Il Buco, I had to give it a try at home and I'm glad I did.
When these were served to us they weren't on skewers, but I couldn't think of another way to keep them together while frying. Once they were cooked, I was able to remove the skewers and the bite stayed together. However, you can leave them on the skewer too, in fact if you are having a dinner party, I think leaving them on the skewer makes for a nice presentation.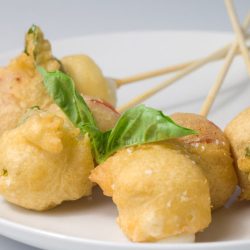 Fried Caprese Bites
Fresh mozzarella, basil and tomatoes dipped in batter and fried until golden.
Ingredients:
8

cherry tomatoes

8

ciliegini

fresh mini-mozzarella balls. I found them in my deli right next to the fresh mozzarella

basil leaves

8

skewers

soaked in water 20 minutes prior to frying

1/4

cup

plus 1 tablespoon flour

1/4

cup

cornstarch

1/4

teaspoon

kosher salt

1/4

teaspoon

fresh cracked pepper

1/4

teaspoon

granulated garlic

1

egg

1/4

cup

cold water

canola oil for frying
Heat about 3 inches of canola oil over medium-high heat.

Use 1 tomato, 1 ciliegini and 1-2 basil leaves (folded in half), per skewer. It doesn't really matter which order you skewer the ingredients, just make sure that they are no more than 1/4 inch away from the top. Frying is easier the closer they are to the top.

To make the batter, sift together flour, corn starch, salt, pepper and granulated garlic, whisk in egg and cold water.

Dip each skewer in the batter.

Once the oil is hot, hold each battered skewer into the oil and fry until golden brown. About 2-3 minutes. (Note: I didn't have any problems but since you are holding the skewers be careful of splatter from the oil.) Remove from fryer and sprinkle with kosher salt. Repeat until all skewers are fried. Serve.
Keywords:
appetizer, caprese, Food, fried food, il buco, italy, mozzarella bites, Recipe, snack, sorrento