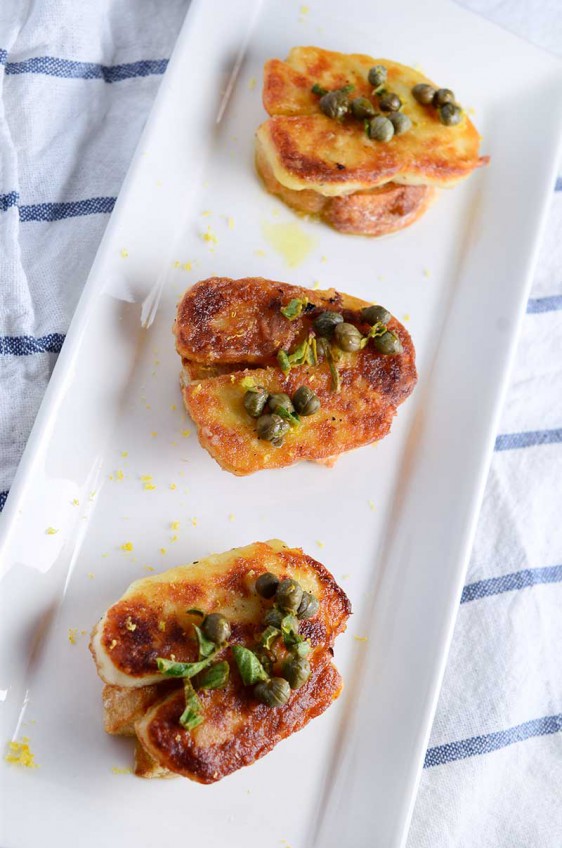 Fried Halloumi Crostini with Lemon Caper Oil
Happy Monday! I know, I know most people don't think of Mondays as happy but that is why I'm bringing you this deliciousness today. It is bound to make your Monday a little better. Fried Halloumi Crostini with Lemon Caper Oil sounds all fancy schmancy but you guys, all it really is, is fried cheese drizzled with a lemony caper filled oil. And fried cheese can make even a Monday a good day.
If you're not familiar with halloumi, it's a cheese from the island of Cyprus. It's a firm, brined cheese that has a really high melting point, making it perfect for grilling or frying. It will get caramelized on the outside but stay creamy inside.
A cheese that you can cook and the outside will get all golden but the inside will be all melty?
YES PLEASE.
The first time that I ever saw halloumi, was on Foodie Crush last summer. Heidi shared this recipe for Grilled Halloumi Caprese Skewers. Truth be told, I hadn't heard of halloumi until that point. It's not the most popular cheese, but after finally trying it recently I have decided that it should be.
For this recipe, I wanted something simple that would showcase the texture and briny flavor of the halloumi. So I coated it lightly in flour and pan fried it just until it was golden brown. Next,  I placed it on top of some toasted baguette slices that I rubbed with garlic. Finally, I whisked together some extra virgin olive oil, lemon juice, lemon zest, fresh oregano and capers then drizzled that over the top.
It. Was. Cheese. Heaven.
The bread is crunchy. The cheese is caramelized and creamy. The lemon caper oil is briny and bright.
Seriously, if you love cheese (how could you not?) you have got to get your hands on some halloumi and make this. It's time to get your fried cheese on.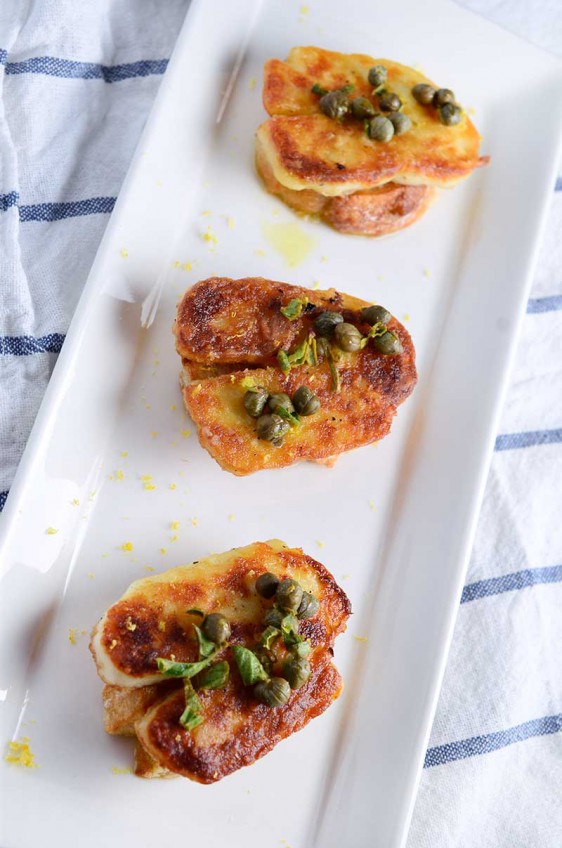 Fried Halloumi Crostini with Lemon Caper Oil
Crusty bread topped with golden fried halloumi and lemon caper oil
Whisk together olive oil, lemon juice, capers, oregano and lemon zest. Allow to set at room temperature for at least 20 minutes.

Dredge halloumi slices in flour.

Heat a thin coat of oil in a skillet over medium high heat. Pan fry halloumi slices, in batches, until golden brown, about 2 minutes per side.

Turn on oven broiler. Broil baguette slices 1 - 2 minutes or until golden brown. Rub with garlic clove.

Place one slice of halloumi on each baguette slice. Drizzle with lemon caper oil. Serve.
Keywords:
appetizer, cheese, halloumi