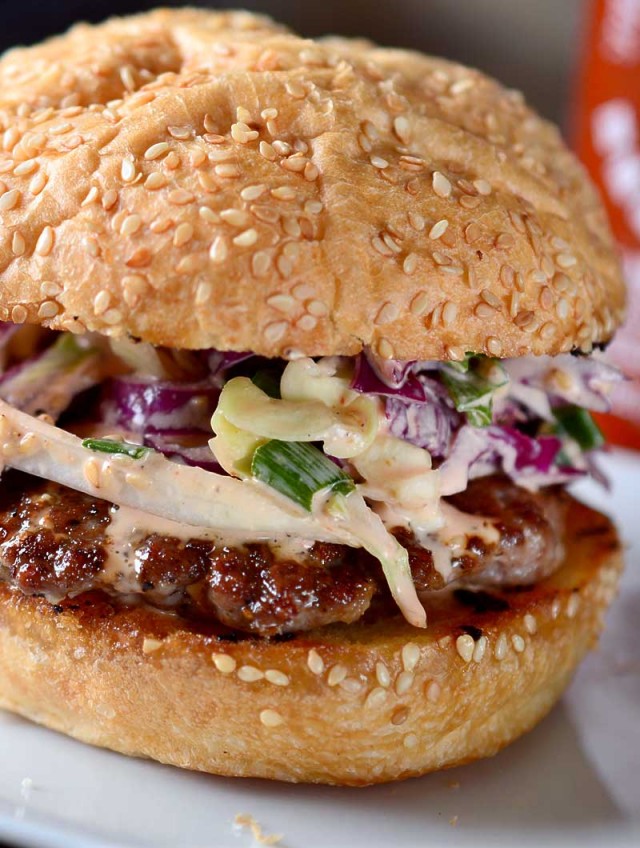 Garlic & Black Pepper Pork Burgers with Sriracha Slaw
Slaw on a burger.
Not your traditional burger. And not your traditional slaw.
I went outside the box with this one and guess what. Outside the box is DELICIOUS.
When I asked you all on Facebook if you like slaw on burgers I got quite a but of yays but I also got a few nays. The naysayers said that they just weren't sure, they had never tried it before but it just didn't sound that good. Well today, I hope to change a few minds with this Garlic and Black Pepper Pork Burger with Sriracha Slaw.
Yep, I went way outside the box with this one. No beef. Instead it's a pork burger, made with ground pork, salt, pepper and garlic. Lots of garlic.
Next up is some slaw with a kick. Slaw that I could, and did, just eat all by itself like it was a side dish. There is mayo of course, then rice vinegar, sriracha and sesame seeds all tossed together with crunchy red and green cabbage. If you thought you hated coleslaw before because you're used to that mayo drenched bland stuff with limpy cabbage, this stuff is going to rock your world.
In fact this whole burger is going to rock your world. It rocked mine.
I even ate it for lunch again the next day. And I swear the slaw was even better.
Garlic & Black Pepper Pork Burgers with Sriracha Slaw Recipe
Slaw Ingredients:
1/4 cup mayonnaise
2 tablespoons rice vinegar
1 tablespoon Sriracha
2 teaspoons sesame seeds
1/4 teaspoon salt
1/4 teaspoon pepper
2 cups thinly sliced red cabbage
2 cups thinly sliced green cabbage
1 green onion, diced
Garlic & Black Pepper Pork Burgers
1 pound ground pork

8 cloves garlic, minced

1 1/2 teaspoons black pepper

1/2 teaspoon salt

olive oil

4 sesame kaiser buns
Instructions
1
Whisk the mayonnaise, rice vinegar, sriracha, sesame seeds, salt and pepper together in a bowl. Fold in red cabbage, green cabbage and green onion. Mix well. Cover and refrigerate for at least 30 minutes.

2
When ready to cook the burgers, combine pork, garlic, salt and pepper together in a bowl. Use your hands to mix well. Divide into 4 equal sections and form into patties. Make the patties a little bigger than the burger buns because they will shrink when cooking.

3
In a pan, cook the patties 3 - 4 minutes on both sides or until cooked through. Reserve 1 tablespoon of pan drippings.

4
In the same pan that you cooked the patties in, toast the kaiser buns until golden brown, about 2 minutes.

5
To assemble a burger, place the pork patty on the bottom bun. Top with sriracha slaw and top bun. Repeat with remaining ingredients. Serve.