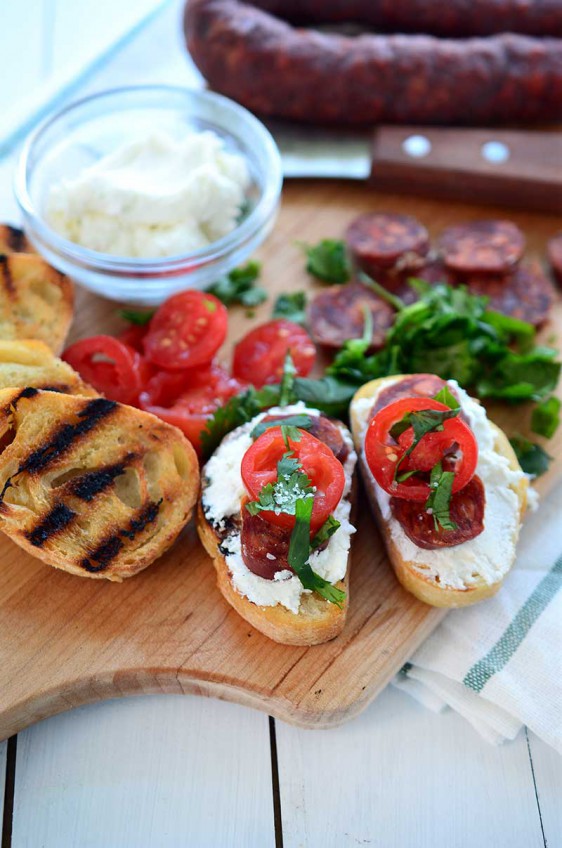 Goat Cheese and Chorizo Crostini
One of my favorite things to do when the weather gets warm is make a bunch of appetizers, pour myself a glass of wine and enjoy a nosh session outside. This Goat Cheese and Chorizo Crostini is the perfect appetizer to do just that. It's quick. It's easy and a real crowd pleaser.
Crostinis are one of my favorite appetizers to make because you can do just about anything with them. I have made 5 Minute Salami & Caper Crostini, Roasted Tomato & Goat Cheese Crostini  and a few others.
I not only love crostini because of the endless possibilities, I also love crostini because they are SO SO SO easy to make, making them the perfect party food.
Take this Goat Cheese and Chorizo Crostini for instance. It only requires 7 ingredients and about 2 minutes of cooking time. The 2 minutes of cooking time comes from grilling the bread. I chose to grill the bread for this recipe because as summer approaches, I want to turn my oven on less and less. Grilling the bread gives it a nice crunch. You can use a grill or, if you don't mind turning on the stove a grill pan would work just fine.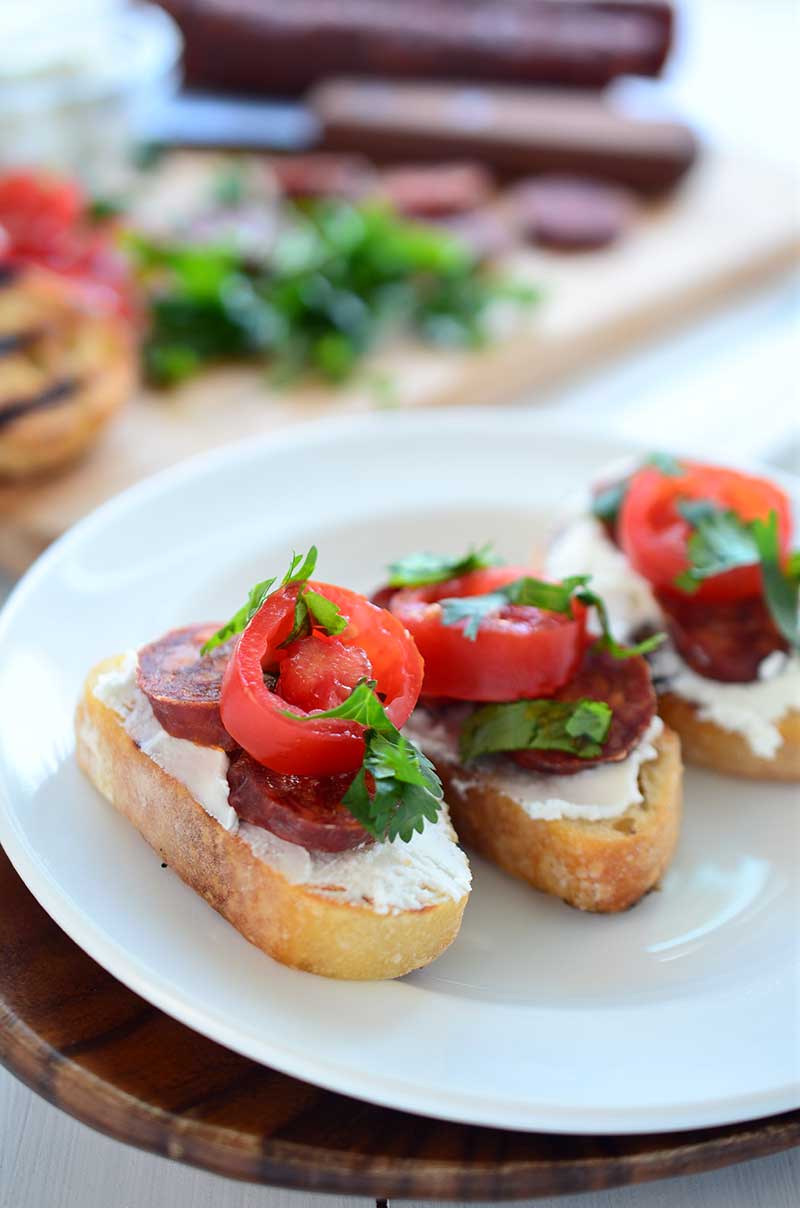 When it comes to the toppings, the chorizo in this Goat Cheese and Chorizo Crostini is Spanish chorizo. Unlike the Mexican chorizo that you find in the meat section, Spanish chorizo is cured. I had no idea that one was Spanish and one was Mexican but The Kitchn does a good job of explaining the difference.
If you're throwing a party, you can prep the crostini ahead of time, but I like to put out all of the ingredients and let people make their own. I think it's more fun that way :)

Goat Cheese and Chorizo Crostini Recipe
Ingredients:
8 - 10 baguette slices
olive oil
1/2 cup softened goat cheese
1/2 cup sliced cherry tomatoes
1/4 pound Spanish style cured Chorizo, sliced
chopped cilantro
salt
Instructions
1
Brush baguette slices with olive oil.

2
Heat a grill or grill pan over medium high heat.

3
Grill baguette slices, 1 - 2 minutes or until grill marks appear.

4
To assemble the crostini, spread softened goat cheese on baguette slice, top with chorizo, sliced tomatoes and cilantro. Sprinkle with salt. Serve.