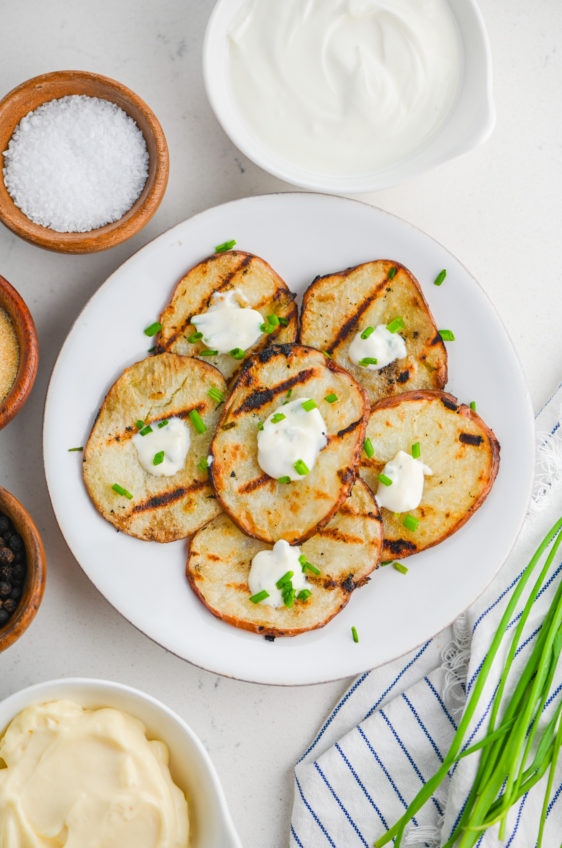 Grilled Red Potatoes
Grilled Red Potatoes a great side dish for summer dinners! Thinly sliced, brushed with a creamy chive sauce and grilled to perfection.
If you are looking for the perfect side dish to serve along side some Grilled London Broil, Grilled Lemon Pepper Chicken Wings or Grilled Pork Chops, these Grilled Red Potatoes are exactly what you need. They are easy to make, full of flavor and were a hit with the entire family.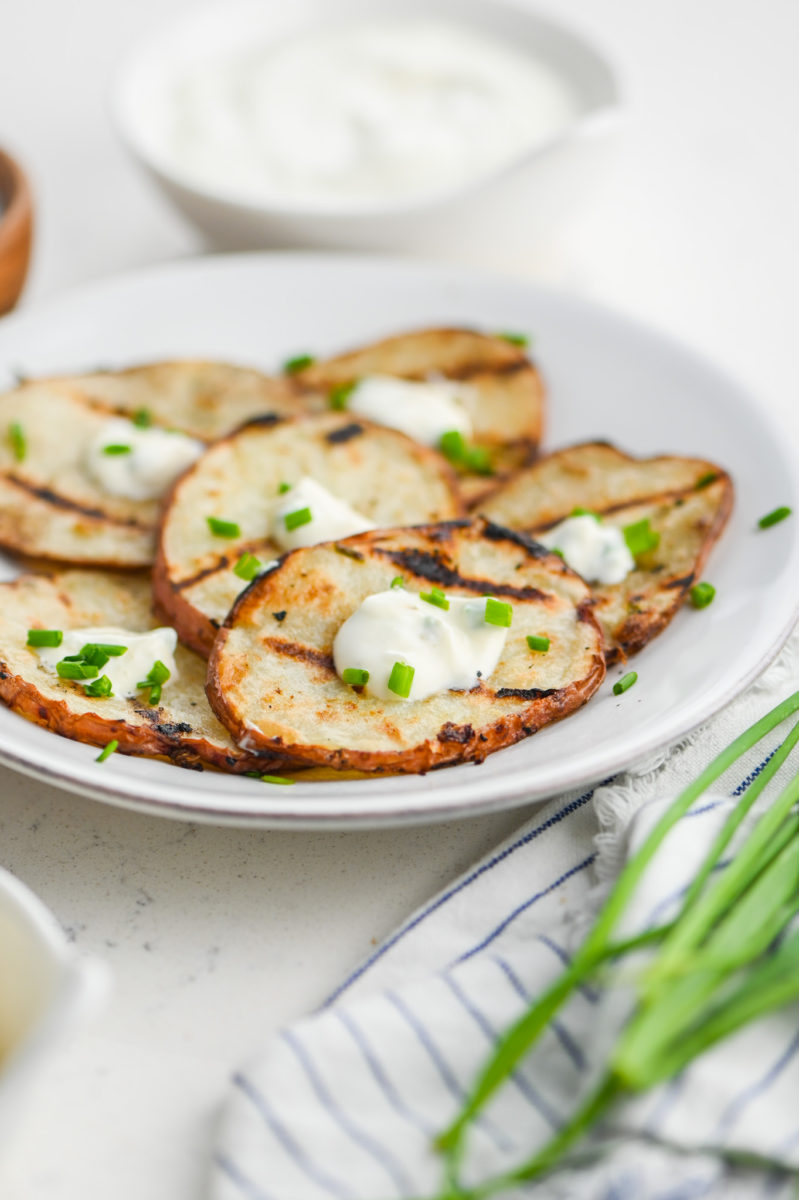 When you search for grilled potatoes, most of the time you'll find recipes using halved baby potatoes. This recipe is a bit different in that you'll be using thinly sliced potatoes. The result is a tender, thick cut potato chip.
And they are delicious.
Let's talk about everything you'll need to make them.
Grilled Red Potatoes Ingredients:
You only need a handful of ingredients to make these grilled potatoes!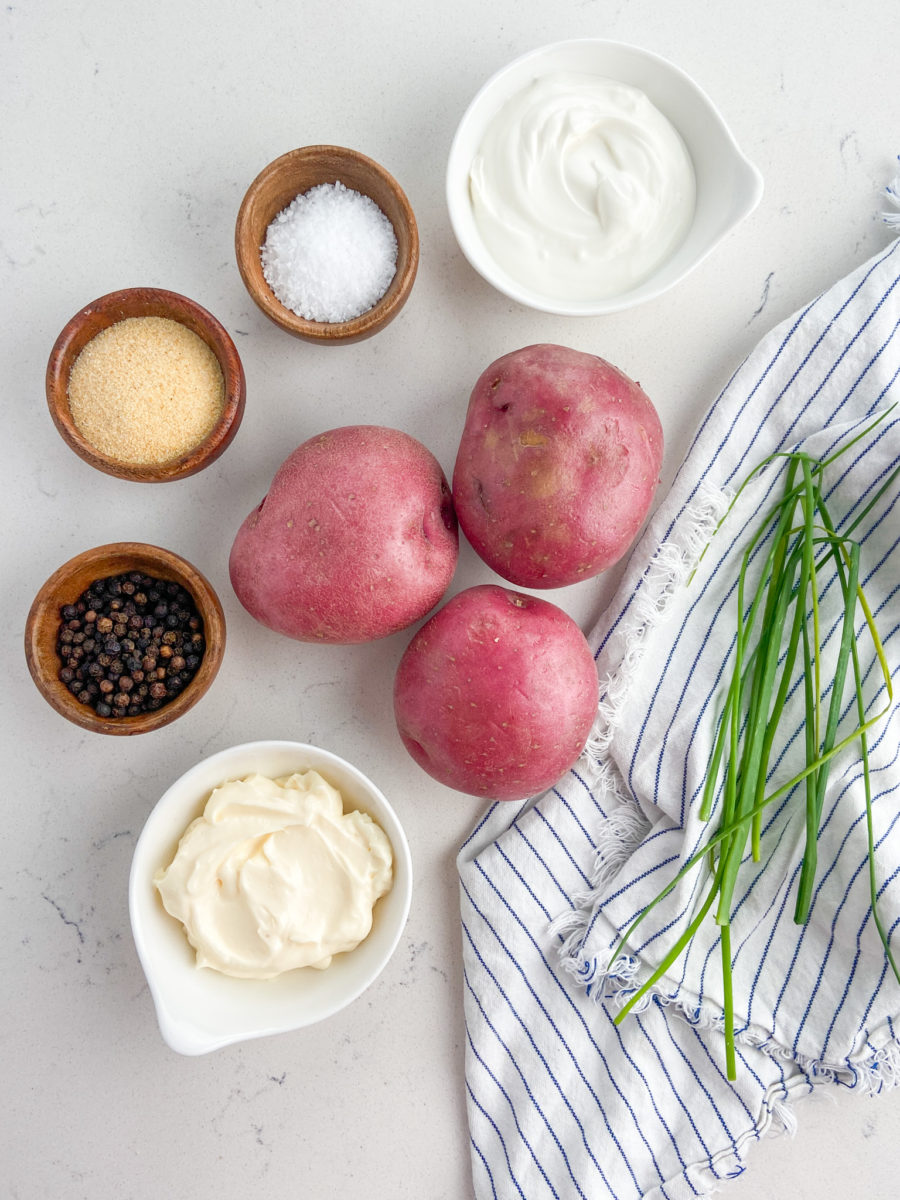 RED POTATOES: Red potatoes are great because they have a thin smooth skin that you can leave on in most cases. And they are waxy which means that they retain most of their shape when cooking. For this recipe you'll want to make sure to use red potatoes and not "Baby" red potatoes, they will be too small.
MAYONNAISE AND SOUR CREAM: These will be the base of the sauce for the potatoes. They work together to make the sauce creamy and tangy.
CHIVES: You'll want to use fresh chives here, as opposed to dried chives. Fresh chives will give you the best flavor and color for the dish.
SALT
PEPPER
GRANULATED GARLIC: You can also use garlic powder if that is what you have on hand. If all you have is garlic salt, you can use that too but omit the additional salt in the recipe.
Step by Step Instructions:
Grilled Potatoes are really easy to make but there are a couple of tips to ensure that you get the best results. Follow along with these step by step photos and instructions.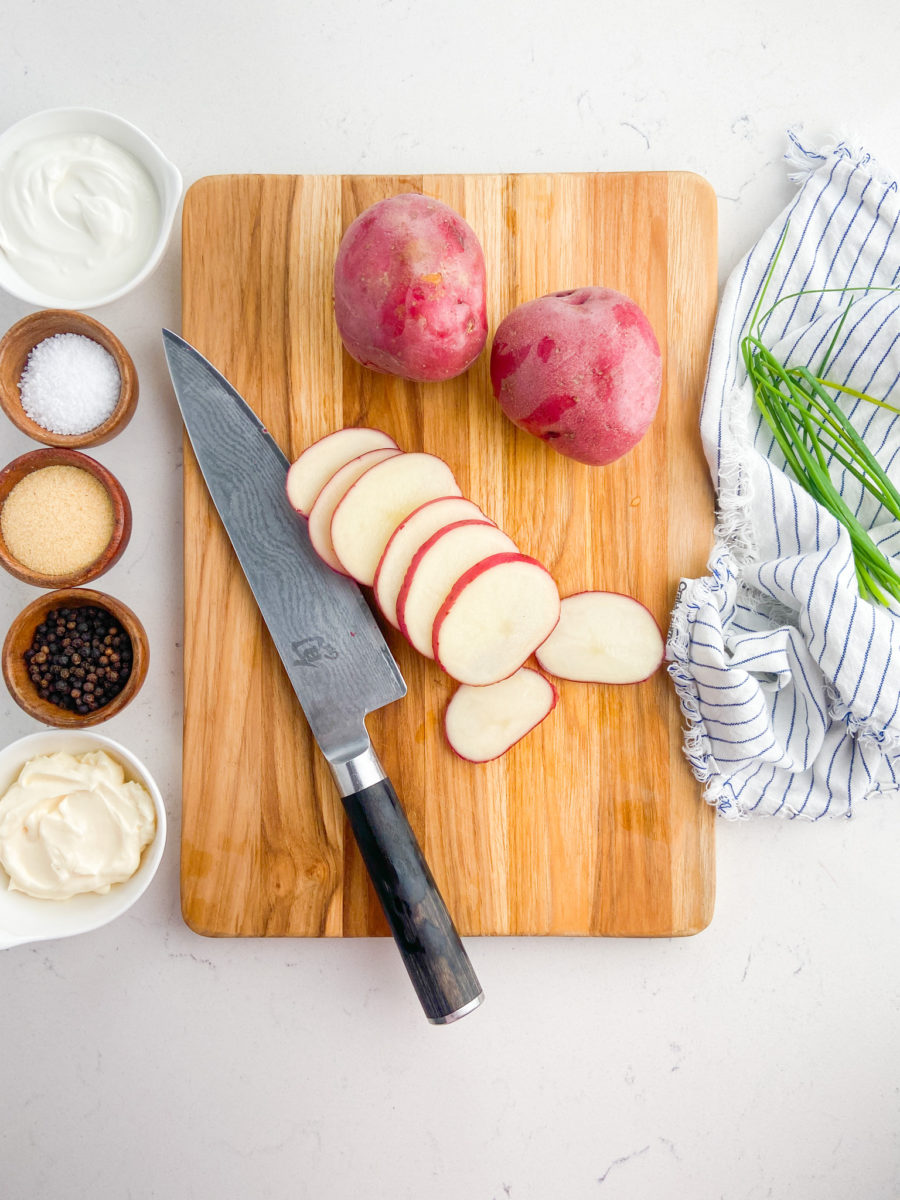 STEP #1: Using a sharp knife, slice the potatoes into 1/4 to 1/2 inch rounds.
STEP #2: Place the potatoes in a pot, add a pinch of salt and cover with water. Bring to a boil. Boil 3 – 4 minutes or just until they are fork tender. Drain. Don't overcook them at this point, you don't want to make mashed potatoes.
STEP #3: Place mayonnaise, sour cream, chives, salt, pepper and granulated garlic in a bowl. Whisk together until well combined.
STEP #4: Preheat grill to medium heat (about 400 degrees F).
STEP #5: Reserve half the sauce and set aside. Use the other half and brush onto both sides of the potato slices.
STEP #6: Carefully place the potatoes onto the grill. Make sure not to let them fall through the grates. Grill 3 – 4 minutes per side or until the potatoes have dark grill marks and are browned.
STEP #7: Transfer to a serving plate, top with remaining sauce. Sprinkle with fresh chives and serve.
The great thing about these is that you can make them as crispy or as soft as you like. If you leave them on a bit longer they will be more like chips.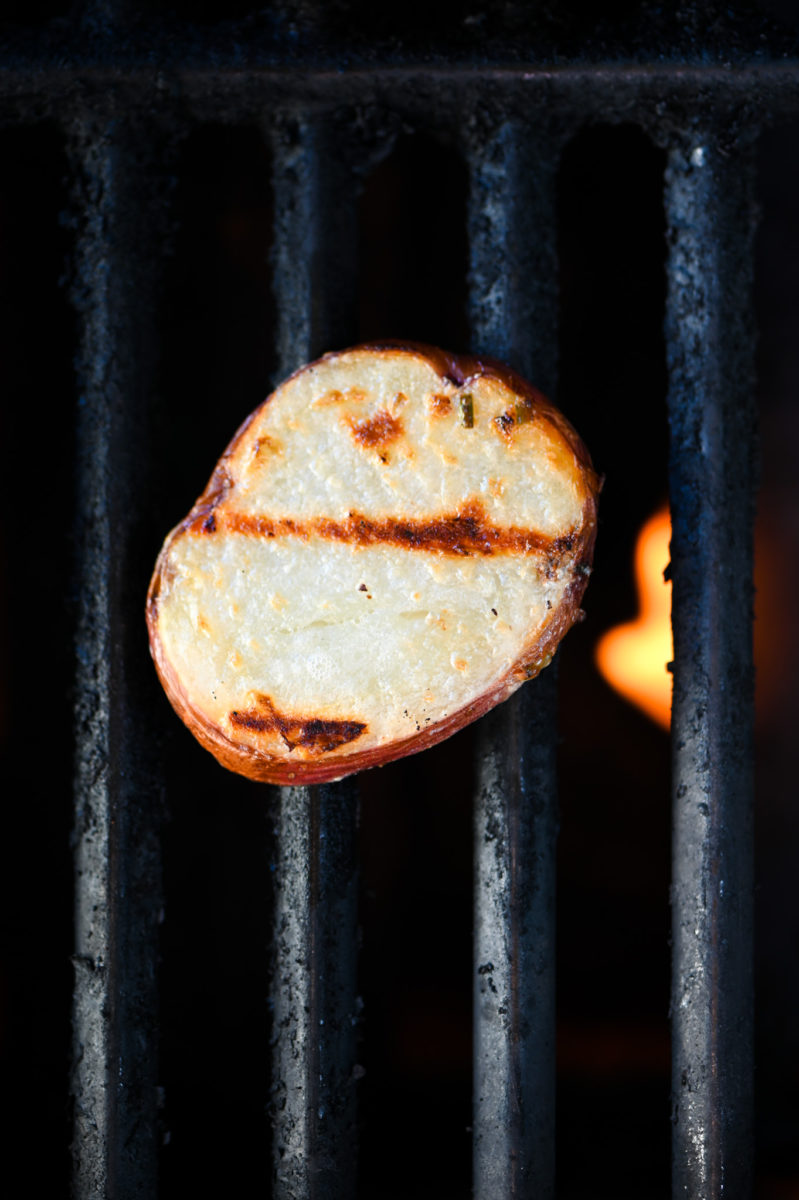 Storage and Leftovers:
Grilled Red Potatoes are best eaten right away. The sauce however, can be made in advance and any leftovers can be stored in the refrigerator for a few days.
Looking for more potato side dishes? Here are some of my favorites:
These Homemade Mashed Potatoes only need THREE ingredients! They are perfection!
Roasted Red Potatoes are another favorite way to cook these scrumptious spuds!
Want to elevate your potato side dish game even more? Try Crispy Truffle Smashed Potatoes.
Note: This recipe post was originally published in 2010. It was updated with new photos, nutrition information and step by step photos in 2023.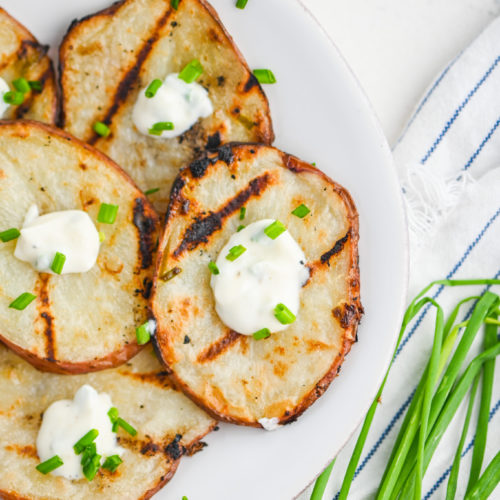 Grilled Red Potatoes with Chive Sauce
Grilled Red Potatoes a great side dish for summer dinners! Thinly sliced, brushed with a creamy chive sauce and grilled to perfection.
Place sliced potatoes in pot and cover with water. Bring to a boil and cook just until fork tender, 3 - 4 minutes. Drain.

In a bowl combine mayonnaise, sour cream, chives, salt, pepper and garlic powder. Mix well.

Preheat grill to 400 degrees F.

Reserve 1/2 of sauce. Brush boiled potatoes with remaining chive sauce on both sides. Repeat until all potatoes are coated.

Place potatoes on the grill and cook until browned and tender. 3 - 4 minutes per side. Keep an eye on them so they don't burn.

Transfer to a plate. Sprinkle with kosher salt. Place a dollop of remaining chive sauce on each of the potatoes. Garnish with chopped chives. Serve.
The chive sauce can be made in advance. And the potatoes can be made up to the point of grilling and then refrigerated until ready to use. 
Nutrition information for estimation purposes only. 
Calories:
353
kcal
Carbohydrates:
44
g
Protein:
6
g
Fat:
18
g
Saturated Fat:
4
g
Polyunsaturated Fat:
9
g
Monounsaturated Fat:
4
g
Trans Fat:
1
g
Cholesterol:
19
mg
Sodium:
318
mg
Potassium:
1250
mg
Fiber:
5
g
Sugar:
4
g
Vitamin A:
216
IU
Vitamin C:
24
mg
Calcium:
50
mg
Iron:
2
mg
Keywords:
4th of July Recipes, chives, Labor day recipes, Memorial Day recipes, potatoes, red potatoes, side dish