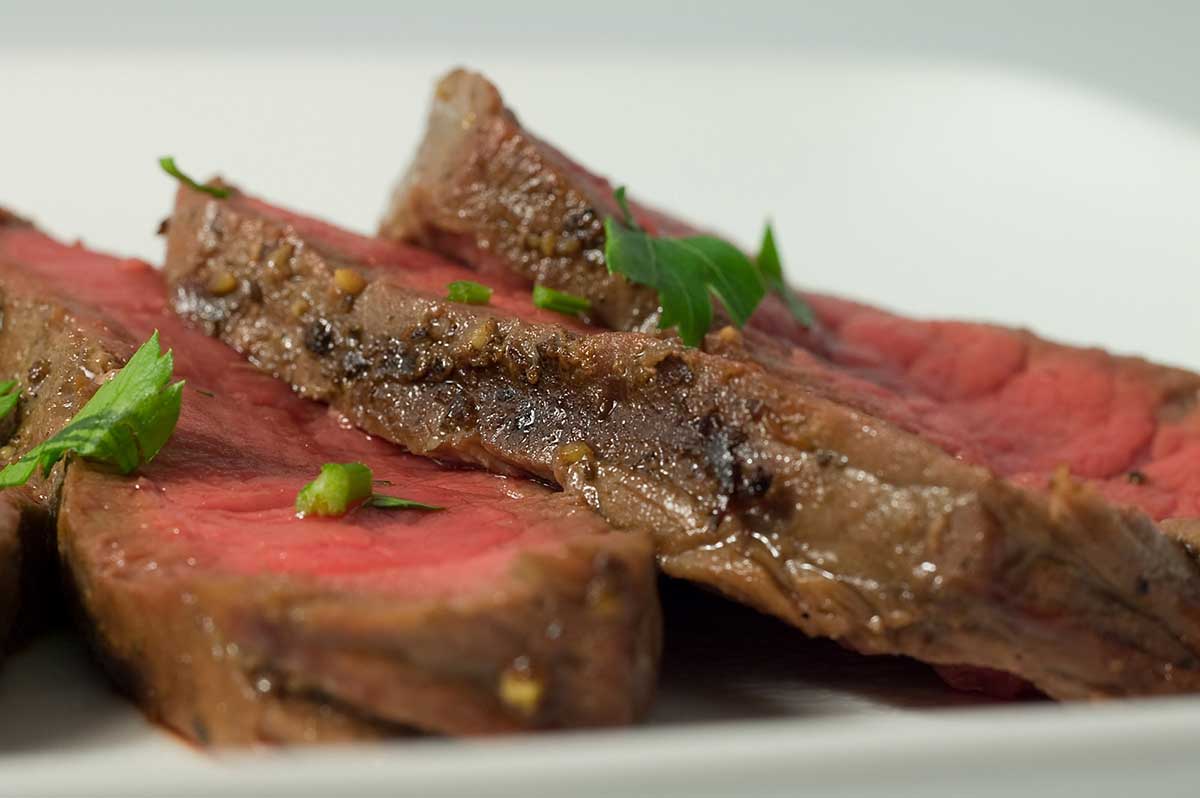 Grilled Marinated London Broil
There are times when I am craving a really good steak, but cuts like NY strip, Ribeye, and Top Sirloin can get really expensive so london broil is the perfect alternative. For this london broil recipe, I mixed a simple marinade of fresh garlic, olive oil, woresterchire sauce, red wine and salt and pepper and then marinated the meat over night. After marinating, the meat is grilled to a perfect medium rare. Who would've thought that such an inexpensive cut of meat could be as tender and flavorful as the really expensive cuts?
Now technically a london broil is not a cut of meat but a cooking method, designed to make the best out of lean, tough cuts of meat. Now this can get somewhat confusing because butchers at grocery stores often put the "london broil" label on all cuts of meat including flank steak, shoulder and round. For this recipe I used top round.
Grilled Marinated London Broil Recipe
Ingredients:
2 gloves garlic, minced
2 tablespoons olive oil
1 tablespoon woresterchire
1 tablespoon dry red wine
kosher salt and fresh cracked pepper
1 (1.5 pound) top round (may be labled london broil at your grocery store)
Instructions
1
Whisk the marinade ingredients together in a large bowl.

2
Make several (about 10) small, shallow incisions all over the meat.

3
Place the meat in the bowl and coat both sides with the marinade. Cover and marinate 6-8 hours or overnight.

4
After the meat has marinated, remove meat and discard the marinade.

5
Heat your outdoor grill on medium, lightly oil grate. Grill 7-9 minutes on each side for medium rare or until desired doneness. (Note: You can also cook this using the broiler setting on your oven. Place it on a baking sheet on your top oven rack.)

6
Remove from heat, let rest for 10 minutes. Slice. Serve.
Notes
A couple things about resting and meat temperature: As with any steak, resting is very important here, you don't want to cut the steak too early your meat will be dry. Also, I prefer all of my steaks medium rare and I know there are some people out there that cringe at that idea. However, for tough, lean cuts of meat like this if you cook them too much past medium rare they can become very tough so I recommend no more than medium. This is great when served with Simple Roasted Red Potatoes and Spinach Salad with Dijon Vinaigrette. Enjoy!