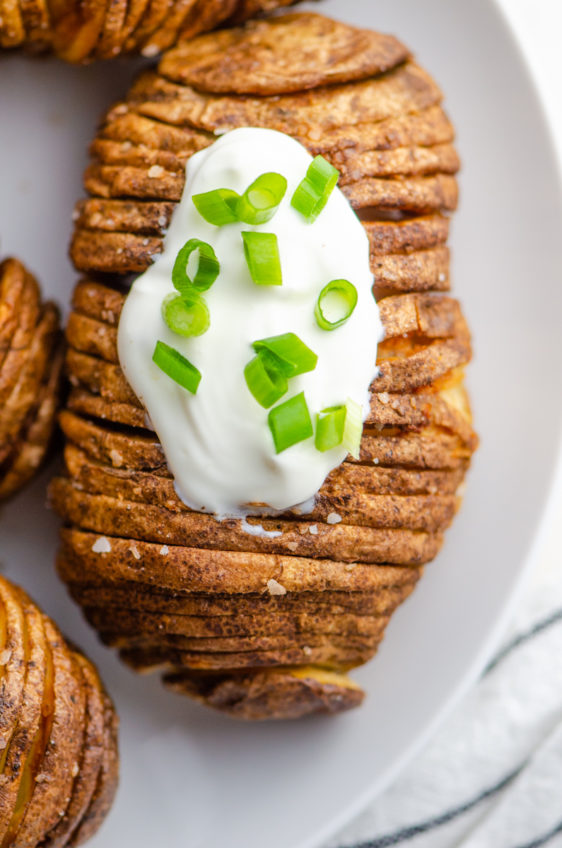 Air Fryer Hasselback Potatoes
Air Fryer Hasselback Potatoes are thinly sliced and air fried to crispy perfection. This easy side dish is not only delicious but also gorgeous addition to any table!
If you are looking for the ultimate WOW factor side dish to any meal, it is these Air Fryer Hasselback potatoes. The outer edges are crispy and the inside is tender. It might be a bold statement, but this might be not just your new favorite way to make potatoes, it might be your new favorite side dish. Period.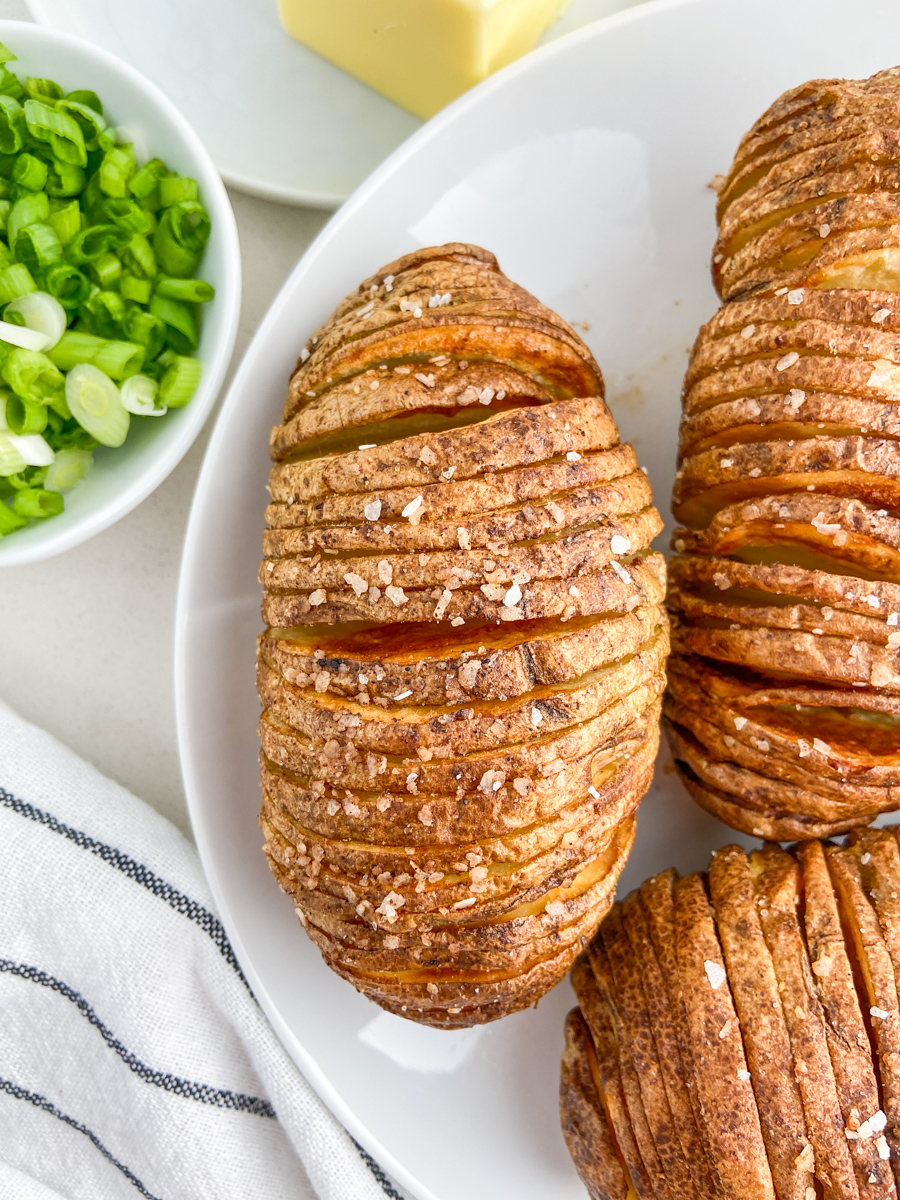 I can't decide what is better, the tender insides or the crispy outside that is brushed with just the right amount of seasoned butter. Either way, you need to make these hasselback potatoes ASAP.
Why are they called hasselback potatoes?
Hasselback potatoes (not to be confused with Hasselbeck as my Seahawk loving husband did) got their name from the Swedish restaurant Hasselbacken where they were created.
They are potatoes that are thinly sliced almost all the way through. They are still connected at the bottom which gives them the gorgeous fanned out look after they've cooked.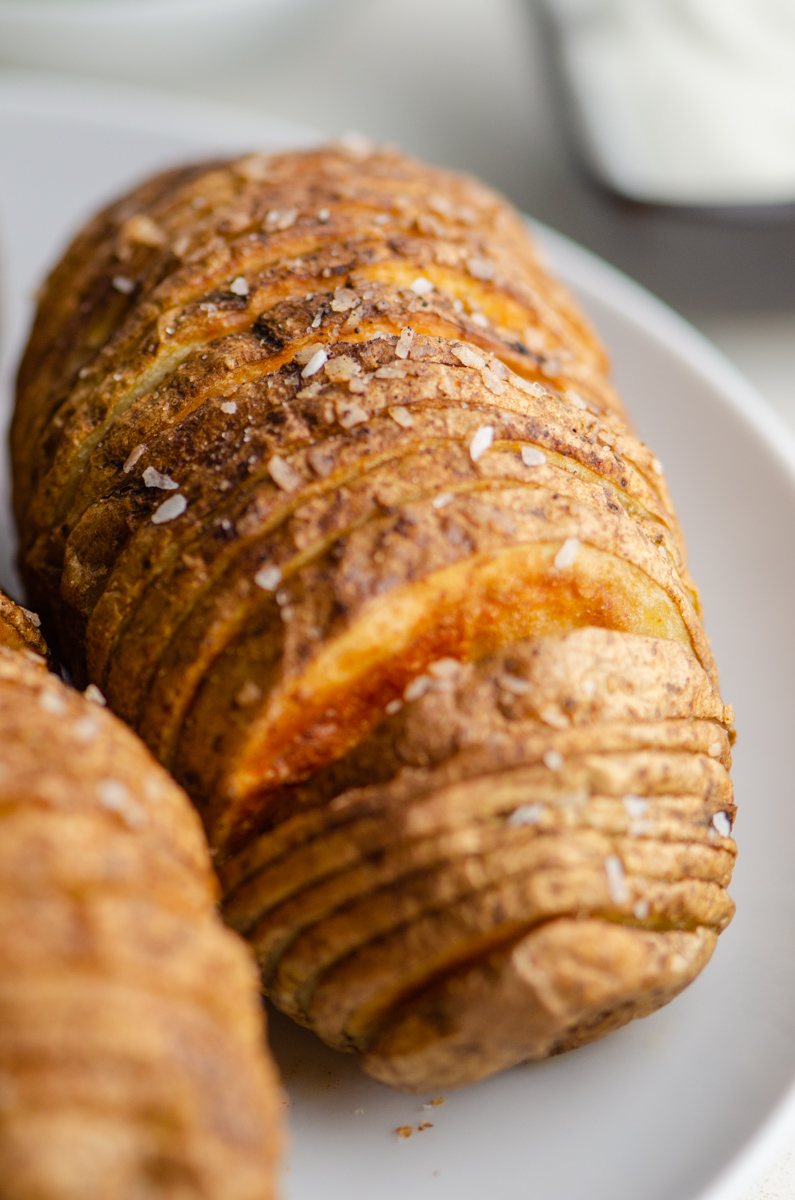 Traditionally, hasselback potatoes are baked but I decided to try it in my air fryer and guys, I'm never looking back. It didn't take as long as the oven and they were even crispier. Both wins in my book.
What ingredients do you need to make air fryer hasselback potatoes?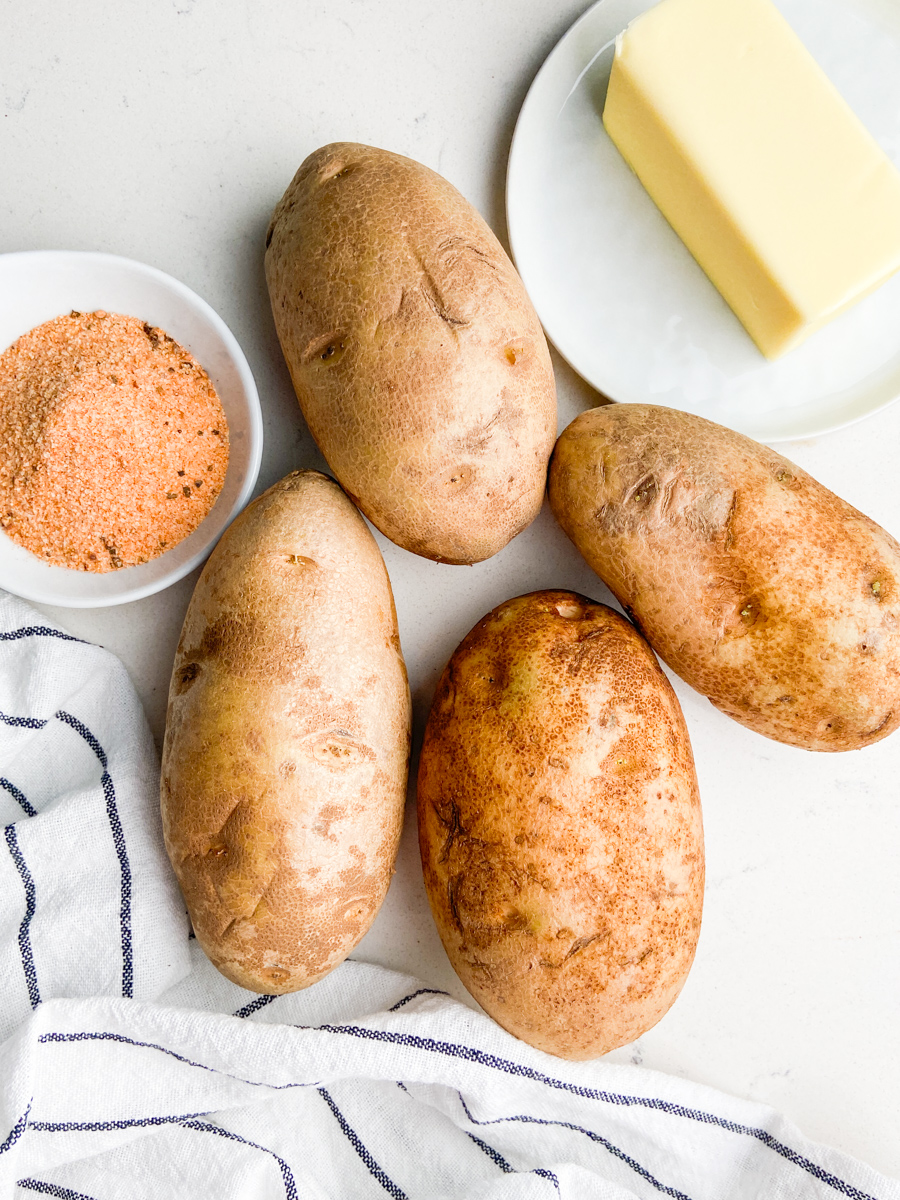 RUSSET POTATOES: You'll want to use medium sized russet potatoes for this recipe. If you use smaller or larger potatoes, the timing may change.
UNSALTED BUTTER: Because you are adding seasoned salt and salt to the potatoes, I recommend unsalted butter so that the potatoes aren't overly salty. If you use salted butter, cut the amount of seasoned salt in half.
OLIVE OIL: This will help prevent the butter from burning.
SEASONED SALT
KOSHER SALT: Kosher salt just adds that perfect crisp salty exterior that is a feature of baked potatoes.
How do you make hasselback potatoes in the air fryer?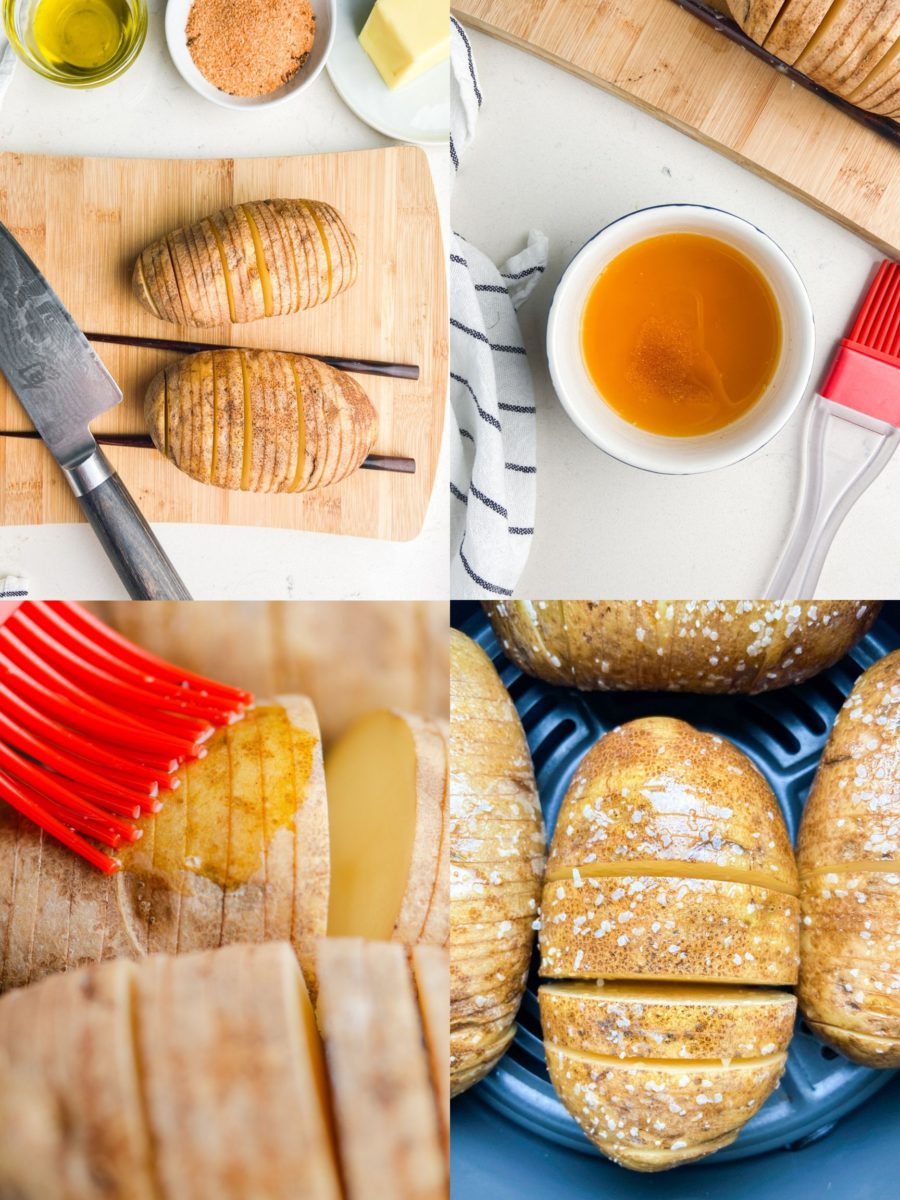 First step, in making hasselback potatoes is cutting them. You're going to want to place the potatoes in between two chopsticks and then thinly slice (1/8 to 1/4 inch slices). The chopsticks will help prevent you from slicing all the way through.
Next, instead of just brushing the potatoes with melted butter like some recipes, we're doing seasoned butter olive oil mixture here. I use a seasoned salt that has salt, pepper, paprika and garlic. It adds that extra layer of flavor. You can make your own all purpose seasoning or use your favorite blend.
The potatoes are finished with a sprinkle of kosher salt as well, for even more flavor and the classic baked potato look.
Place the potatoes in a single layer in the air fryer. Cook at 375 for 15 minutes. Remove basket and brush again with seasoned butter/oil. Return to the air fryer and cook for another 15 – 20 minutes or until desired crispiness.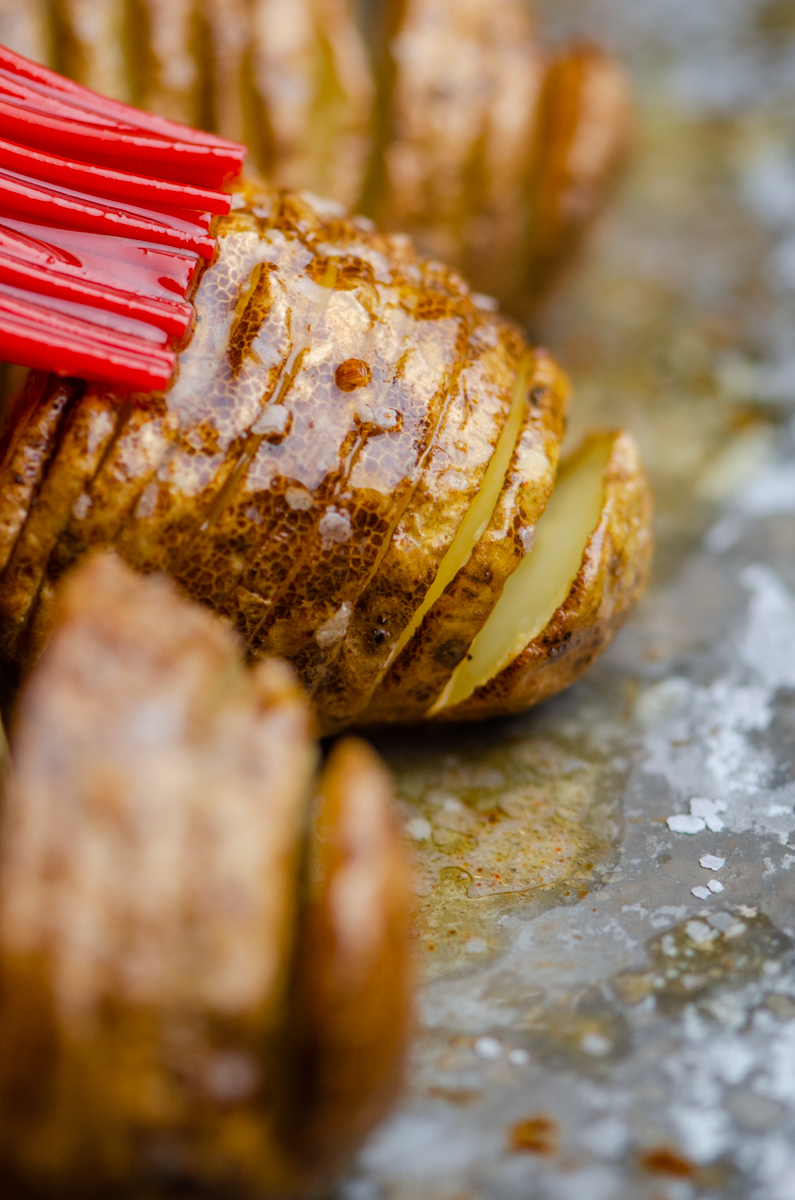 Hasselback Potato topping ideas:
I like to keep it pretty traditional and go with sour cream and green onion. But you could also add cheese and bacon. Or do a Mexican inspired twist by adding some habanero salsa and guacamole.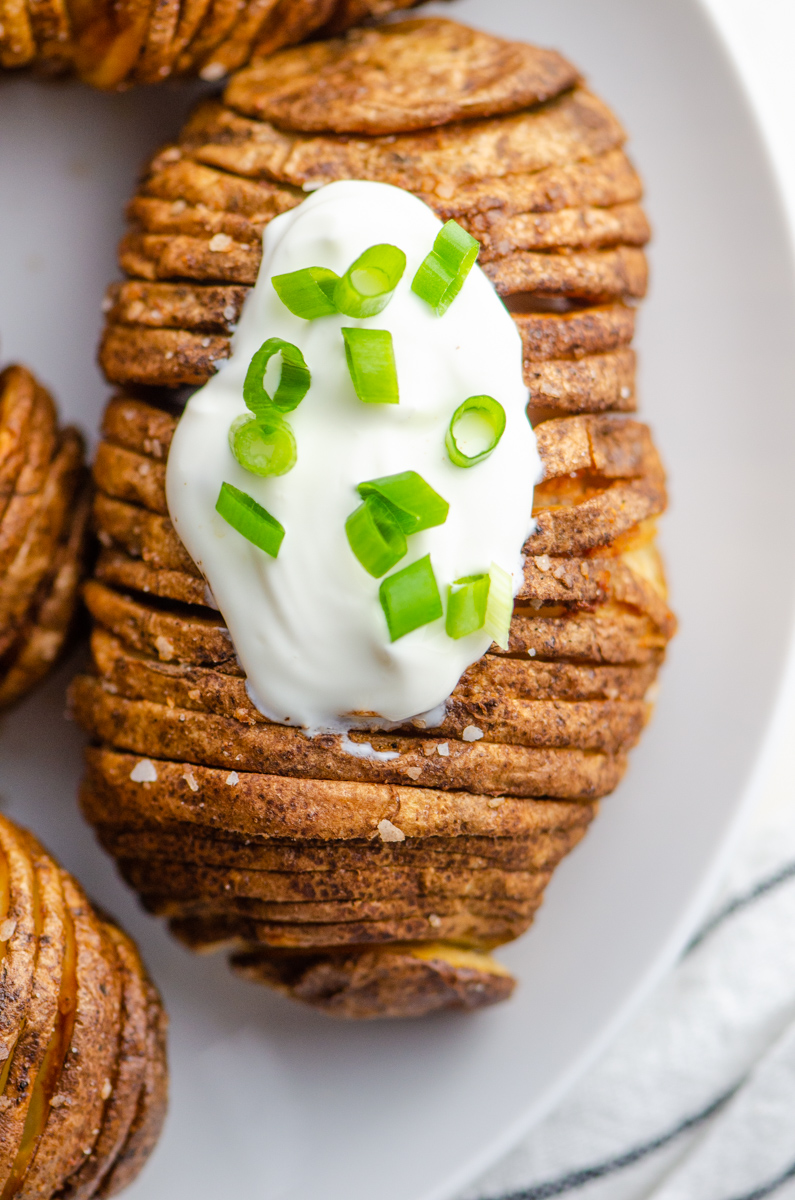 What do you serve with hasselback potatoes?
These make a great side dish to just about any meal. If you're looking to make a special date night at home meal, serve these with a steak marinated in Flat Iron Steak Marinade or Lemon Caper Salmon. Or maybe serve them along side Fried Cod for a twist on fish and chips.
Heck, you could even load them up with a plethora of your favorite toppings and have them as the main dish! The options are endless!
Looking for more air fryer recipes? Try these!
Air Fryer Hasselback Potatoes Recipe
Ingredients:
4 medium russet potatoes, scrubbed
4 tablespoons unsalted butter, melted
2 teaspoons extra virgin olive oil
1 teaspoon seasoned salt
1 teaspoon kosher salt
Instructions
1
Place potatoes between two chopsticks. Make 1/8 to 1/4 inch thick slices but don't cut all the way through. The chopsticks should help prevent that.

2
Combine melted butter, extra virgin olive oil and seasoned salt.

3
Brush mixture over the top of potatoes.

4
Air fry at 375 degrees for 15 minutes. Remove basket and brush once more with oil. Return basket to fryer and bake for an additional 15 - 20 minutes or until desired crispiness.
Notes
It is important to thinly slice the potatoes so that they get that perfect fanned out look. If you use salted butter, only use half of the seasoned salt.
Nutrition information
Calories: 269 , Total Fat: 14.1g , Saturated Fat: 7.7g , Cholesterol: 31mg , Sodium: 1056mg , Carbohydrates: 33.5g , Fiber: 5.1g , Sugar: 2.5g , Protein: 3.7g