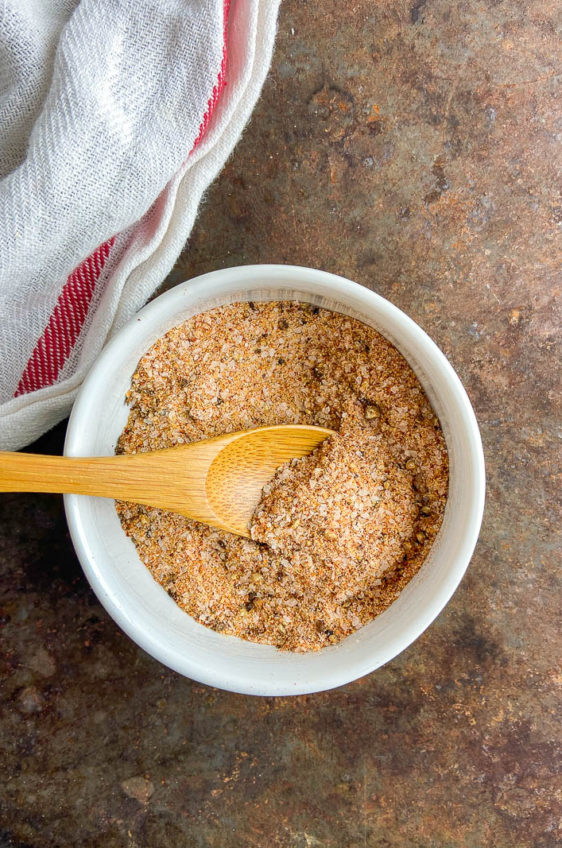 All Purpose Seasoning
This easy homemade all purpose seasoning recipe comes together quickly and is great on poultry, pork, veggies and potatoes! Salty, peppery and full of flavor
Are you one of those people, like me, that has an entire cabinet full of spices? I couldn't even tell you off the top of my head how many I have. I basically collect them.
For good reason too. One of my favorite things about cooking and recipe development is using different spices. The difference between a "meh" meal and an extraordinary one is often just a sprinkle of this and a sprinkle of that.
That being said, sometimes it can be a hassle reaching for 5 different spices to add them to one dish. Times like this is when All Purpose Seasoning comes into play.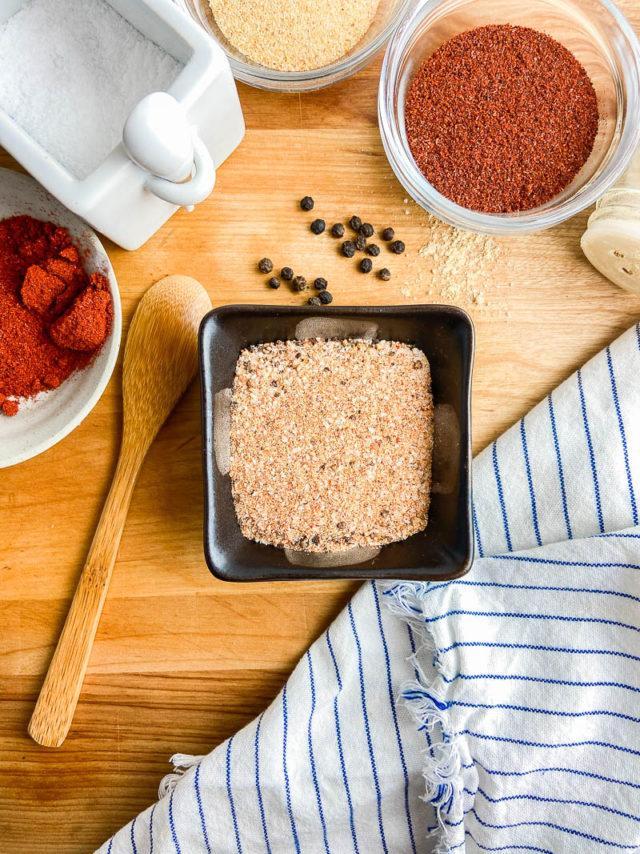 When you're rushing to get dinner done, wouldn't it be great to have a seasoning on hand that you could use for just about everything? A quick sprinkle on steak before grilling, chicken before roasting and even your french fries and veggies? Well, look no further! I've got you covered with this Easy All Purpose Seasoning Blend. It is salty, peppery and full flavored.
And the best part? You probably have all of the ingredients in your pantry right now!
What is all purpose seasoning?
Also known as all purpose spice, it is simply a seasoning blend of several different spices. There are several available in the spice aisle with various flavor profiles. Some will be salt free. Some will be spicy. But most will have salt, pepper, garlic, onion and paprika.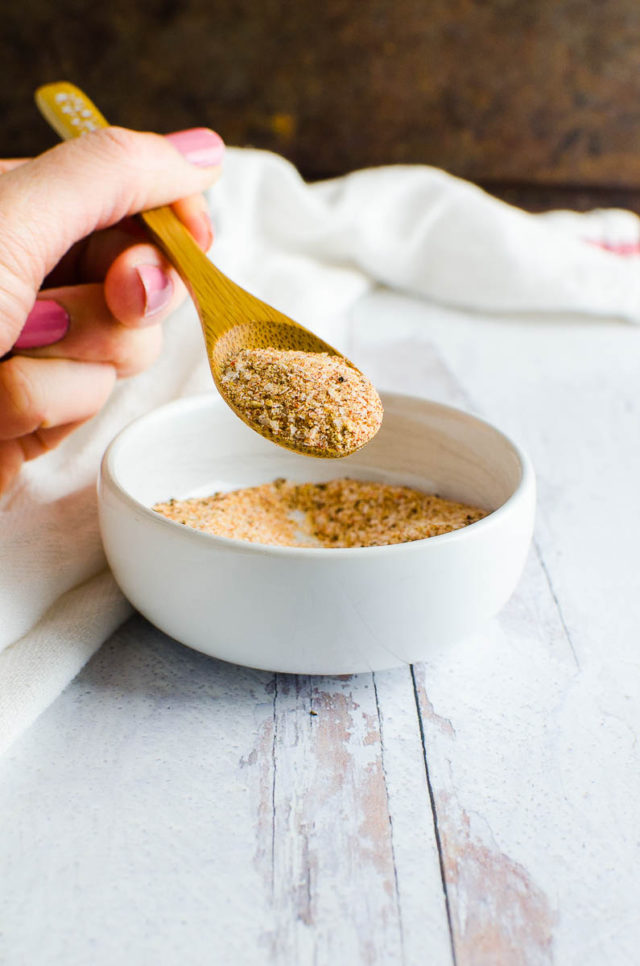 And, just as the name suggests, it is great on just about everything.
What ingredients do you need to make a seasoning blend?
For this recipe you will need, kosher salt, black pepper, granulated garlic, onion powder, paprika and chili powder.
DES' TIP: Use fresh ground black pepper instead of fine ground black pepper in this recipe. It will add more texture and peppery flavor to your seasoning blend.
To make a spicy all purpose seasoning, simply add 1/8 – 1/4 teaspoon of cayenne pepper.
When to use all purpose seasoning?
You'll want to use this on just about everything. It is great on chicken, pork chops, steaks and burgers. You can also add it to flour and bread crumbs to season it before coating chicken and veggies before frying.
Keep in mind, this is a salt based seasoning blend so adding too much too quickly can make things salty. I recommend starting out with 1/2 a teaspoon and working your way up until it tastes perfect to you.
DES' TIP:This All Purpose Spice Blend also makes great gifts! Double the recipe and store it in small spice jars with lids.
Recipes to add this seasoning to:
Making your own spices and condiments is so easy! Here are some more of my favorite homemade condiment recipes:
Horseradish Sauce for Prime Rib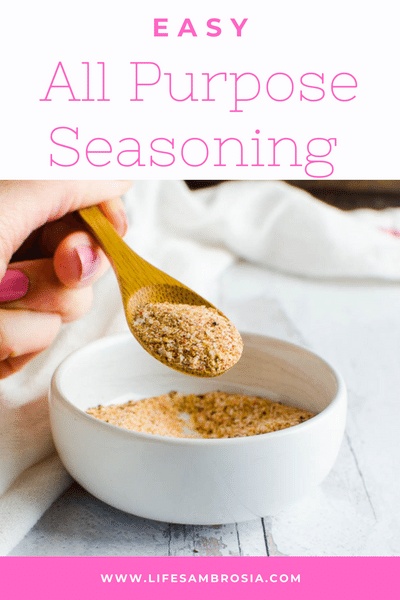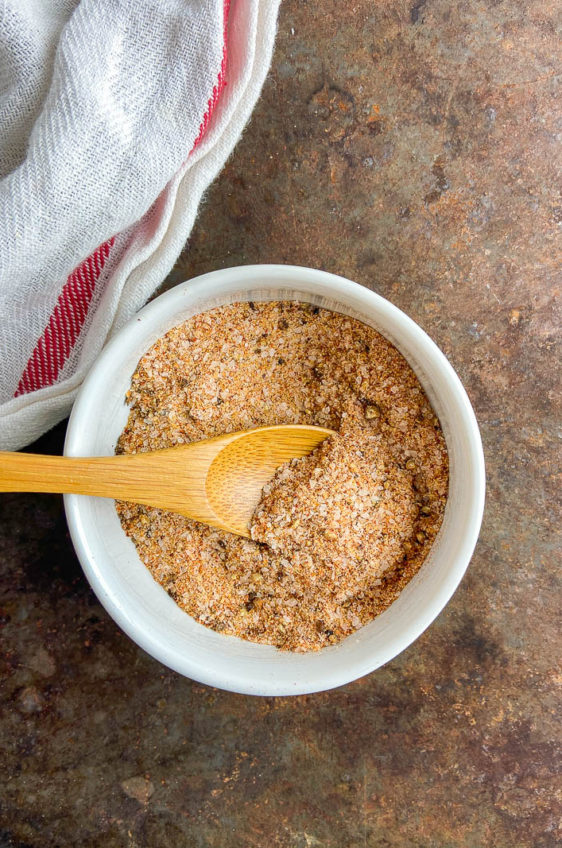 All Purpose Seasoning
This easy homemade all purpose seasoning recipe comes together quickly. Great on poultry, pork, veggies and potatoes! Salty, peppery and full of flavor!
Combine all ingredients together in a jar with a lid. Shake to combine.

Use in a variety of dishes.
Nutrition facts for estimation purposes only.
Calories:
5
kcal
Carbohydrates:
1.2
g
Protein:
0.2
g
Fat:
0.1
g
Sodium:
971
mg
Fiber:
0.3
g
Sugar:
0.3
g