Air Fryer Chicken Strips are tender, crispy and crazy easy to make. The hardest part of this recipe is deciding what to dip this family favorite in.
Weeknight meals do not get any easier, or more kid friendly than chicken strips. This Air Fryer Chicken Strips recipe, uses 5 ingredients and because it's made in the air fryer only a fraction of the oil that traditional fried chicken tenders require.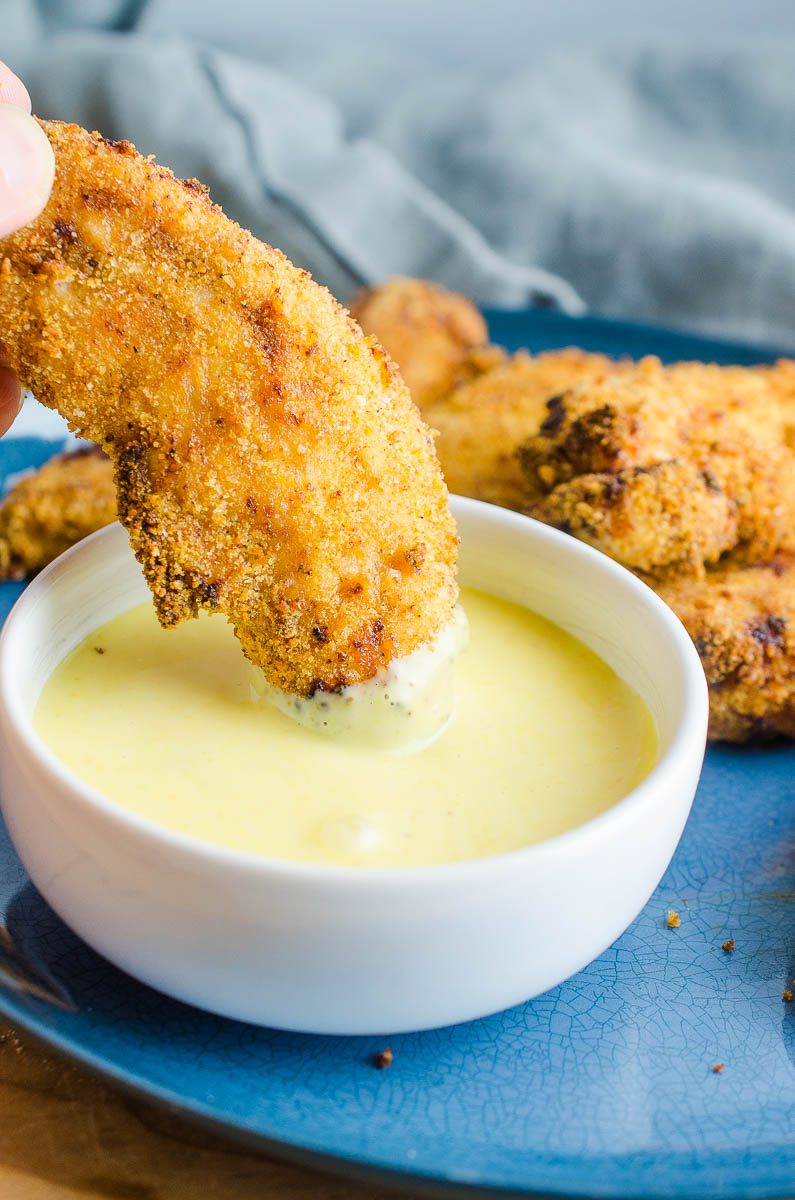 What is an air fryer?
An air fryer cooks food by circulating hot air around it.
As someone who has a rather small kitchen, what appliances I decide to keep on hand is actually a pretty big decision. I simply do not have the space to keep everything. So when air fryer recipes started popping up everywhere, I wasn't immediately sold on needing one.
And then I got one as a birthday gift, and my world changed.
Guys, you can make anything in an air fryer. I've made air fryer fried mushrooms, lumpia, fried jalapenos, tater tots, french fries, chicken wings and brined fried chicken.
Almost anything you would normally deep fry, you can make in an air fryer using far less oil. This is one appliance you need in your kitchen, 100%.
And the first thing you should make are these Air Fryer Chicken Strips. Obviously.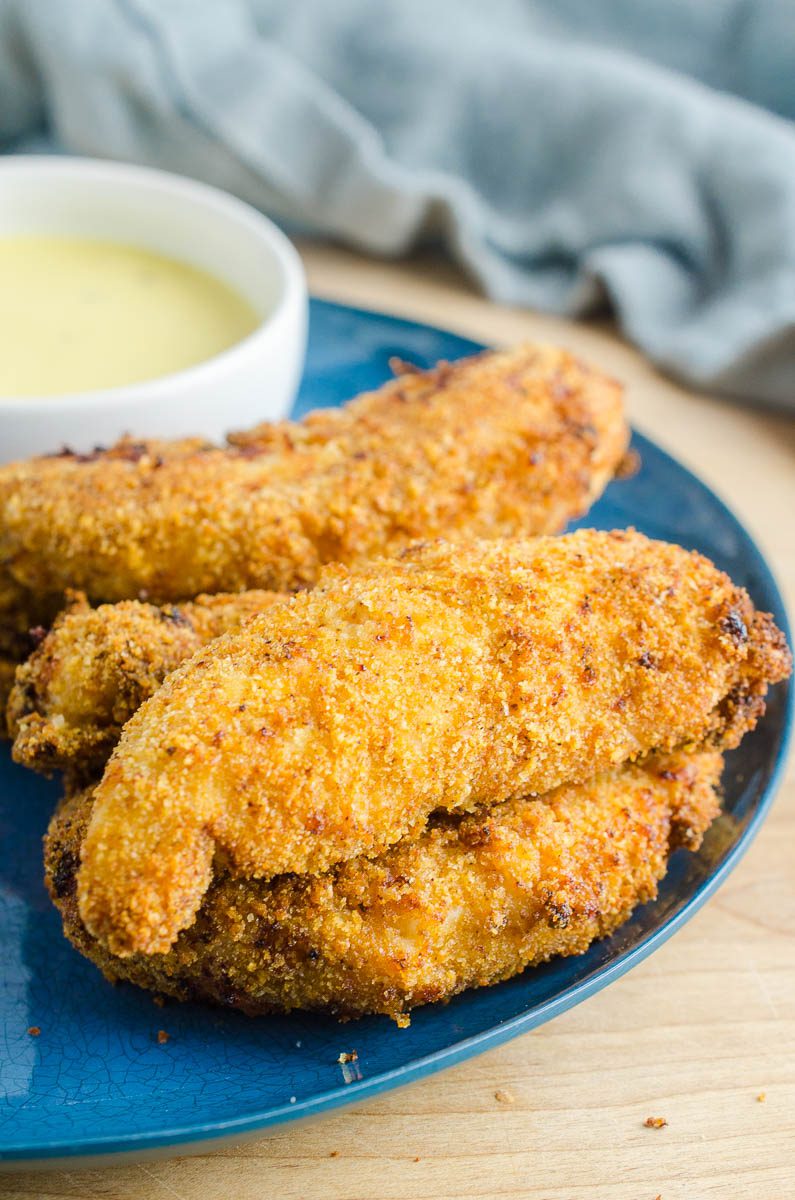 What cut of chicken are chicken strips?
Chicken strips are sometimes called chicken tenderloins. Chicken tenderloins are short, cuts of meat found beneath the breast. I find these pieces to be a bit more tender than the breasts themselves and therefore like them better. That being said, if you cannot find chicken tenderloins, you can slice boneless skinless chicken breast into strips for this recipe.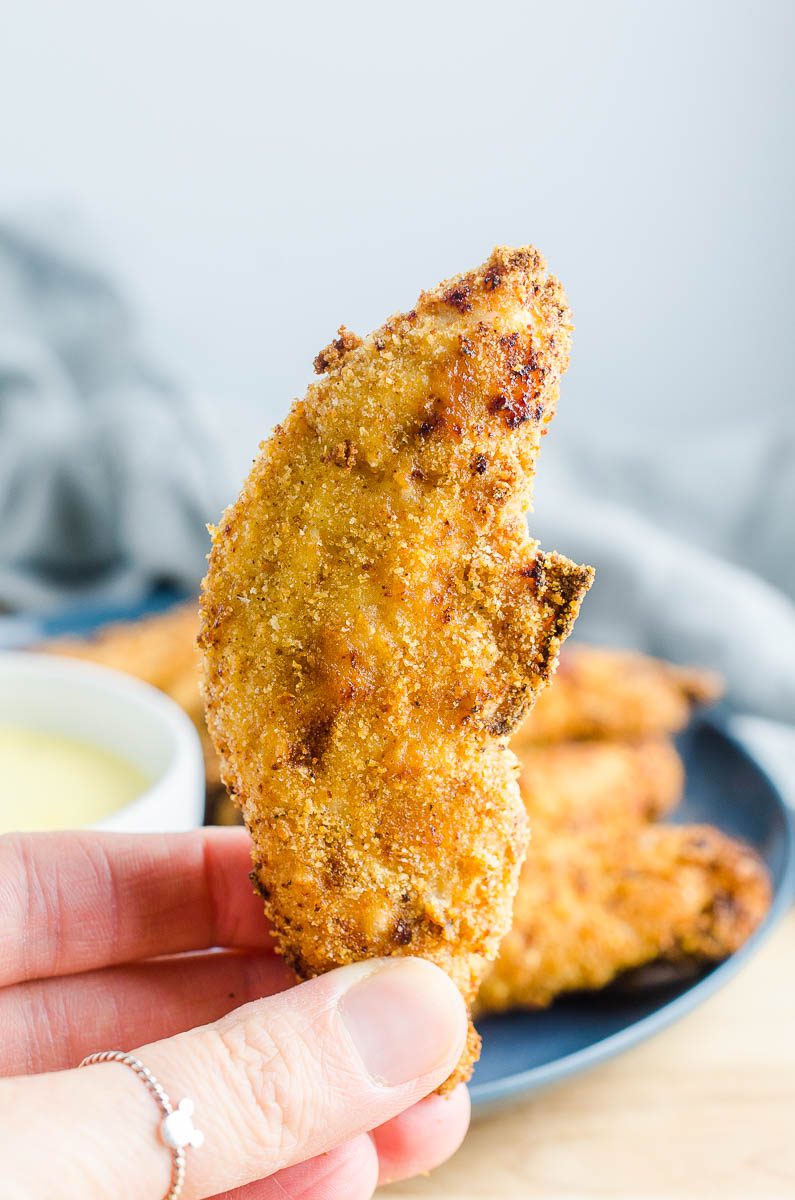 How do you make air fryer chicken tenders?
First gather your ingredients. To make this recipe, you will need chicken tenderloins, plain bread crumbs, blackened seasoning, salt and olive oil.
DES' TIP: Please note the ingredients on your blackened seasoning. Not all of them contain salt. If yours contains salt, omit the salt in this recipe.
Next, combine the bread crumbs, seasoning and salt together in a shallow dish. And dip the chicken first in the olive oil and then dredge in the bread crumbs.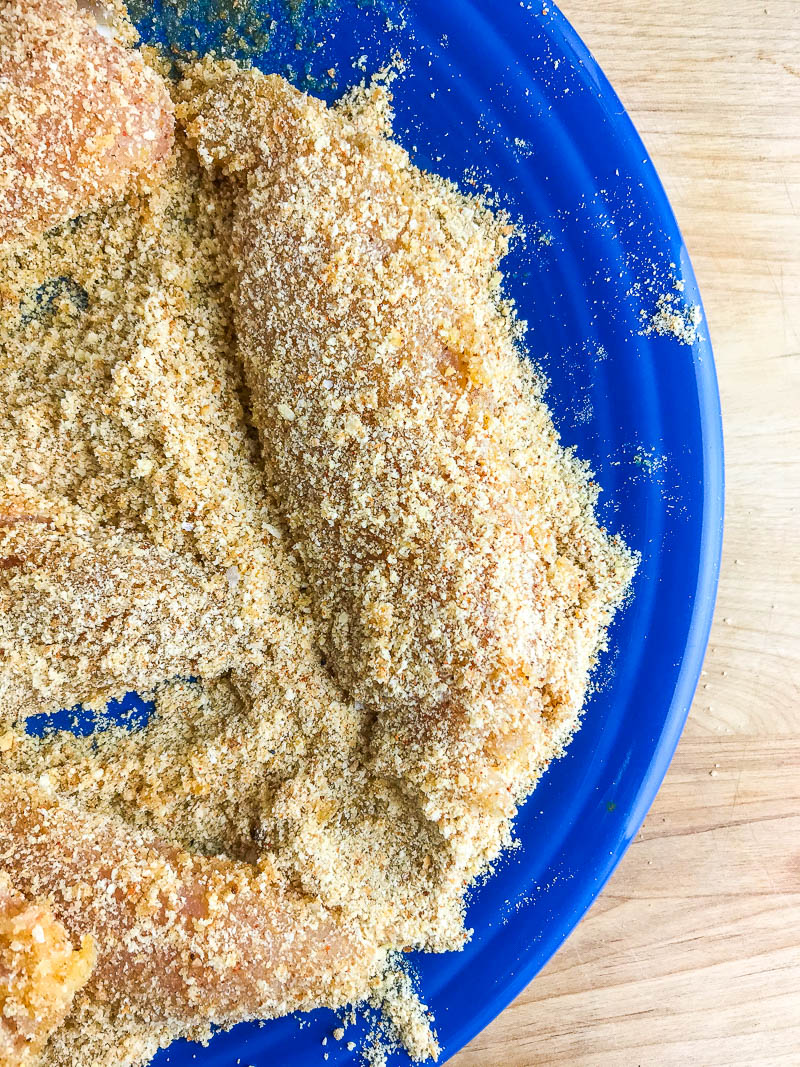 Finally, cook in the air fryer at 390 degrees for 3 minutes. Turn and cook for an additional 3 minutes.
Can you stack food in the air fryer?
Yes and no. After using my air fryer for a few months I have found that certain foods are OK to stack the in air fryer: french fries, jalapeno bites and tater tots are great examples. I've also found that chicken wings can be cooked stacked on each other. Chicken strips however, need to be cooked in a single layer so that the breading stays on and they don't stick together.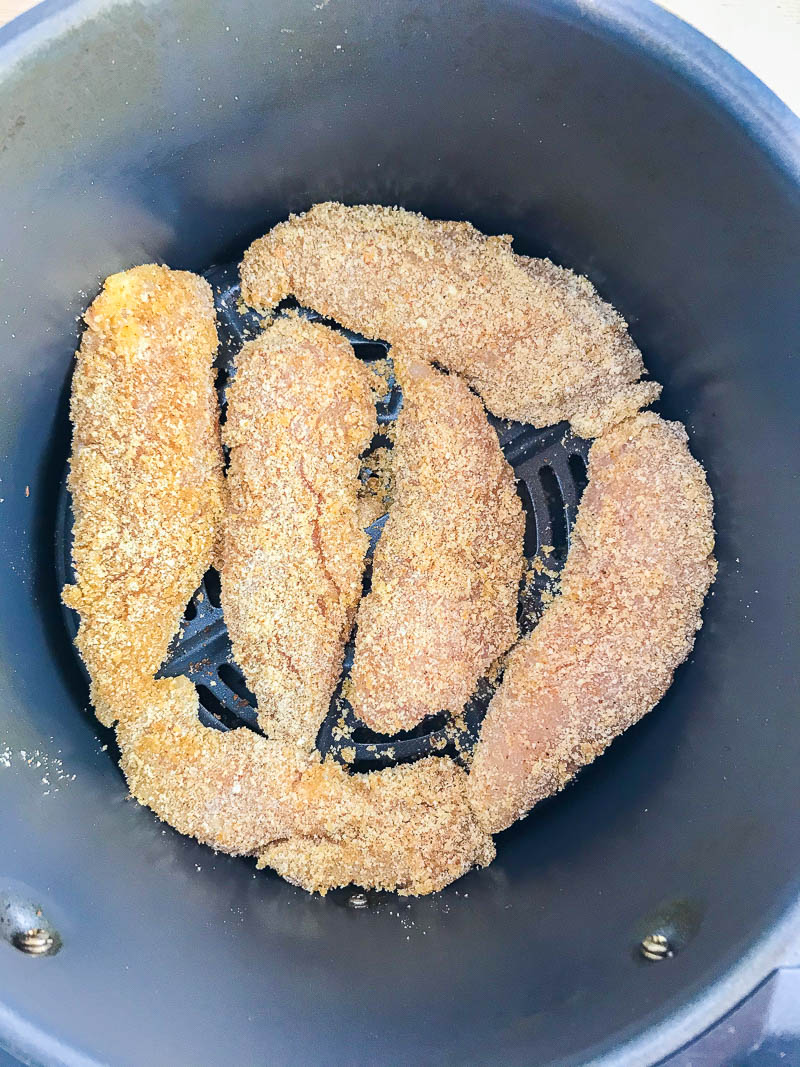 Can you bake chicken strips in the oven?
If you don't have an air fryer, don't worry! You could also make these chicken strips in the oven. To do that simply place a cooling rack on top of a baking sheet and spray the rack with cooking spray. Lay the chicken strips in a single layer and bake at 425 until cooked through, 10 – 15 minutes, turning once.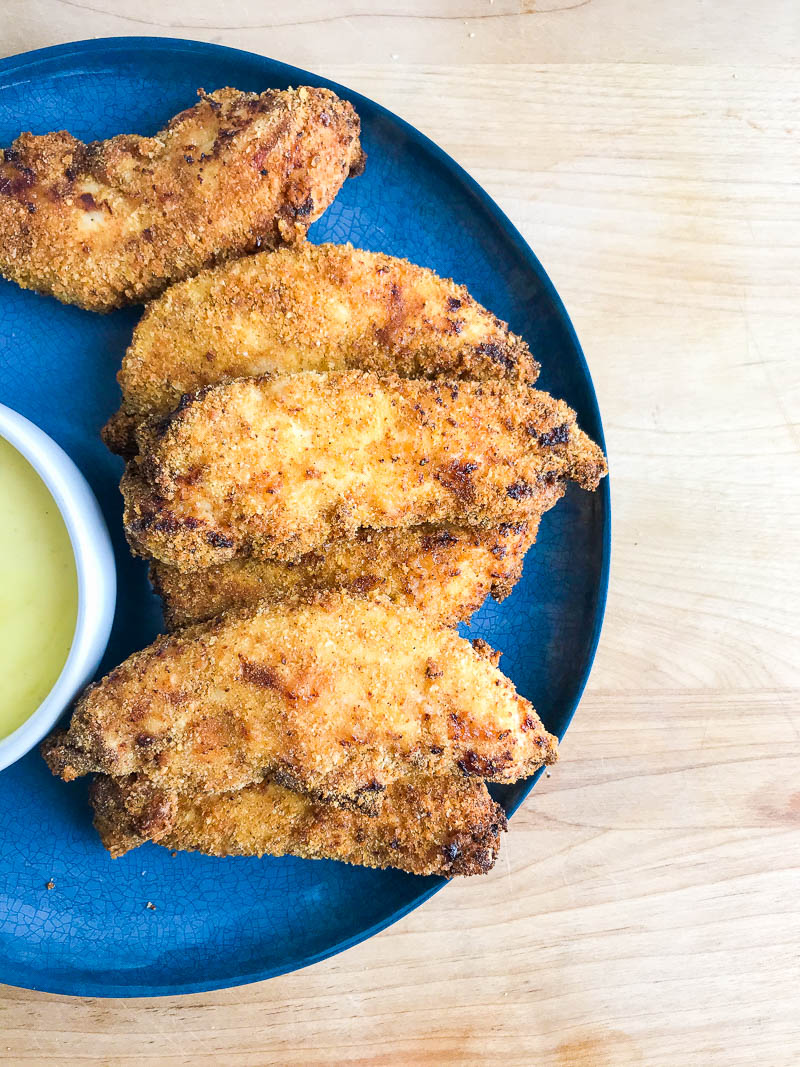 No chicken tender dinner is complete with out the sauce! Try some of my favorite dip recipes!
If you are looking for more ways to cook chicken, check out my chicken recipes:
Dill Pickle Keto Chicken Wings
Don't forget to tag me on Instagram, if you make any of my recipes! I'd love to see them!