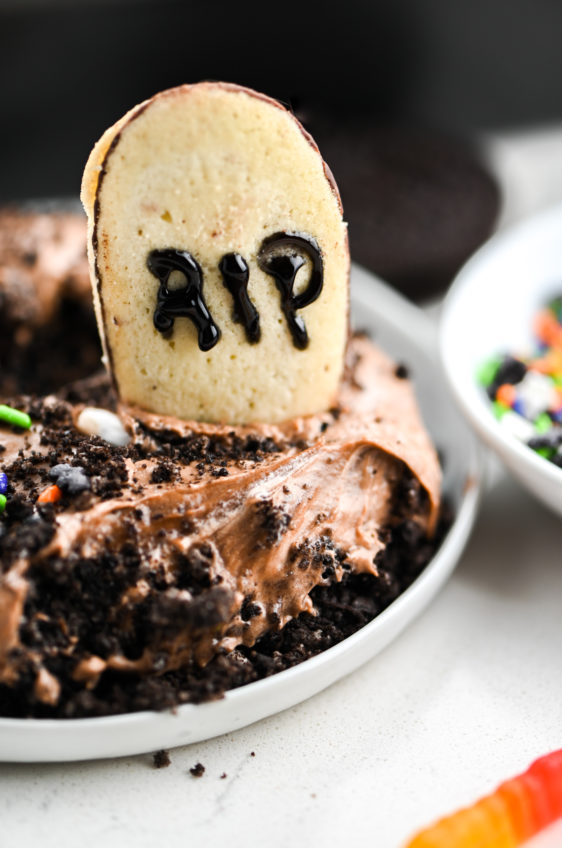 Halloween Dirt Pudding
Jump to Recipe
Halloween Dirt Pudding is a delicious, easy and festive no bake dessert! It's fun to make with the kiddos too!
I'm excited about this one, friends! It's a fun one! I don't really do "cute food". It's not my wheel house. And if you're like me, and want to make some cute festive food for holidays, you've got to try this Halloween Dirt Pudding. It's ridiculously easy and so fun!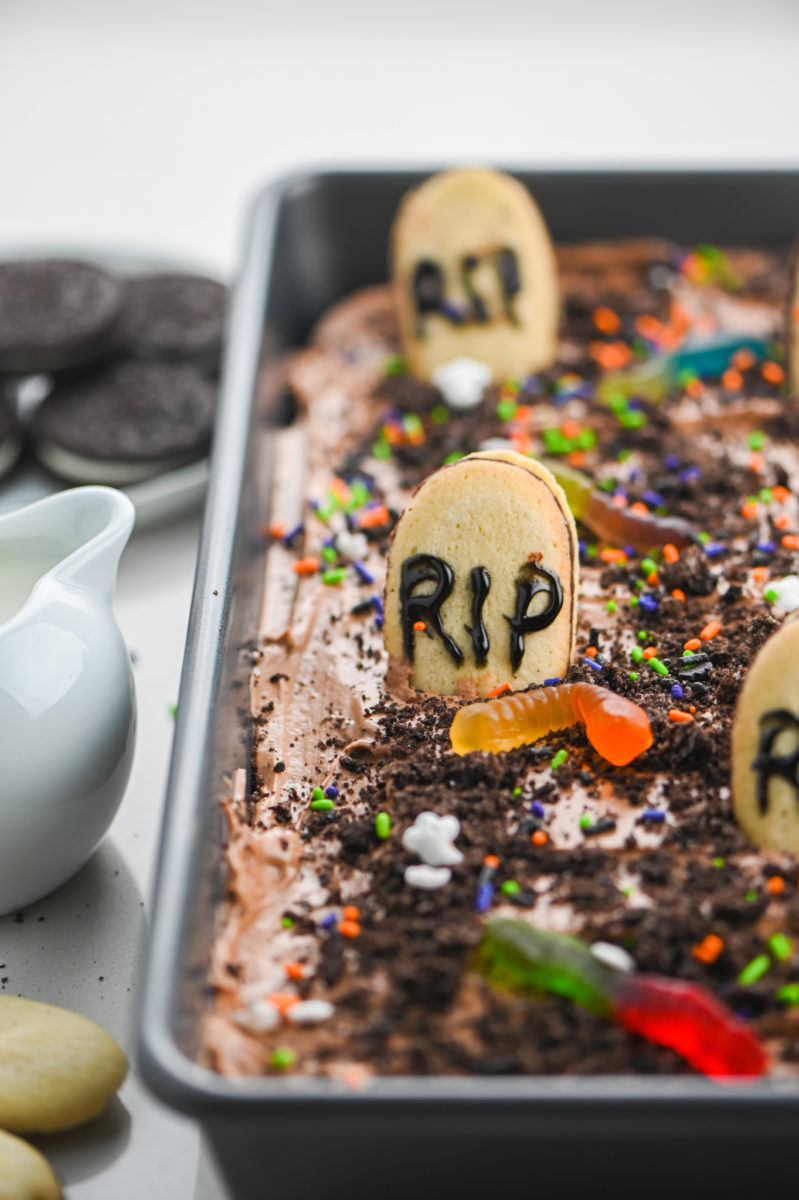 The words "dirt pudding" kind of sound like something that we'd make in the backyard playing as kids. But guys, this is a creamy, luscious dessert that your entire family is going to love. It's no bake, only requires a handful of ingredients. And because this version is Halloween themed, the kiddos love decorating it with you.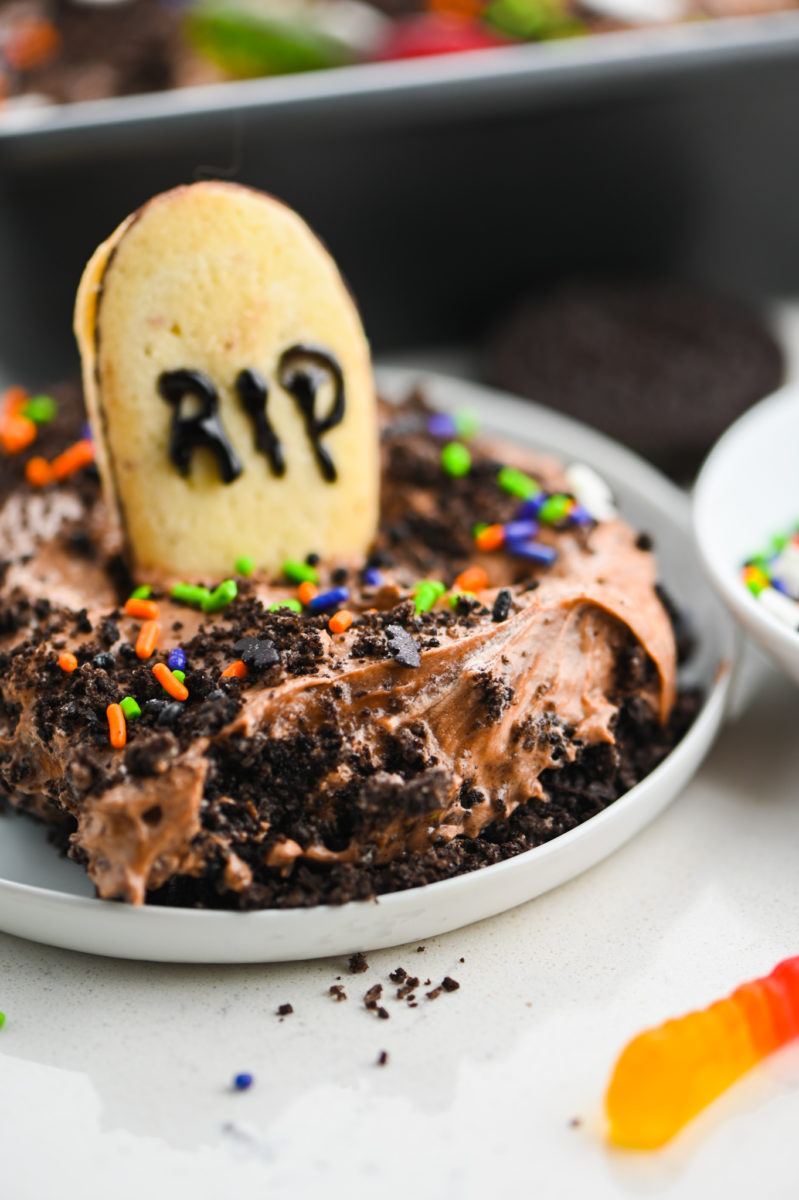 Dirt Pudding is a classic American dessert made with pudding and crushed up Oreo cookies. The Oreos are the "dirt". To add to the dirt theme, you'll usually find gummy worms too. For this Halloween themed version, I've kicked the festiveness up a bit with some cookie "gravestones" and Halloween sprinkles. It really is a fun easy dessert!
Let's talk about what you need to make it:
Ingredients for Halloween Dirt Pudding: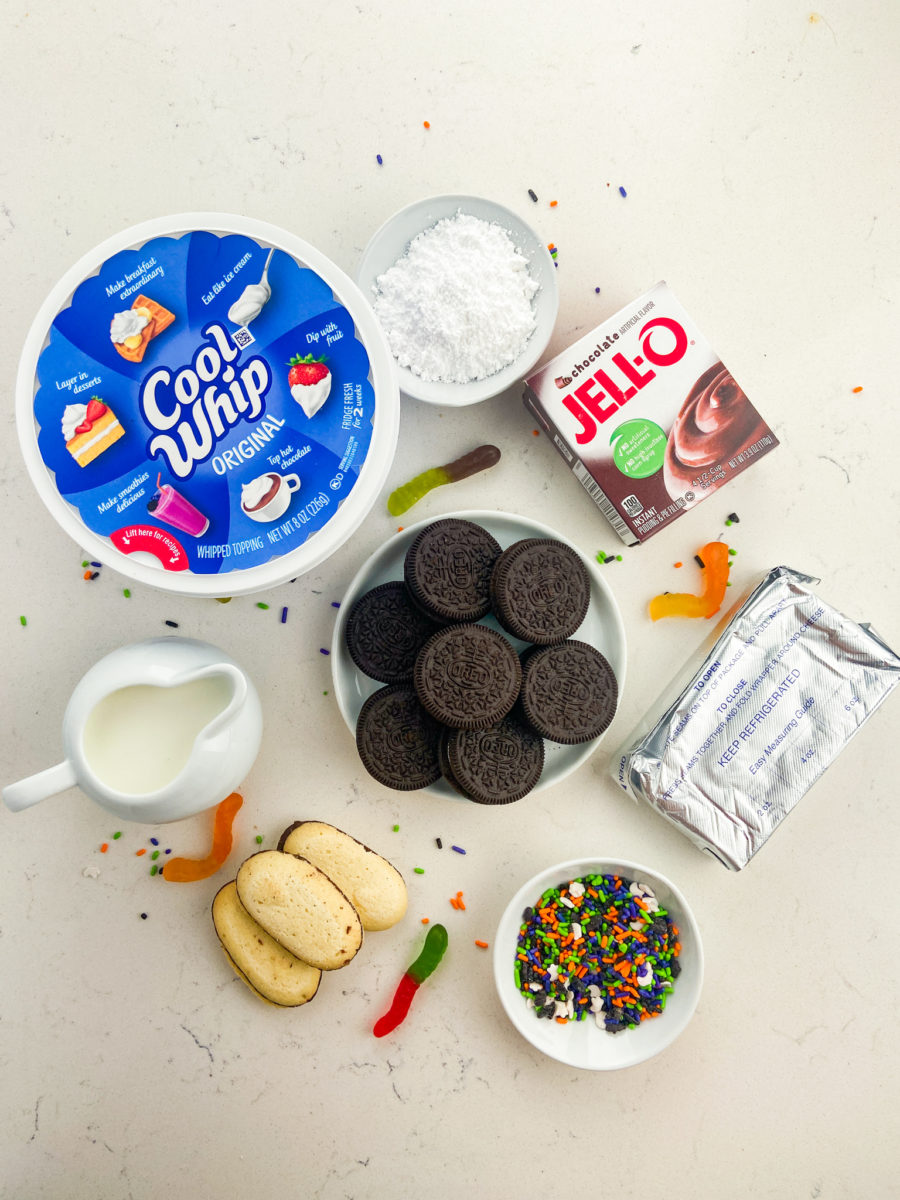 CREAM CHEESE: This is what is going to help give this pudding dish even more lusciousness. Make sure that it is at room temperature so that it can blend well.
POWDERED SUGAR: To blend with the cream cheese for added sweetness.
INSTANT CHOCOLATE PUDDING: Some dirt dessert recipes use vanilla pudding but I went with chocolate for this because I think it completes the Halloween theme a bit more.
MILK: to make the pudding.
WHIPPED TOPPING: This is what is going to give the dirt pudding it's light and fluffy texture. Make sure it is thawed first.
OREO COOKIES: The "Dirt" in the recipe. No need to worry about removing filling when you crush them.
MILANO COOKIES and WRITING FROSTING: This is totally optional but they made great "gravestones"
GUMMY WORMS/SPRINKLES: For decoration
Step by Step Photos and Instructions:
One of my favorite things about this dessert is that it is no bake. It comes together really easily and just needs about an hour or so to set in the fridge and you're good to go. Follow along with these step by step photos and instructions detailing just how easy it is to make.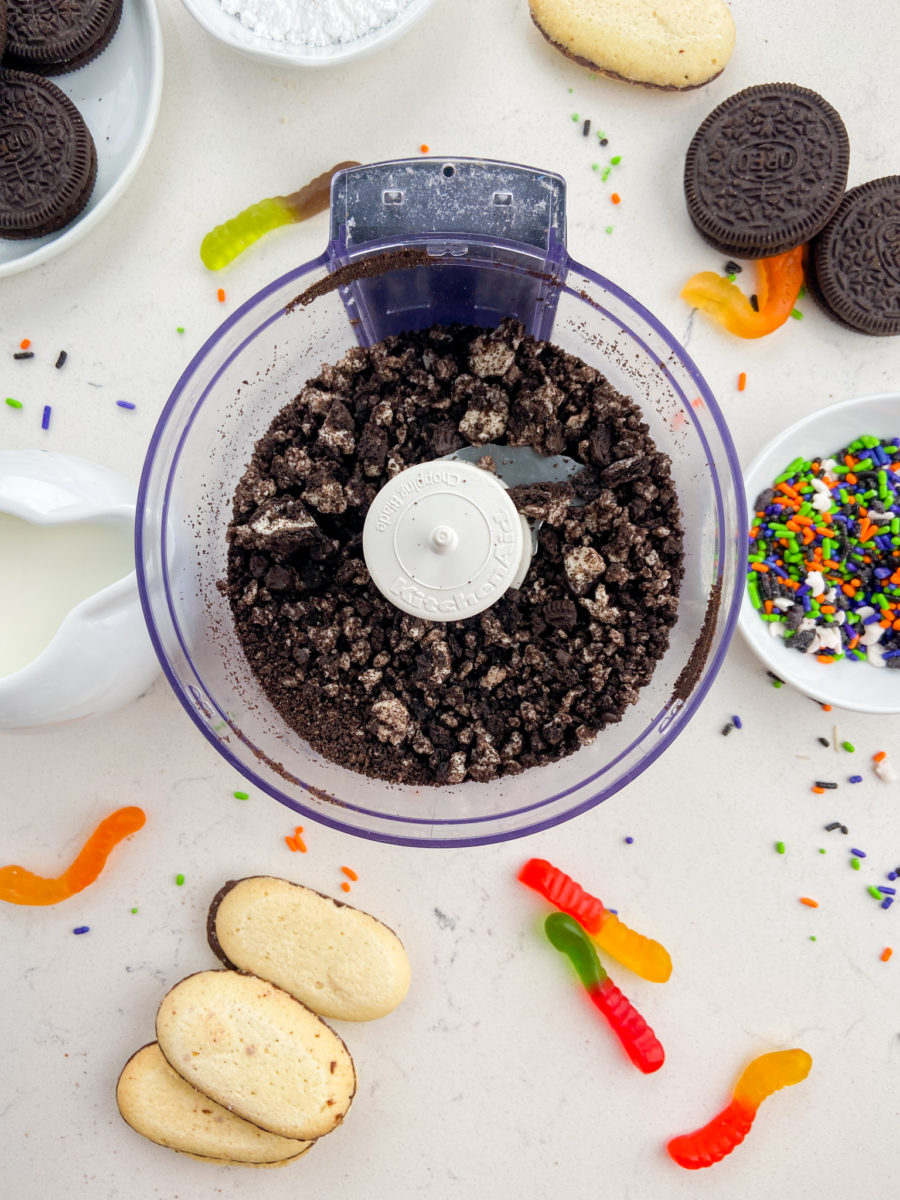 STEP #1: Crush Oreo cookies. You can do this in a resealable plastic bag or a food processor. Whichever is easiest for you.
STEP #2: Make chocolate pudding and allow to set.
STEP #3: Beat together cream cheese and powdered sugar until smooth. You want to make sure there are no lumps.
STEP #4: Fold in the pudding and whipped topping. Do this gently so the pudding stays nice and fluffy.
STEP #5: Layer it up! Start with a layer of Oreo cookies then half the pudding, more Oreos, the rest of the pudding and then more Oreos.
STEP #6: Decorate! We used gummy worms, sprinkles and Milano cookies. Cover and chill for at least 1 hour.
The hardest part about making this Dirt Pudding is the waiting for it to set part! You're going to want to dig in right away, and while it's still good that way, letting it set makes it even better.
Storage and Leftovers:
Store any leftovers in covered in the refrigerator. And eat within 3 days. If you're using Milano cookies, keep in mind that they will get soft sitting in the pudding.
When I gave this to my kiddos their eyes lit up and they said "this isn't good, Mom. THIS IS GREAT!" I have to agree. It's pretty dang good!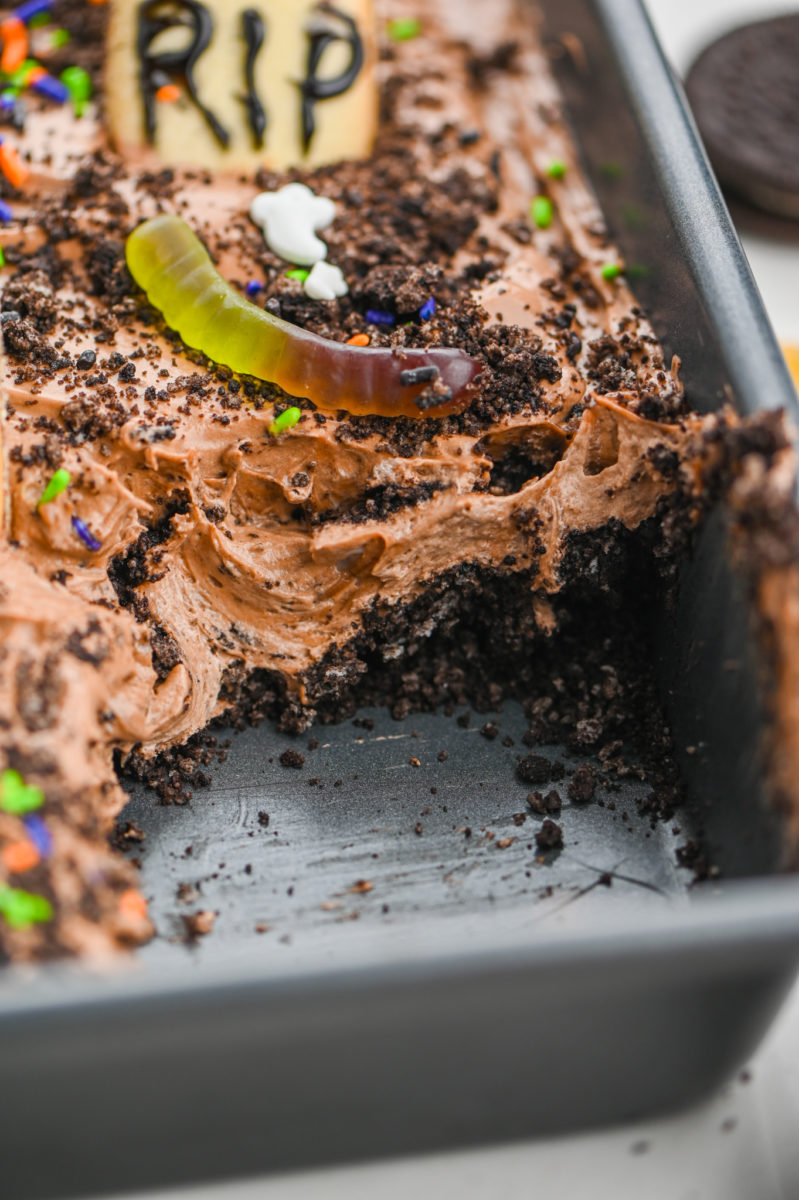 Looking for more Halloween festive recipes? Try these:
Another no bake dessert, this Halloween Candy Bark is a sweet n' salty snack everyone will love!
Halloween Popcorn Mix is a great treat to hand out at Halloween Parties!
These Killer Fudge Brownies are the perfect spooky treat!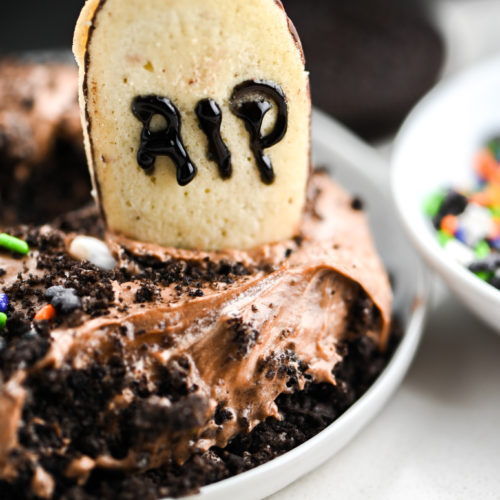 Halloween Dirt Pudding Recipe
Halloween Dirt Pudding is a delicious, easy and festive no bake dessert! It's fun to make with the kiddos too!
30

Oreo Cookies

8

ounces

cream cheese

at room temperature

1

cup

powdered sugar

3 1/4

cup

whole milk

2

3.9oz

Instant Chocolate Pudding

8

ounces

whipped topping

Sprinkles, cookies, gummy worms

for decoration
Crush oreo cookies. You can use a food processor or crush them in a resealable plastic bag. You should get a little over 3 cups.

Cream together softened cream cheese and powdered sugar until smooth.

Whisk together chocolate pudding and milk. Allow to set for 2 minutes.

Fold chocolate pudding into cream cheese mixture. Fold in whipped topping.

In a 9×13 inch dish, place about 1 1/2 cups of Oreos in the bottom of the dish. Spread 1/2 of the pudding mixture on top. Top with another 1 – 1 1/2 cups of crushed Oreos. Top with remaining pudding mixture and more Oreo crumbs. Decorate as desired. Cover and chill for at least 1 hour before serving.
30 Oreos should get you about 3 cups of crushed Oreos. You can use more or less if you like. They don't need to be fine crumbs, you still want some bigger pieces. 
I used black writing gel to write the RIP on the Milano cookies. 
Nutrition information for estimation purposes only. 
Calories:
345
kcal
Carbohydrates:
49
g
Protein:
7
g
Fat:
20
g
Saturated Fat:
11
g
Polyunsaturated Fat:
2
g
Monounsaturated Fat:
6
g
Trans Fat:
1
g
Cholesterol:
33
mg
Sodium:
265
mg
Potassium:
256
mg
Fiber:
1
g
Sugar:
25
g
Vitamin A:
451
IU
Calcium:
143
mg
Iron:
4
mg
Keywords:
Festive, halloween, holiday dessert, pudding