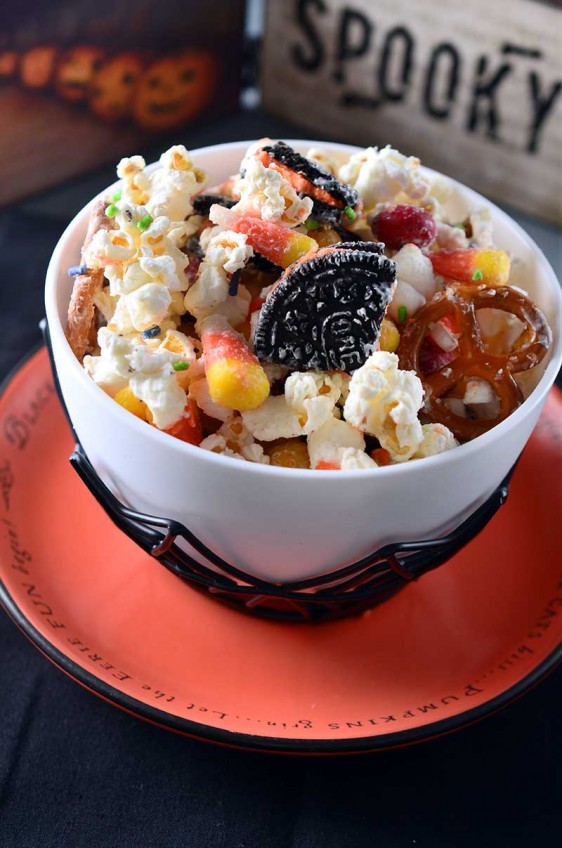 Halloween Popcorn Mix
This weekend marks one of my favorite weekends of the year, it's PUMPKIN PATCH WEEKEND! Pumpkin patch weekend has always been one of my favorites, even before we had kids, Ryan and I would head to the pumpkin patch every year to pick out our pumpkins. Now that we have two babies, the pumpkin patch is even more exciting for me. Preston doesn't quite get it yet but Kellan is super excited. And that is what makes it even more fun for me. Holidays in general are just more fun now that kids are in the picture. All the fun activities and making fun holiday themed food like this Halloween Popcorn Mix.
My first experience making an Easter popcorn mix earlier this spring was such a success that I decided to do it again for Halloween and you can bet I'll probably be doing it for Christmas too :) I love these mixes because they are beyond easy to make and if you have little sous chefs, like I do, they can pretty much make the entire thing by themselves.
The only cooking involved in this popcorn mix is melting the chocolate and popping the popcorn. I melt the chocolate in the microwave so the kiddos can push the buttons. And I pop my popcorn in an air popper. Kellan likes to hold the bowl underneath to catch the popcorn. This way he can feel a part of the whole process.
After the popcorn is popped you mix in all the goodies, pour the white chocolate over the top, toss to coat and then lay it all on the cookie sheet to harden. It takes just a few minutes and then you break it into pieces before serving.
See, it couldn't be easier!
As a quick and easy, sweet and salty treat, this is really a hit in our home. Kellan calls it mommy's yummy candy popcorn. And you can add or leave out any of the goodies. Peanut allergies? Swap out the M&M's for another chocolate candy. Just mix and match this to suit whatever you like best, just make sure you get the kiddos involved. They will love it.
Halloween Popcorn Mix Recipe
Ingredients:
1/4 cup unpopped popcorn
2 cups pretzel twists
2 cups crushed Halloween Oreo Cookies
1 cup candy corn
1 cup peanut butter M&Ms
3 tablespoons Halloween colored sprinkles
1/4 teaspoon salt
4 ounces white chocolate, melted
Instructions
1
Pop popcorn according to package directions.

2
Combine popcorn, pretzels, cookies, candy corn, M&M's, sprinkles and salt together in a bowl. Mix well. Pour melted white chocolate over the top and stir to coat.

3
Place mixture on a baking sheet and allow to harden, about 3 minutes. Break into pieces and serve. Store leftovers in an airtight container for up to a few days.