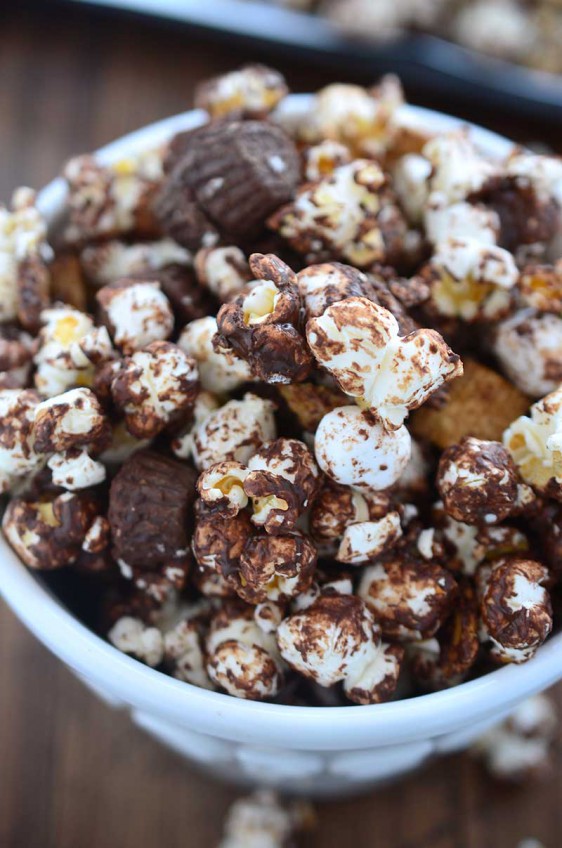 Peanut Butter Cup S'mores Popcorn
Peanut Butter Cup S'mores Popcorn has so many of your favorite goodies all rolled into one. Salty popcorn tossed with mini peanut butter cups, mini marshmallows and graham cereal and then drizzled with melted chocolate. It's the ultimate peanut butter chocolate popcorn snack mix recipe, and you're going to love it!
When it comes to popcorn, I am usually a savory popcorn person. Give me all the butter. The sea salt. The truffle salt or sriracha lime oil popcorn. The seasoning salt. Hold the caramel. Hold the sugar. No kettle corn for this girl!  All of this was true, until I tried this White Chocolate Easter Popcorn last spring. Now I'm kind of obsessed with chocolate covered popcorn. White chocolate. Milk chocolate. And in this case, dark chocolate. Melt it. Toss it with popcorn and other goodies and I'm all over it.
The idea for this Peanut Butter Cup S'mores Popcorn came along a few weeks ago, when I really wanted to make traditional s'mores, but the weather was not cooperating. I really wanted to sulk, which is what we all do when we can't eat what we're craving, right?  Instead, I decided to make this s'mores popcorn. And I'm glad I did.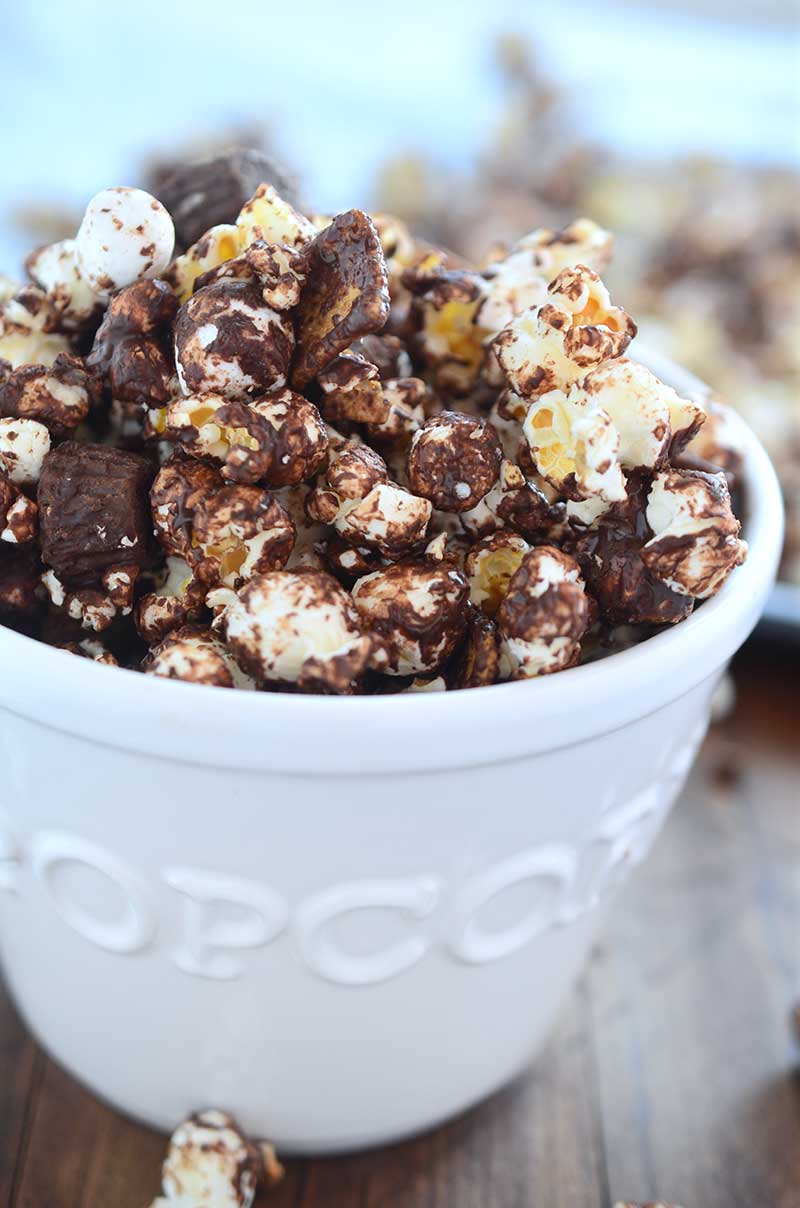 It is loaded with graham cereal, mini marshmallows and perhaps my favorite part, mini reese's peanut butter cups. And then it is smothered in melted dark chocolate. Sounds good right?
It is.
Just a note, this peanut butter cup s'mores popcorn popcorn can get a little messy. Especially on a warm day.
So I just pop it in the fridge to keep the chocolate from melting. Although, out of sight out of mind doesn't apply here because I still snacked away.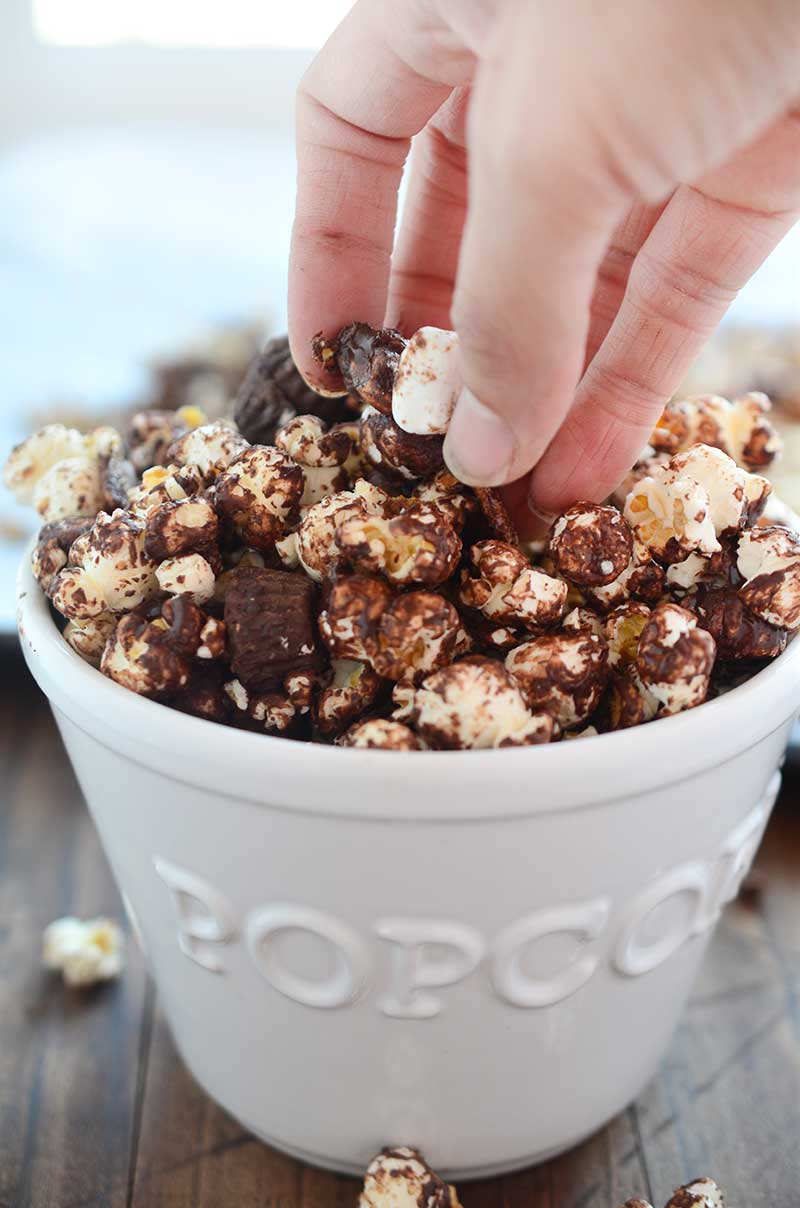 Note: The post was originally published 2014, but updated with photos and nutrition facts in 2019.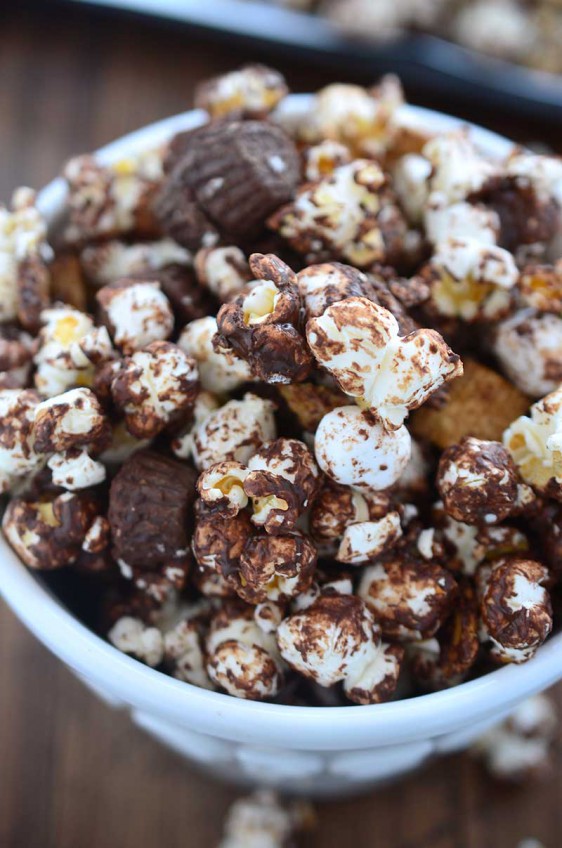 Peanut Butter Cup S'mores Popcorn
Peanut Butter Cup S'mores Popcorn one heck of a salty/sweet snack. It is loaded with popcorn, peanut butter cups, marshmallows, graham cereal and chocolate.
Line a baking sheet with parchment paper.

Pop popcorn according to package directions.

In a large bowl combine pop popped corn, marshmallows peanut butter cups, graham cereal and salt.

Melt chocolate according to package directions. Whisk coconut oil into chocolate and stir until melted.

Drizzle melted chocolate over the popcorn and toss to combine.

Spread popcorn mix on prepared baking sheet. Allow to cool until chocolate hardens. About 10 minutes. If the chocolate is still melted, place in the refrigerator until hardened. Break into pieces and serve. Will keep in a ziploc bag for a few days.
Calories:
412
kcal
Carbohydrates:
66.3
g
Protein:
6.3
g
Fat:
14
g
Saturated Fat:
6.6
g
Cholesterol:
1
mg
Sodium:
527
mg
Fiber:
4.8
g
Sugar:
36.5
g
Keywords:
dessert, popcorn, reeses peanut butter cups, s'mores