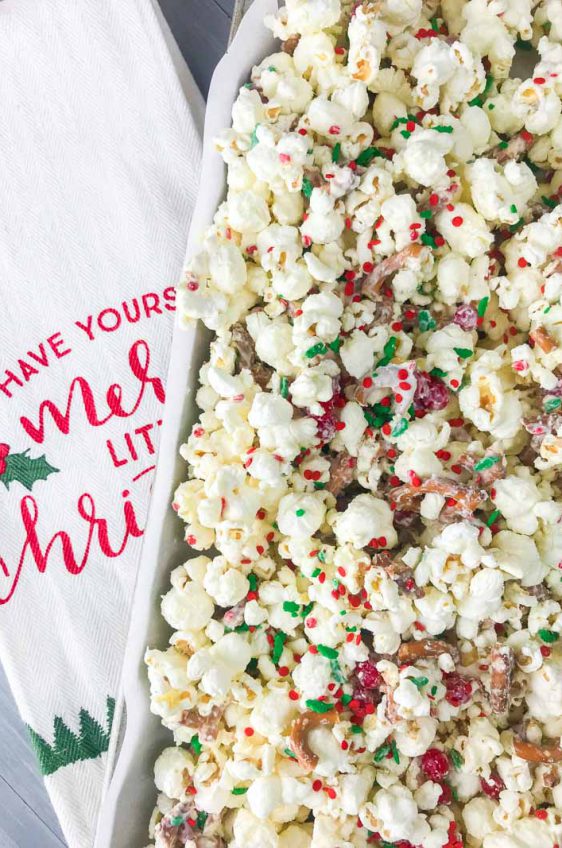 Cinnamon Christmas Popcorn
Cinnamon Christmas Popcorn with white chocolate, cinnamon candies and sprinkles will be your new favorite holiday treat. It takes about 10 minutes to prepare and makes a perfect gift too! 
We LOVE popcorn around our house. What about you? It is one of our favorite snacks and we just love it with salt and butter of course. Sometimes we like to fancy it up a bit with fried herb butter. Or make it spicy with Sweet n' Spicy BBQ Popcorn. Other times, we like to sweeten up by making White Chocolate Churro Popcorn or add some peanut butter cups. Now that it is the Christmas season, I'm adding this Cinnamon Christmas Popcorn to the mix.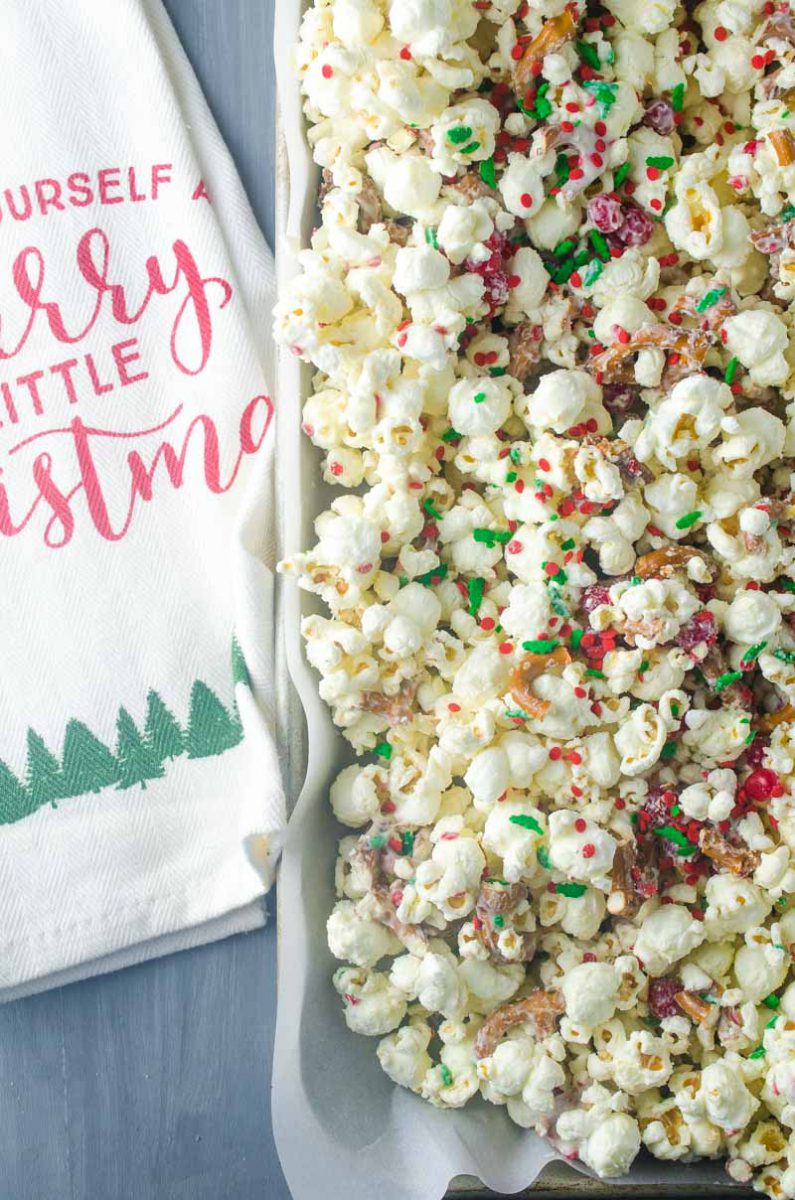 It's kind of amazing.
I have always been a huge fan of tossing red hot candies into my popcorn. I love the sweet n' spicy kick that cinnamon candies add to the salty popcorn.
For this Cinnamon Christmas Popcorn, I decided to add cinnamon imperials (red hots) to the mix. They add the perfect cinnamon crunch to this popcorn.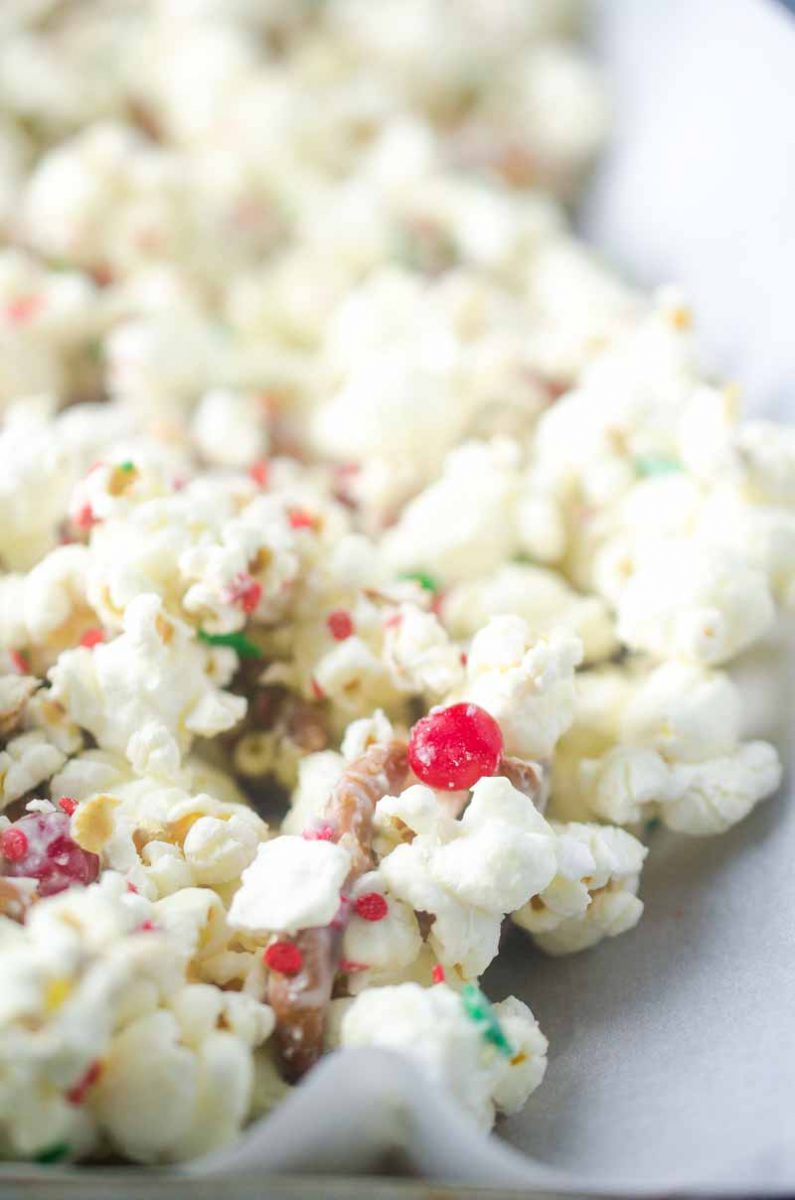 When I usually make my hot tamale popcorn snacks, it's usually just the popcorn, butter and hot tamales. To make this Cinnamon Christmas Popcorn more of a sweet treat, it's drizzled with melted white chocolate and tossed with sprinkles.
Because sprinkles. Obviously.
This popcorn doesn't take that long to make. The only cooking that you need to do is popping the popcorn. I like to use my air popper (affiliate link) and it takes just a few minutes. The part that takes the longest is letting the popcorn sit until the chocolate hardens. It is really only long because this popcorn is hard to resist and I admit that I've taken a few bites before. Just for quality assurance, of course. Letting it harden only takes about 10 minutes and it is necessary because after letting it set, you get awesome little clusters like this: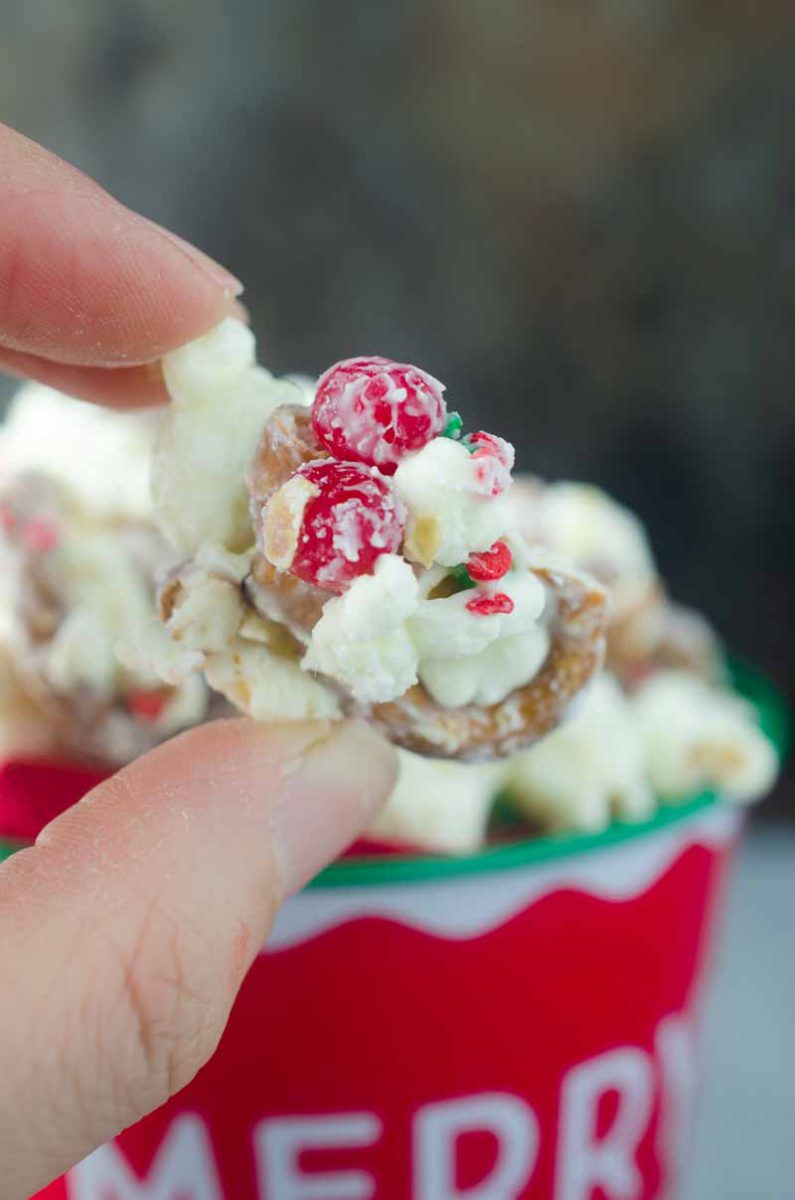 I seriously love each and every salty sweet bite.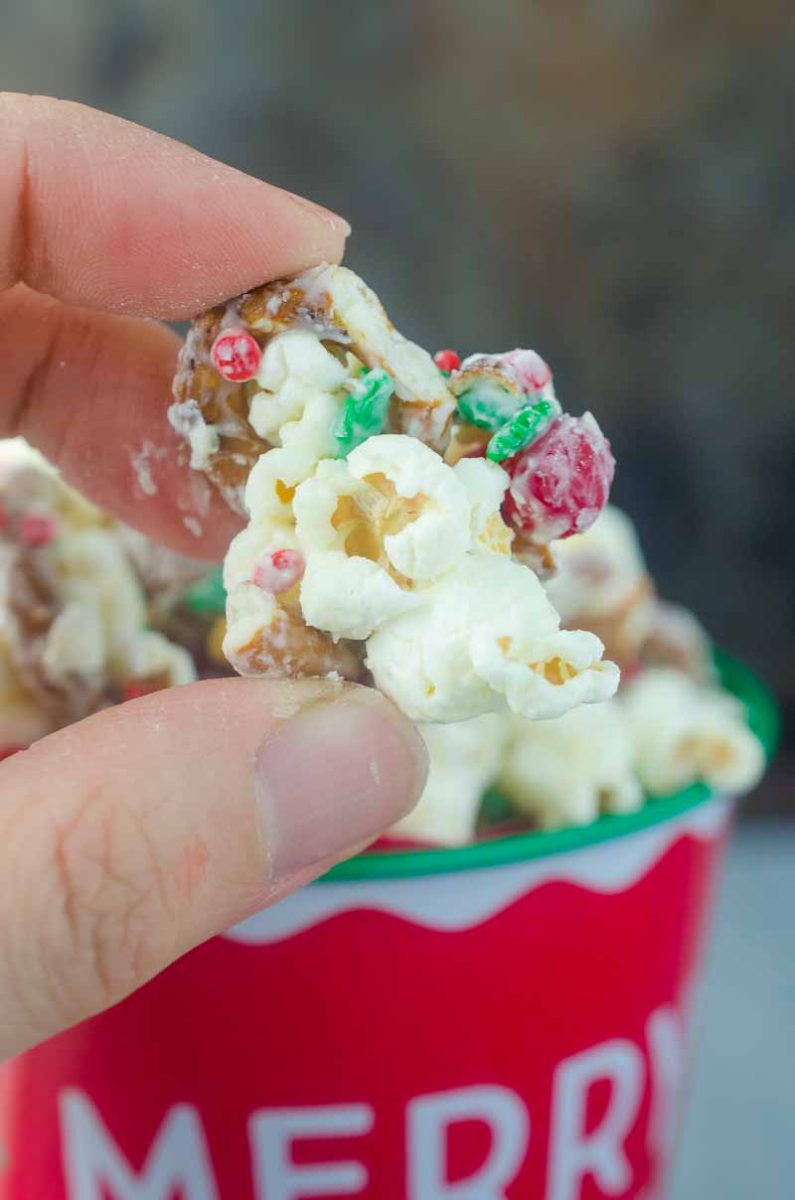 If you want to give the gift of goodies this year and don't have that much time to bake, this Cinnamon Christmas Popcorn is perfect. It's super festive and everyone loves it.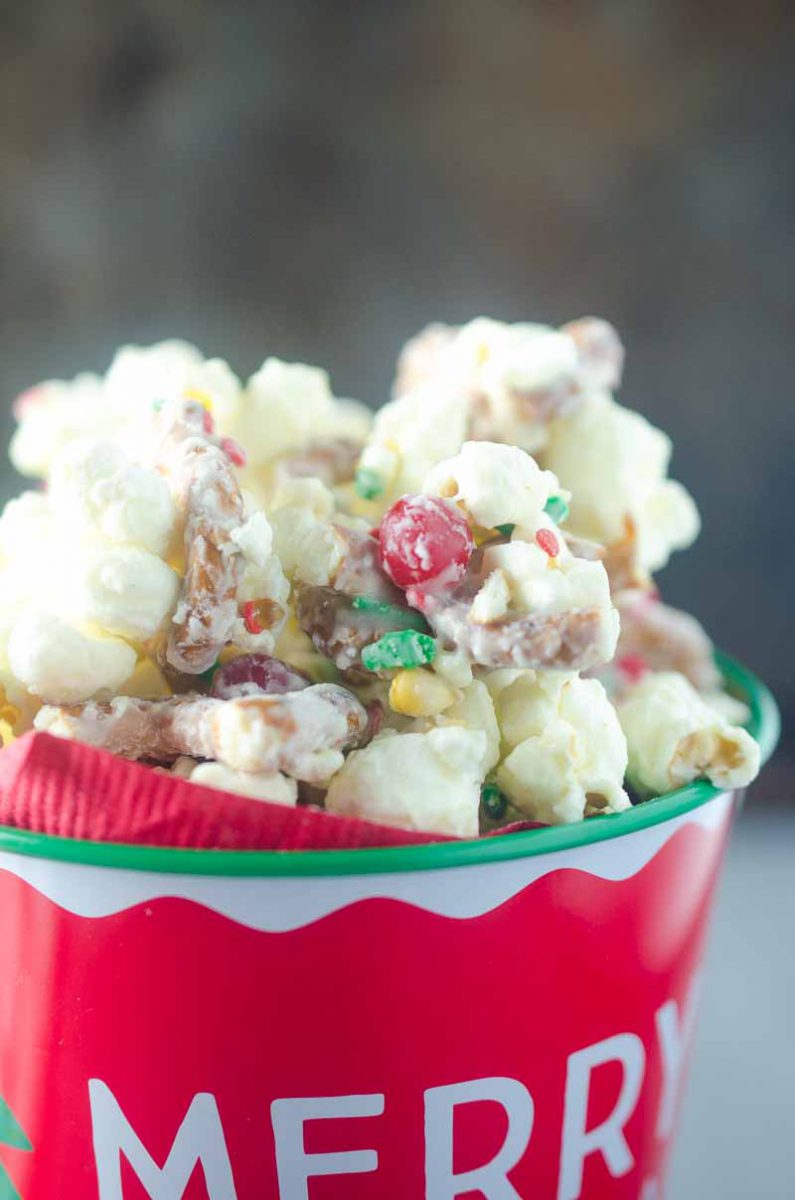 Just be sure to save some for yourself too!

But first, watch how incredibly easy it is to make this Cinnamon Christmas Popcorn: 
Cinnamon Christmas Popcorn Recipe
Ingredients:
1/2 cup unpopped popcorn
11 ounces white chocolate chips, melted
2 cups crushed pretzels
1/2 cup cinnamon candies (cinnamon imperials, red hots)
1/4 cup plus 2 tablespoons Christmas sprinkles
Instructions
2
In a bowl combine popcorn, melted chocolate, pretzels, candies and 1/4 cupsprinkles. Mix until popcorn is coated in chocolate and ingredients are mixed.

3
Spread popcorn on a baking sheet. Sprinkle with remaining sprinkles and let set for 10 minutes or until the chocolate hardens. Break into pieces and serve. Store in air tight container.