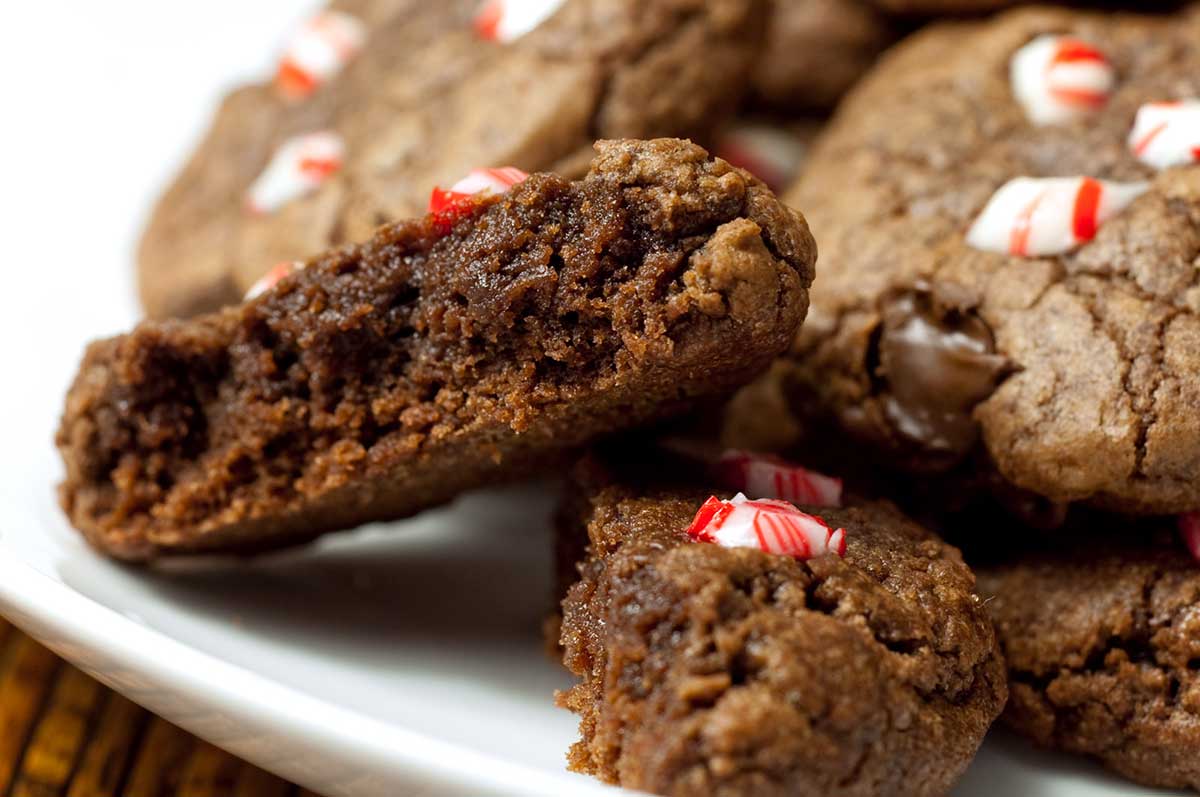 Peppermint Fudgy Brownie Cookies
There are only a few short days until Christmas eve. This means that Santa will soon be packing up his sleigh and heading to the houses of all those on the nice list. Since I have always viewed the cookies and milk you leave for Santa on Christmas Eve to be a last ditch effort to get on the nice list, I thought I would share these cookies that are sure to guarantee you a permanent spot. How could they not? They are fudgy, they are chewy, they are minty and they are oh so chocolatey.
Someone recently asked me what the most popular recipe on the blog is. Without hesitation I said the Fudgy Brownie Cookies that I shared last Spring. After all, everyone needs a good chocolate fix every once in a while. And while I believe they are darn close to perfection on their own, with all the candy canes I have lying around, I thought I'd see what they were like with a minty kick. Scrumptious was the answer.
I originally planed to roll the raw cookie dough in crushed peppermint candies before baking but the candy canes didn't hold up so well during the 10 minute baking process. As a result, I"m asking you to break all the rules and (gasp!) remove the cookies from the oven halfway through the cooking process to add the candy pieces to the top. But trust me,  the cookies will turn out just fine.
One last note, after having made fudgy brownie cookies multiple times now, I have noticed that some brownie mixes work better than others. Pillsbury and Duncan Hines produce a perfectly chewy brownie cookie while the Betty Crocker Fudge Brownie mix produces a slightly more cake like cookie.
Okay, okay enough jabbering. Without further ado, I present to you Fudgy Brownie Cookies part II: The Christmas Addition.
Peppermint Fudgy Brownie Cookies Recipe
Ingredients:
1 (19.5 ounce) package brownie mix
1 1/4 cup all purpose flour
1/4 cup brown sugar
2 eggs
1/2 cup (1 stick) butter melted, cooled
3 - 5 tablespoons cold water
1 teaspoon mint extract
1 cup semi sweet chocolate chips
2 - 3 candy canes, cut into small pieces
Instructions
1
In a bowl whisk together brownie mix, flour and brown sugar.

2
Using a heavy spoon, stir in eggs one at a time. Stir in butter, 3 tablespoons cold water and mint extract. Batter will be thick. If it is too dry add one or two more tablespoons of water. Fold in semi-sweet chocolate chips. Cover and refrigerate for 2 hours.

3
Preheat oven to 350 degrees. Grease a cookie sheet.

4
Roll tablespoons of dough and place on the prepared cookie sheet, about 3 inches apart. Press down slightly. Don't flatten completely. Bake for 5 minutes. Remove from oven. Place 4 candy cane pieces on each cookie. Put cookies back in oven and cook for 5-6 more minutes or until cookies are set.

5
Remove from oven. Allow to cool on cookie sheet for a couple of minutes. Transfer to cooling rack to cool completely.
Notes
Now, just be sure to save some for Santa. Enjoy!