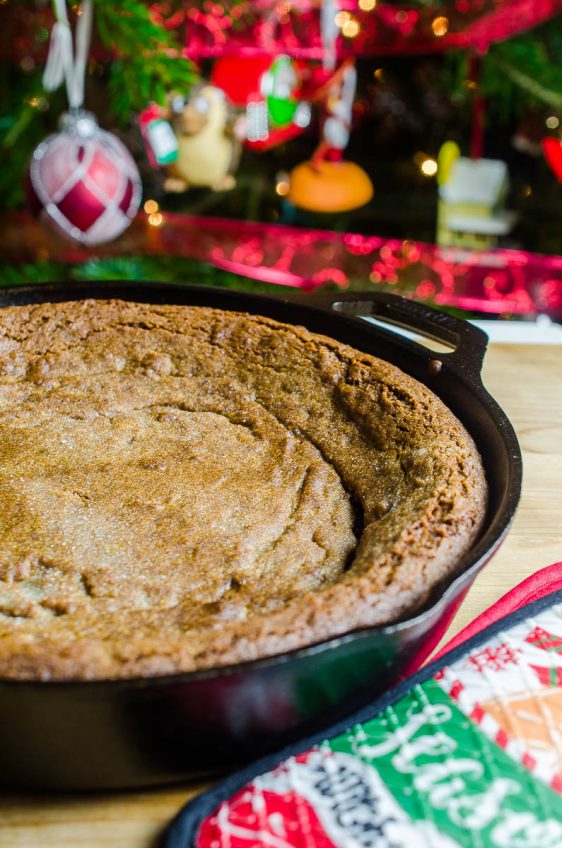 Gingersnap Skillet Cookie
What is better than a soft and chewy gingersnap cookie? A big ol' soft and chewy Gingersnap Skillet Cookie of course! This festive dessert is perfect for entertaining! 
Whenever I hear people talking about their favorite cookies, two words always pop up: soft and chewy. Those two components are the key to a perfect cookie and this Gingersnap Skillet Cookie is exactly that.
But you know why this gingersnap skillet cookie is better than other gingersnap cookies? Because all you need to do is mix the batter, spread it in a skillet and bake.  No need to chill dough. No need to roll out individual cookies. If you're short on time and need a dessert this skillet cookie is for you.
What is a skillet cookie?
A skillet cookie is exactly what it sounds like, a huge cookie baked in a skillet. They are a popular restaurant dessert because they can serve multiple people at a time. And the presentation is rustic yet fabulous leading to lots of ooohs and ahhhs as it's set down on the table.
I mean who doesn't like to dig into a big cookie?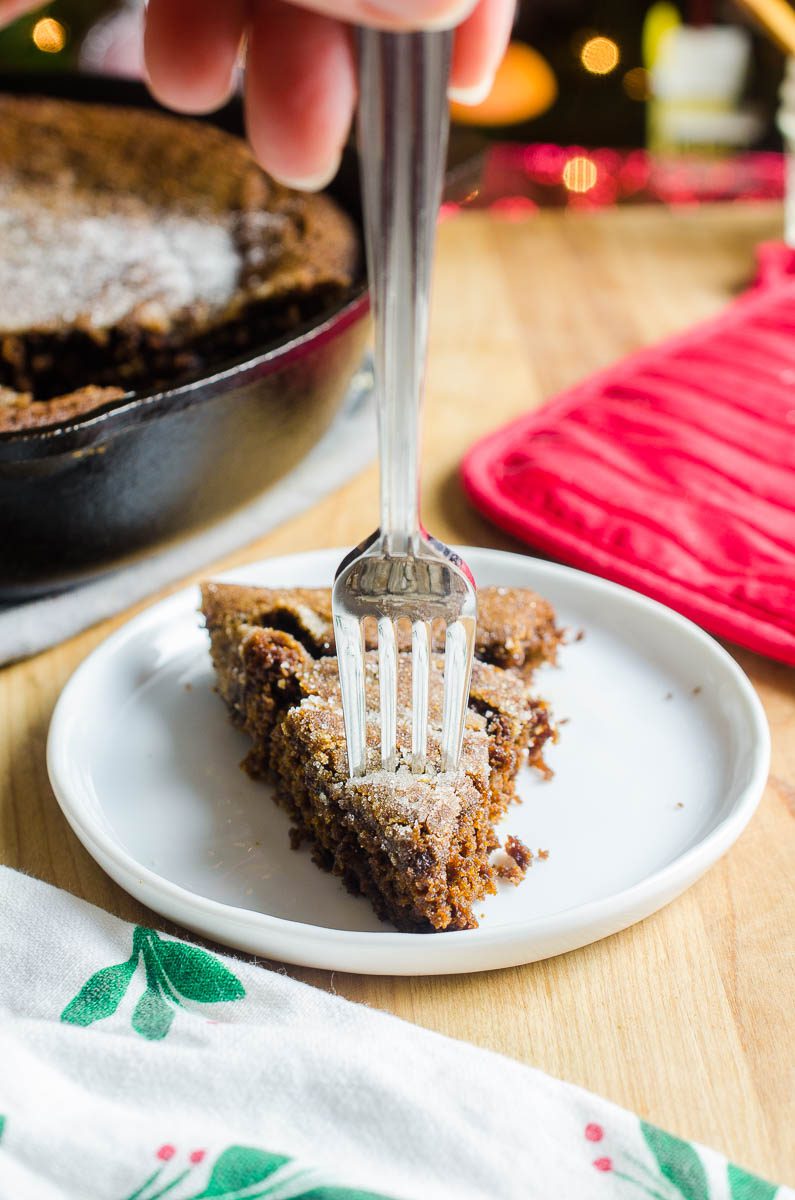 Molasses: a key ingredient to gingersnap cookies.
One of the key ingredients to a perfect spicy gingersnap cookie is molasses. Molasses is a thick dark brown syrup made from refining sugar into syrup. There are both light and dark versions. Light molasses is mild and sweet. Dark molasses, on the other hand, is full bodied and less sweet.
For this recipe, you'll want to use full bodied molasses
Other ingredients that you'll need to make this recipe include: butter, brown sugar, egg, flour, baking soda, cinnamon, ginger, cloves, salt and granulated sugar.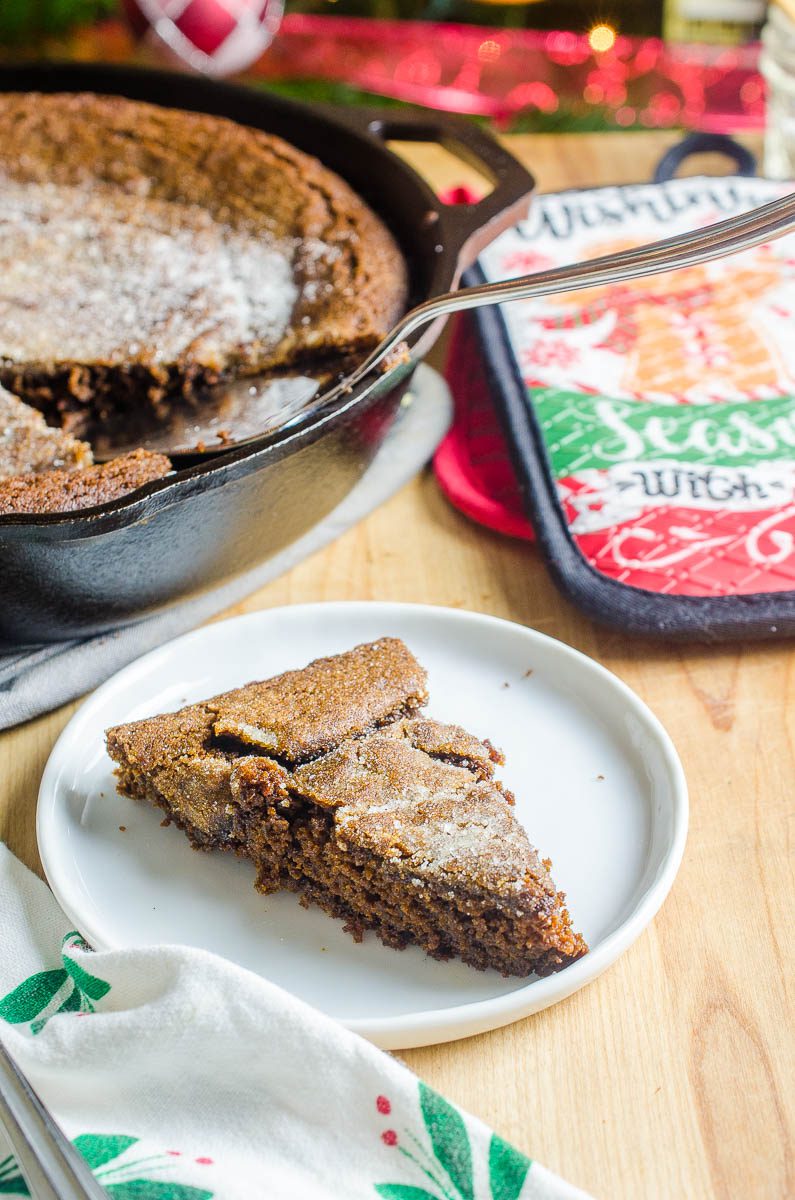 How do you make a Gingersnap Skillet Cookie?
As I mentioned above, this recipe is basically gingersnap cookies simplified. To make this cookie simply beat together butter, brown sugar, egg and molasses. Then add in the flour, baking soda, cinnamon, ginger, cloves and salt and mix just until combined.
When making gingersnap cookies, each individual cookie is dipped into granulated sugar before baking. This cookie gets the same sugar treatment except you sprinkle sugar over the entire cookie at once before baking.
And more for good measure after it bakes.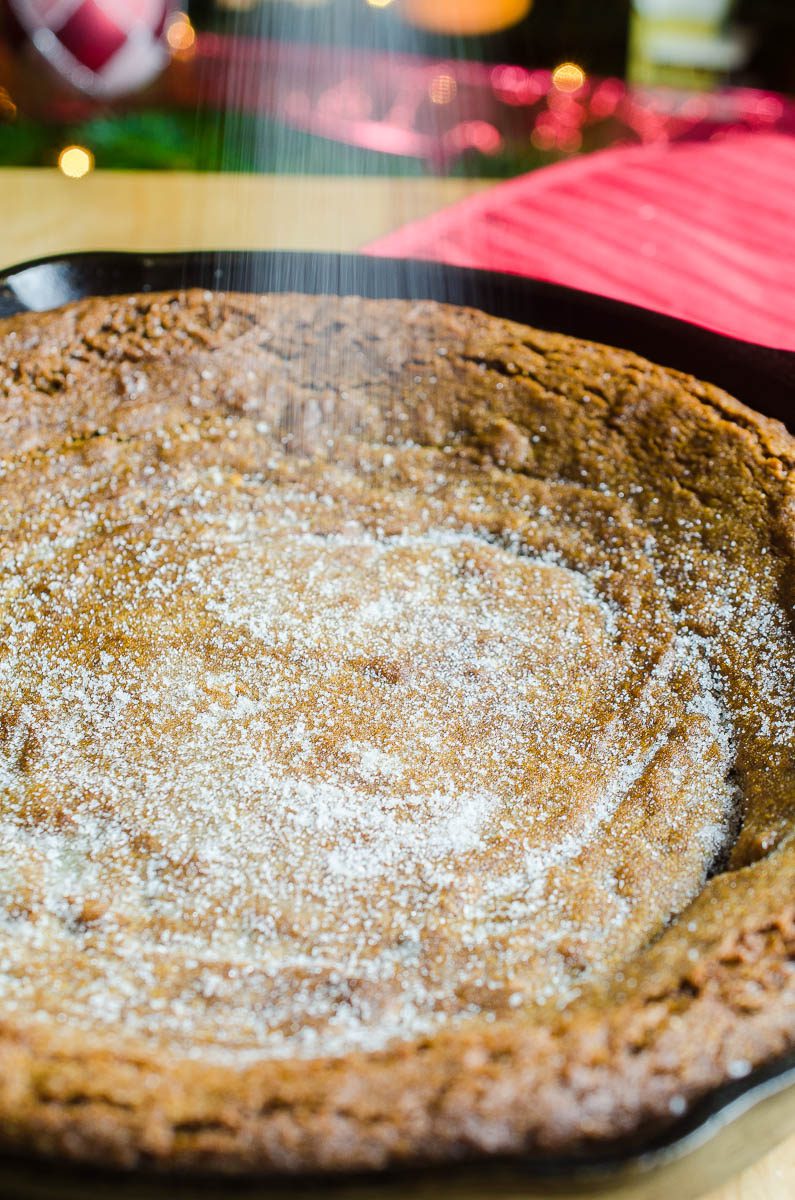 Looking for more Holiday Treats? Check out some of my favorites!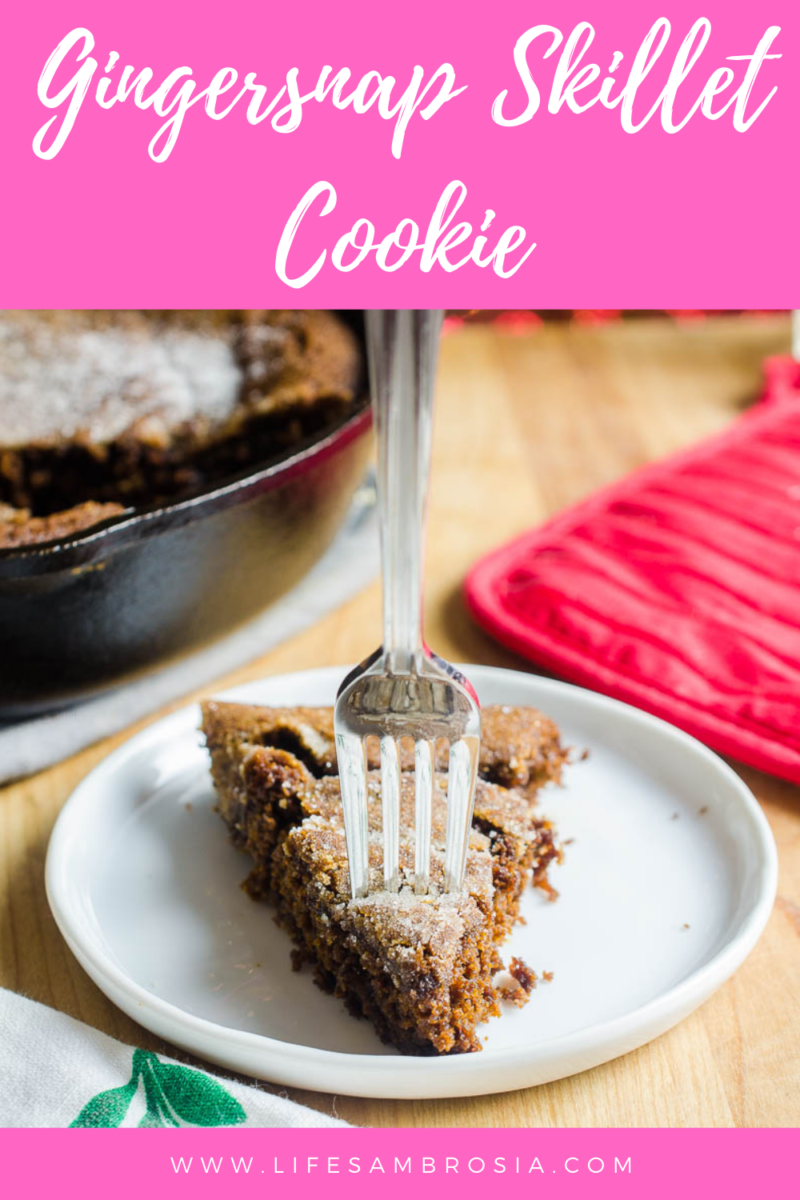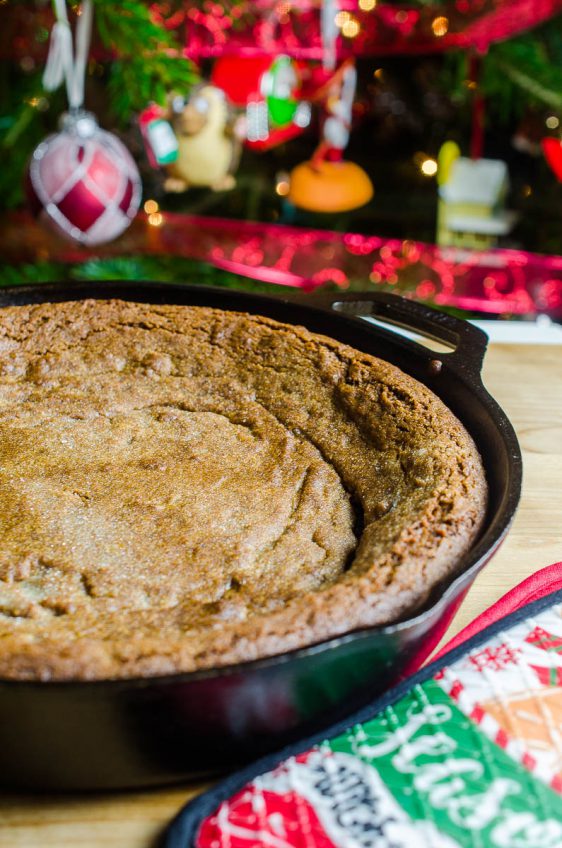 Gingersnap Skillet Cookie
Gingersnap Skillet Cookie a festive dessert perfect for entertaining! It is soft and chewy and always a crowd pleaser. Everyone will love it!
Ingredients:
1

cup

butter

softened

1

cup

brown sugar

1/3

cup

full flavor molasses

1

egg

2 1/4

cup

all purpose flour

2

teaspoons

baking soda

1

teaspoon

cinnamon

1 1/2

teaspoons

ground ginger

1/2

teaspoon

ground cloves

1/2

teaspoon

salt

2- 3

tablespoons

granulated sugar
Preheat oven to 375 degrees.

In a large mixing bowl use a hand held mixer to beat together butter, brown sugar, molasses and egg until combined. Batter will be a little lumpy.

Mix in flour, baking soda, cinnamon, ginger, cloves and salt. Continue mixing until well combined.

Spread batter into a 10 inch cast iron skillet. Sprinkle with about 2 tablespoons of granulated sugar. Bake in preheated oven for 30 - 40 minutes or until center is set and a toothpick inserted comes out with a few crumbs on it.

Sprinkle with remaining sugar. Cool slightly, slice and serve warm.
Nutrition facts for estimation purposes only.
Calories:
285
kcal
Carbohydrates:
33
g
Protein:
3.1
g
Fat:
16
g
Saturated Fat:
9.9
g
Cholesterol:
54
mg
Sodium:
427
mg
Fiber:
0.8
g
Sugar:
14.5
g