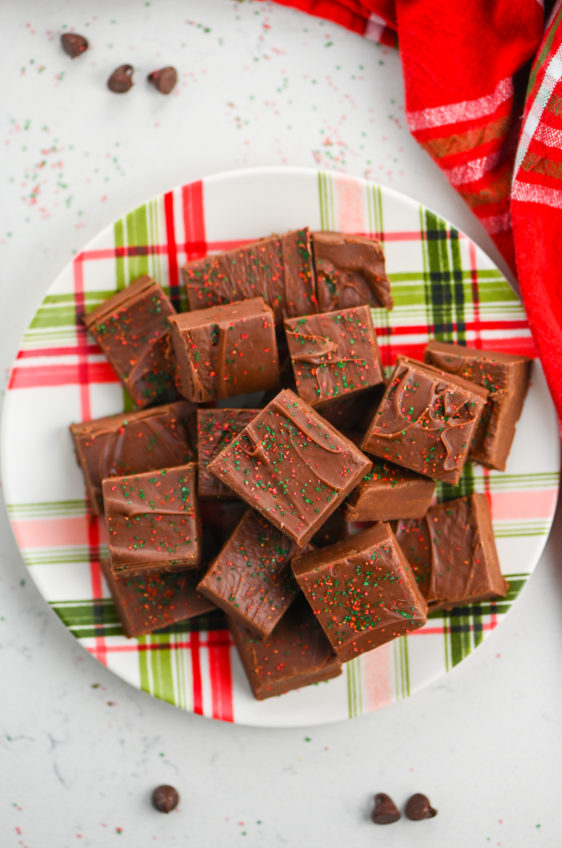 3 Ingredient Fudge
This easy 3 ingredient fudge is chocolate decadence. Made with condensed milk, chocolate and marshmallow fluff, it is a Christmas staple.
Christmas is all about the treats, am I right? Whether you're baking some molasses cookies. Popping some Christmas Popcorn or making some Mint Oreo Truffles, Christmas season is also sweets season.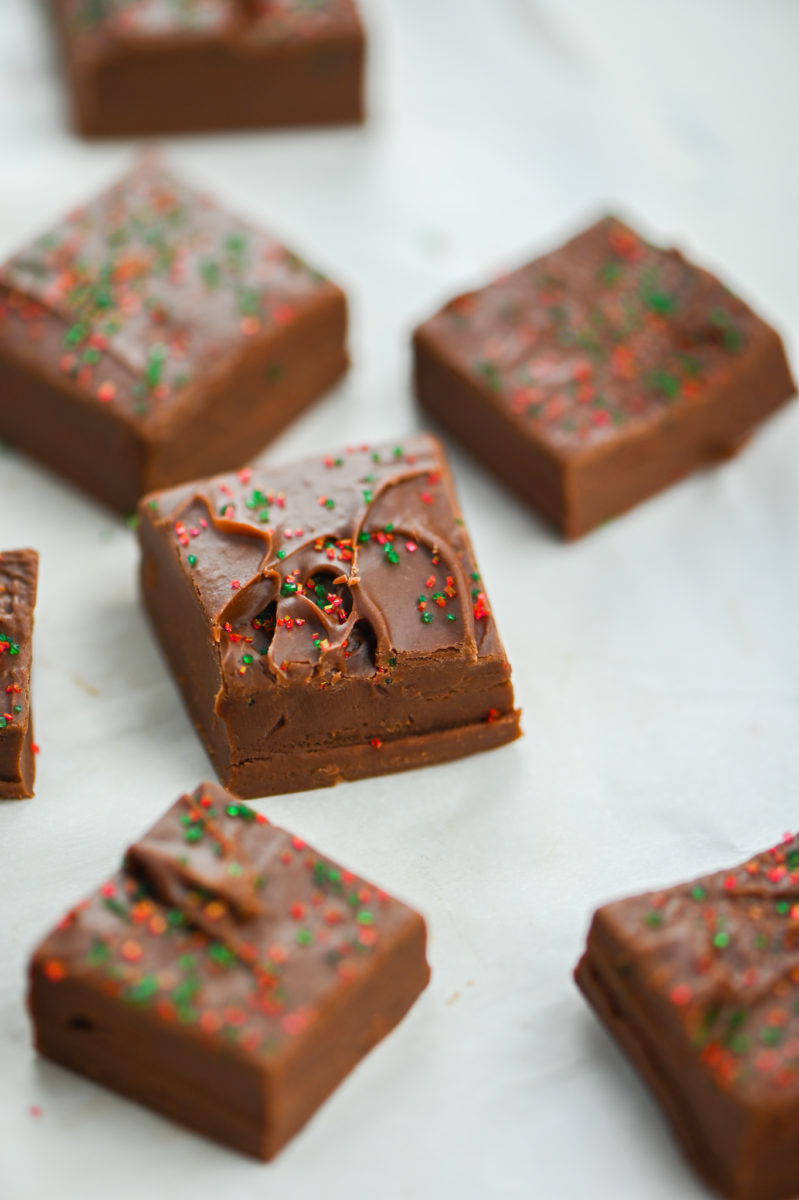 Around here it is just not officially Christmas until I've made this 3 Ingredient Fudge. It's rich. It's decadent. It is a recipe that has been passed down from generation to generation in my family. And it also happens to be ridiculously easy to make. I mean with a title like "3-Ingredient Fudge" how could it not be?
Let's talk about what you need to make it.
3 Ingredient Fudge Ingredients: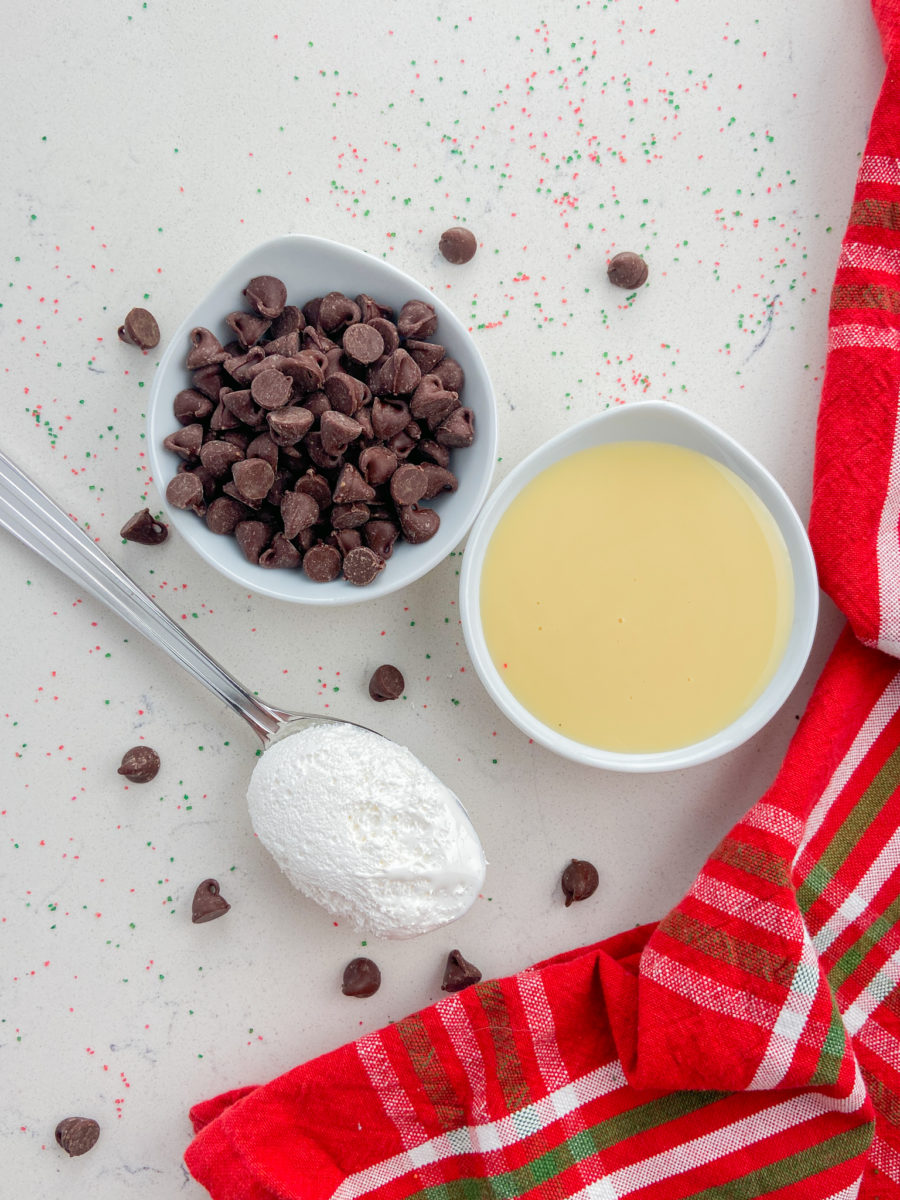 SWEETENED CONDENSED: This is milk that has been reduced so that 60% of the water has been removed. And then sugar is added. It is going to add a creamy sweetness to the fudge.
CHOCOLATE CHIPS: My family traditionally uses semi-sweet chocolate chips but this is also great with dark chocolate chips if you prefer. Skip the milk chocolate as it will be too sweet with the sweetened condensed milk.
MARSHMALLOW FLUFF: This gives the fudge a chewy texture and it is just not the same without. Don't omit it!
Step by Step Photos and Instructions:
The hardest part about making this fudge is the waiting. While it only takes about 5 minutes to cook, you do have to wait for it to harden in the refrigerator . That part takes about three hours.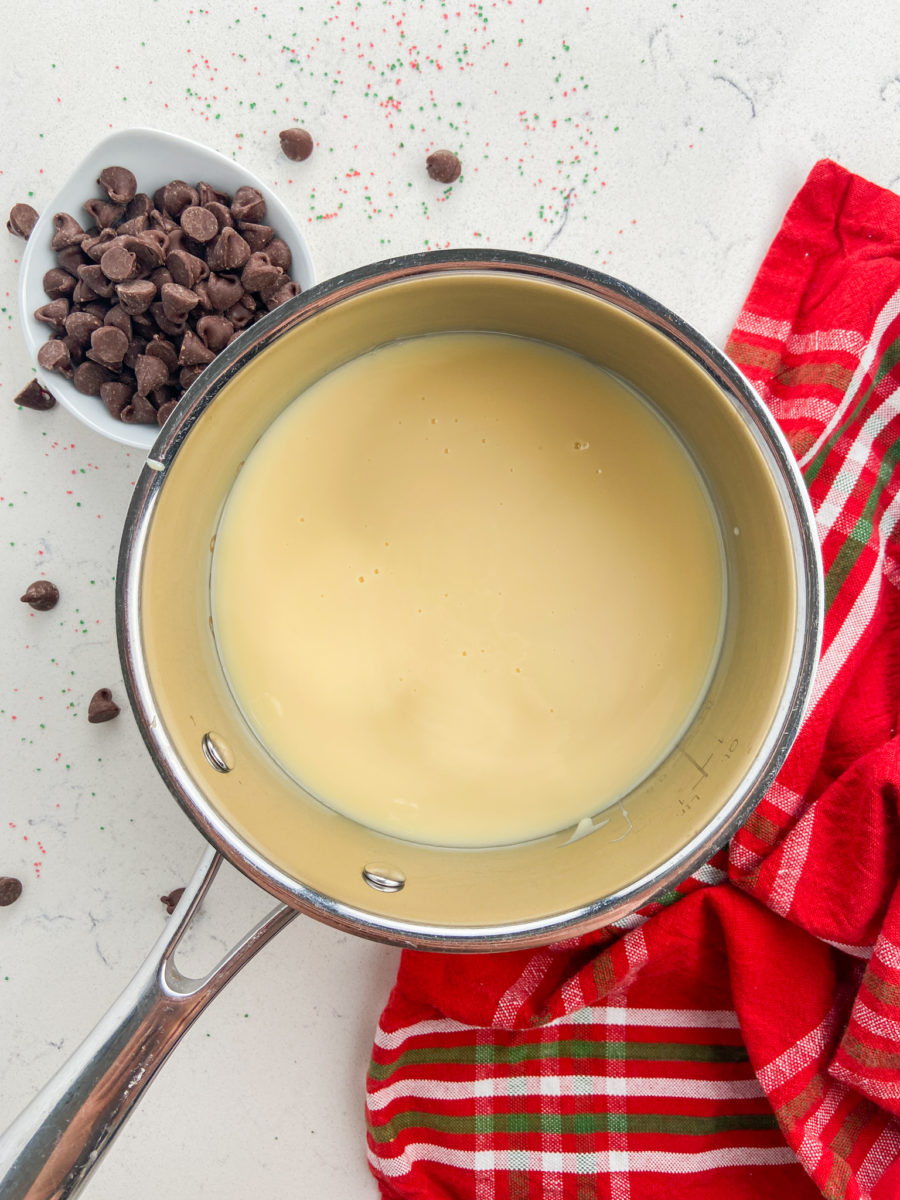 Step #1: Heat Sweetened Condensed Milk in a small pot over medium-low heat until thinned. About 2 minutes. 
Step #2: Add in the chocolate chips. Stir until they are melted and mixture is smooth. 
Step #3: Once the chocolate is melted, stir in a heaping tablespoon of marshmallow fluff. Mix until smooth. 
Step #4: Spread the mixture into an 8×8 inch pan lined with parchment paper. Sprinkle with sprinkles (if desired!) Refrigerate until firm. Then cut into pieces.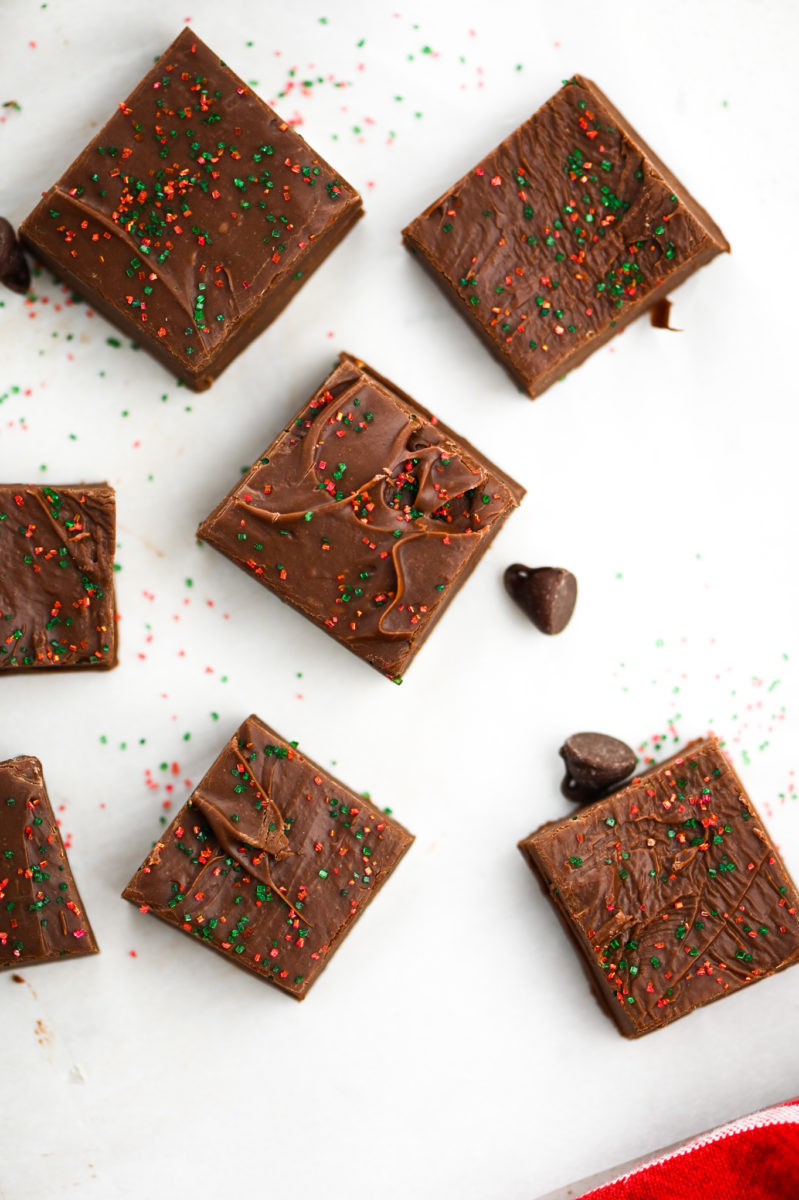 Storage and Leftovers:
You can keep this fudge covered refrigerated or at room temperature and it'll last for a few days. If you do keep it at room temperature it will be much softer.
Like I said, it is just not Christmas around here with out this Easy 3 Ingredient Fudge. It was a big part of my childhood Christmases. It is a part of our children's Christmas memories too. And now that I've shared it with you, I hope it can be a part of yours.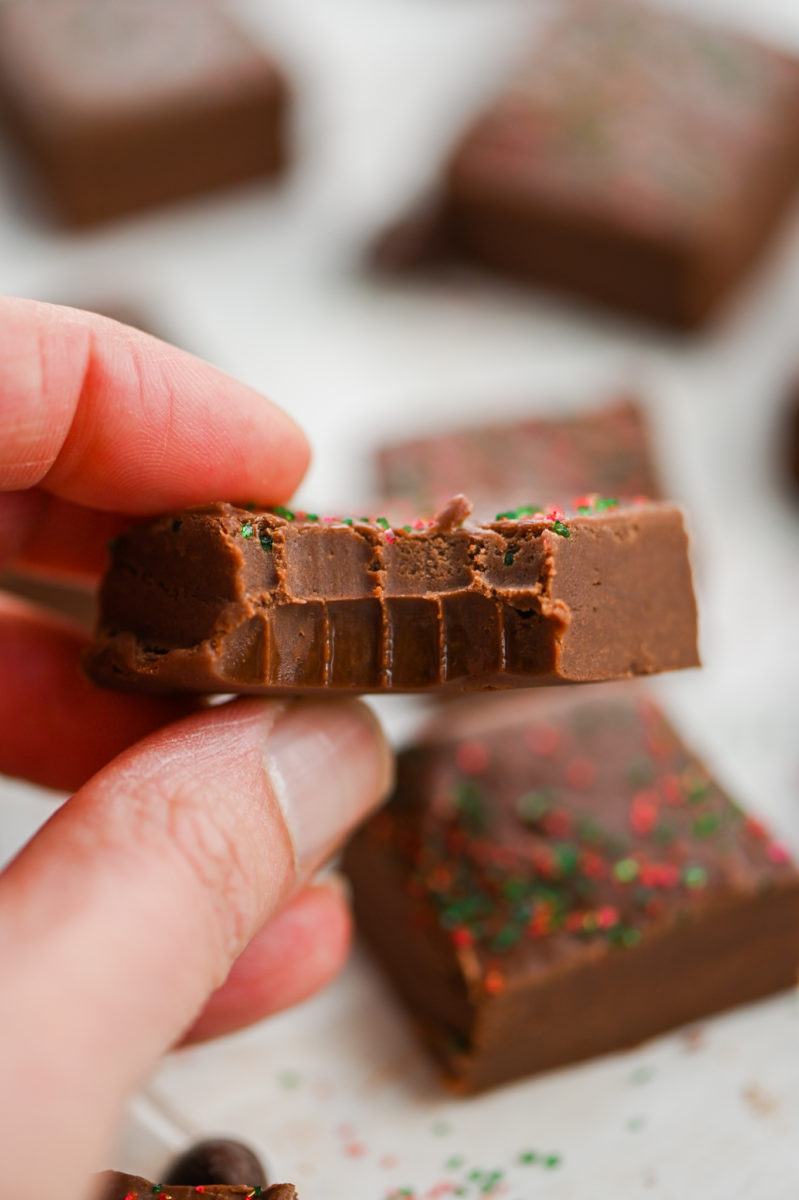 Looking for more Christmas treats? Try these:
Mint M&M Cookie Bars are a classic cookie bar with a holiday twist!
Classic No-Bake Cookies were always a must make each Christmas too!
Try Peppermint Brownie Cookies for a minty, chocolaty bite!
Note: This was originally published in 2016. It was updated in 2022 with new photos and step by step instructions.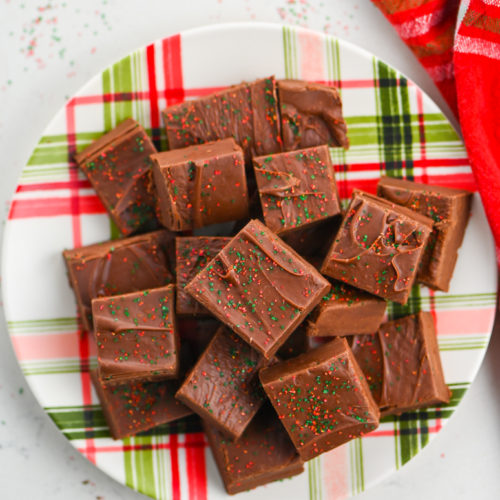 3 Ingredient Chocolate Fudge
This super easy 3 ingredient chocolate fudge is a pure chocolate decadence and a Christmas staple in our home.
Line an 8 x 8 inch dish with parchment paper.

Heat sweetened condensed milk in a pan over medium-low heat just until thinned, about 4 minutes.

Stir in chocolate chips and stir until melted and smooth.

Remove fudge from heat and add in marshmallow fluff. Mix just to combine.

Spread fudge into prepared container. Sprinkle with sprinkles if using. Refrigerate until hardened, about 3 hours. Cut into pieces and serve.
You can substitute dark chocolate chips for the semi-sweet if you prefer. Milk chocolate would be too sweet. 
Nutrition information for estimation purposes only. 
Calories:
183
kcal
Carbohydrates:
23
g
Protein:
3
g
Fat:
9
g
Saturated Fat:
5
g
Polyunsaturated Fat:
1
g
Monounsaturated Fat:
3
g
Trans Fat:
1
g
Cholesterol:
9
mg
Sodium:
33
mg
Potassium:
192
mg
Fiber:
1
g
Sugar:
20
g
Vitamin A:
75
IU
Vitamin C:
1
mg
Calcium:
81
mg
Iron:
1
mg
Keywords:
3 Ingredient fudge, candy, chocolate, Christmas, fudge