Mint cookie truffles are a delicious, easy no-bake dessert, perfect for the holidays. Chocolate sandwich cookies, cream cheese, mint, and more chocolate make these irresistible!
You like chocolate? You like chocolate cookies? You like mint? Then my oh my have I got the dessert for you.  These things are a-freaking-mazing. You want to make them. You want to eat them. You want to leave some for Santa on Christmas eve too. That is, if you want to guarantee yourself a permanent place on the nice list.  And for some added security, put them in vanilla ice cream and you'll guarantee your kid's kid's kid's a permanent place.
My lovely sister in-law Monica introduced me to these mint cookie truffles. She asked if she could bring them for the dessert for Thanksgiving and I said yes, despite the fact that I wasn't quite sure what they were.
Now that I have experienced their deliciousness, I am beginning to feel like I have been deprived all these years. And just in case you have never had them before I'm sharing the recipe with you so you don't have to live in the Mint Cookie Truffles darkness that I have for the last 27 years.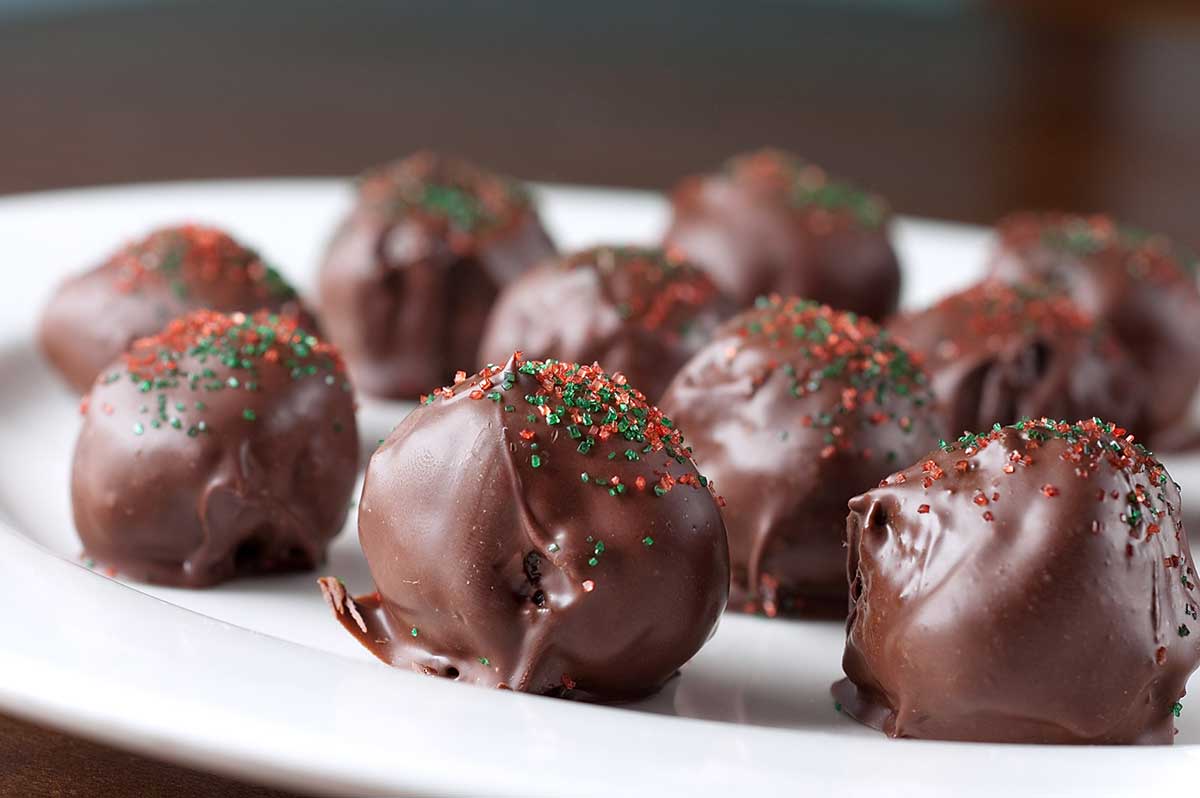 Make plenty of these mint cookie truffles, because they will disappear quickly!
More no-bake treats to make for the holidays:
Ingredients:
30 chocolate sandwich cookies (Oreo's, Newman's own etc...)
8 ounces cream cheese
1/2 teaspoon mint extract
1 (12 ounce) package of semi-sweet chocolate chips
2 tablespoons shortening
green and red sugar
Instructions
1
Separate the filling from the chocolate part of the cookies.

2
Place the cookies in a plastic bag and beat into crumbs. Or put in a food processor and pulse until the cookies are fine crumbs.

3
In a bowl combine cookie crumbs, cookie filling, cream cheese and mint extract. Use a heavy spoon to mix well.

4
Roll a heaping teaspoon of the mixture into balls. Set aside.

5
In a sauce pan over the lowest heat possible melt chocolate chips and shortening. Remove from heat.

6
Dip rolled mixture into the melted chocolate one by one and place on a parchment paper lined baking sheet. Sprinkle with colored sugar. Refrigerate until chocolate has hardened. Serve.