The BEST Fudgy Brownie Recipe
It's time to ditch the box and make the absolute BEST fudgy brownie recipe from scratch. They are a chocolate lover's dream!
If someone asked you what would you say is your favorite dessert of all time? For me it is hands down a brownie. But not just any brownie. A brownie with a crackly top and an unbelievably fudgy bite.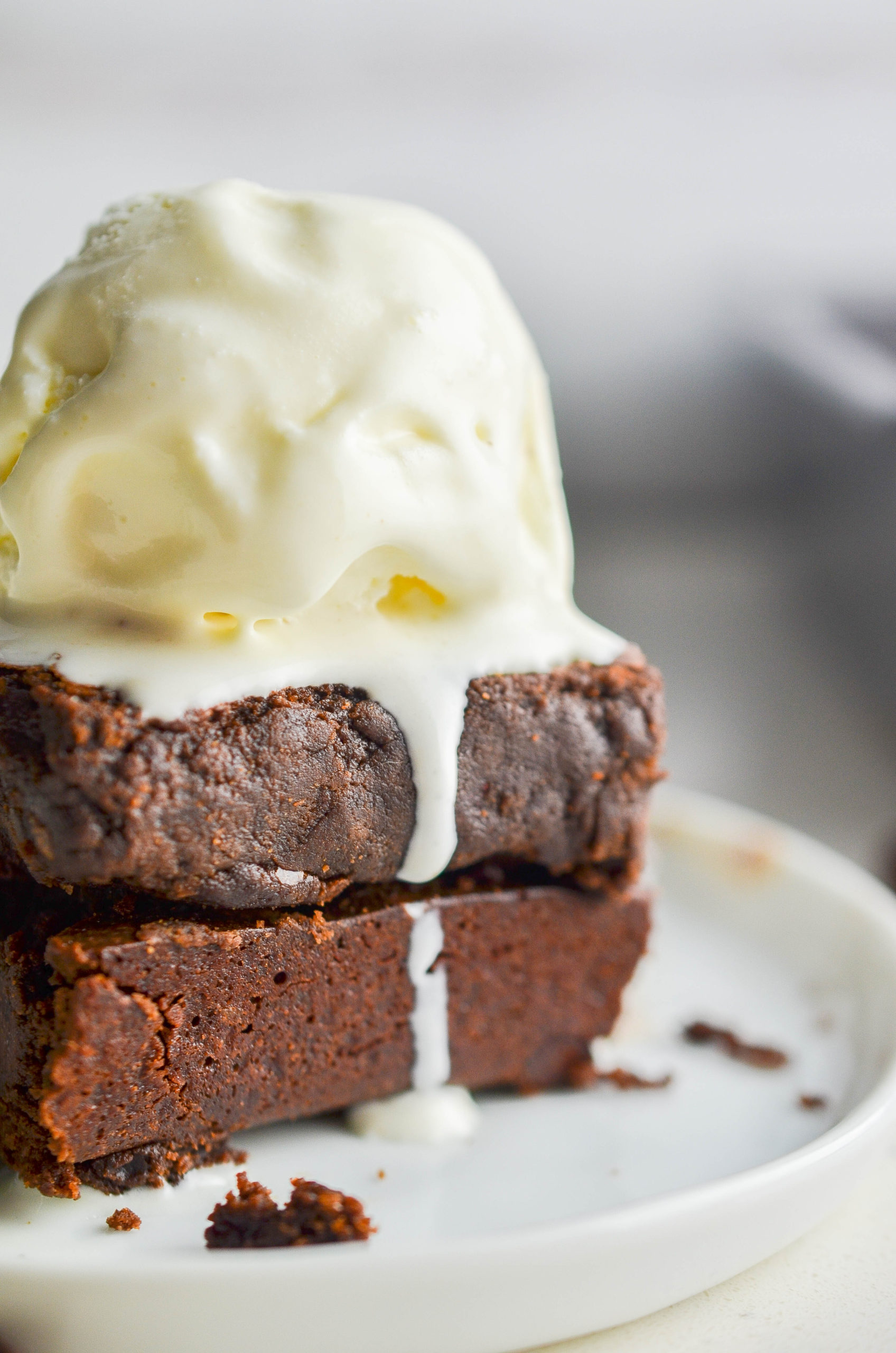 It has taken me a few tries, but I have now created the perfect brownie recipe and today I am sharing it with you. I'm telling you, if you are a brownie lover you have got to bake these.
You'll never need another fudgy brownie recipe!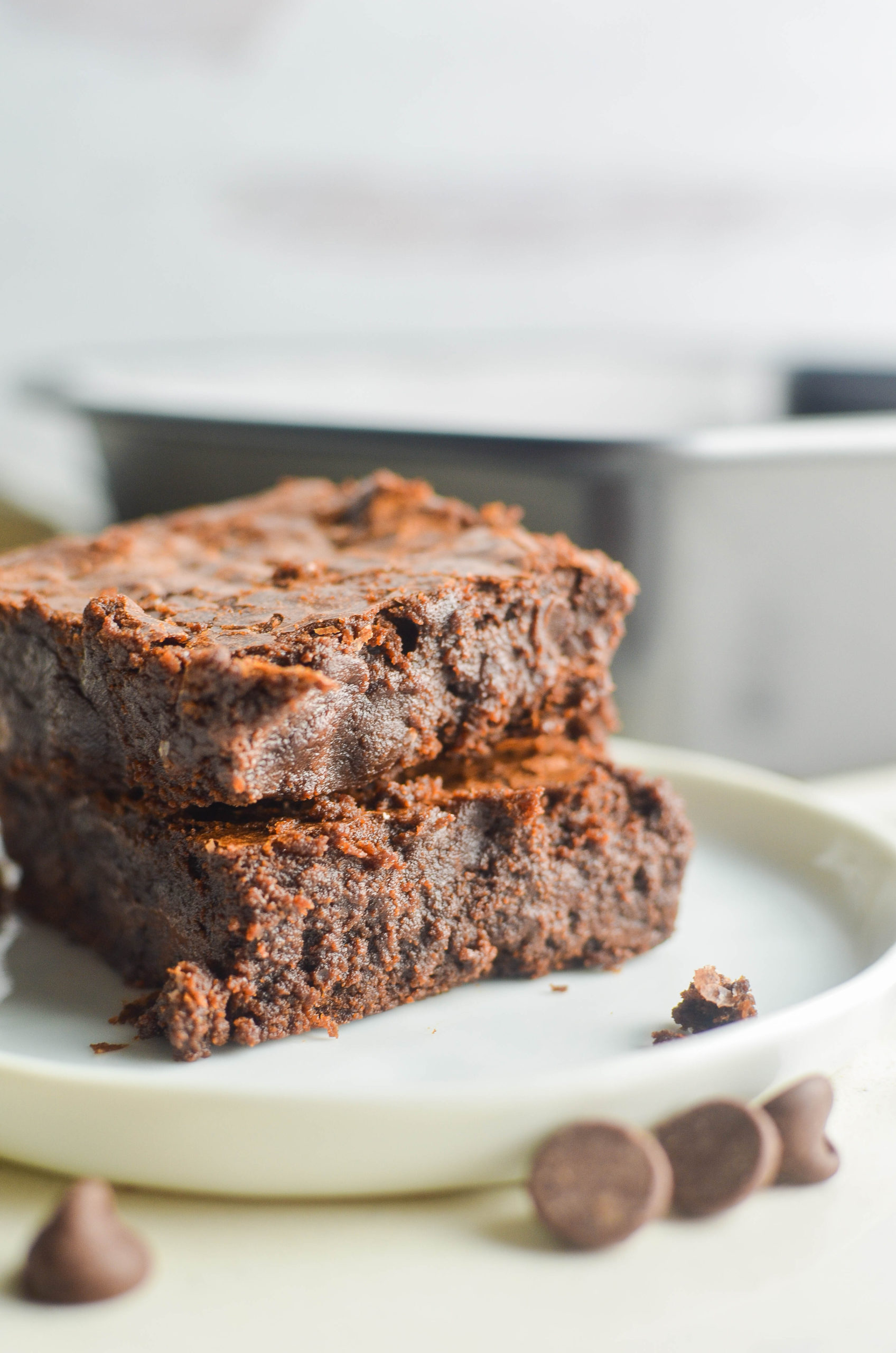 What ingredients do you need:
BUTTER: Real butter friends. No margarine or butter substitute here.
COCOA POWDER: I have tried this with both chopped chocolate and cocoa powder and honestly, I like the brownies with the cocoa powder better.
SUGAR
FLOUR
EGGS: Eggs help create moisture in this recipe.
SALT: Even just a touch of salt will help bring the flavor of the ingredients out. Don't leave it out!
VANILLA EXTRACT: Like salt, it will enhance the flavors of the ingredients.
CHOCOLATE CHIPS: To add even more chocolaty flavor! I used semi-sweet but you could also use dark.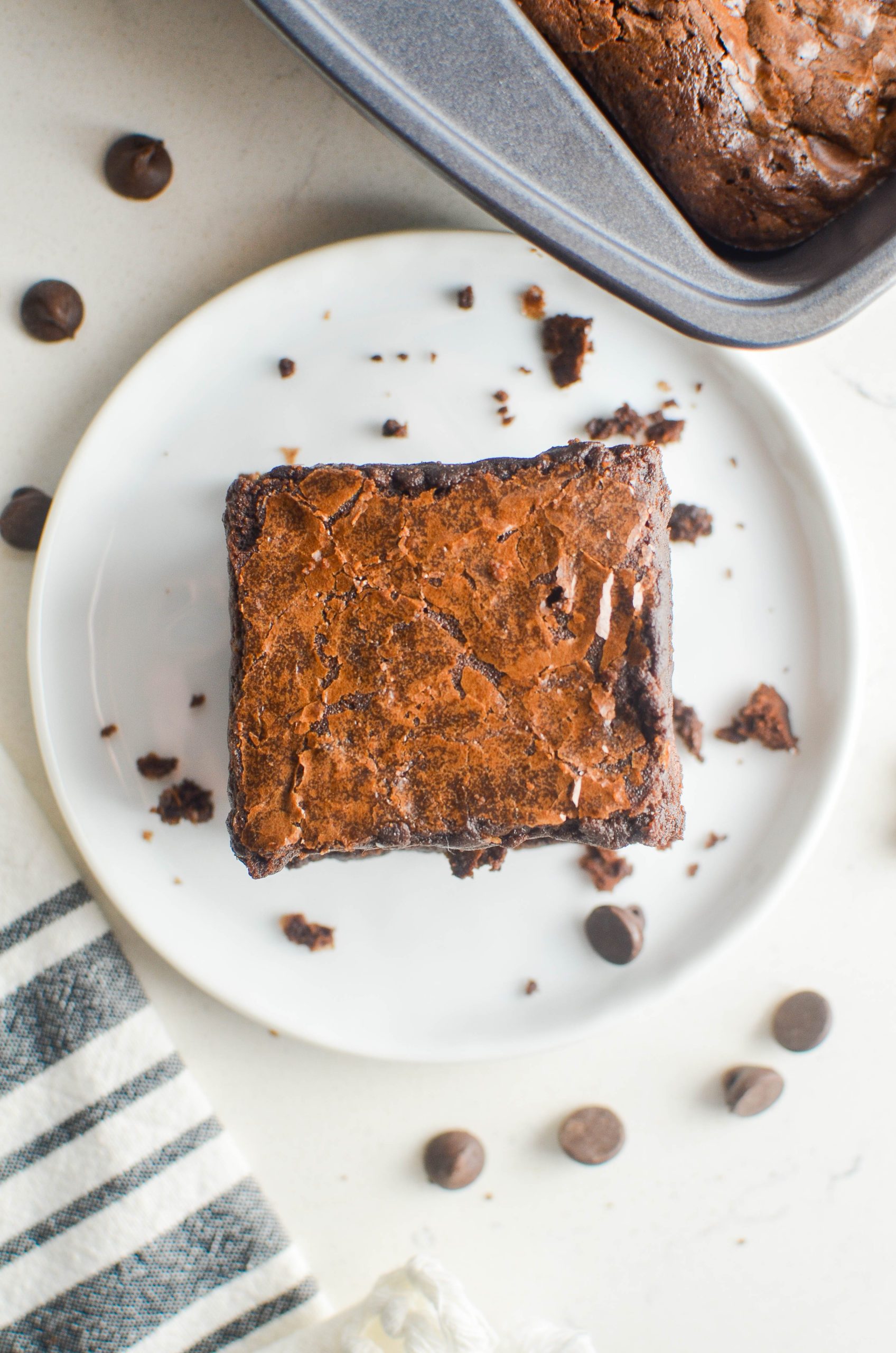 Step by step photos and instructions
Brownies are actually super easy to make. I mix the batter right in my saucepan and then pour it all into the baking dish. So really, it'll use 3 dishes if you count the spoon you use to stir it.
STEP #1: Place butter in a small saucepan over medium heat. Cook until it has melted.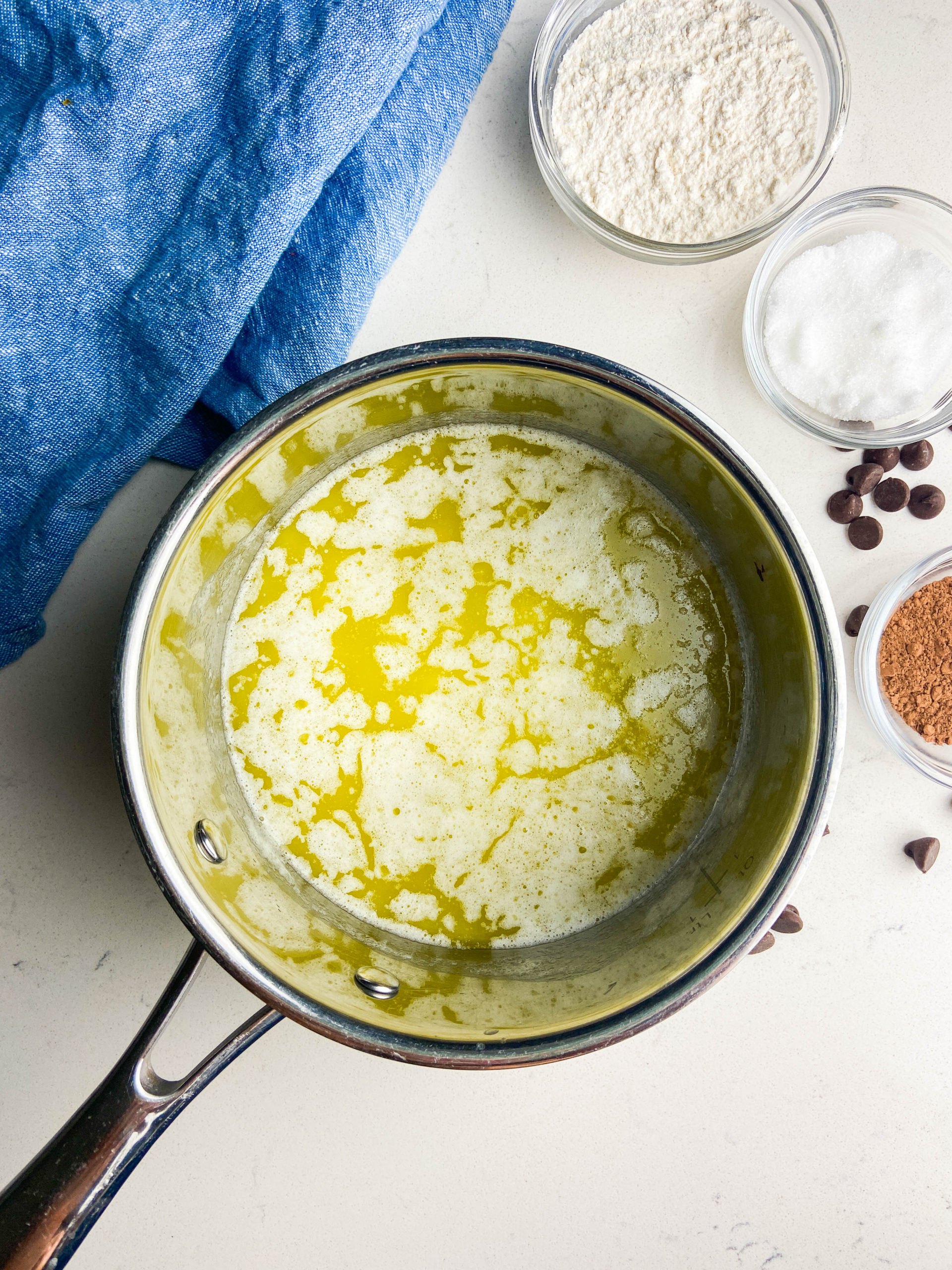 STEP #2: Remove the pan from heat. Stir in the sugar, and cocoa powder.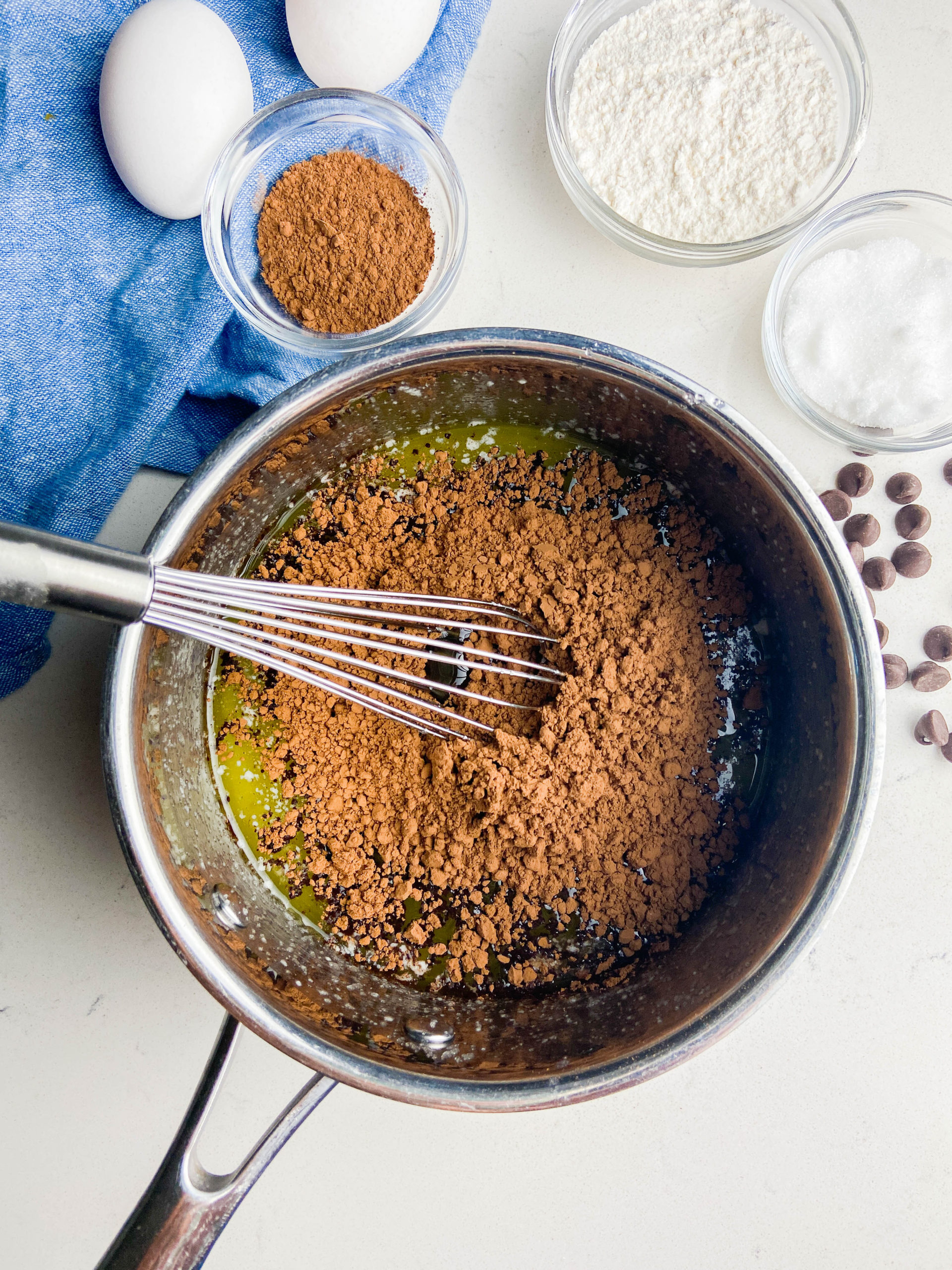 STEP #3: Whisk in the eggs, flour, vanilla and salt. Mix just until combined.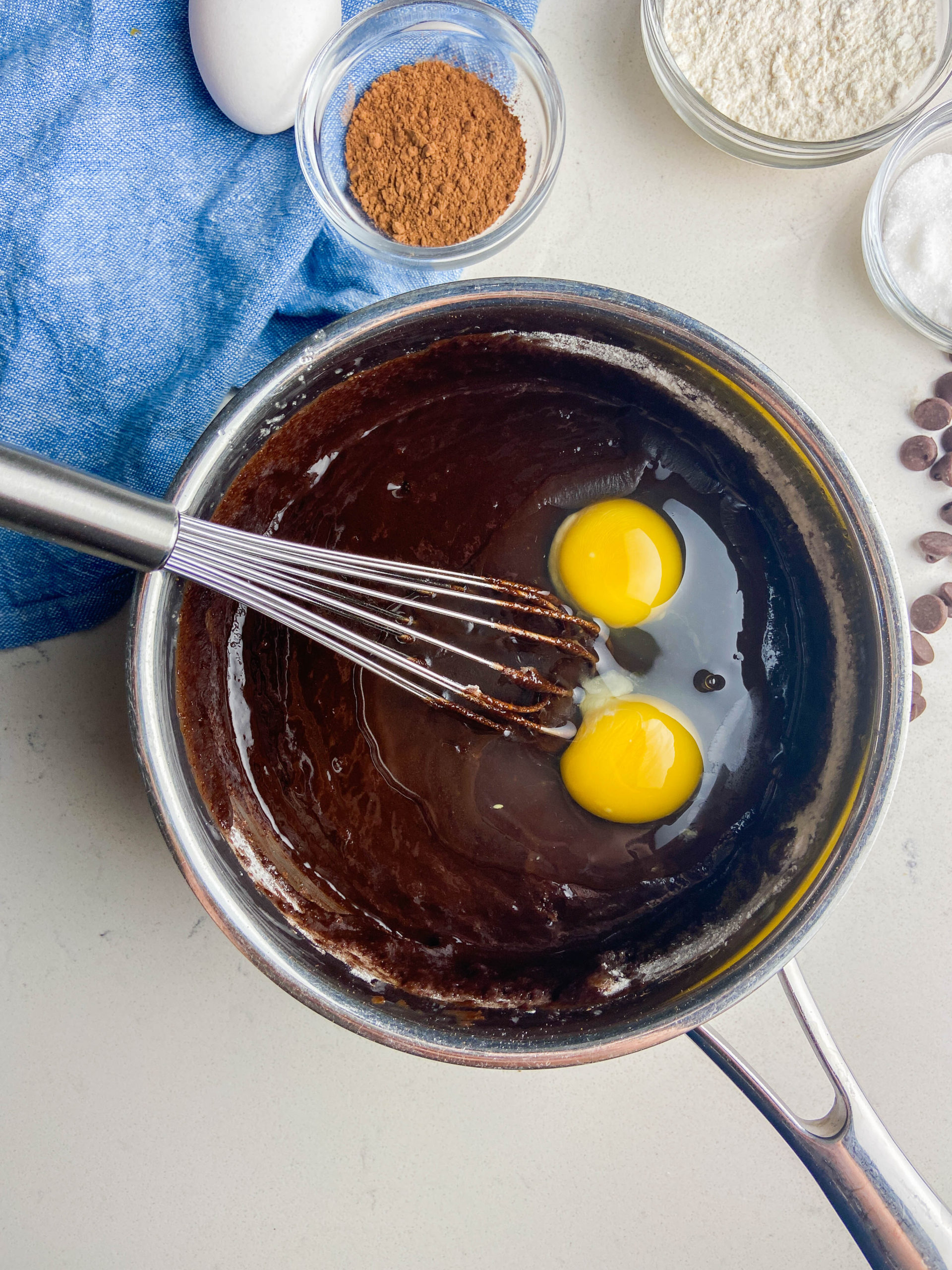 STEP #4 Fold in the chocolate chips.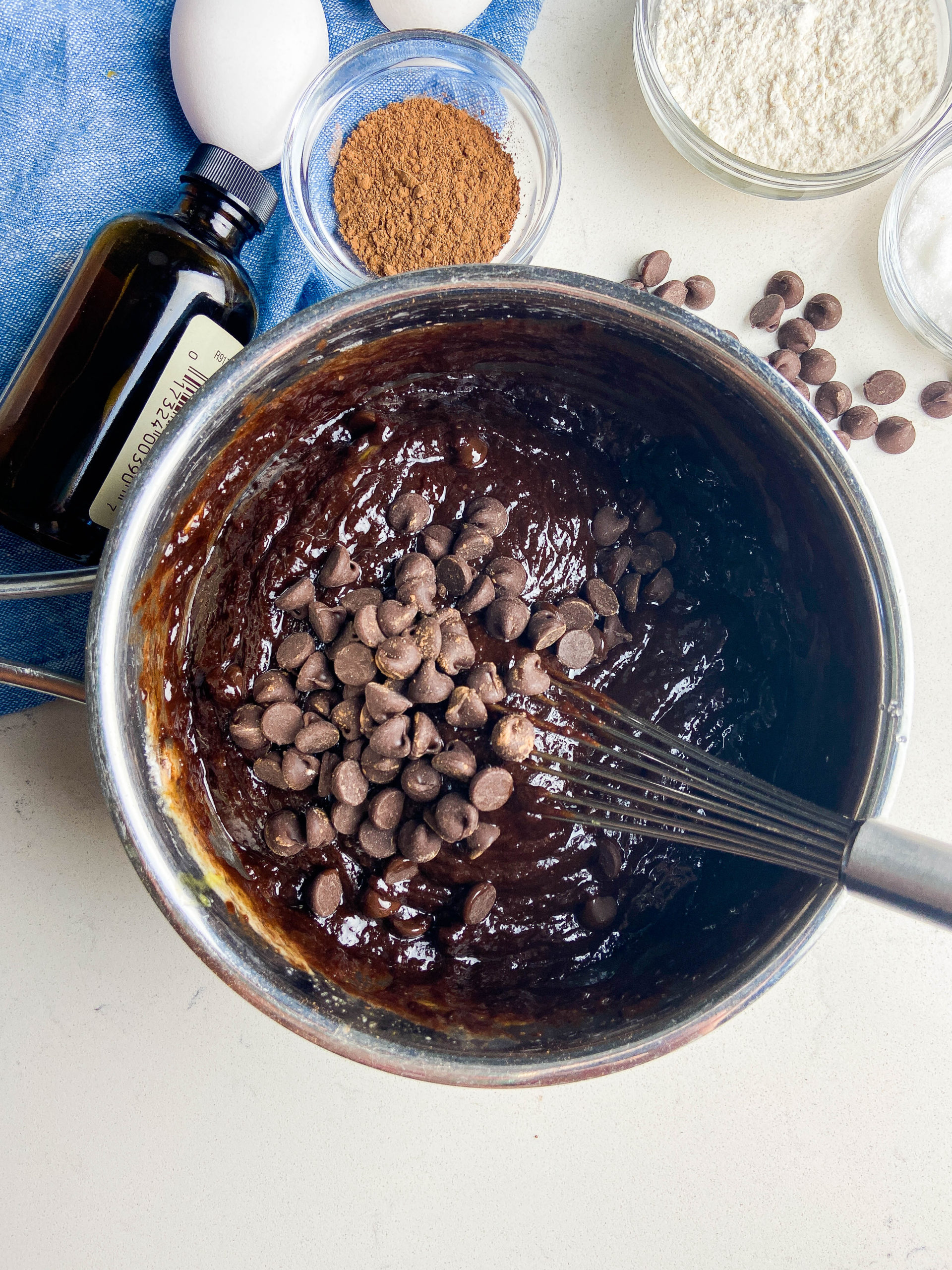 STEP #5 Pour batter into an 8 x 8 baking dish and bake 15 – 20 minutes, until a toothpick comes out with just a few crumbs on it.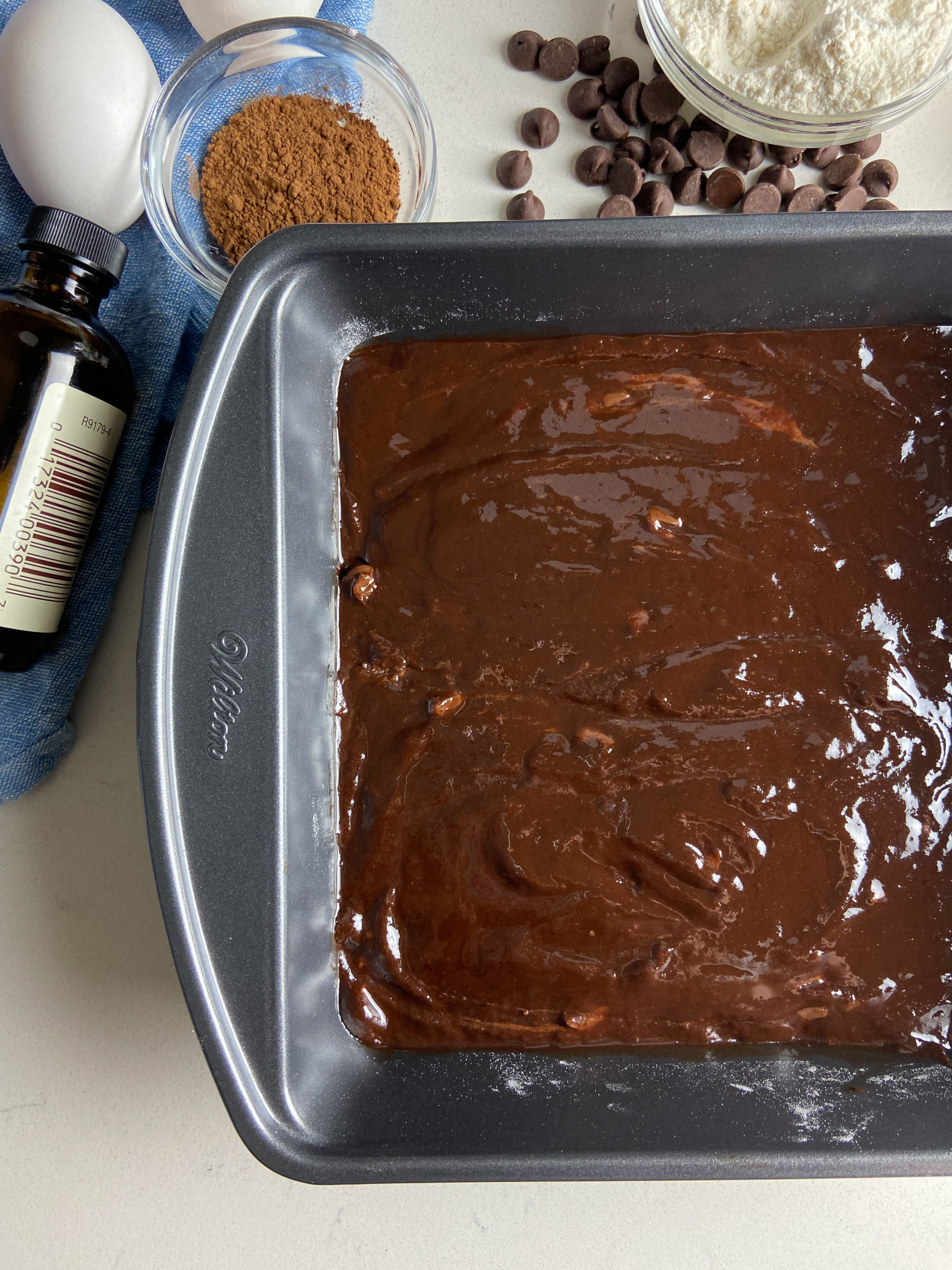 Tips for making THE BEST fudgy brownies:
So after much trial and error lets get down to my tips to help you while you're making these.
Tip #1: Try to work quickly when making the brownies. I've found that hot butter makes the tops of the brownies crackly. However! Even though you want the butter to be hot, it is key to remove it from the heat and let cool maybe 1 minute. I learned the hard way that working too fast can make the eggs scramble in your batter.
Tip #2: Don't over mix the batter. Doing so will make the brownies tough since it causes the gluten to develop.
Tip #3: These brownies are best when they are undercooked ever so slightly. I started checking them at 15 minutes and eventually pulled them out of the oven at 20. You can certainly cook them longer but they won't be as fudgy.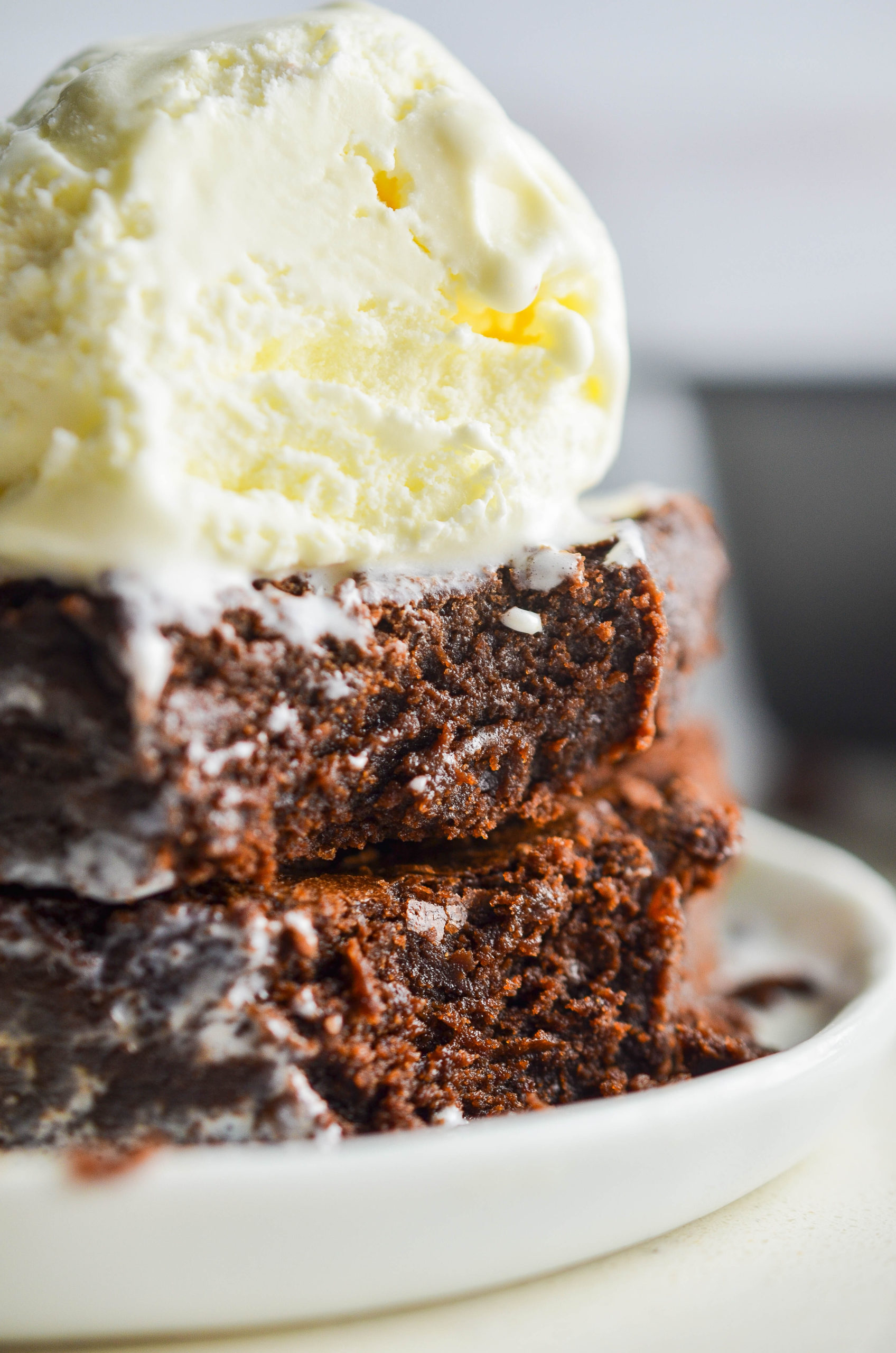 Storing leftovers:
If you don't eat the whole pan in one sitting, because I mean let's be honest I wouldn't blame you if you did. You can store the leftovers on the counter just make sure to cover them so that they stay moist. They should last a few days on the counter.
Finally, the brownies are perfection all by themselves. But my absolute favorite way to serve brownies is to top them with a scoop of vanilla ice cream when they are warm.
Got a sweet tooth? I've got more dessert recipes that you must check out!
White Chocolate Strawberry Cheesecake
Pumpkin Cake with Chocolate Ganache
Can't get enough brownies? Here are some more brownies for you!
Candy Apple Brownies from Lemon Tree Dwelling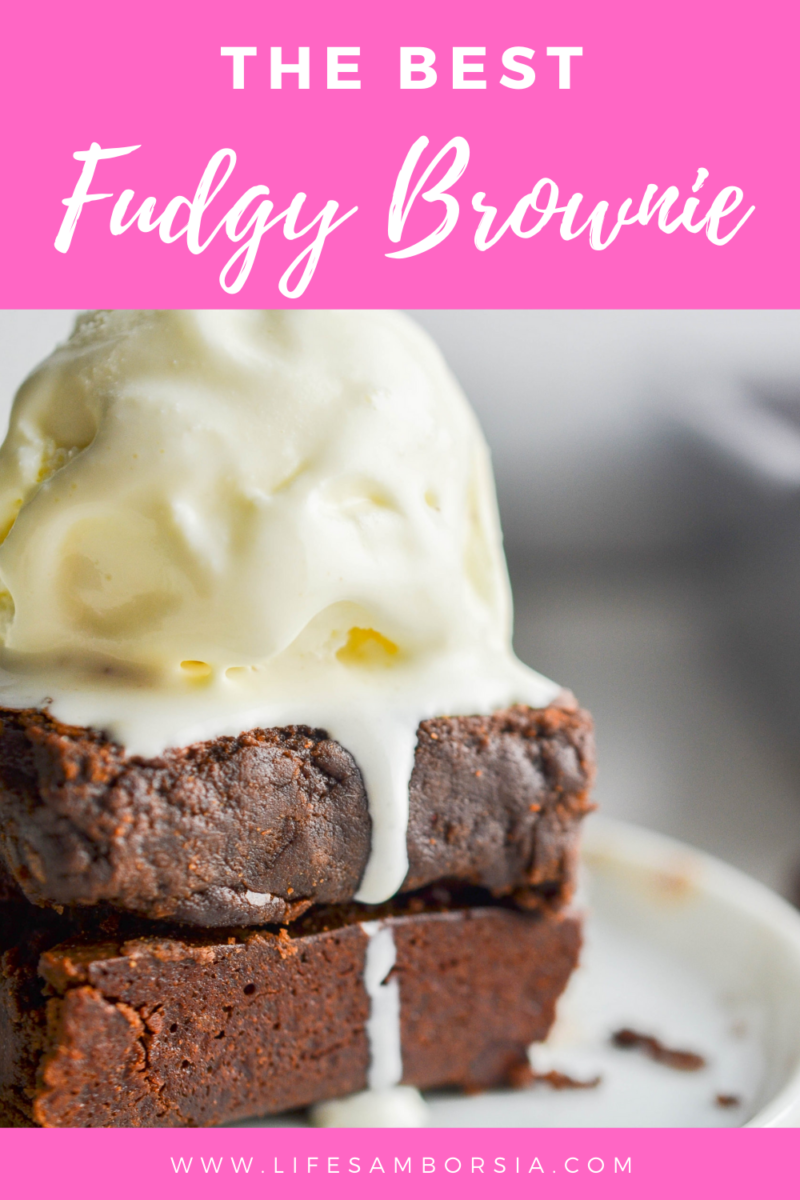 The BEST Fudgy Brownie Recipe Recipe
Ingredients:
10 tablespoons unsalted butter
1/2 cup unsweetened cocoa powder
1 cup granulated sugar
1/2 cup all purpose flour
1/2 teaspoon salt
1 teaspoon vanilla extract
2 eggs
1 cup semi-sweet chocolate chips
Instructions
1
Preheat oven to 350 degrees.

2
Cook butter in a small saucepan over medium heat. Cook until melted.

3
Remove pan from heat. Whisk in sugar, followed by cocoa powder.

4
Whisk in eggs, flour, salt and vanilla. Mix just until combined.

6
Pour batter into a greased 8x8 inch pan. Bake in preheated oven 15 - 20 minutes or until a toothpick comes out with just a few crumbs on it.

7
Allow to cool slightly, cut and serve.
Notes
Nutrition facts for estimation purposes only.
Nutrition information
Amount per serving: 1 brownie if cut into 12 brownies
Calories: 213 , Total Fat: 12.2g , Saturated Fat: 7.8g , Cholesterol: 27mg , Sodium: 171mg , Carbohydrates: 26.8g , Fiber: 1.6g , Sugar: 20.4g , Protein: 1.9g