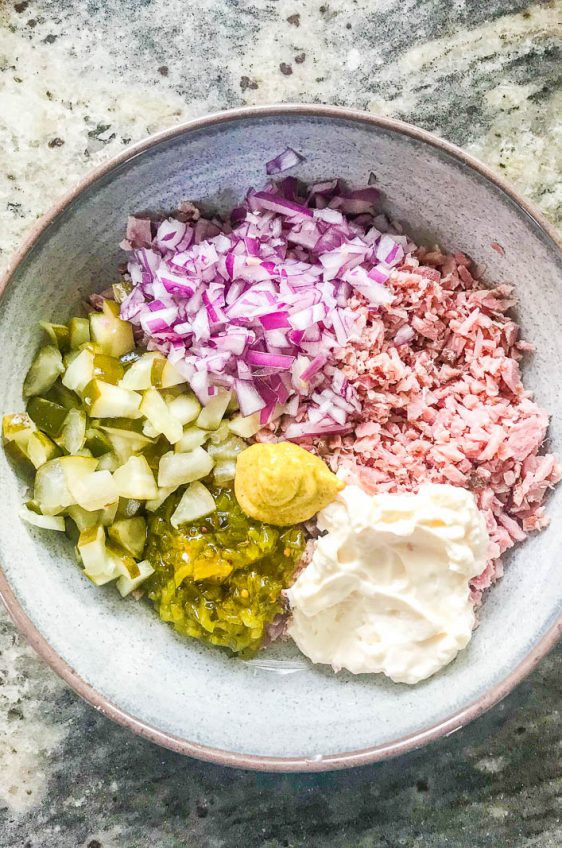 Ham Salad
Ham salad is one of the BEST ways to use leftover ham. Less than 10 ingredients and 10 minutes and you can be snacking on this delectable classic.
I don't know about you but when it comes to holiday ham, we always have leftovers. So many leftovers that I don't know what to do with them. We eat a lot of ham sandwiches, ham with breakfast and fried rice.
Now, I have another leftover ham recipe to add to the list: Ham Salad.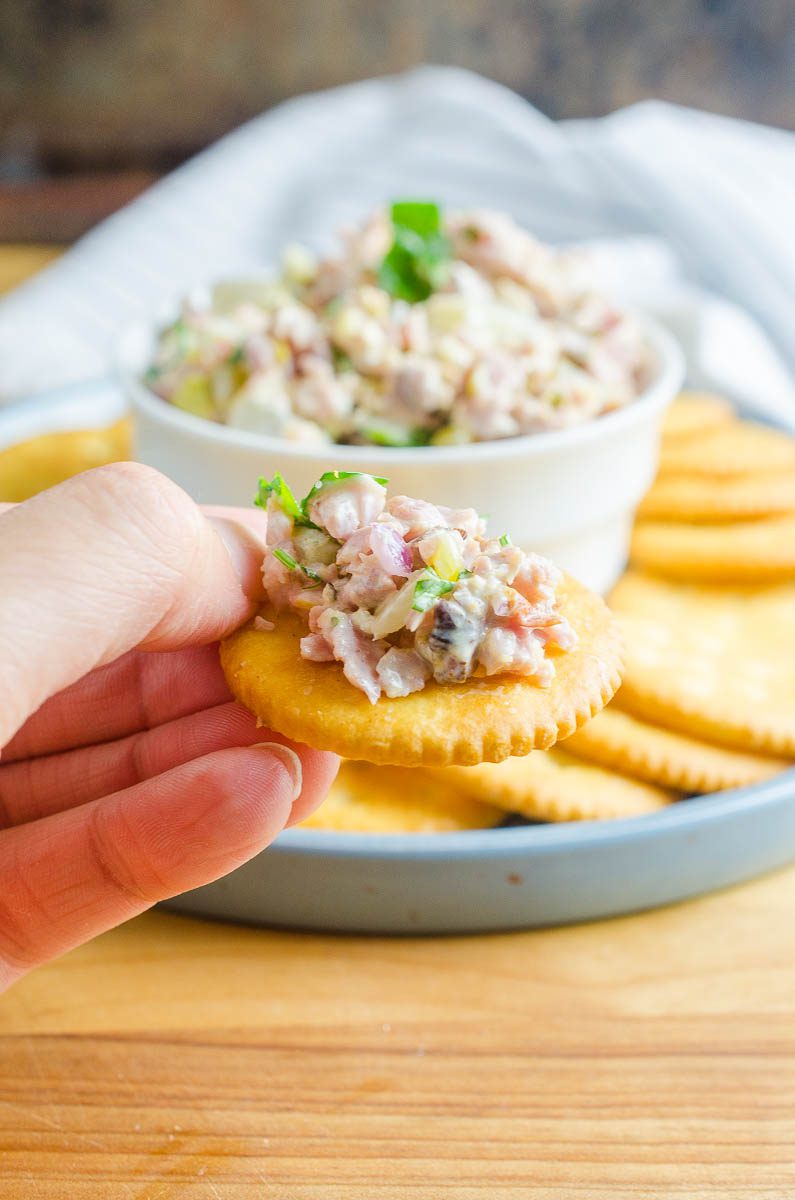 What is ham salad made of?
Traditionally ham salad is made with leftover ham, mayonnaise and pickles or relish. Sometimes other mix-ins like celery, hard-boiled eggs, onions, cheese and mustard are added.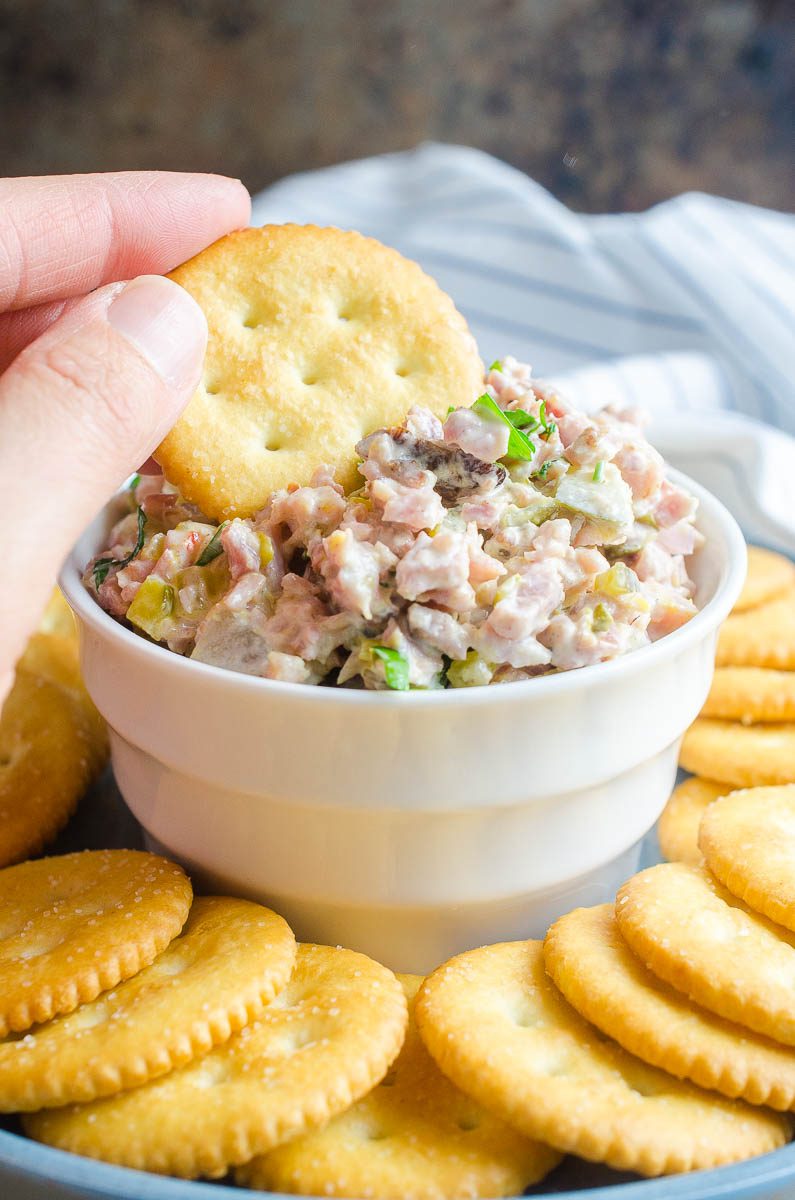 For this recipe, I combine ham, dill pickles, sweet relish, mayonnaise, parsley and spicy brown mustard.
How to make ham salad:
Step  1: The first step to making a good ham salad, is to make sure the ham is diced really small. You can do this with a knife, or do a couple pulses in the food processor. Just make sure that the ham is finely diced, not a paste.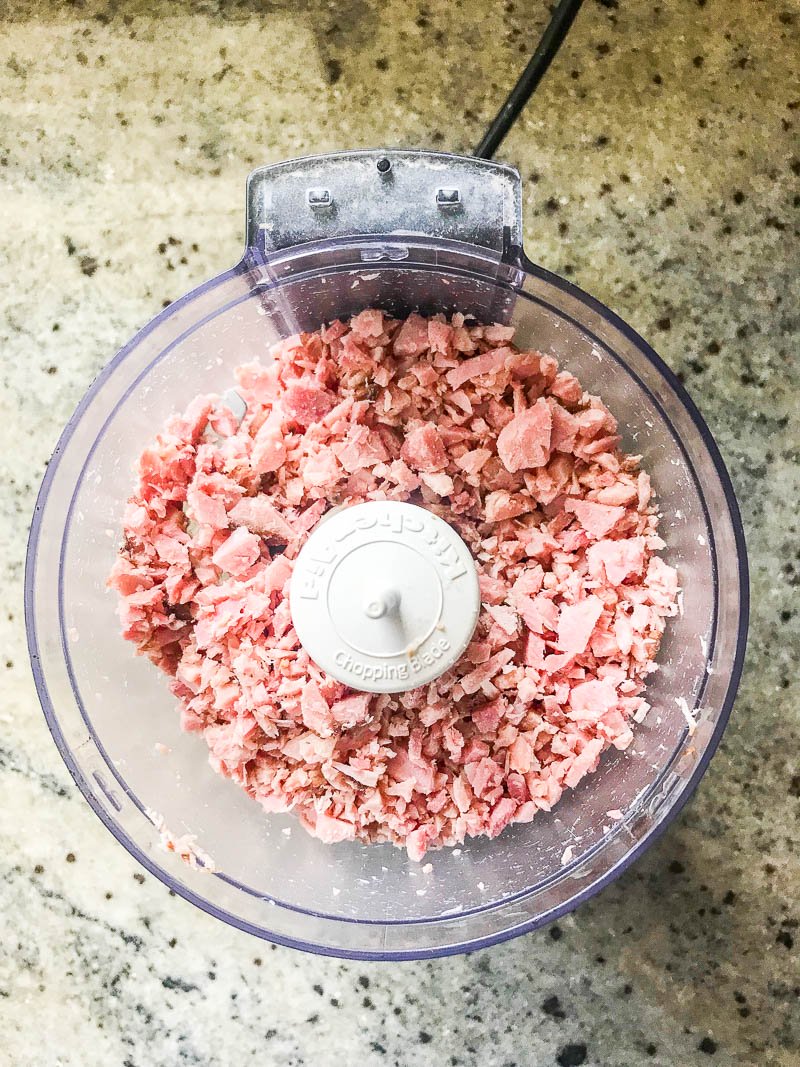 Step 2: Combine all ingredients together in a bowl and mix until everything is combined.
Step 3: Serve immediately or chill for later use. It is really best when served cold so I like to chill it for 10 – 15 minutes before serving.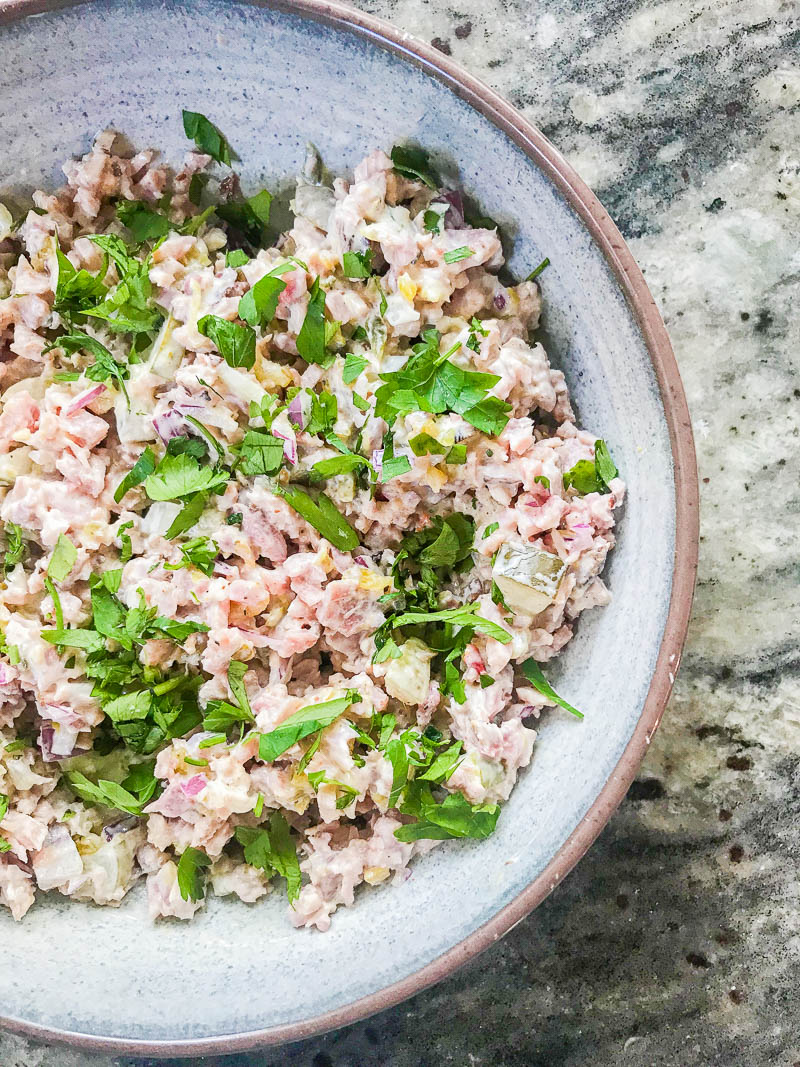 You can serve this ham salad with buttery crackers or make a ham salad sandwich. My family loved it both ways.
If you're looking for a low carb way to enjoy this, chop up some butter lettuce and add a scoop of ham salad to the top. Or you can make a lettuce wrap!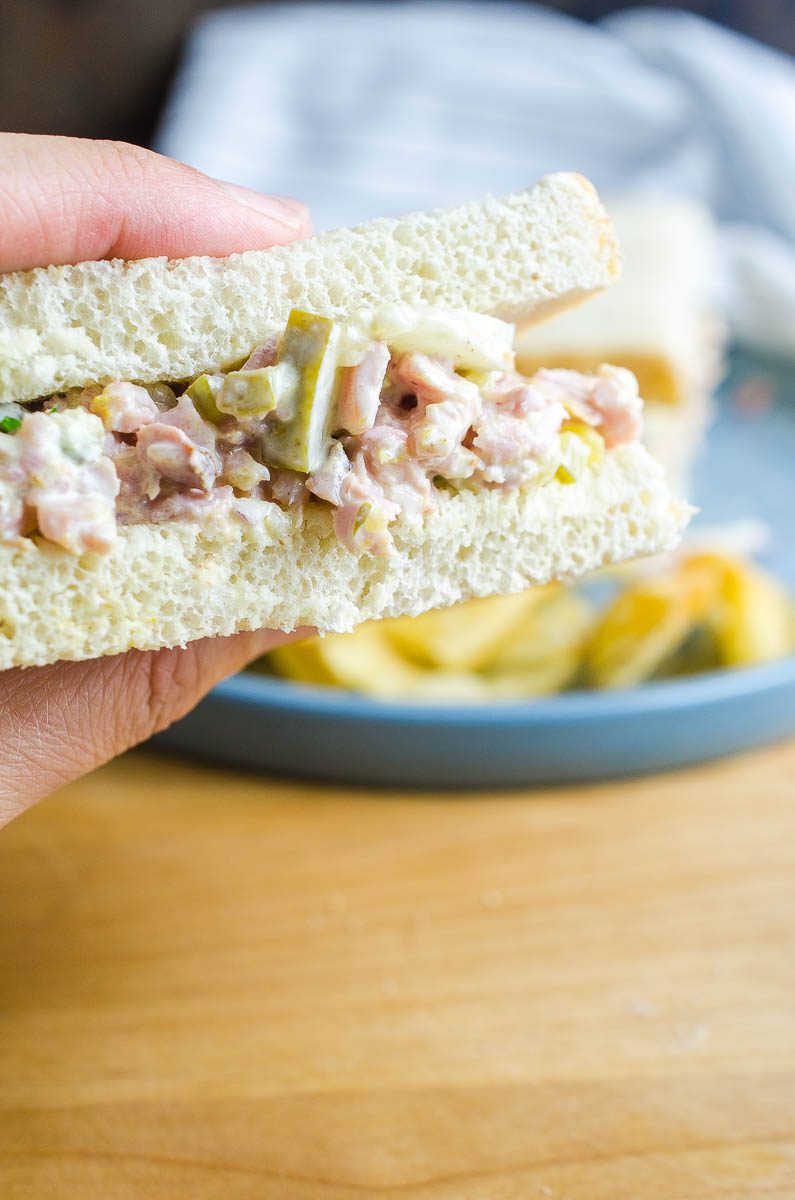 How long does ham salad last?
Leftovers will last 3 – 5 days in the refrigerator.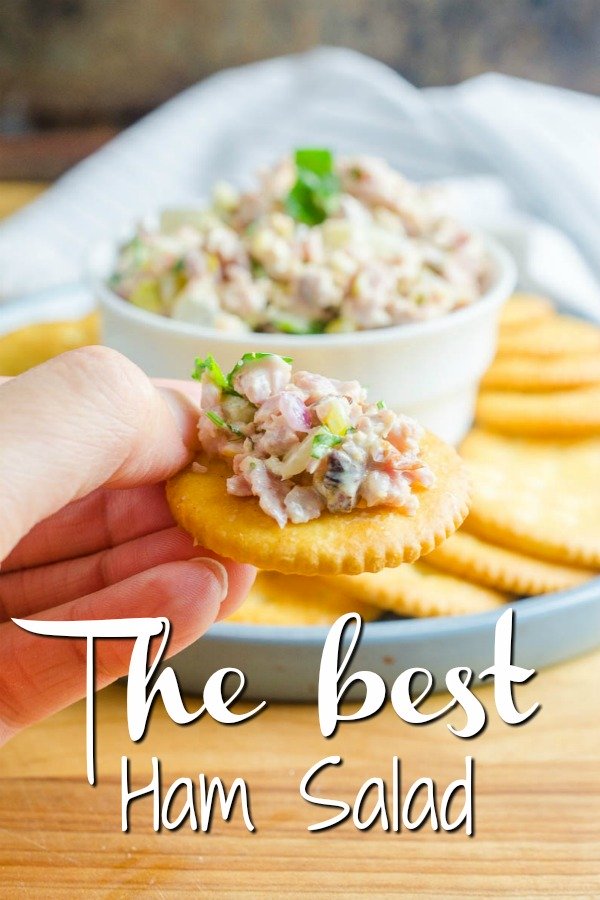 Other uses for leftover ham:
Ham and Cheese Croissant Egg Bake 
Ham and Beans in the Instant Pot 
Dill Pickle Pasta Salad with Ham
Ham and Swiss Breakfast Sliders
Ham Salad Recipe
Ingredients:
2 cups finely chopped ham
1/2 cup chopped dill pickles
1/4 cup mayonnaise
2 tablespoons sweet relish
1 teaspoon spicy brown mustard
pepper
Instructions
1
Combine all ingredients together in a bowl. Season to taste with pepper.

2
Serve immediately or chill.

3
Store leftovers in the refrigerator for up to 3 days.
Notes
Nutrition facts not guaranteed.
Nutrition information
Calories: 179 , Total Fat: 10.8g , Saturated Fat: 2.7g , Cholesterol: 42mg , Sodium: 1310mg , Carbohydrates: 9.2g , Fiber: 1.2g , Sugar: 3.3g , Protein: 11.4g