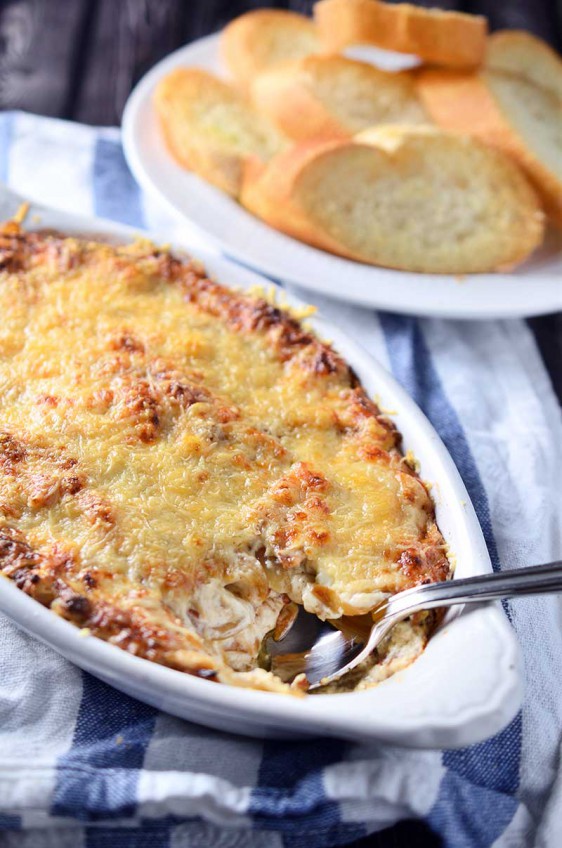 Hot Caramelized Sweet Onion & Bacon Dip
For years and years this Caramelized French Onion Dip was my favorite dip. It was my dip of choice for every party. Super Bowl, holiday party, BBQ, you name it, that dip was there. For about 5 minutes anyway, until it was all gobbled up. With it being such a family favorite, why I never thought to make a hot version and add some bacon to it before now is beyond me. But I will tell you one thing, I am sure glad I did.
Now I am not saying that the original is not as good as this hot version. Because I can still chow down on a bowl with a bag of Kettle Chips at my side. But I mean…
this dip has bacon.
And it's hot and bubbly and melty. And it has a crispy Parmesan crust. And you spoon it onto garlicky toasted baguette slices.
And.
And.
And it's freaking Iwanttoeattheentirebowlbymyselfinacornerandnotsharewithaynone delicious.
So whether you are in it for the Hawks, the Patriots, the commercials or Katy Perry, you should so totally have it in front of you on Super Bowl sunday. Trust me.
Hot Caramelized Sweet Onion & Bacon Dip Recipe
Ingredients:
8 slices bacon
1 sweet onion, sliced
8 ounces cream cheese, softened
1/4 cup mayonnaise
1 teaspoon Worcestershire sauce
1/2 teaspoon garlic powder
1/2 cup freshly grated Parmesan cheese
1 baguette sliced
1 garlic clove, peeled
Instructions
1
Cook bacon in a skillet over medium heat. Remove bacon to a paper towel lined plate to cool. Once cool, dice.

2
Reserve 1 tablespoon pan drippings. Cook onion in pan drippings over medium-low heat until brown and caramelized. About 20 minutes.

3
Preheat oven to 425 degrees.

4
Combine cream cheese, mayonnaise, Worcestershire, garlic, bacon and onions together in a bowl. Mix well.

5
Spoon dip into an ovenproof dish. Top with Parmesan cheese. Bake in preheated oven for 10 - 15 minutes or until edges are bubbly. Turn on the broiler and broil for about 2 minutes or until cheese is browned.

6
Place baguette slices on a baking sheet and place under the broiler for 1 - 2 minutes or until golden brown. Rub with garlic clove.

7
Serve hot dip with toasted baguette slices.