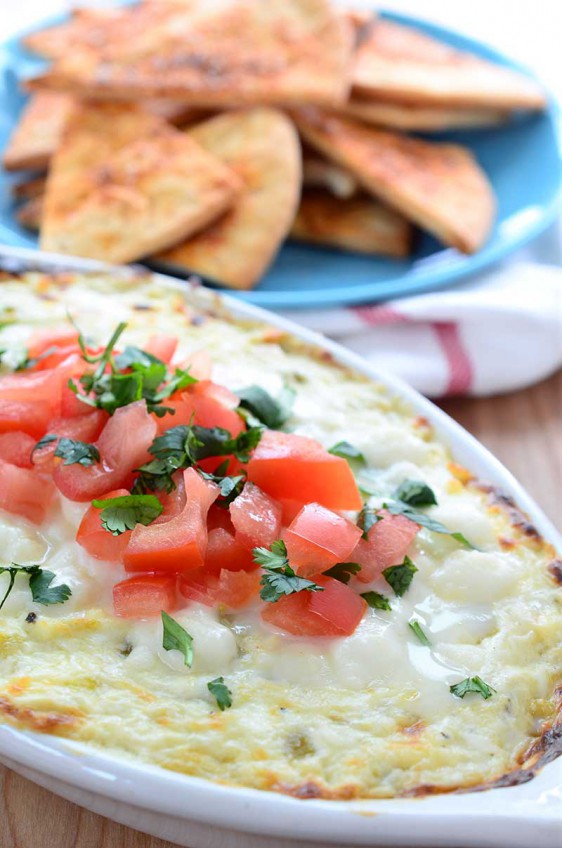 Hot Green Chile Cheese Dip
Hot green chile cheese dip is a hearty, spicy, warm dip, packed with chiles and three kinds of cheese. It's easy to make and the best Cinco de Mayo dip recipe I've had!
I know Cinco de Mayo is tomorrow, but I am hoping that you still have room on your menu for one more. This Hot Green Chile Cheese Dip is loaded with three kinds of cheese, green chiles and sour cream. Then all of that cheesy goodness is baked until bubbly and topped with fresh tomatoes and cilantro. I also made some chipotle pita chips for dipping, because you've got to have hearty chips for such a hearty dip.
If you follow along on Instagram then you know that I was in Vegas last week. I was there attending a retreat with several other food bloggers. It was an amazing time. We learned from each other. We laughed with each other. We enjoyed cocktails and so. much. food.
And you'd think that with eating so much food (including something called gooey fries that you can watch for in the coming weeks), I'd be all for a complete detox when I got home. But you'd be wrong. I made this Hot Green Chile Cheese Dip once before I left, but I wasn't too happy with it. After a weekend away from the kitchen I decided to give it ago one more time.
And I am SO glad I did.
The first time I made this Hot Green Chile Cheese Dip, I used mayo, jack cheese and a little less cream cheese. It was OK but I thought it could be even creamier. So I gave it another try. The second time I upped the amount of cream cheese, used sour cream instead of mayonnaise and pepper jack instead of jack to give it a little kick. Finally after I baked the dip, I topped it with some queso fresco and put it under the broiler until it was golden and bubbly before topping it with fresh tomatoes and cilantro.
It is pure heaven.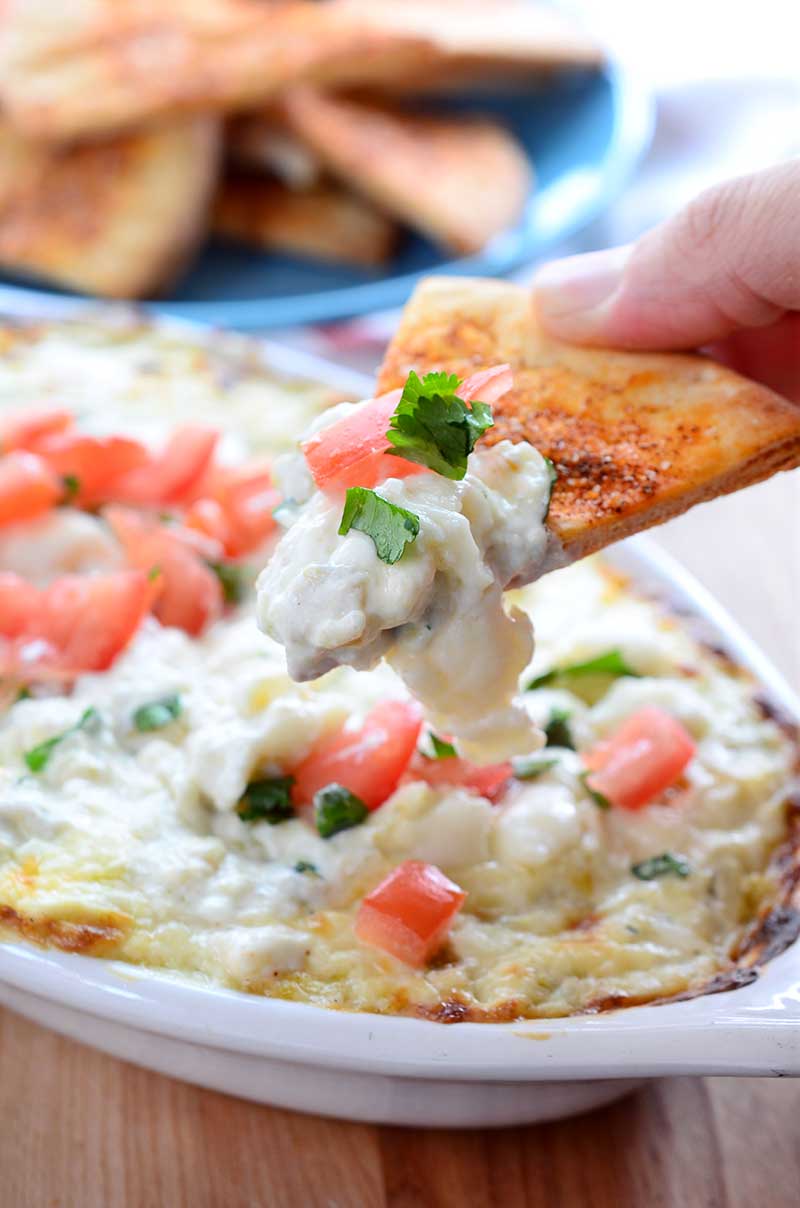 And what should you dip in this vat of pure cheese heaven? Chipotle pita chips of course. They are super easy to make, just brush some pita with avocado oil, sprinkle with chipotle powder and salt and then bake until crispy and voila! The perfect hearty chip for this super cheesy, super creamy Hot Green Chile Cheese Dip.
More great Cinco de Mayo recipes:
Green Chile Chicken Enchiladas

Hot Green Chile Cheese Dip Recipe
Hot Green Chile Dip
8 ounces cream cheese, softened
1/4 cup sour cream
2 cups freshly shredded pepper jack cheese
1 (4 ounce) can diced green chiles, lightly drained
1/2 cup crumbled queso fresco cheese
1 tomato, seeded and diced
chopped fresh cilantro
Chipotle Pita Chips
4 pitas

1 tablespoon avocado oil

1 teaspoon salt

1/2 teaspoon chipotle powder
Instructions
1
Preheat oven to 400 degrees.

2
Brush the pitas with avocado oil. Sprinkle with salt and chipotle powder. Cut each pita into 8 chips. Place on baking sheet and bake in preheated oven for 10 minutes or until browned and crispy. Remove from oven, set aside until ready to use.

3
Combine cream cheese, sour cream, pepper jack and green chiles together in a bowl. Mix well. Transfer to a small to medium sized baking dish. Bake in preheated oven for 15 - 20 minutes or until the edges start to brown and are bubbly.

4
Remove dip from oven. Sprinkle queso fresco over the top. Place dip under broiler and broil for 1 - 2 minutes or until the top starts to brown. Remove from oven, top with tomatoes and cilantro. Serve immediately.
Notes
Note: I drained just a little bit of the juice from the green chiles. You don't have to, but I find it makes for a little creamier dip. Enjoy!