Everyone's favorite party dip turned into a taco! These 7 Layer Baked Chorizo Tacos will be a hit with the whole family!  
One of my favorite dips, ever, is 7 Layer Dip. I love each and every layer. It is the dip that I always reach for at parties. I even made a 7 Layer Dip Macaroni Salad last year because I love it so much. And now, I am back with these 7 Layer Baked Chorizo Tacos.
7 Layer Baked Chorizo Tacos take all of my favorites of traditional 7 layer dip but add a spicy chorizo twist.
My family has been celebrating "Taco Tuesday" every week for about a year now. We have shrimp tacos, fish tacos and steak tacos but our go to is often chorizo. I love it because it's a change from traditional taco meat. Chorizo also has a little kick, but not too little that the kiddos don't love it.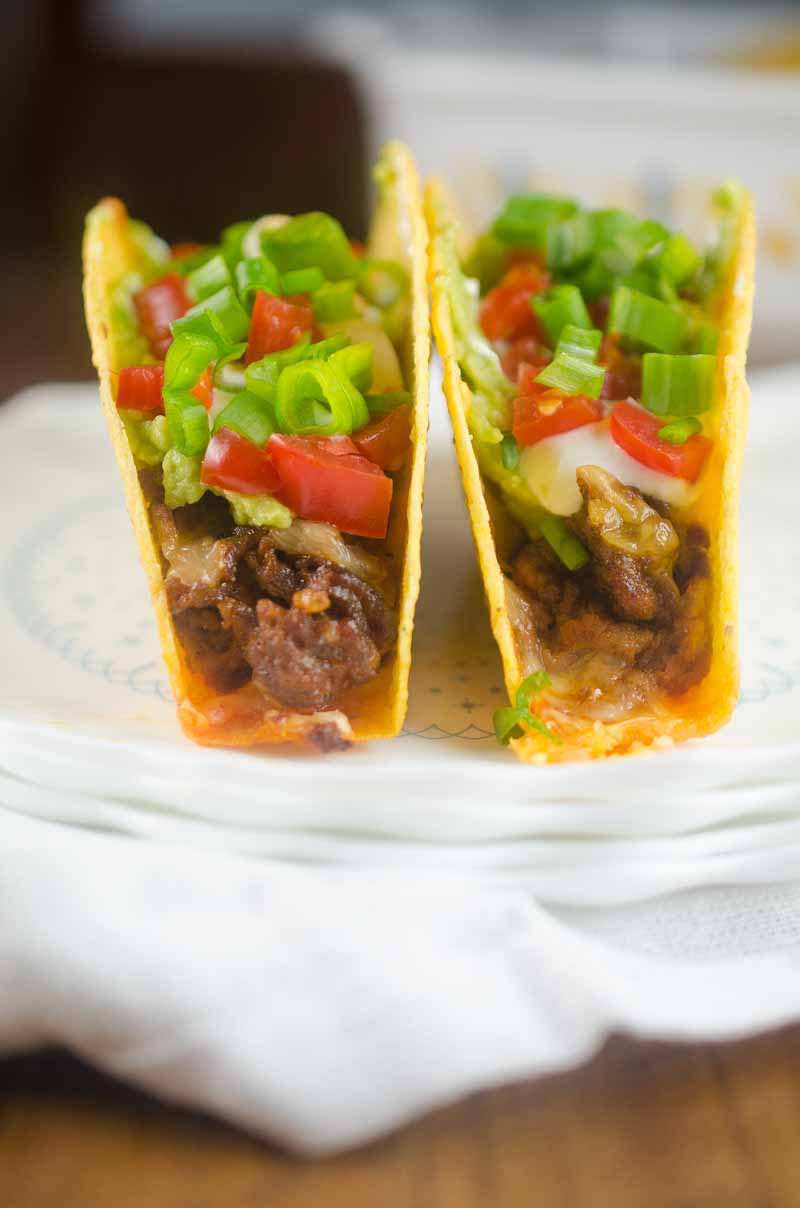 7 Layer Baked Chorizo Tacos are loaded with all kinds of goodies. First, like the dip, there is a layer of refried beans. Next comes a layer of chorizo. Third is a blend of pepper jack and cheddar cheeses. At this point, before you add the remaining layers of deliciousness, you bake the tacos. Baking the tacos gives you a layer of melted cheesy goodness. And who doesn't like melted cheesy goodness? Anyone? Anyone?
Bueller?
After the tacos are baked, layer 4 is guacamole. Layer 5 is sour cream. Layer 6 is fresh diced tomatoes and finally layer 7 is green onions. Basically, these 7 Layer Baked Chorizo Tacos are packed with all kinds of goodness.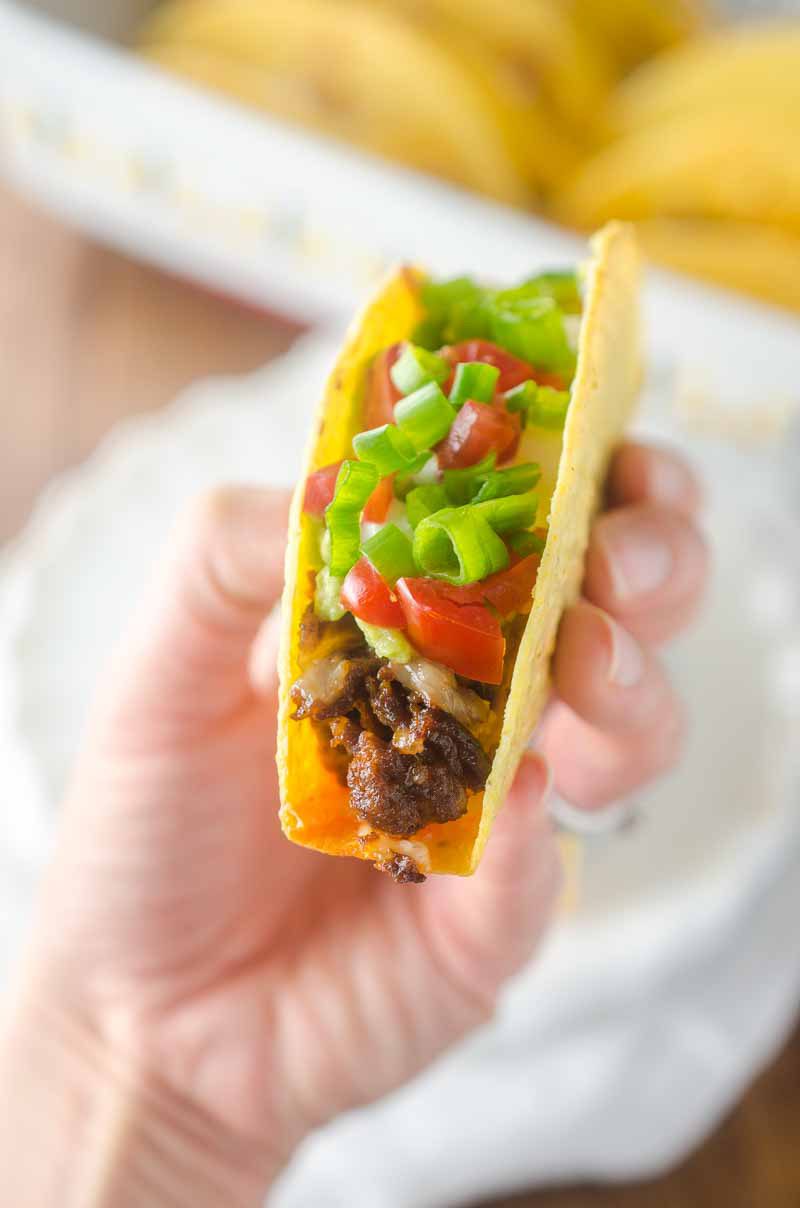 Because these tacos are loaded, you're going to need a heavy duty, big taco shell. I recommend the stand and stuff taco shells. They are very easy to fill because they aren't falling over. They can also hold a lot of ingredients. 7 layers of ingredients to be exact.
Of course you can always add different layers of stuff in these tacos, but as is, these 7 layer baked chorizo tacos are sure to be a hit with the whole family.

Ingredients:
1 pound ground chorzio
8 - 10 Stand and Fill Taco Shells
1 (16 oz) can refried beans
1 cup shredded pepper jack cheese
1 cup shredded cheddar cheese
1 cup guacamole
3/4 cup sour cream
1/2 cup diced tomatoes
3 green onions, diced
Instructions
2
Cook chorizo in a skillet over medium heat until browned and cooked through.

3
Place 8 - 10 Stand and Fill Taco Shells in a baking dish.

4
To make a taco spread a layer of refried beans. Top with chorizo and cheese. Repeat with remaining beans, chorizo and cheese. Bake in preheated oven for 15 minutes.

5
Top each taco with a layer of guacamole, sour cream, diced tomatoes and green onions. Serve immediately.