Shrimp tacos with cilantro lime sour cream are THE BEST taco recipe for summer gatherings. They are quick and easy to make, and your whole family will love them! 
Check out this quick video tutorial to see just how easy these shrimp tacos are to make!
You guys, I am so anxious for warm summer weather. We have had a pretty dark and rainy fall/winter/spring. I think the weather man said that we've had around 10 days with sun since OCTOBER. Brutal right?
While we wait for the Seattle weather gods to grace us with sunshine, I like to pretend it's summer. I close the blinds turn up the heat, blast my "Browned Eyed Girl" Pandora station and dance around my kitchen while making these Shrimp Tacos with Cilantro Lime Sour Cream.
Who doesn't love tacos? To me they just scream summer time. Perhaps it is all of the bright flavors or the fact that they go so well with a cold bottle of beer. Either way, these shrimp tacos are definitely the perfect summer time supper. They are quick, easy and light. They also showcase some of my favorite flavors: cumin, chili powder, cilantro and lime.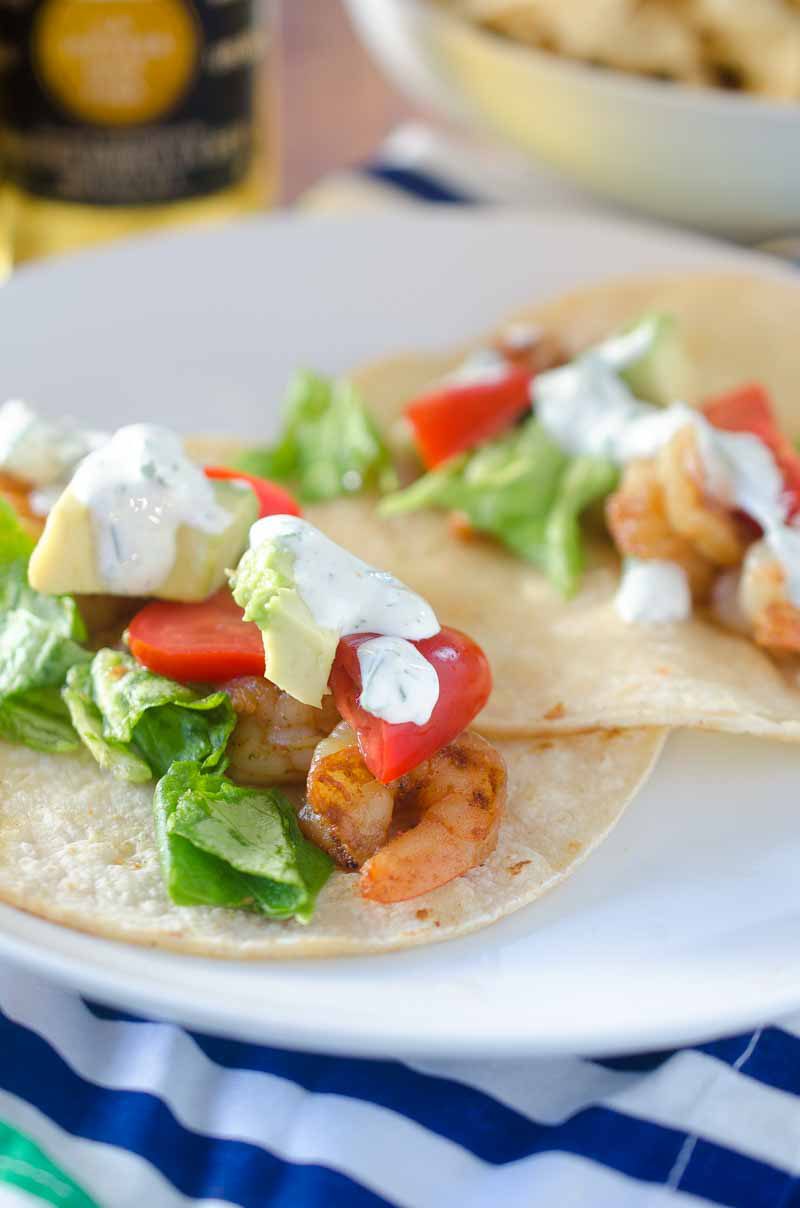 The combination of spices in this seafood tacos recipe can make the shrimp a little spicy. Have no fear though; the coolness of the cilantro-lime sour cream balances out the flavor nicely. If you do want to tone it down a little bit, you can cut the amount of chili powder in half and omit the cayenne pepper.
When it comes to other toppings for the shrimp tacos, I try to keep it minimal. I want to keep the shrimp and cilantro-lime sour cream the stars.
To do that, I forgo a ton of toppings and instead,top these shrimp tacos with lettuce, diced tomatoes and diced avocado. It really helps make these tacos the perfect summer time meal.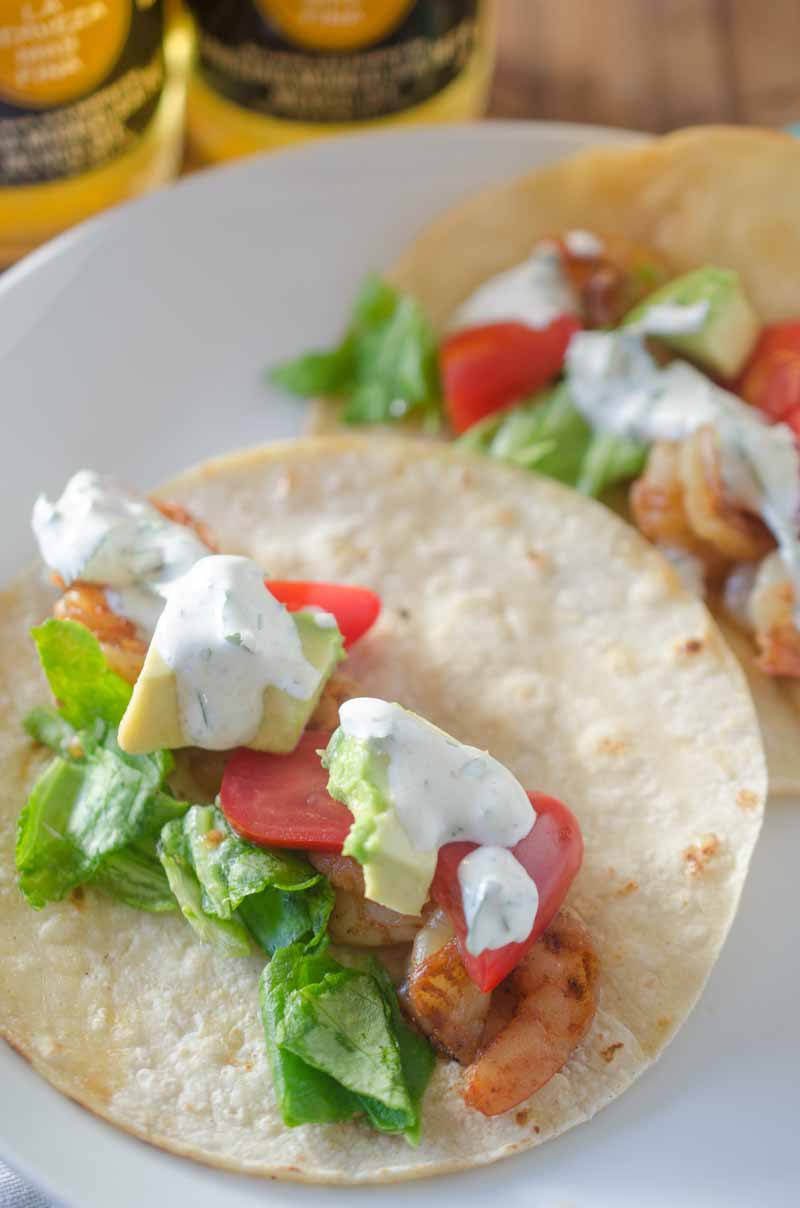 I have been making this easy shrimp tacos recipe for years, and the tacos are a hit with the whole family each and every time.
All you need to round out the meal are some chips, guacamole, and an ice cold beer. If you're feeling spunky, make some slow cooker refried beans, too.

Ingredients:
1 pound medium prawns, peeled and deveined
1 clove garlic, minced
1/2 teaspoon ground cumin
1/2 teaspoon chili powder
1/4 teaspoon kosher salt
1/4 teaspoon cayenne pepper (optional)
1 tablespoon olive oil
4 corn tortillas
oil for frying
shredded lettuce
diced tomatoes
sliced avocado
cilantro lime sour cream (recipe follows)
For the Cilantro-Lime Sour Cream:
1/4 cup sour cream

2 tablespoons chopped fresh cilantro

1/4 teaspoon cumin

juice and zest from one lime

salt to taste
Instructions
1
In a bowl whisk together olive oil, garlic, cumin, salt and cayenne pepper (if using). Add in shrimp and toss to coat completely. Cover and refrigerate for 20 minutes to give the flavors a chance to marry.

2
Cook shrimp in a skillet on medium heat until pink and cooked through, about 5 minutes. Turn off heat and cover to keep warm.

3
Use enough oil to lightly coat the bottom of a small pan, about 2 tablespoons. Heat over medium-high heat. Cook tortillas one at a time until soft, about 30 seconds on each side. Fold over to make a taco shell. As you cook each tortilla, place them on paper towels to absorb any of the oil left over.

4
Stir all ingredients for the Cilantro-Lime Sour Cream together in a bowl.

5
Spoon 5 shrimp into each taco shell. Top with lettuce, tomato, avocado and cilantro-lime sour cream.

Notes
I served these with black beans and chips and habanero salsa. It was the perfect meal to enjoy on our patio while sipping on ice cold coronas and watching the sun go down.

Enjoy!