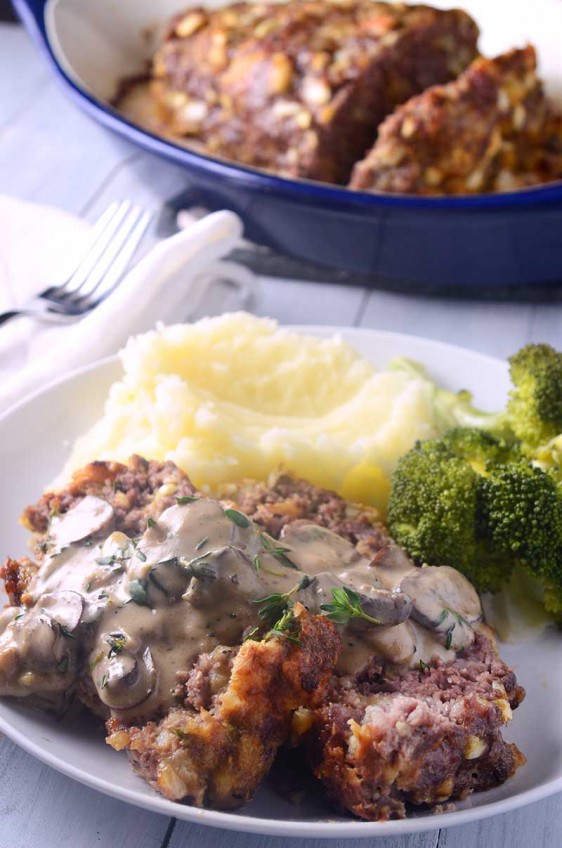 Meatloaf with Mushroom Gravy
If you're a comfort food lover. If you love to sit down to a plate of food that you know just might make you go into a smiling food coma after, then I have the recipe for you today. Meatloaf with Mushroom Cream Sauce. I'm telling you, it doesn't get any more comforting than that.
Fall is such a busy time for us. Ryan and I celebrate our anniversary, then a couple weeks later it's my birthday. Then a few weeks after that is Kellan's birthday, then a few DAYS after that is Ryan's birthday. Which brings me to today. It's Ryan's birthday. And just like every birthday, he gets to pick his birthday dinner. He can pick anything he wants. What did he chose this year?
Meatloaf, of course. It is probably, aside from turkey sandwiches, one of his favorite things to eat.
I can't really blame him. I know meatloaf gets a bad wrap. I mean really. Couldn't it have a better name? Meat. Loaf. I get it, it doesn't sound all that exciting.
But guys, there are all kinds of delicious ways to make meatloaf. And as a mom of two boys and wife to a husband who can't get enough of the stuff, I've kind of perfected it over the years. I've made it with Roasted Garlic and Rosemary, Chorizo with Chipotle Queso Sauce, smothered in Sriracha BBQ Sauce and now this Meatloaf with Mushroom Gravy.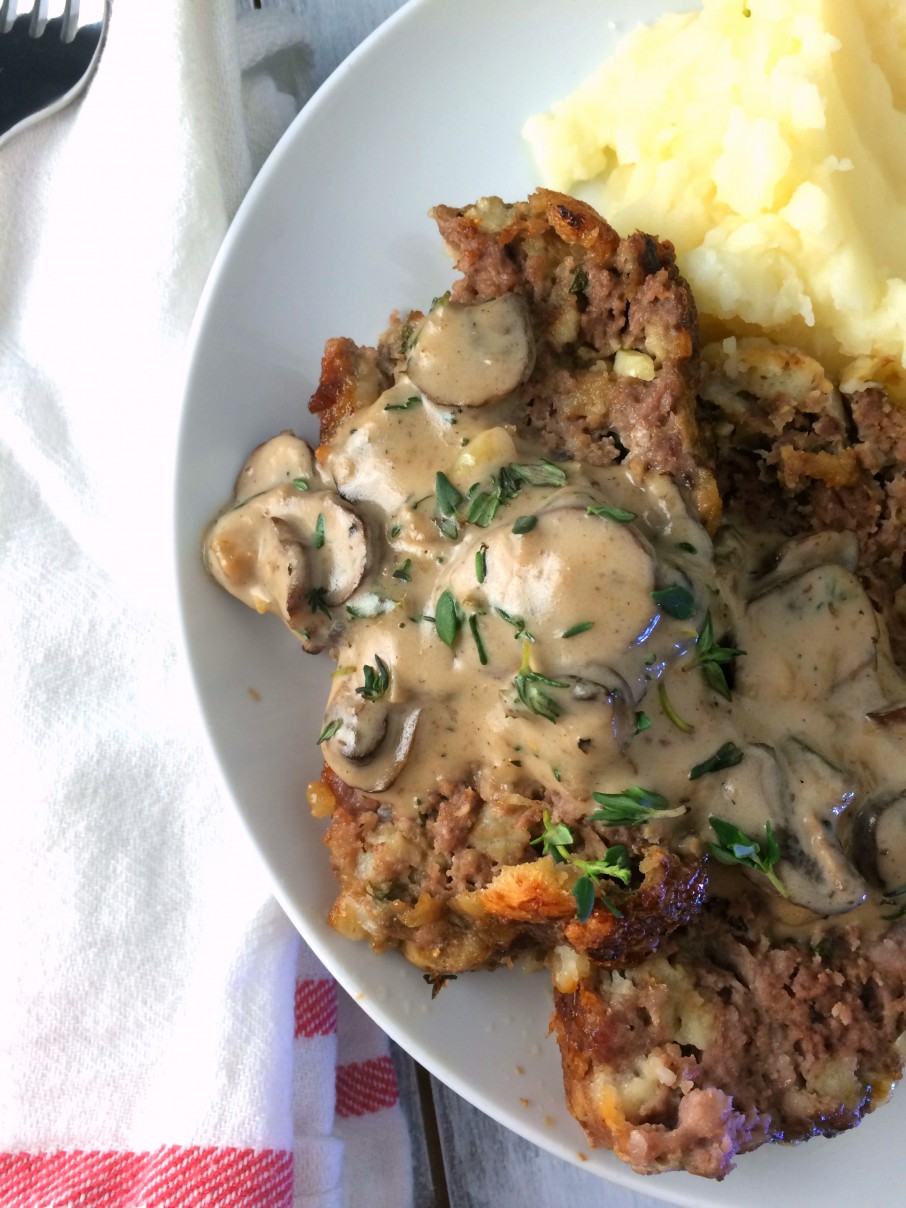 The meatloaf itself is tender with two kinds of meat, garlic, onions and worcestershire. Now I know that meatloaf is traditionally topped with ketchup and my little guys might prefer it that way, but seriously, I'm a gravy kinda girl. Because…gravy. And if that gravy is creamy and loaded with mushrooms then I'm pretty much in love.
One batch of this Meatloaf with Mushroom Gravy and I think you'll be singing the same tune.
And of course, you'll need to make some creamy mashed potatoes to serve along side.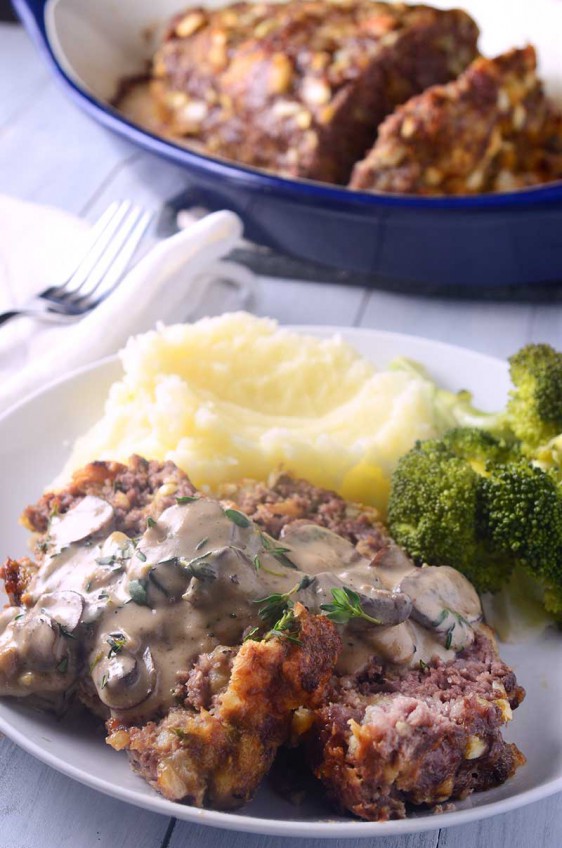 Meatloaf with Mushroom Gravy
A true comfort food tender meatloaf smothered in creamy mushroom gravy.
Meatloaf Ingredients:
3

slices

french bread

1/2

cup

milk

1

pound

ground beef

1

pound

ground pork

1/2

medium yellow onion

minced

6

cloves

garlic

minced

1

tablespoon

worcestershire

3/4

teaspoon

salt

1/2

teaspoon

pepper

2

eggs
Creamy Mushroom Gravy Ingredients:
2

tablespoons

meatloaf pan drippings

3

cups

sliced crimini mushrooms

1

garlic clove

minced

2

tablespoons

all purpose flour

1 1/2

cups

beef broth

1/2

cup

heavy cream

1

tablespoon

fresh thyme

1 1/2

teaspoon

worcestershire

salt and pepper
Preheat oven to 350 degrees.

Dip the french bread into the milk. Squeeze to release excess and then tear into pieces.

Place bread pieces, and remaining meatloaf ingredients together in a bowl. Mix well. Place in a baking pan and form into a loaf. Bake in preheated oven for 60 - 75 minutes or until a thermometer inserted reaches 165 degrees. Remove from oven. Reserve two tablespoons pan drippings.

Turn oven to warm setting and return meatloaf to oven to keep warm while making the gravy.

Place 2 tablespoons meatloaf pan drippings in a saucepan. Heat over medium heat. Add in crimini mushrooms and cook just until they start to brown and release their liquid. Add in garlic, cook just until garlic is fragrant, about 30 seconds. Sprinkle flour over the top and cook for 1 minute. Whisk in beef broth, heavy cream, thyme and worcestershire. Simmer just until thickened, about 5 minutes. Season to taste with salt and pepper.

Remove meatloaf from oven, slice, spoon sauce over the top and serve.
Keywords:
comfort food, gravy, meatloaf