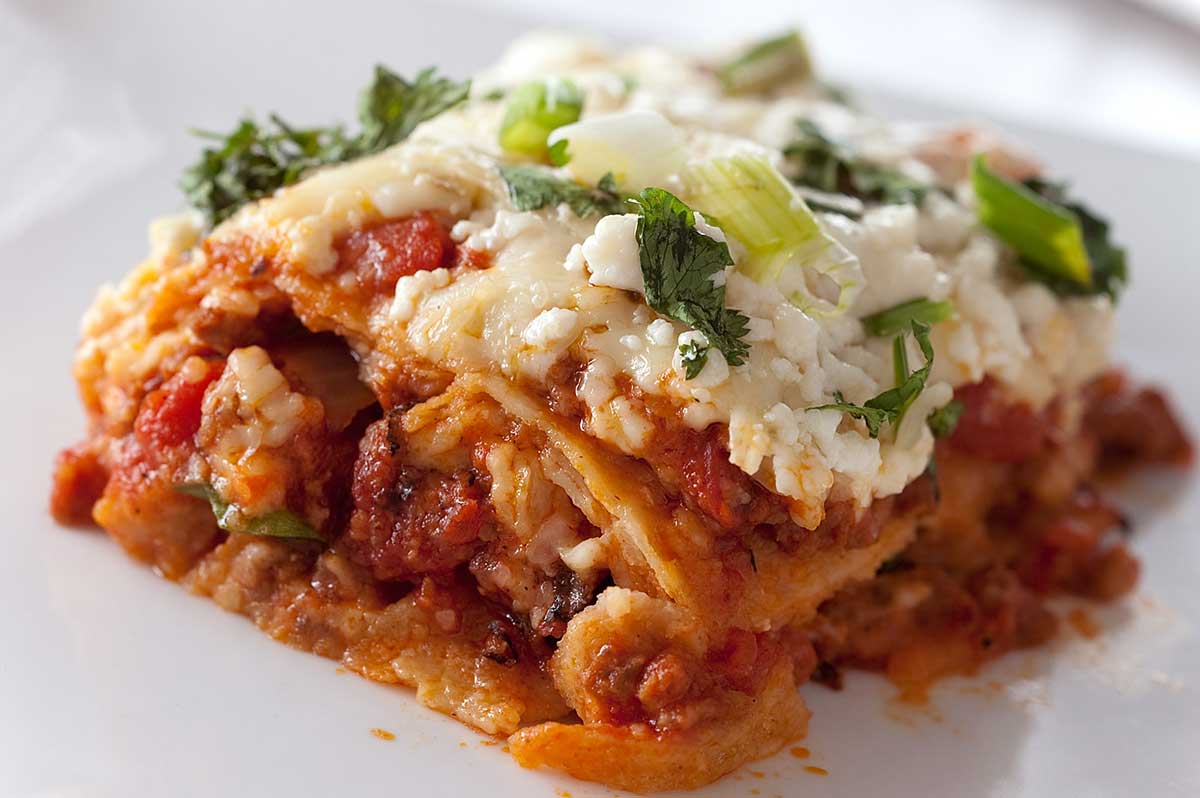 Mexican Lasagna
A couple of weeks ago I had the pleasure to meet cookbook author Pam Anderson and her daughter Maggy. Pam talked about her newest book and her career. It was inspiring to listen to her talk about taking a job at Cook's Illustrated with a salary of about 14k a year and working hard to get where she is today. Equally interesting was my chat with her during which she suggested that on Fridays I post a recipe that would be make a great Sunday dinner. I must say that I rather liked that idea. I liked it because I think its very easy for dinners to become a quick meal in between TV commercial breaks. But I think it's important to take at least one day a week to gather around the table to enjoy eachothers company and delicious, comforting meal.  And when I say delicious and comforting, I mean something like this super cheesy lasagna with a Mexican twist.
There are a couple things that make this different than your traditional lasagna. First instead of your traditional ground beef and tomato sauce, I kick things up a bit with a chorizo and fire roasted tomato sauce. Instead of mozzarella I use pepper jack and cojita cheese. Then instead of pasta noodles, the layers of meaty cheesy goodness are separated by corn tortillas. Hungry yet?
Mexican Lasagna Recipe
Ingredients:
12 ounces chorizo
1 teaspoon olive oil
1/2 medium onion, diced
1 jalapeno, diced
1 (14.5 ounce) can fire roasted tomatoes
1 (8 ounce) can tomato sauce
1/2 teaspoon kosher salt
1/2 teaspoon cumin
1/2 teaspoon garlic powder
1/4 teaspoon chili powder
1/4 teaspoon cayenne pepper (optional)
6 corn tortillas
8 ounces pepper jack cheese, shredded
1/2 cup crumbled cojita cheese
2 green onions, diced
1 tablespoon chopped fresh cilantro
Instructions
1
Brown chorizo in a pan over medium heat. Transfer to a plate and set aside.

2
In the same pan that you cooked the chorizo in reserve the pan drippings and add olive oil. Cook onions and jalapeno until softened, 3- 4 minutes. Stir in fire roasted tomatoes, tomato sauce, salt, cumin, chili powder and cayenne pepper (if using). Bring to a boil, reduce heat and allow to simmer for 20 minutes or until sauce thickens slightly. Return the chorizo to the sauce.

3
Preheat oven to 350 degrees.

4
Spoon a little bit of the sauce onto the bottom of a 9 x 13 baking dish. Place 3 tortillas lengthwise in the pan to cover most of the bottom of the pan. Spoon half of the sauce over the top. Top with half of the pepper jack cheese. Place remaining three tortillas on top of the cheese. Then the remaining sauce and the remaining pepper jack cheese. Place in the oven and cook for 20 minutes or until edges are bubbly. Remove from oven sprinkle with cojita cheese, green onions and cilantro. Cook for 10 more minutes or until cojita cheese has melted slightly.

5
Remove from oven and allow too cool several minutes. Slice and serve.