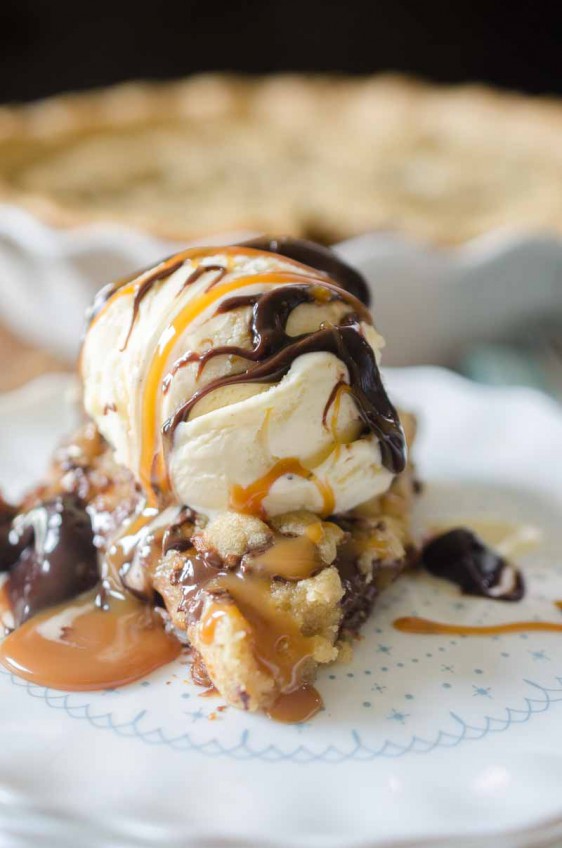 Million Dollar Cookie Pie
Million Dollar Cookie Pie is a decadent dessert with a layer of pie crust, chocolate hazelnut spread, Dulce de Leche and chocolate chip cookie dough.
One of the most fun things about blogging is all of the wonderful friends that I have met along the way. One of those friends is Carrian from Oh Sweet Basil. And Carrian and her husband Cade just released their very own cookbook "Our Sweet Basil Kitchen" I am so excited for them and I am so excited to share this recipe for Million Dollar Cookie Pie that is just one of the delectable recipes from this book.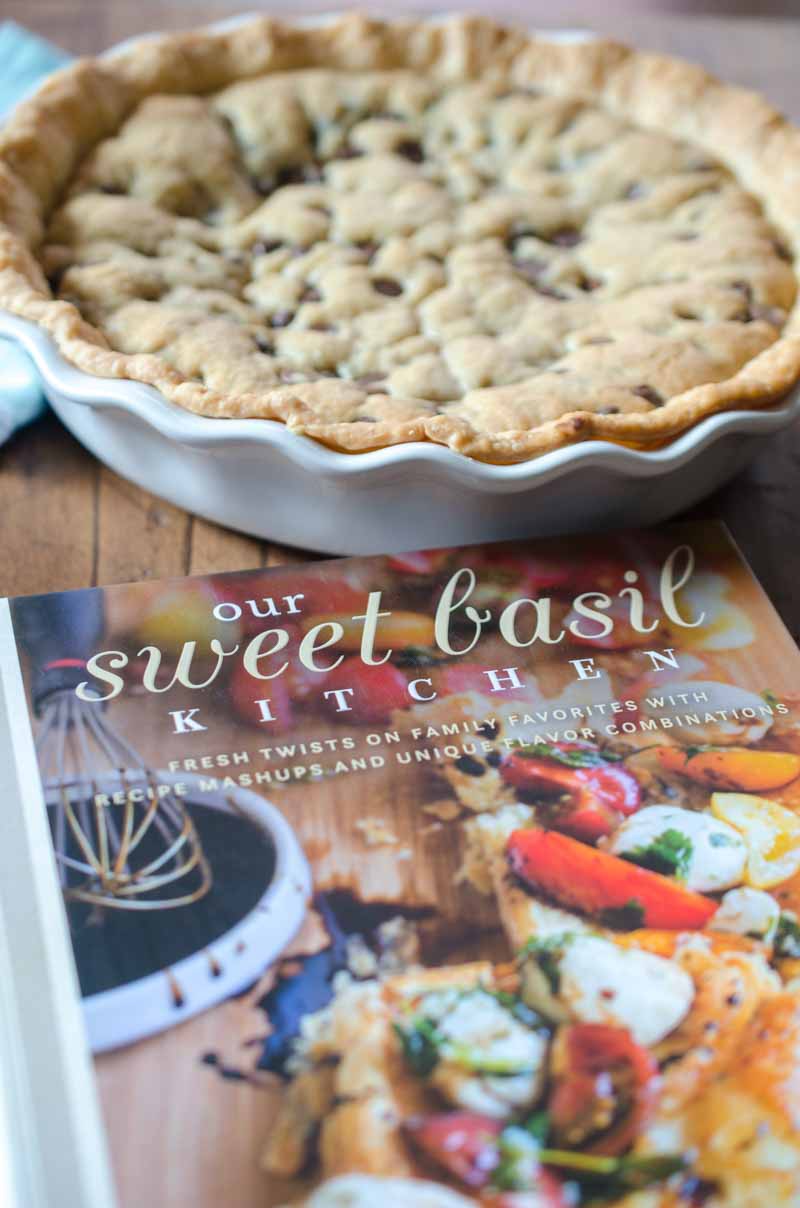 I have been a fan of Carrian's blog for a while now (I was even a contributor!). I always loved Carrian's recipes because she cooks the way that I like to cook. Her recipes are always so down to earth and sure to be family favorites.  And not to mention, her photos are always gorgeous.
The tagline for Cade and Carrian's new book Our Sweet Basil Kitchen is "Fresh Twists on Family Favorites with Recipe Mashups and Unique Flavor Combinations". There are so many delectable recipes in this book, you are bound to find a favorite. From the Buttermilk Pancakes (which we make pretty much every Saturday morning) to Braised Dijon Chicken and Potatoes to this glorious Million Dollar Cookie Pie.
I knew this recipe was going to be a hit with my family as soon as I read the name, I mean cookie AND pie?? Then I read the ingredients list and that cemented the deal. I needed to make this pie. There is pie crust. There is chocolate hazelnut spread. There is Dulce de Leche. There is chocolate chip cookie dough. And THEN. Then after you bake it, while it's still warm, you top it with ice cream, hot fudge sauce and caramel sauce.
Million Dollar Cookie Pie, indeed.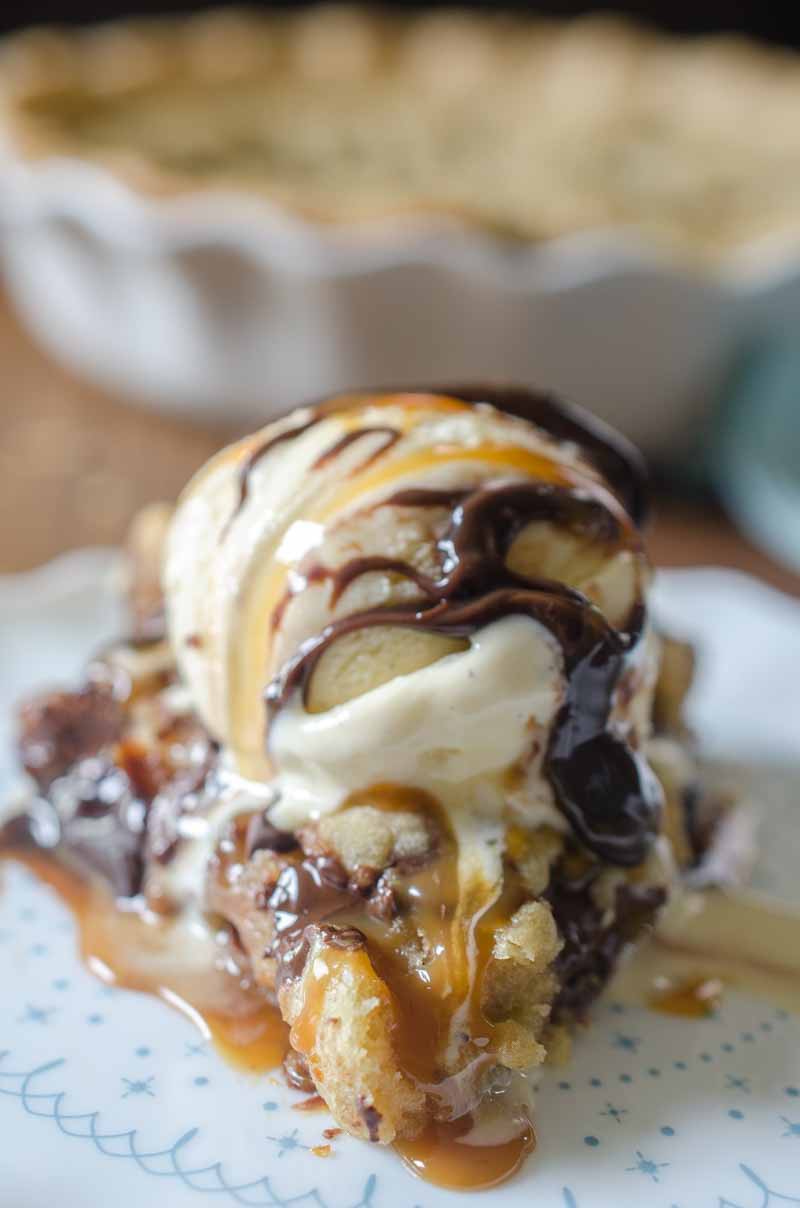 The whole family loved this pie, just like we do all of Carrian's recipes that we try. I can't wait to try more from this book! I am eying the Braised Dijon Chicken next.

Disclosure: I was sent a copy of this cookbook for review. All opinions are my own.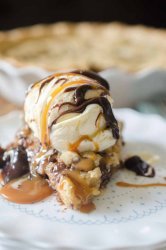 Million Dollar Cookie Pie
Million Dollar Cookie Pie is a decadent dessert with a layer of pie crust, chocolate hazelnut spread, Dulce de Leche and chocolate chip cookie dough.
Ingredients:
1/2

cup

butter

softened

1/2

cup

granulated sugar

1/4

cup

packed light brown sugar

1

large egg

1 1/4

teaspoons

vanilla

1 1/2

cups

all-purpose flour

1/2

teaspoon

salt

1/2

teaspoon

baking soda

1/2

cup

semisweet chocolate chips

1/4

cup

milk chocolate chips

Pastry for a single-crust pie

3/4

cup

chocolate hazelnut spread

3/4

cup

Dulce de Leche

Sea salt flakes

Ice Cream

Hot Fudge Sauce

Caramel Sauce
Place the pie plate you will use for baking on top of a piece of parchment paper and use a pencil to trace the outline of the bottom of the plate. Set parchment paper aside.

In a stand mixer with the paddle attachment in place, cream together the butter and sugars at medium speed for 2 minutes. Add the egg and vanilla and mix an additional minute.

In a separate bowl, whisk together the flour, salt and baking soda. Add to wet ingredients and mix to combine.

Stir in chocolate chips and set aside.

Roll our pastry dough and line your pie plate. Trim and flute edges as desired. Cover with plastic wrap and refrigerate.

Take the parchment paper on which you traced an outline of the pie plate and place it, traced-side town, on the counter. You will be able to see the outline through the paper, but the pencil markings will be touching the counter not the topping.

Scoop the hazelnut spread into the center of the parchment circle and spread out evenly to fill in the entire shape. Freeze 10 minutes, remove from freezer, spread Dulce de Leche over the top, and return to the freezer for another 10 minutes.

Preheat oven to 350 degrees F.

Remove frozen hazelnut and Dulce de Leche disc from the freezer and carefully peel it off the parchment paper. Lay the disc in the pie crust. Add the cookie dough and gently press in about halfway up, reserving any remaining dough (if there is any) for cookies.

Bake for 20 to 30 minutes or until the top is golden brown and the center is almost set.

Remove from the oven and sprinkle with sea salt flakes. Allow to cool for about 30 minutes and then slice and serve with ice cream and toppings.
Recipe courtesy of Cade and Carrian Cheney's book Our Sweet Basil Kitchen.
Keywords:
cookbook, cookie, dessert, oh sweet basil, sweet treat