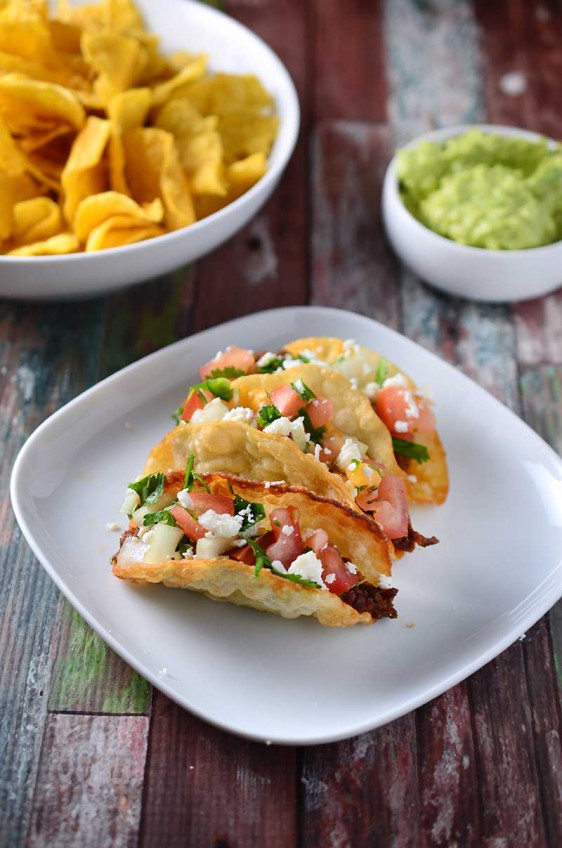 Mini Chorizo Tacos
Less then a week until the big game so I thought it was time to bust out some game day friendly foods for you to enjoy while you watch. Enter: Mini Chorizo Tacos. They are all the goodness of chorizo tacos: chorizo, cotija cheese and pico de gallo stuffed into crispy fried wonton wrappers. They are the perfect two bite appetizer for your game day spread.
It took me a few tries to get these right. The first time I made them I cooked the wonton shells just a little too long. And by a little too long I literally mean seconds. I tried frying them for 20 seconds on each side. They were perfectly golden brown but then when I went to open them to fill them they were too stiff and broke in half.
We had nachos that night.
The next time I tried 15 seconds on each side. Same result.
At least we really like nachos.
Finally, I tried cooking the wonton wrappers for 10 seconds on each side. This left them slightly softer in the center. Then, when I picked them up I folded them so that they were still open, like a filled taco. It worked perfectly. They held just enough of the toppings. And I knew I had a winner.
With that said I'd still allow yourself a few more then the recommended 20 gyoza wrappers just incase the first few don't work out right.
My favorite part about these is that you can make them beforehand, fill them and set them out so you can enjoy the game too! :)
One last thing, I filled these with chorizo and all of our favorite taco toppings but you could easily fill them with whatever your favorite toppings.  Ground beef. Avocado. Shredded Chicken. Pulled Pork. Black beans. Whatever suits your fancy will totally work in these.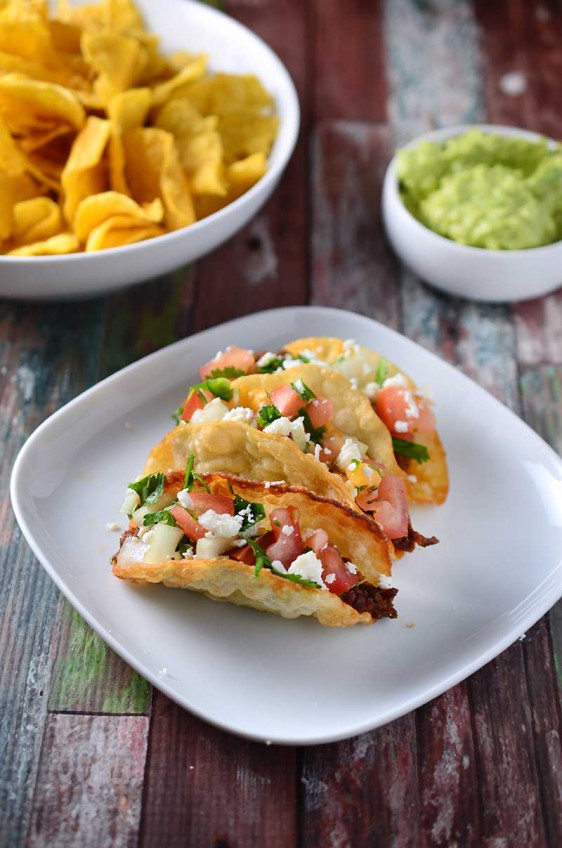 Mini Chorizo Tacos
Crispy fried mini tacos with chorizo, pico de gallo and cotija cheese.
Ingredients:
1

pound

ground chorizo

20

gyoza wrappers

1/4

cup

canola oil for frying

1/2

cup

cotija cheese
Make the pico de gallo first by combining all ingredients together in a bowl. Let sit at room temperature while you prepare the rest.

Cook chorizo in a skillet over medium heat until browned. Remove from heat. Cover to keep warm.

Heat oil in a skillet over medium heat. Cook gyoza one at a time 10 seconds on each side. Use tongs to pick up the wonton and pinch to fold but don't close completely. Transfer to a paper towel lined plate. Sprinkle with salt. Repeat until all wonton skins are fried.

Fill each wonton shell with a heaping of tablespoon chorizo. Top with pico de gallo and cotija cheese.
Keywords:
appetizer, chorizo, super bowl, tacos, wonton