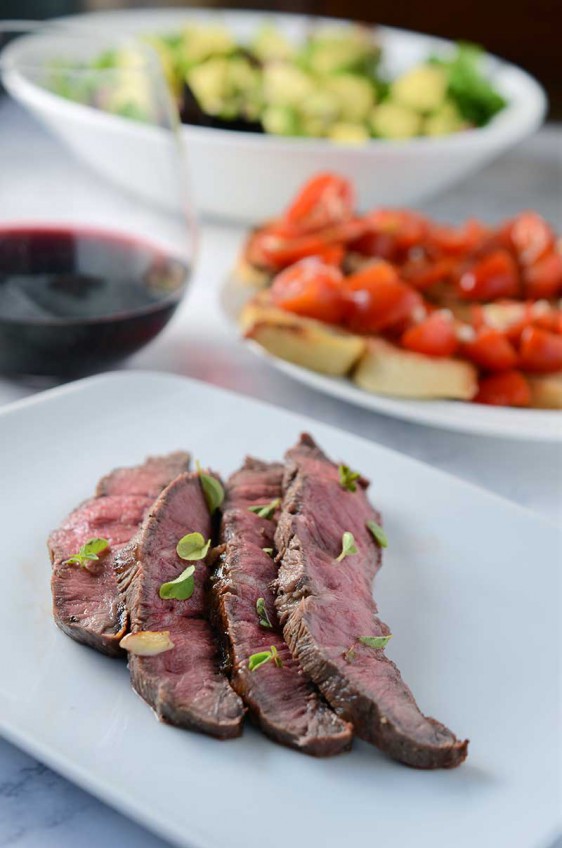 Oregano and Garlic Flat Iron Steak
Flat iron steak (also known as top blade steak) is a reasonably priced cut of beef from the shoulder of a cow. It's a well marbled cut of beef that, when cooked properly, is tender and juicy! For this flat iron steak recipe, the meat is marinated with fresh oregano, olive oil, vinegar and garlic, then grilled to perfection.
Over the last few years, flat iron steak has become one of my favorite cuts of meat. It is relatively inexpensive, you can feed a family with one and the meat itself is so tender. I've cooked flat iron steak several ways like: Broiled with Herb Roasted Mushrooms, Grilled with Tomato Salad and, one of our personal faves, Grilled with Balsamic and Rosemary. And today, I am sharing with you another recipe that uses this favorite cut of mine: Oregano and Garlic Flat Iron Steak.
Yes, this is another grilling recipe. I've been grilling a lot lately… fish, steaks, and garlic grilled chicken. It has been so warm here, it's the only thing that I want to do. I've been trying to put everything I can on the grill, just to avoid warming the house. You see, the problem with it being hot in Seattle, is that it is never really hot in Seattle so no one has air conditioning for when it actually does get hot.
Seriously guys, my house was 85 degrees the other day.
Eighty. Five. Inside.
85 is fine when you are chilling on the beach. 85 is not fine when you are trying to go to sleep.
All this heat also makes me want dinners that are filling and light at the same time. I made this Oregano and Garlic Flat Iron Steak and served it along side a garden salad and this Summer Tomato Bruschetta. It was the perfect summer dinner.
Just a note! This flat iron steak recipe does require a little bit of planning ahead of time, because the steak needs to marinate for at least 3 hours.
You can find more information about flat iron steak (and lots of great recipes, too!) on the Certified Angus Beef website.
Oregano and Garlic Flat Iron Steak Recipe
Ingredients:
1/3 cup extra virgin olive oil
7 cloves garlic, minced
2 tablespoons red wine vinegar
2 tablespoons fresh oregano leaves plus more for garnish
3/4 teaspoon salt
1/2 teaspoon black pepper
1 1/2 pound flat iron steak
Instructions
1
Whisk together olive oil, garlic, wine vinegar, oregano, salt and pepper together in a bowl.

2
Place steak in a resealable plastic bag. Pour marinade over the top. Seal the bag and move the steak around in the bag to coat it. Refrigerate for at least 3 hours but no more than 6.

3
Remove steak from refrigerator 1 hour before cooking to allow it to come to room temperature.

4
Preheat grill to medium high heat. Grill 4 - 5 minutes on each side for medium rare.

5
Remove steak from grill, cover loosely with aluminum foil and allow to rest for 10 minutes.

6
Slice steak against the grain, garnish with fresh oregano leaves and serve.