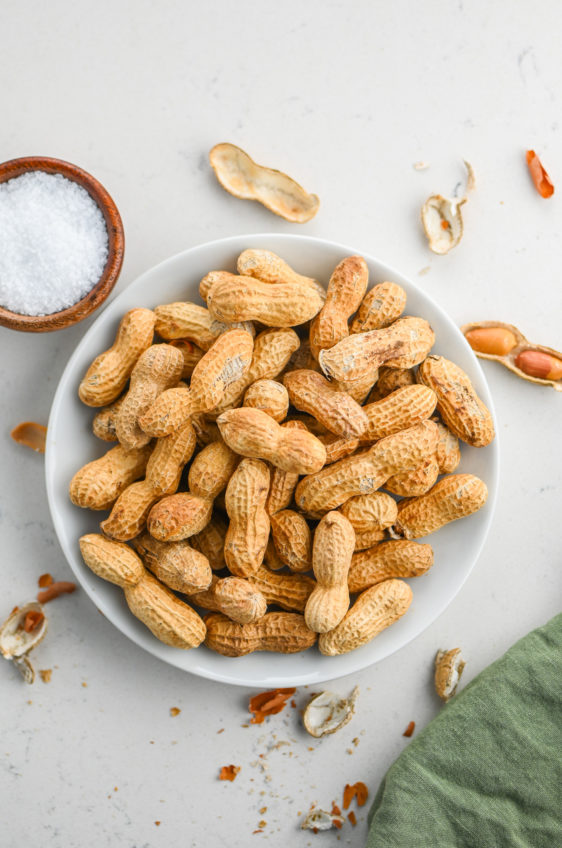 Oven Roasted Peanuts
Nothing beats hot freshly roasted peanuts at the ballpark! But guess what, you can make oven roasted peanuts easily at home. All you need is peanuts, salt and water.
Have you ever tried making your own oven roasted peanuts? Yes, I know you can buy a bag of roasted peanuts in the grocery store, but it's also kind of fun, and super easy to make them right at home in your own kitchen. You also get the benefit of making the peanuts as salty as you like.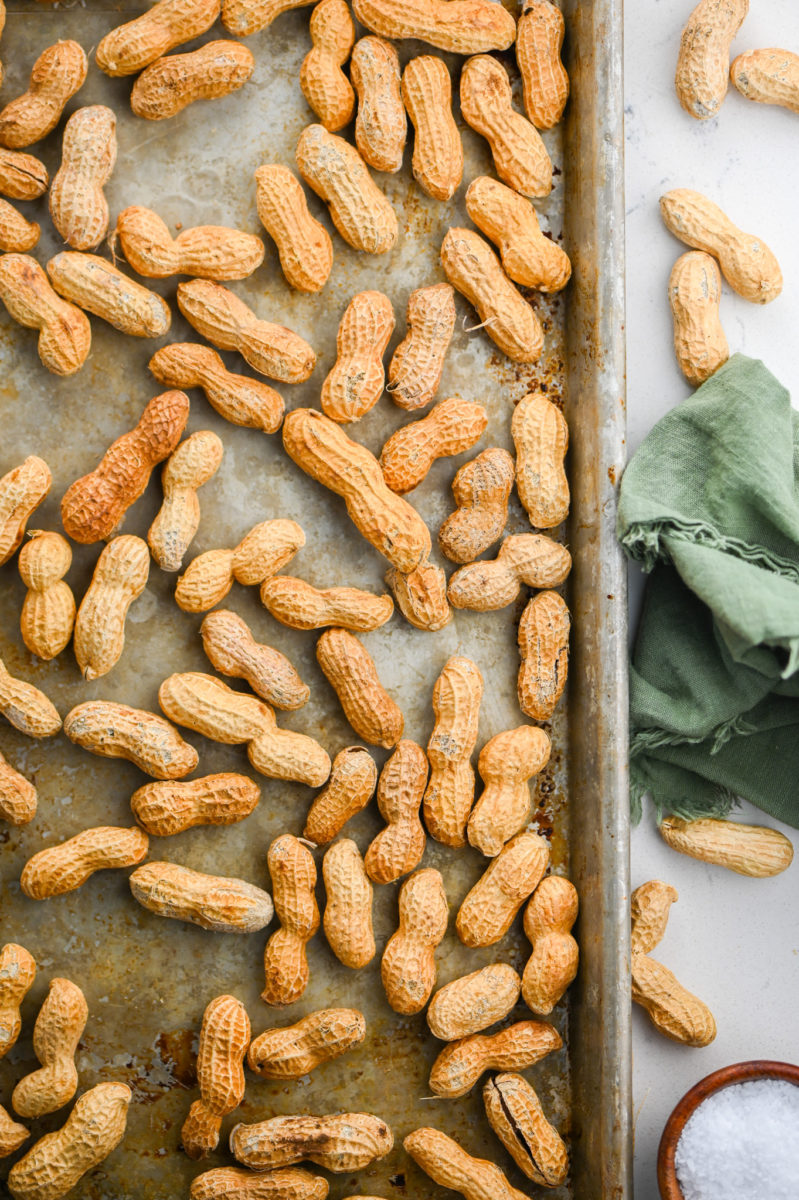 Not only are oven roasted peanuts easy to make, but guys, they also taste much better than the ones that you can buy in the store. Salty, crunchy, full of peanut flavor, oven roasted peanuts are going to be one of your new favorite snacks to make.
Oven Roasted Peanuts Ingredients: 
RAW SHELL-ON PEANUTS: To make your own oven roasted peanuts, you'll need to buy raw peanuts. Depending on your location these can be a bit tricky to find. I've found them in grocery stores next to the other raw nuts but have also found them at Hmart in the produce section.
WATER AND SALT: To give the peanuts a subtle saltiness you're going to need to soak them in a salt water mixture.
How to make Oven Roasted Peanuts:
The hardest part about making oven roasted peanuts is the waiting. You do need to soak the peanuts for at least one hour before roasting them. I have seen some recipes that say that you need to let them air dry before roasting but I've found they are fine if you drain them and pat them really well with a paper towel.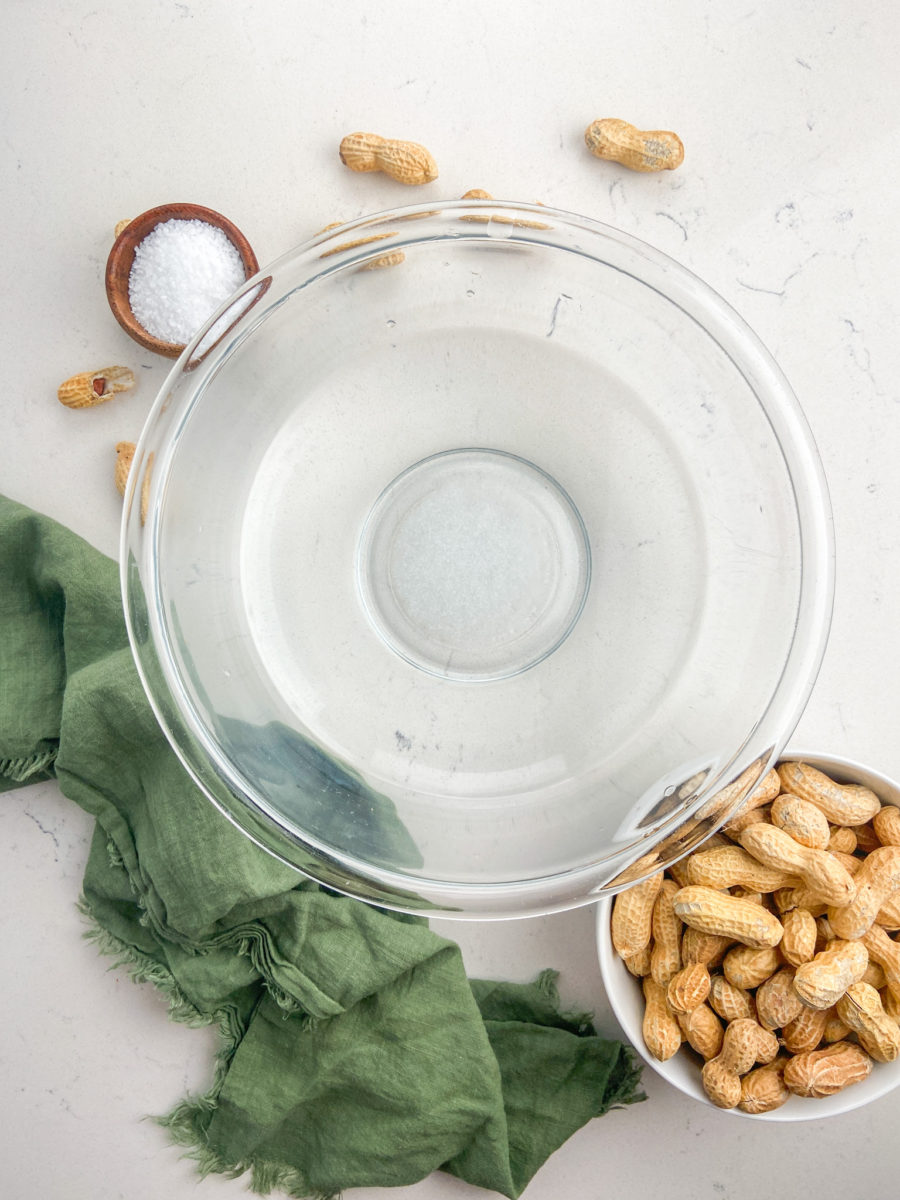 STEP #1: Dissolve salt in water. Add the peanuts and place a bowl on top. This will help submerge the peanuts in the salty water while they soak.
STEP #2: Drain the peanuts and pat them dry with a paper towel. 
STEP #3: Spread the peanuts out in a single layer on a large baking sheet. Bake at 300 degrees F for 45 – 50 minutes or until the peanuts are golden brown. When you remove them from the oven, they will be slightly underdone and a little chewy but they will continue to cook once you remove them from the oven. Allow to them to cool for at least 5 minutes. Serve warm.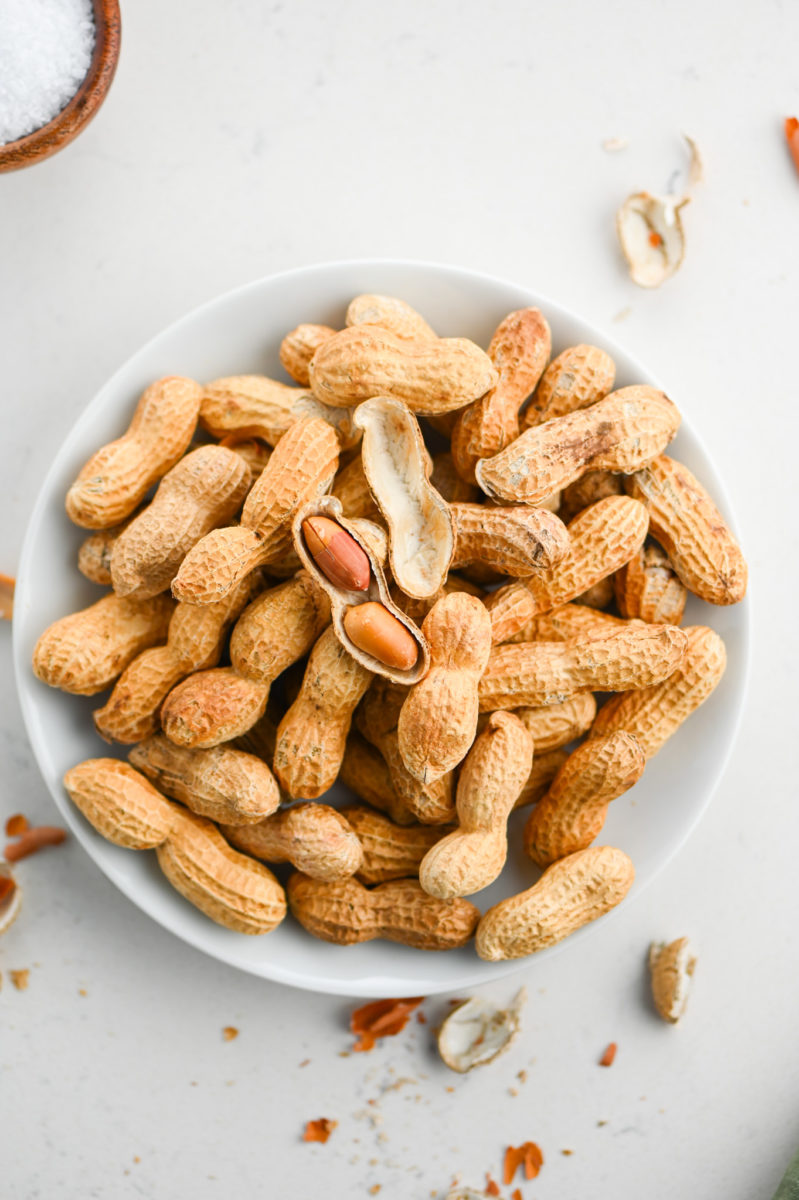 Storage and Leftovers:
My favorite thing about making oven roasted peanuts is eating them when they are fresh from the oven so they are still warm. If you do find yourself with leftovers, keep them in a resealable plastic bag in the refrigerator and they will last about 10 days.
So the next time you sit down to watch your favorite game, now you've got that game day staple to snack on! What you do with the shells is totally up to you. 
Looking for more snacks? Try these other easy snack recipes:
Beef Jerky is always a great snack to have on hand. It's packed with protein AND flavor. This Sweet n' Spicy Beef Jerky is made in the oven and a family favorite!
Almonds are also a great snack to have on hand, these Garlic Roasted Almonds are easy too!
Candied Pecans are a sweet treat that everyone will love!
Note: This post was originally published in 2009. It was republished in 2023 with new photos, step by step photos and nutrition information.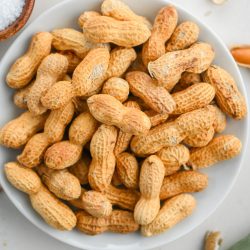 Oven Roasted Peanuts
Perfectly oven roasted peanuts, sprinkled with just the right amount of salt.
Ingredients:
2

tablespoons

kosher salt

6

cups

water

4

cups

raw peanuts in shell
Dissolve kosher salt in water. Place the peanuts in the water. Place a bowl on top to keep the peanuts submerged. Soak for at least 1 hour.

Preheat oven to 300 degrees.

Strain the peanuts. Pat dry and place in a single layer on a baking sheet. Roast at 300 degrees for 35-45 minutes. The peanuts will be slightly underdone (a little chewy) when you remove them from the oven, but they will continue to cook once you remove them. Allow to cool for 5 minutes.

Serve warm.
Nutrition information for estimation purposes only. 
Calories:
416
kcal
Carbohydrates:
12
g
Protein:
19
g
Fat:
36
g
Saturated Fat:
6
g
Polyunsaturated Fat:
13
g
Monounsaturated Fat:
16
g
Sodium:
1769
mg
Potassium:
543
mg
Fiber:
7
g
Calcium:
84
mg
Iron:
3
mg
Keywords:
baseball, oven roasted peanuts, peanuts, roasted peanuts, salted peanuts, shell on peanuts, snack